Mission Hipster
| Evil Twin Brewing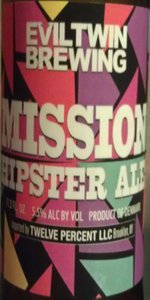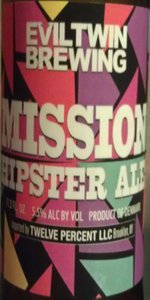 BEER INFO
Brewed by:
Evil Twin Brewing
New York
,
United States
eviltwin.dk
Style:
American Pale Ale (APA)
Alcohol by volume (ABV):
5.50%
Availability:
Limited (brewed once)
Notes / Commercial Description:
No notes at this time.
Added by LiquidAmber on 09-23-2012
This beer is retired; no longer brewed.
HISTOGRAM
Ratings: 14 | Reviews: 8
Reviews by GarthDanielson:
3.6
/5
rDev
+0.6%
look: 3.25 | smell: 3.75 | taste: 3.75 | feel: 3 | overall: 3.5
Poured from a bottle into a tumbler pint, the beer is a pale, hazy, cloudy, orange-brown coloring with a steady flow of carbonation and a filmy, thin, long-lasting coating of head. Very spicy and floral hops presence on the nose, with a tropical fruit backbone of mango and pineapple. Flavors are very tart citrus and spicy hops on the forward tongue, with a very bitter and tart following flavor on the palate. The subtle biscuit malt profile is overpowered by the citrus, floral, and spiciness throughout the brew. The tart and bitter flavors, combined with increased carbonation, leave and dry and resiny feel in mouth, as well as a thin, quick finish. Very strong flavored brew that doesn't quite have the body to support all it offers.
740 characters
More User Reviews:
3.03
/5
rDev
-15.4%
look: 3.5 | smell: 3 | taste: 3 | feel: 3 | overall: 3
Poured from a 12 OZ bottle into a pint glass.
Aroma- Has a hop and fruit aroma, nothing real impressive but OK.
Appearance- The beer is orange to copper colored with a large beige colored head.
Taste- Has a honey and malt flavor with some caramel notes tossed in. Has a very bitter finish that is off-putting to me.
Palate- A medium bodied beer with heavy carbonation.
Overall- An average beer, I was expecting more since this was my first Evil Twin beer.
459 characters
3.3
/5
rDev
-7.8%
look: 3.5 | smell: 3.5 | taste: 3 | feel: 3.5 | overall: 3.5
Served from bottle into a Duck-Rabbit nonic. Poured a slightly hazy yellow-orange with a three finger white head that subsided to a half finger very slowly. Maintained phenomenal lacing throughout the glass. The aroma was comprised of sweet malt, floral, fruit, earth, earth hop, and grain. The flavor was of sweet malt, floral, fruit, grain, wheat, spice, and earth. It had a light feel on the palate with high carbonation. Overall this was a fairly decent brew. Upon first inspection of this one I really liked what I found, however after taking my first sip there was a slight off-putting aspect going on in it. The grain and earthy note just seemed to dominate this one which was quite unfortunate. I enjoyed the previous Hipster Ale so I went in expecting good things form this one, however it let me down with these two aspects dominating it. Worth trying to say that you have, but that is about it.
905 characters

4.2
/5
rDev
+17.3%
look: 4 | smell: 4 | taste: 4.5 | feel: 4 | overall: 4
Poured into a Black Raven pint glass. Pours a medium coppery amber with a massive white head with good retention and tons of lacing. Aroma of grapefruit, grassy hops and citrus rinds. Nicely balanced caramel malt, stone fruits and grassy hops, light citrus. Pleasant grassy hop and citrus finish. Great creamy medium body. A very well integrated and satisfying ale. Like others of the Hipster series, this ale is darker colored than expected for a pale ale and borders on amber and/or IPA territory. No complaints here, I really liked this a lot. Great body for a 5.5% beer.
574 characters


3.23
/5
rDev
-9.8%
look: 3.5 | smell: 3.5 | taste: 3.25 | feel: 2.75 | overall: 3
Imported by Twelve Percent LLC. 11.2 fl oz brown glass bottle with standard pressure cap served into a New Belgium stem-goblet in me gaff in low altitude Los Feliz, Los Angeles, California. Reviewed live. Expectations are high. 5.5% ABV confirmed. I like the colourful label. I can't find a bottle code or best before date.
Served straight from the fridge. Side-poured with standard vigor as no carbonation issues are anticipated.
Upon opening, liquid surging out was an issue. None was spilled, but I suspect overcarbonation.
A: Pours a three finger beige colour head of nice cream and thickness, and fantastic (~ten minute) retention. Thin lacing clings to the sides of the glass. Body colour is a a vibrant understated orange-copper. The head is frothy and appealing. Nontransparent and hazy yet translucent. No yeast particles are visible. No bubble show. Good for the style, with an unexpectedly vibrant colour.
Sm: Floral and fragrant. Some nectary hops. No soapiness or other off-flavours, but some hop bitterness does emerge. Some caramel and malty sweetness sits beneath the hop notes. Maybe even a hint of candi sugar. A moderate strength, pleasant aroma. I'm excited to try it.
T: Nectary, floral, and assertive, with some apparent bitterness - especially in the climax. Some malty sweetness and caramel tries to balance it, but fails. I don't like the bitterness, but it's otherwise an enjoyable flavour profile. Well layered with complexity for the style, but it's perhaps overly hopped for a mere Pale Ale. I do like it, but the bitterness is a key flaw.
Mf: Coarse and wet. Sticky. Good thickness and palate presence. Overcarbonated. I'd prefer it more mellow, but it suits the flavour profile alright.
Dr: Drinkable but pricey. I wouldn't get this again; it's a solid beer in the style but it has balance issues. Hides its modest ABV well. Ambitious but ultimately disappointing.
High C+
1,919 characters


3.35
/5
rDev
-6.4%
look: 3.25 | smell: 3.25 | taste: 3.5 | feel: 3.25 | overall: 3.25
330ml bottle purchased from K&L Wine Merchants in Redwood City, CA.
Pours a very faintly hazed orange-amber colour, with an initially massively frothing head of off-white. This evaporates quite quickly, leaving some patched, spotty lacing and a still relatively full, frothy and aerated head. Body is light and flat: the carbonation seems to have used all its energy in that initial burst.
Nose is clear, clean and hoppy, but somewhat generically so: it's a meandering mish-mash of fruity aromas, some citrus, some sweeter tropical notes. Underneath is a rather dank grainy malt note and an unfortunate cereal aroma like husked corn. It's also perhaps slightly old: it certainly has a slightly muted, weary character to it.
Taste is also a little bit muted. Very light malt character provides a watery, rather insipid basis, limp husky grains that mingle with the carbonation. Hops valiantly try to fill the void, with a pronounced and striking hop bitterness through the centre of the palate. Unfortunately, this adds to the imbalance in the beer: and it tastes thinner and sharper as a result. Finish is slightly metallic, and very hop-focused.
Feel is light and thin, but sparkling with zealous carbonation.
Overall, this doesn't work for me, and is easily the weakest of the series after trying the Williamsburg and the Sønderho (both of which were very good). This tastes like a souped up, but bland APA that ends up just becoming messy. Interestingly enough, that's exactly what it is.
1,497 characters
4.19
/5
rDev
+17%
look: 4 | smell: 4.25 | taste: 4 | feel: 4.25 | overall: 4.5
Unsure if this is different from the canned Hipster Ale I tried (which I believe was Williamsburg?). The label seems to intimate that it might be a different single-hopped pale ale?
A: Huge head erupts and bubbles. Hazy auburn.
S: Heavy, high citrus with sweet fruit and hop oil.
T/M: Pleasant, even if the hops are slightly earthier than anticipated. Spicy and smackworthy. The beer is crisp and refreshing. Fruit is not SO much present, but bitter hops (either English or flat) are. The aftertaste especially is quite bitter.
O: I truly, thoroughly enjoyed this beer. One of the best pale ales across which I've stumbled. Highly recommended.
647 characters


4
/5
rDev
+11.7%
look: 4 | smell: 4 | taste: 4 | feel: 4 | overall: 4
A - Slightly hazy amber-orange with a finger of frothy off-white head. Fades down medium.
S - Sweet grains, caramel malts, grapefruit, citrus, and floral hops.
T - Sweet grainy and caramel malts, grapefruit, citrus, and floral hops, some resiny bitterness.
M - Medium bodied with moderate carbonation. Smooth, dry, bitter, and grainy finish.
D - Nicely balanced. A bit different than most APAs with the grainy wheat thing, but still good.
442 characters
Mission Hipster from Evil Twin Brewing
Beer rating:
3.58
out of
5
with
14
ratings