Tørst Back Room
| Evil Twin Brewing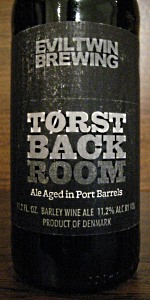 BEER INFO
Brewed by:
Evil Twin Brewing
New York
,
United States
eviltwin.dk
Style:
English Barleywine
Alcohol by volume (ABV):
11.20%
Availability:
Year-round
Notes / Commercial Description:
Port Barrel Aged Barley Wine
Added by Jason on 02-27-2013
Reviews: 13 | Ratings: 63
4.06
/5
rDev
-1.7%
look: 3.75 | smell: 4 | taste: 4.25 | feel: 3.75 | overall: 4
A: The beer is very hazy dark brownish red in color and has large particulates visible floating in suspension. It poured with a thin beige head that quickly died down, leaving delicate lacing covering the surface and a thin head consisting of large bubbles around the edge of the glass.
S: Light to moderate aromas of port wine from the barrel aging are present in the nose.
T: Similar to the smell, the taste is filled with flavors of port wine and has hints of sweet malts. No alcohol is perceptible (except for the wine).
M: It feels medium- to full-bodied on the palate and has a low to moderate amount of carbonation.
O: This is a nice beer to sip if you like port wine and is quite drinkable because the alcohol is well hidden, making it nt seem like an 11.2% abv beer. It doesn't have as much sweetness compared to Tørst Front Room.
843 characters
4.31
/5
rDev
+4.4%
look: 4.25 | smell: 4.5 | taste: 4.25 | feel: 4.25 | overall: 4.25
In a taste of ale that rival the strength, complexity and savory character of the most hardened wine, Evil Twin's barleywine gets back to its British roots to celebrate all of what's best about barley- unlocking all its sweetness, power, hearty nuttiness and its complementary role to yeast esters and patient aging.
Its dark tawny, ruby and garnet hues give the ale a stately austere. Its dense lather of foam swirls about the rim, giving up its potent aromas within. Dark, dried, pitted fruits of the raisin realm tether throughout deep toffee and buttery maple sweetness.
As the ale seeps deeply into the tastebuds, its sweetness locks in. Heavily caramelized malt becomes sweet with syrup and molasses- a perfect complement to the date, raisin, fig, cherry, apple and plum flavor. With a rummy spice flavor acting in balance, the ale remains succulent with those fruitcake and figgy medley.
Full bodied and syrupy, its near-cloying body backs off so that the ale can be enjoyed as fine port or cognac. Its spicy alcohol applies a stern but controlled heat that thins the malt and signals closure to taste even though decadent nutty malt flavors lurk well after.
1,169 characters
4.12
/5
rDev
-0.2%
look: 3.75 | smell: 4.25 | taste: 4.25 | feel: 3.75 | overall: 4
330ml bottle. Ok, I got through the front room, now on to the unknown pleasures of the back room.
This beer pours a murky, very dark reddish brown hue, with one skinny finger of bubbly, slightly foamy beige head, which leaves a few iotas of bowling pin lace around the glass as things sink out of sight.
It smells of musty caramel malt, biscuity toffee, subtle fortified red wine notes - dried grapes, alcohol, and nutty flor yeast - bittersweet chocolate, cherry cordial, prune juice, and the suggestion of hops wearing sterilized rubber boots. The taste is more port wine fruitiness - with a lesser focus on the booze and mustiness - dark sugary molasses, caramel and toffee malt, black cherry and plum (doused in rum), a hint of woody vanilla, soft notes of baker's cocoa, and a plucky drying earthiness that I'm going to attribute to some sort of hop.
The bubbles are rather laid-back, underwhelming, and presumed AWOL, the body a sturdy and generally airtight medium weight, and smooth enough amongst the tightening alcohol noose. It finishes off-dry, the caramel, vanilla, cocoa, and well-aged red wine fruitiness barely tempered by anything one might imagine.
Well, it looks like the Back Room beats out the Front in this little one-off. More complex, apparently less sweet from its barrel treatment, and just more barleywine-like, overall. It does have a certain age-worthy essence, which almost justifies its heady retail price around here.
1,453 characters

3.2
/5
rDev
-22.5%
look: 3.5 | smell: 3.5 | taste: 3 | feel: 3 | overall: 3.25
Pours a dark chestnut brown color with mahogany/plum edges and a half finger beige head that immediately fades into a very thin ring.  Minimal spotty lacing left behind.
Boozy, chalky aroma that smells slightly oxidized with vinous red wine, dry oak and roasted dark malt.  Port like notes with vinous grape, raisin and fig along with subtle roast and sweet, leathery malt underneath.
Medium bodied with tight carbonation and slight oxidization.  Some vinous dark fruit and dry toasted oak/toothpick with strong vinous raisin, grape and other dark fruits.  Slightly off with weird oxidization going on.  Works for now but it's a flaw that won't age well.  I'm not sure if we got a bad bottle but this already tastes close to a decade old.
747 characters

4.22
/5
rDev
+2.2%
look: 3.75 | smell: 4.25 | taste: 4.25 | feel: 4.25 | overall: 4.25
330ml bottle poured into tulip 28/10/13
A dark brown with a deep edge, two finger of tan foam falls rather quickly leaving a patch or two of lace, legs try to form but don't quite get there
S big caramel and vanilla bomb going on here, some milk chocolate, raisin and plum, more caramel, not a whole lot of barrel but there's some in the background and just a little booze
T I'm getting more wood and sweet vinous notes in the mouth, strange almost how much I pick up compared to the nose, not nearly as much caramel but that still leaves a fair bit, brown sugar and coco with just a hint of coffee and rum raisin
M thick and syrupy with just a little heat, bubbles give it a little life, sticky on the lips, woody finish
O easy to drink, plenty going on, tastes a little different to the nose but both work well, I have little to complain about, solid brew at every turn
tastes like it has some age on it already but I don't think that's the case, the barrel leaves a mark without overwhelming, I could drink another and even with the massive price tag I might buy another to age
1,089 characters
4.14
/5
rDev
+0.2%
look: 4 | smell: 3.75 | taste: 4.25 | feel: 4.5 | overall: 4.25
Big thank you to alpineclimber for this obscure treat!
Appearance. Pours a very deep and opaque amber brown with a thin khaki head.
Smell. Sweet caramel and dank old wine barrel. Getting some earthy, leathery notes along with some sweet ripe plums.
Taste. Sweet caramel and raisins, some dark fruits and sweet red wine ...port I'm guessing but not all that familiar with that particular beverage. There's a little bit of dank old barrel and that leathery earthiness in the finish that I was getting in the nose. Pretty nice stuff.
Mouthfeel. Full body and just a touch of stickiness on the lips, low+ carbonation.
Overall. Very well made bwine. Glad to have had the opportunity to try it and looking forward to the front room. Thanks again alpineclimber!!
760 characters
4.57
/5
rDev
+10.7%
look: 4 | smell: 4.5 | taste: 4.75 | feel: 4.5 | overall: 4.5
bottle picked up locally, enjoyed from a Tørst wine glass.
a - brew poured a fairly dark purple brown that looked black in the glass. there was a finger of head that hung out a bit but eventually left leaving a thin skin and a thick ring on the surface.
s - YUM. REALLY nice chocolate toffee with dark fruit. really complex and inviting. the port comes across big and gives the beer almost an old ale vibe. really makes me think of BB4D or a bruery anniversary beer.
t - OH WOW! again, comes across as a rich complex old ale...ala bruery anniversary or BB4D. the port carries such a wonderful fruit characteristic. dark fruit, nutmeg...just delish.
m - smooth. rich and full, but dangerously drinkable. abv is invisible.
o - overall...i don't want to gush too much about this beer, but i will be running around town to buy as much of this as i can find. this beer is badass.
880 characters
4.24
/5
rDev
+2.7%
look: 4 | smell: 4.25 | taste: 4.25 | feel: 4.25 | overall: 4.25
11.2 oz bottle was poured into a snifter.
Appearance: This beer poured a small head that reduced to a thin layer. It is a dark brown/pitch black color with no clarity. You can see tiny bubbles at the top of the glass near the layer of foam.
Smell: Oak, port, toffee caramel, vanilla, burnt molasses, dark fruits, and citrus.
Taste: Same as above where everything id blended well together with a little warming and burning alcohol in the end.
Mouthfeel: Silky smooth, low to medium carbonation, medium to full bodied, and warming alcohol. A nice sipper.
Overall: This is a very nice English barleywine. I got this from volunteering at the EBF back in March. I could of aged it longer, but I couldn't resist. Good stuff and probably will be impossible to find.
763 characters

4.5
/5
rDev
+9%
look: 4.5 | smell: 4.5 | taste: 4.5 | feel: 4.5 | overall: 4.5
A: aggressive pour into a snifter revealed an opaque black-brown body of beer topped by a slim layer of tan foam that was quick to subside leaving but the barest hint of a collar.
S: boozy dates, Burgundy wine, dark sweet cherry, tart suggestions of yeast and fruit
T: Port wine and dark fruits, cherries, Burgundy, chewy dates, dark cane sugar and molasses sweets
M: smooth and slick, hint of heat from the alcohol, airy vapors of wine barrel wood, slightly sticky; thin and slippery
O: a great barrel-aged barleywine - the Port aspects blend seamlessly with the malts to produce a superior drink.
602 characters
3.85
/5
rDev
-6.8%
look: 3.75 | smell: 3.75 | taste: 4 | feel: 3.75 | overall: 3.75
Well, I've had this in the cellar for a stretch. Here goes. A very dark murky brown brew poured into a snifter. Almost no head to speak of, just a ring of dark beige bubbles around the glass. Aroma is sweet malts and fruit, golden syrup and molasses dredged over grapes and prunes with a whiff of herbal, woody hops. Palate is thick, rich, and fruity, with my brain undecided as to whether the raisins/prunes or molasses/toffee hold ultimate sway. There's an undercurrent of cherry pipe tobacco and perhaps thick red wine. Butter brickle and peanuts. Fig cookies. Its an interesting combination, leaving me at a loss regarding how everything can hang together so well without unpleasant clashes. I am getting coffee liqueur, toffee, and roasted barley late, particularly in the semi-sweet finish. Any obvious grain flavors reveal themselves late but they certainly show up for the soiree. There is some booziness but this is rather refined in its power. Very syrupy and thick, top end of the body spectrum. My bottle is approximately a year old. All in all, a sweet treat that captures this style well, with minimal woody flavors from the barrel aging and a corresponding well preserved sweetness.
1,197 characters
4.35
/5
rDev
+5.3%
look: 4.25 | smell: 4.25 | taste: 4.5 | feel: 4.25 | overall: 4.25
Date: 3/25/14
Location: Eagle Provisions
Glassware: Tulip
Appearance: Black to brown in color. On an aggressive pour I got a touch a momentary pinky width crown which quickly evaporated.
Aromatics: Grapes and Raisins with a definite port smell. More complex then the front room and I'm having trouble discerning it all. Sweetness of toffee and way more alcohol in the nose.
Flavor: Grapes, Prunes and more dark fruits. There is a sweetness in there that is a mix between fruit and toffee candy. There is an alcohol flavor that gets bigger as the beer warms.
Finish: There is an oiliness that stays on the tongue with a little bit of carbonation on the top of the mouth. Way more alcohol in the finish then front room.
720 characters

4.34
/5
rDev
+5.1%
look: 4 | smell: 4.25 | taste: 4.5 | feel: 4.25 | overall: 4.25
Appearance- Pours brown with red highlights, sits very dark brown in the glass with one finger of head that recedes to a thin layer. Some yeast floaties, didn't realize this was bottle conditioned...
Smell- Huge malty caramel and vanilla, dark fruit, a sweet almond nuttiness, with oak rounding the edges of everything. Just a touch of alcohol is noticeable.
Taste- Toffee, caramel, and vanilla up front, moving into the same dark fruits and nuttiness found in the aroma. Warming alcohol on the finish and a slight cocoa-like after taste. Really awesome stuff!
Mouthfeel- light carbonation, sticky, medium body, doesn't finish overly sweet, but it's definitely a dessert type beer.
Overall- Really impressive, will be buying another for sure. Looking forward to comparing side by side with Front Room.
805 characters
4.57
/5
rDev
+10.7%
look: 4 | smell: 4.5 | taste: 4.75 | feel: 4 | overall: 4.75
Appearance: Opaque mahogany. Creme colored head that sticks around but does not coat the glass. Some grit poured from the bottom of the bottle. Perhaps from the Port barrels?
Smell: Burnt caramel, dates. Bright and sweet.
Taste: Caramelized brown sugar; some black cherry, dates, plum; high ABV is well masked, yet still pleasantly warm.
Mouthfeel: Chewy body, light carbonation, becomes slightly cloying after six oz.
Overall: Beautiful barleywine. Not too sour, nor too sweet. Full of flavor and warmth. Thrilled to have a chance to drink this beer.
Source: Received a bottle for volunteering at EBF '13
610 characters
Tørst Back Room from Evil Twin Brewing
4.13
out of
5
based on
63
ratings.