Tørst Front Room
| Evil Twin Brewing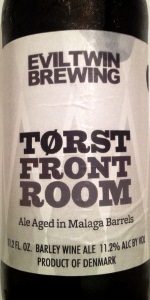 BEER INFO
Brewed by:
Evil Twin Brewing
New York
,
United States
eviltwin.dk
Style:
English Barleywine
Alcohol by volume (ABV):
11.20%
Availability:
Limited (brewed once)
Notes / Commercial Description:
Malaga Barrel Aged Barley Wine
Added by Jason on 02-27-2013
This beer is retired; no longer brewed.
Reviews: 11 | Ratings: 57
4.19
/5
rDev
+2.2%
look: 4 | smell: 4.25 | taste: 4.25 | feel: 3.75 | overall: 4.25
A: The beer is very hazy dark brownish red in color. It poured with a quarter finger high tan head that died down, leaving delicate lacing on the surface and a collar consisting of large bubbles around the edge of the glass.
S: Moderate aromas of Malaga wine from the barrel aging are present in the nose.
T: Like the smell, flavors of Malaga stand out in the taste but there are also hints of sweet malts from the underlying barleywine. The taste becomes better as the beer warms up. Except for the wine, no alcohol is detectable.
M: It feels medium- to full-bodied on the palate and has a low amount of carbonation.
O: This beer doesn't taste like an 11.2% abv beer because it hides its alcohol very well, although it is pleasant enough to sip and savor.
760 characters
3.96
/5
rDev
-3.4%
look: 3.75 | smell: 4 | taste: 4 | feel: 3.75 | overall: 4
330ml bottle. Nice to get another 'exclusive' to the Tørst establishment in NYC, way out here in Alberta.
This beer pours a murky, very dark russet brown hue, with a skinny cap of bubbly, and temporally creamy chocolate milk head, which leaves a bit of sand coral lace in places around the glass as things dip away.
It smells of musty black raisins, dank caramel and toffee malt, syrupy vanilla, more indistinct black fruit, reserved metallic booze, and faint earthy, dusty hops. The taste is rather sweet, with the caramel and toffee big and beefy, the slightly vinous red grape and raisin fruitiness abetted by a further mixed bag of dark, fleshy fruit - prunes, dates, and figs - boozy vanilla, bittersweet booze, and a subtle blended musty hoppiness.
The carbonation is fairly sedate, barely a whimper here and there, the body a decent medium weight, the alcohol sort of thinning it and the general smoothness out. It finishes way off-dry, the dry is a dot, the dry left yesterday, you get the idea - the caramel, various dark fruit, and the vanilla ain't going home anytime soon.
An agreeable, if not particularly complex barleywine, even with the exotic Spanish barrel treatment. The alcohol is well integrated, for the most part, and it's got musty down pat, so it's worth a try, if you like the style and don't mind the hit to the wallet.
1,351 characters
4.1
/5
rDev 0%
look: 4 | smell: 4 | taste: 4 | feel: 4 | overall: 4.5
330 ml bottle into snifter; no bottle dating, but is a recent release. Pours hazy dark brown color with a minimal head and a thin ring of bubbles around the glass. Some lingering wisps of bubbles on the surface, with some slight spotty lacing on the glass. Aromas of big caramel, brown sugar, raisin, plum, fig, date, toffee, vanilla, chocolate, toast, oak, light red wine, and toast/oak earthiness. Damn nice aromas with good balance and complexity of dark/bready malt, dark fruit, and wine barrel notes; with great strength. Taste of big caramel, brown sugar, raisin, plum, fig, date, toffee, vanilla, toast, chocolate, oak, red wine, and oak/toasted earthiness. Some light tannic wine/oak bitterness on the finish; with lingering notes of caramel, brown sugar, toffee, raisin, plum, fig, date, vanilla, toast, chocolate, oak, red wine, and oak/toasted earthiness on the finish for a while. Damn nice robustness and complexity of dark/bready malt, dark fruit, and wine barrel flavors; with a great malt/barrel balance and zero cloying sweetness after the finish. Light carbonation and very full bodied; with a very smooth, creamy, and fairly slick mouthfeel that is great. Alcohol is very well hidden with only a light warming present after the finish. Overall this is an excellent English Barleywine style. All around great complexity, robustness, and balance of dark/bready malt, dark fruit, and wine barrel flavors; and very smooth to sip on for the big ABV. A very enjoyable offering.
1,490 characters
4.12
/5
rDev
+0.5%
look: 3.75 | smell: 4.25 | taste: 4.25 | feel: 3.75 | overall: 4
A: Pours a clear but opaque dark reddish brown in color with minimal amounts of gentle visible carbonation along the edges of the glass and some cola brown + garnet red highlights. The beer has a patchy minimal amount of head (less than a quarter finger and not covering more than 60% of the surface of the beer) that quickly reduces to an extremely thin ring (about a single bubble wide) at the edges of the glass. Minimal amounts of lacing are observed.
S: Moderate to strong aromas of Malaga wine (similar to Port wine in sweetness and grape) from the barrel aging and some light aromas of sweet toffee malts from the barleywine.
T: Upfront there is a moderate to strong flavor of Malaga wine/port with some grape sweetness and moderate flavors of oak. That is followed by some lighter (moderate in strength) flavors of toffee/brown sugar/dark fruits barleywine sweetness with just a hint of pine hops. Light amounts of lingering bitterness in the finish.
M: Just shy of full bodied with light amounts of carbonation. Hints of dryness and alcohol warming in the finish.
O: This beer hides it's alcohol really well - this drinks much easier than I expected with an 11.2% ABV. The beer is quite enjoyable and Malaga wine barrel aging really adds to this beer and my enjoyment of it. Definitely a sipping beer.
1,314 characters

4.05
/5
rDev
-1.2%
look: 3.5 | smell: 4 | taste: 4.25 | feel: 3.75 | overall: 4
330ml bottle poured into tulip 7/11/13
A dark brown cola liquid, a little dead on the pour with just a thin mocha film after a dump down the center leaves no lace
S caramel, vanilla, raisins, smells a little oxidized, faint cardboard maybe?, it somehow works, lots of port, is Malaga port? I'm to lazy to google it, a hint of coco, more caramel and vanilla, smells good
T even more fortified wine notes, lots of barrel in the mouth, caramels strong, some plum, not far from the nose but pumped up notch, I get just a little booze but 11.2% is hard to believe
M low carbonation but not flat, sticky on my lips, fairly full bodied, faint heat, caramel and barrel on the finish
O interesting brew, reminds me of port, a hybrid brew you could say and well worth a try
much like many Evils Twins this one comes with a hefty price tag and I could flip a coin to decide if I need a bottle or two to age
906 characters

4.5
/5
rDev
+9.8%
look: 4.5 | smell: 4.5 | taste: 4.5 | feel: 4.5 | overall: 4.5
A: into a large snifter, nearly opaque ruby brown body with no more than a few bubbles and a sliver of foam at the edge of the beer
S: booze-soaked dates and figs, deep dark wine
T: dark fruits and sweet grape jelly, Merlot-esque wine flavors, sweet toffee and molasses - although I was unfamiliar with Malaga (a wine), there are wine-like flavor components that I'll attribute to the Malaga barrels used to age the wine -slightly tart, dark cherry and red grape
M: medium-full feeling, smooth, slightly coating, slightly sticky, wine vapors
O: similar to the Port aged Back Room, but with a thicker, richer flavor and feel - another top quality English-style barleywine
674 characters

3.72
/5
rDev
-9.3%
look: 3.5 | smell: 4 | taste: 3.5 | feel: 4 | overall: 3.75
Big beer but for those who are well familiar with Malaga Wine, it´s not as big as it seems to be. Since Barrel aged owns major part of this good job.
330ml bottle. Wine glass. Very dark brown color, dark amber tints to the light. Beige froth, brief crown. Aromas of raisin, toasted caramel malts, candies, ripe plums & dats, as well as matured wood on the back. Sweet toasted malt, Malaga Wine, intense raisin, sugar flavors & hints of molasses. Full body. Soft carbonation. Oily texture & silky palate. Low herbal bitterness in the middle is overwhelmed by intense Malaga flavor rounded by underlying licorice candy notes. No-cloying sugary flavor made from raisins, herbs & spices. ABV is well hidden & shown as a kind warming feel. Slight harsh astringency. Long sweet finish. Ripe & caramelish fruits on the aftertaste.
824 characters
3.84
/5
rDev
-6.3%
look: 3.75 | smell: 4 | taste: 3.75 | feel: 4 | overall: 3.75
11.2 oz bottle poured into a tulip glass. Aged around seven months since point of acquisition. Dark reddish brown brew with the lightest smattering of tan bubbles, mostly on the sides of the glass. Like its brother Back Room, pours into the glass like a sticky torrid glut of pure darkness with precious little in the way of overt carbonation. Aroma of dark fruits (raisins, prunes), toffee, vanilla, resinous wine, and a tinge of fresh earth. Palate features some medicinal wine notes due to the barrel selection which serve to cut the sweetness a bit, although this is by and large a sweet rather simple barleywine full of brown sugar, vanilla, raisin, fig, molasses, and brown bread flavors. Less obviously vinous than its port barrel aged counterpart (in which I got more fresh grape) but more resinous and tart. Some alcohol astringency. Thick and slick body with slightly more carbonation than expected. Finishes on the dry side for the style, reminiscent of burnt sugar doused raisins or perhaps a cheap cigar. Nothing notably wrong here although I've had less dry barleywines that reveal a more fresh fruitiness.
1,120 characters

3.72
/5
rDev
-9.3%
look: 3 | smell: 4 | taste: 3.75 | feel: 3.75 | overall: 3.5
Poured no head and looks kind of murky brown, not very appealing. First hit in the nose you can smell the wine barrel and hints of musty barleywine. I don't like the balance. It's sweet and bitter but doesn't really meld together. Sweat coat in mouth but leaves a dry astringency that is unpleasant. Overall it is not the quality for the cost of a single 12 oz at $13.
373 characters
4.79
/5
rDev
+16.8%
look: 4.75 | smell: 4.5 | taste: 5 | feel: 4.75 | overall: 4.75
Date: 3/25/14
Location: Eagle Provisions Brooklyn
Glassware: Tulip
Appearance: Black. When holding it up the light none gets through. Brief head but the carbonation slips away. Little bit of viscosity at the glasses edge.
Aromatics: Dark Fruits. Grapes, Raisins, and Prunes. Something very sweet as well like vanilla. Some warm alcohol notes.
Flavor: This is a beautifully sweet and fruity barleywine. The mouthfeel starts with the carbonation but ends in a velvety smoothness. The dark fruits are in here with some alcohol, but the alcohol is hidden well.
Finish: The carbonation rides it out on the tongue for a little and the viscousness stays for a while as well. I get the feeling I'm breathing grapes out of my nose.
Notes: This might have becomes my favorite English Barleywine.
789 characters

4.27
/5
rDev
+4.1%
look: 4 | smell: 4.5 | taste: 4.25 | feel: 4 | overall: 4.25
Appearance- Muddy, cloudy brown, with hints of ruby by the edges. No head, looks completely still.
Smell- Big malt presence, booze, vanilla, toffee, raisins and generic dark fruits. Very complex, I don't want to pull my nose out!
Taste- Not as crazy as it smells, but it's very nice. Big dark fruits, brown sugar, alcohol warmth, vanilla and oak. Works very well, barrel is there and plays well with the other flavors without overpowering them.
Mouthfeel- Completely still, full body, sticky and sweet finish
Overall- Really liked both Front Room and Back Room, pick them both up if you can!
595 characters
Tørst Front Room from Evil Twin Brewing
4.1
out of
5
based on
57
ratings.