Evil Twin Femme Fatale Blanc
| Evil Twin Brewing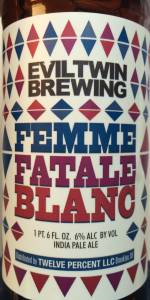 BEER INFO
Brewed by:
Evil Twin Brewing
New York
,
United States
eviltwin.dk
Style:
American IPA
Alcohol by volume (ABV):
6.00%
Availability:
Rotating
Notes / Commercial Description:
No notes at this time.
Added by merc7186 on 04-18-2013
Reviews: 37 | Ratings: 174

3.93
/5
rDev
-3.2%
look: 3.75 | smell: 3.75 | taste: 4 | feel: 4 | overall: 4
Poured into a Nostradamus flute glass. Pours a light to medium golden amber with a thin white head that dissipates into small patches and a ring around the glass, with light lacing. Aroma of orange and grapefruit, lighter stone and tropical fruit. Faint hints of grassy hops and brett. Flavor of orange, tangerine, grapefruit, light sweet malt, wild yeast slightly earthy Finishes drier with spicy hops and brett. Light bodied with nice active carbonation. A nice IPA and wild ale hybrid. Fairly complex with an interesting flavor progression and a couple of flavor elements that are unidentifiable, but interesting.
616 characters
4.35
/5
rDev
+7.1%
look: 4.25 | smell: 4.25 | taste: 4.5 | feel: 4.25 | overall: 4.25
Poured from a 750ml bottle, there is a very slight head which disappears quickly. The beer is a clear golden color. The smell of hops is very distinct. The hoppy beer has wonderful complex fruity and citrus flavors. There is a sweetness on the back end but it is dominated by the strong delicious hops. Hop flavor goes up ones nose as the beer moves from the front to the back of the mouth. There is a very nice sharp carbonation, but not too strong. A perfect crisp mouthfeel. This is a very good IPA.
502 characters
4
/5
rDev
-1.5%
look: 4 | smell: 4 | taste: 4 | feel: 4 | overall: 4
My brother was kind enough to bring a gift by this week...a variety care package of beer...
Left Hand, Sol, Grand Teton, Flying Dog and Evil Twin....very nice.
Let's speak of the Evil Twin today...very unique, indeed.
American IPA meets Bavarian Wheat...awesome!
No doubt that this is a marrage made in heaven..
Up Front taste:
Extreme hoppy, exotic citrus flavor mango-pineapple-apricot...even kind of lemony
Backend taste and finish:
Lemony lingers...mild tangerine and then the Belgainy banana and bubble gum flavors fade out the palate.
Bitterness lets you know this wants to be an IPA....but that bubble gum finish leaves no reseny feel...I do love this beer.
Very unfiltered and yellow/orange hue is gorgous.
I give this ole' jewel a rating of 4 out of 5.
764 characters

4.22
/5
rDev
+3.9%
look: 3.75 | smell: 4.25 | taste: 4.25 | feel: 4.25 | overall: 4.25
From a bottle poured into a speigleglau snifter. Not that much head and a hazy pale orange color. Good orange and malt smells. Great, light, effervescent mouth feel with a peppery, slightly citrus start and a decent amount of bitter ending. A really great IPA. Extremely drinkable and with some very interesting differences. Impressed.
335 characters

4.34
/5
rDev
+6.9%
look: 4 | smell: 4.25 | taste: 4.5 | feel: 4.25 | overall: 4.25
Pours a glowy orange. Lighter at the sides. Very cloudy. Medium off-white head. Good retention, some lacing. The aroma is a tangerines, white grape juice, pineapple, apricots, blackberries, clean funk, pine, earth, dusty barnyards, fresh grain and some sort of yeasty spice note. The hops smell fresh and bright. It's a somewhat citrus-heavy expression of Nelson, but the white wine flavors are still there, and it's still adds a wonderful element. I really, really like brett combined with Nelson. The taste is full of fresh grain and hop flavor. There's a grassier twist to the taste, but there's still plenty of Nelson fruitiness. More clean brett funk and some solid yeast fruitiness. Starts mildly sweet with pale malt but finishes dry and light. Carbonation is pretty normal. There's some definite body to the beer but it sits lightly on the palate and goes down easily. I'm a big fan of the Femme Fatale line, and this is another winner. All brett IPAs are tasty things, and Nelson is pretty much always a winner.
1,020 characters
3.89
/5
rDev
-4.2%
look: 5 | smell: 3.5 | taste: 4 | feel: 3.5 | overall: 4
Pours a hazy golden orange. Nice thick white head. Good lacing.
Smells of grapefruit citric acid funk
Well balanced taste. Not overly hoppy with a slightly creamy feel. Creaminess waters off and leaves you wanting the next sip.
Overall very good. Would certainly drink again
279 characters
4.09
/5
rDev
+0.7%
look: 4.25 | smell: 4.5 | taste: 4 | feel: 3.5 | overall: 4
650 mL bottle poured into a goblet.
Appearance - Hazy light orange body. Nice white head. Sticky lacing and a few chunky islands of foam on the surface.
Smell - From a distance, I smell brett. Once I really take a whiff, I don't get anywhere near as much brett. Sweet tropical fruits all over up close. Some herbal notes, but once I hone in on those tropical fruits, that's all I smell. Some sweet doughy malts behind it along with some clove spiciness.
Taste - Big tropical fruit sweetness and hop flavor. Cloves are more prominent, reminiscent of a Belgian IPA. Earthy flavors kick in immediately though. Some sweet malts and toasty grain flavors come through, but brett and herbal hops dominate the back end. Mild bitterness from the hops, seems to be some from the yeast, though.
Mouthfeel - Lots of flavors going on for a single IPA. Medium bodied. Well carbonated. A little abrasive on the back end.
Overall - I'm enjoying this more and more as I drink it. Dynamic flavors.
984 characters
4.12
/5
rDev
+1.5%
look: 4.25 | smell: 4 | taste: 4.25 | feel: 3.5 | overall: 4.25
Pours a cloudy, golden color. 1/3 inch head of an off-white color. Good retention and great lacing. Smells of strong hops (citrus and piney), sweet malt, slight earthy malt, alcohol, slight citrus, hint of wet hops, slight spice (clove), and hint of grass. Fits the style of an American IPA. Mouth feel is sharp and crisp, with an average carbonation level. There is also a noticeable tartness. Tastes of sweet malt, citrus hops, clove, yeast, slight grass, hint of earthy malt, and slight alcohol. Overall, good appearance, aroma, blend, body, and complexity. This IPA had much more tartness, astringency, and grassy aromas and flavors than I was expecting, but it was nevertheless, great. This beer strongly resembles a Saison, but of the hoppy extremes.
756 characters

4.5
/5
rDev
+10.8%
look: 4.25 | smell: 4.75 | taste: 4.5 | feel: 4 | overall: 4.5
On tap at churchkey, a really interesting and delicious beer.
Pours a nice hazy golden yellow color with a ring of white head and some lacing left in the glass. The smell is glorious: fresh citrus/grapefruit zest mixes with tropical fruits and grassy dank hops, some slight yeasty sweetness as well, I absolutely love this aroma, if it was slightly bigger it would be a 5.
The taste follows the smell with some fresh squeezed citrus mixed with a stronger malt base of straw and dry lemon grass. Maybe a hint of fruit taffy Brett but it is definitely 2nd fiddle to the dominant Nelson sauvin hops. Feel is decent, medium base and carbonation.
Overall very nice beer, surprisingly good in fact. Nice work.
708 characters

3.96
/5
rDev
-2.5%
look: 3.75 | smell: 4 | taste: 4 | feel: 3.75 | overall: 4
a murky orange pour with a finger of head which quickly dissipated but gave off excellent lacing. smells of citrusy hops, pineapple, mango, wheat, coriander, oranges. the flavor is mainly citrus up front, pineapple/mango hop profile, followed by a pepper-y spicy coriander witbier finish. a lovely combination of beer profiles combined. lingering resinous bitterness keeps your thirst on a high level begging for another taste of this delicious beer. medium body with a modest amount of carbonation.
overall a very nice example of a "white ipa".. i really am loving the style. i think i may like this more if it looked less like a witbier and more like an ipa though, i really dislike murky colored beers, but what are you gonna do, after all it's what's inside that counts right?
781 characters
4.02
/5
rDev
-1%
look: 4.25 | smell: 4 | taste: 4 | feel: 4 | overall: 4
Served from bottle into a Mikkeller Teku (almost proper). Poured a hazy golden yellow-orange with a one finger off-white head that subsided to a minimal amount slowly. Maintained phenomenal lacing throughout the glass. The aroma was comprised of sweet malt, earth, spice, smoke, citrus, citrus hop, earth hop, wood, bubblegum, and subtle white wine. The flavor was of sweet malt, citrus, citrus hop, earth, earth hop, bubblegum, and spices. It had a light feel on the palate with high carbonation. Overall this was a pretty good brew. I was really quite surprised to find some of the flavors and aromas that I did in this one. Particularly the bubblegum notes in both. This added a nice touch of fruity sweetness that really helped to balance out every other aspect of this one. A really quite well done brew that I'm glad I got the chance to tick.
848 characters

4.19
/5
rDev
+3.2%
look: 4.25 | smell: 4 | taste: 4.25 | feel: 4.25 | overall: 4.25
Splitting a bottle with Merc, just hit shelves today
The beer pours a very cloudy (lambic-like cloudiness) golden yellow with a thin white head that dissipates quickly. The nose is potently hoppy (white grape, citrus, passion fruitiness) with a hint of sweetness, but very little barnyard. The taste is pleasantly hoppy, a touch funky, and semi-sweet finish. It's a definitely a medium bodied, bretty IPA with a delicious hop profile. Very drinkable. I'm impressed by this beer and like it the most out of the femme fatale series.
531 characters
Evil Twin Femme Fatale Blanc from Evil Twin Brewing
4.06
out of
5
based on
174
ratings.