Falco
| Evil Twin Brewing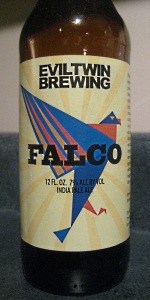 BEER INFO
Brewed by:
Evil Twin Brewing
New York
,
United States
eviltwin.dk
Style:
American IPA
Alcohol by volume (ABV):
7.00%
Availability:
Rotating
Notes / Commercial Description:
What makes a great leader? First of all a perfectly balanced blend of qualities; the ability to stand out - be authoritative without overpowering. Show courage and endurance - you will lead the way and set standards. Very important; be appealing and refreshing to the people. This stereotypical portrait applies whether referring to politics, religion or maybe even this outstanding IPA.
Added by Tone on 05-08-2013
Reviews: 131 | Ratings: 930

4.03
/5
rDev
+2.8%
look: 3.75 | smell: 3.75 | taste: 4.25 | feel: 4 | overall: 4
@ Ridgewood
Glowing hazy yellow topped by a thin, soapy head which deposits straggly lace on the glass. Pale citrus, slight herbal, and grassy hop aromas. Flavors of bitter citrus hops, solid underlying grain, and pine...snappy and refreshing. Tingly carbonation, medium-light, drying, and highly chuggable for 7%. Pretty bitter, bright, and hoppy making for a nice, quenching beverage.
387 characters

4.02
/5
rDev
+2.6%
look: 4.25 | smell: 4 | taste: 4 | feel: 4 | overall: 4
A: Poured from a bottle to a pint glass. Had a bright yellow color and a cloudy consistency. There was a half inch of foamy, fairly long-lasting head. OK lacing.
S: A lively, sweet aroma of citrus, hops, and pine.
T: Tasted pretty much like it smelled: A good shot of hops, pine, a little malt, and some citrus (grapefruit) as well. A solid flavor, very much like a West Coast IPA. Light and tasty.
M: A good amount of carbonation with a somewhat bitter finish. Light- to medium-bodied.
O: This is one of the better European-made versions of an American IPA. Very much drinkable.
583 characters

4.43
/5
rDev
+13%
look: 4.25 | smell: 4.25 | taste: 4.5 | feel: 4.5 | overall: 4.5
beautiful poor from the bottle to a pint glass, let sit 5 mins out of fridge before opening. the head was a nice off white and about 1.5 inches think, good retention and now has some nice lacing around the top of the liquid.
smells like a killer ipa, pine and resin, with a hint of citrus.
taste is very hoppy upfront, but not over powering, very balanced pine, resin, and citrus peel.
pleasantly carbonated and very light feeling on the tongue. it is coarse but very mildly so.
overall this is a great beer. i'm surprised it doesn't have a higher rating. this was was bought at beirkraft in brooklyn and is from the newer evil twin brewery in ct. i will definitely be getting this again.
693 characters

3.21
/5
rDev
-18.1%
look: 4.25 | smell: 3.25 | taste: 3 | feel: 3.25 | overall: 3.25
Pours a cloudy golden yellow into my DFH glass. A thick and fluffy three finger head floats like a cloud atop this honeyed nectar. The foam gently fades and leaves a nice bit of lacing dripping all over the glass.
Yellow grapefruit, bitter orange pith, lemon peel with a slight sugar sweetness as it warms. Not very complex in the nose. Citrus, citrus and more bitter citrus and pine. Little notes of wet hay as it comes to temp.
Grapefruit juice, lemon zest, pine needles, crumbley biscuits, and orange pith. Has a touch of sweetness and graininess that blends well with the intense pine and citrus punch. Nothing breaking any new ground here. A decent drinking IPA.
The citrus strips your mouth pretty good. Lots of Florida citrus, New England pine, and just a touch of sweet grain. It drinks O.K., but I tend to expect more from Evil Twin.
Not something I'll be seeking out often as I can get much better IPA's for the same price or cheaper. Decent at best. No complexity, just bitter citrus. Average at best especially for $10.99/4-pack.
1,044 characters

3.8
/5
rDev
-3.1%
look: 3.25 | smell: 3.75 | taste: 3.75 | feel: 4 | overall: 4
Poured a heavy straw color into a tulip glass and put up a nice 1 1/2 finger head with good retention and lacing - fresh grassy aroma - snappy and crisp on the tongue with light citrus and a bitter hop finish - crisp and clean mouthfeel - a satisfying and refreshing IPA - cheers!
280 characters
3.83
/5
rDev
-2.3%
look: 4.5 | smell: 4 | taste: 3.75 | feel: 3.5 | overall: 3.75
Pours a clear, straw color. One inch head of a white color. Great retention and great lacing. Smells of slight earthy malt, hops, slight pale malt, slight herbal, and a hint of citrus hops. Fits the style of an American IPA. Mouth feel is sharp and crisp, with an average carbonation level. Tastes of hops, slight sweet malt, hint of alcohol, hint of herbal, and a hint of earthy malt. Overall, good appearance, blend, and aroma.
429 characters
Falco from Evil Twin Brewing
3.92
out of
5
based on
930
ratings.