Steam Brew Imperial IPA

Privatbrauerei Eichbaum GmbH & Co. KG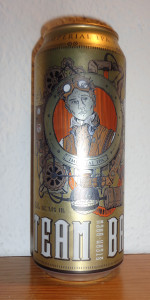 Write a Review
Beer Geek Stats:
| Print Shelf Talker
Style:

ABV:

7.8%

Score:

Avg:

3.31

| pDev:

22.96%

Reviews:

11

Ratings:

From:

Avail:

Year-round

Wants

Gots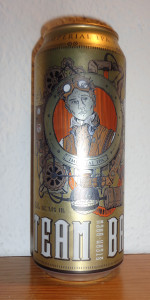 Notes:
Reviews: 11 | Ratings: 25

3.5
/5
rDev
+5.7%
look: 3.5 | smell: 3.5 | taste: 3.5 | feel: 3.5 | overall: 3.5
Can. American ipa forward with a bit of west coast vibes. Floral and piney. Earthy with some bitterness. A bit of citrus, but not a ton. Not really sticky or resiny. Bready malts. Shows abv minimally. Decent ipa.
212 characters
2.21
/5
rDev
-33.2%
look: 3 | smell: 2 | taste: 2 | feel: 3.5 | overall: 2
I'm a big guy and I get thirsty. This was on sale for $15 a case at the beverage center in town and I thought "How bad could it be?" Terrible. I hate to waste money/beer and like I said, I get thirsty, so I tried to force my way through one. Foul. Primarily tastes of unfermented malt, a little like Malta Goya with alcohol and more carbonation. Another reviewer disliked the high carbonation level, personally I found it to be the only thing that could have saved this beer, covers up the disgusting raw malt flavor for a few sips. Hops are all bitterness, virtually no aroma. I wanted to enjoy this beer and hate to waste the hard earned money that I have wrestled from the land on my farm, but I wouldn't give this to the pigs. I hope this isn't Germany's best excuse for an IPA.
782 characters
4
/5
rDev
+20.8%
look: 4 | smell: 4 | taste: 4 | feel: 4 | overall: 4
De Lidl. En cooa Teku. Viendo The Boys 1x08. Las notas de IPA americana son bastante suaves, pero la sensacion en boca es estupenda asi como la relacion amargor/dulzor, y todo por 0.7X€
187 characters

3.5
/5
rDev
+5.7%
look: 3.5 | smell: 3.5 | taste: 3.5 | feel: 3.5 | overall: 3.5
Pretty can set on this beer, but taste was pretty basic and similar to a weak American IPA. Nothing special but pretty cheap so drinkable for a night.
150 characters
1.73
/5
rDev
-47.7%
look: 3.5 | smell: 3 | taste: 1 | feel: 1 | overall: 1.5
This German offering looked promising, pouring a straw/gold color, with a healthy head. Even the aroma was not offensive. I then took a sip and everything changed. The flavor was horrible and had a chemical taste. This beer didn't survive more than three attempts before the remainder of the .5 liter can went down the drain.
325 characters
2.59
/5
rDev
-21.8%
look: 4 | smell: 2.5 | taste: 2.25 | feel: 3.5 | overall: 2.5
Ingredients: Water, Barley malt, hop EXTRACT (!!!!) Hazy gold with a massive head of foam..Smell (s) like something is wrong here...Tastes like just that, wrong! Thick bodied, artificial brew with some carbonation..What else is there to say. It was only a buck for a 500ml can.
279 characters
2.54
/5
rDev
-23.3%
look: 4 | smell: 2.5 | taste: 2 | feel: 4 | overall: 2.5
Got this one at the Lidl for €1
From a 50cl can into pint glass
16.8*P
APPEARA CE: Pours a 1+ finger, medium looking, fluffy white head with good retention. Hazy, opaque amber orange with medium levels of carbonation. Head slowly fades to a full, foamy cap then a full film, leaving lacing on the sides of the glass. Splotchy wisp remains leaving decent lacing as the glass empties. This is a solid looking brew.
SMELL: Light caramel nose with some apple, melon aromas and grainy malts.
TASTE: Grainy pilsner malts with melon flavors and sweet caramel up front. Some sweet malt at the swallow, then a bold finish of grainy pilsner malt, some caramel sweetness, melon flavors and some piney bitterness linger on the palate. Definitely grainy with some solid bitterness.
PALATE: Medium body and medium carbonation. Very creamy and smooth on the palate, goes down smooth and finishes a bit dry. Some grainy sweetness and bitter hops linger.
OVERALL: This is more of an overly hopped imperial pilsner than an imperial IPA. It's not bad but given the style, this falls way short of the benchmark. It's grainy, probably from the use of all pilsner malt as the base, and maybe even because of lager yeast. Not sure on the last one. The hopping isn't overly impressive either, though it'd be pretty hard to produce a massively hop forward DIPA for a euro a half liter. If you ignore the style on the can, this can definitely be satisfying for lots of beer drinkers. My dad loves pilsner as well as IPA. He'd be all over this.
1,539 characters

4.24
/5
rDev
+28.1%
look: 4 | smell: 4.25 | taste: 4.25 | feel: 4.25 | overall: 4.25
Tropical fruits, candied fruits with quite some punch in the nose - this is how you encounter this beer. Then it tastes quite intensive but not really in a WIPA way but maybe because it's quite heavily carbonated? (What would you expect from a German beer...?) still there is quite sweet hop intensity in the background as well. A far cry from the great American IPAs - but good enough for 500 Ft (1.5€) from Tesco in Budapest.
429 characters
3.58
/5
rDev
+8.2%
look: 4.75 | smell: 3.5 | taste: 3.5 | feel: 3.5 | overall: 3.5
L:
-pours a clear golden with a medium to big,frothy,offwhite head
-medium carbonation visible
S:
-grapefruit,peach,soapy,guava,passionfruit,spicy,mango
T:
-Follows the nose
-low to medium bitterniss for the style
F:
-medium carbonation
-light to medium body
O:
An honestly pretty decent IPA.
The typical Aromas are there, but not nearly as fragrant as in better Examples.
Marketing this as aregular IPA and not an Imperial IPA would probably set more realistic expectations.
It's ridiculously cheap too.
505 characters

3.05
/5
rDev
-7.9%
look: 3.75 | smell: 3 | taste: 3 | feel: 3 | overall: 3
Poured from a 0.5L can into a Dogfish Head tulip. Cool steampunk style artwork
L: Slightly hazed golden copper pour. Massive foamy white head and great lacing. Solid looking beer.
S: Sweet grains... light citrus and fruit. Inoffensive.
T/F: Sweet... grainy and caramel malts with light fruit/citrus. Not terrible... a bit overdone and lacking in bitterness. Medium bodied... well carbonated. ABV not terribly well hidden.
O: Expected more from a German brewery and really not a great IPA. Good looking pour and drinkable but overall one I'd avoid. Very cool artwork... tricked me into a 4-pack.
612 characters

3.48
/5
rDev
+5.1%
look: 3.75 | smell: 3.75 | taste: 3.25 | feel: 3.5 | overall: 3.5
0,5l can. 16,8% Plato.
Pours slightly hazy orange/golden beer with thick off-white head, moderate retention, some residual froth.
Smell - citrus, melon, passionfruit, grapefruit, floral hues.
Taste - sweet malty, caramel, decent bitterness.
Medium body, good carbonation, adequately balanced, peppery finish.
308 characters
Steam Brew Imperial IPA from Privatbrauerei Eichbaum GmbH & Co. KG
Beer rating:
85
out of
100
with
25
ratings