Ridgeback Ale
| No Label Brewing Company
BA SCORE
83
good
14
Reviews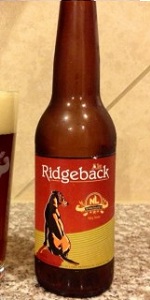 BEER INFO
Brewed by:
No Label Brewing Company
Texas
,
United States
nolabelbrew.com
Style:
American Amber / Red Ale
Alcohol by volume (ABV):
6.10%
Availability:
Year-round
Notes / Commercial Description:
No notes at this time.
Added by champ103 on 01-08-2011
Reviews: 14 | Ratings: 160

2.61
/5
rDev
-27.1%
look: 3.5 | smell: 2.5 | taste: 2.5 | feel: 2.5 | overall: 2.75
Appearance - It looks like an amber ale. poured from bottle into pint glass
Smell - Toasted malts. that's pretty much it.
Taste - Extraordinarily one dimensional. Toasted malts, and that's it. No sweetness or bitterness to balance the toasted malts.
Mouthfeel - Thin, weak - again, not enough bitterness to balance the malt flavor.
Overall - Tasted with another amber ale. This one paled in comparison. no depth of character at all. Toasted malt...again, that is it. It didn't taste bad, but it was blown away by another amber that gets pretty pedestrian ratings here. Will probably try it again to see if this was an anomaly.
631 characters
3.03
/5
rDev
-15.4%
look: 4 | smell: 2.75 | taste: 3 | feel: 3.25 | overall: 3
Poured from tap with minimal head, which diminished quickly. Not much lacing on the glass. Very dark amber in color, not quite opaque. Despite its color, the nose just isn't there. There's a faint hop aroma, not many malt notes. Initial taste is crisp with a slightly hoppy bitterness. As with the aroma, I was expecting a complex malt profile, given the dark color, but couldn't find it. The finish was lightly bitter. It's flavors come out a bit more as it warms.
Despite having a deceptive flavor profile, it's still quite drinkable as is... certainly drinkable in the Texas summer.
586 characters

3.18
/5
rDev
-11.2%
look: 3 | smell: 3 | taste: 3.25 | feel: 3.25 | overall: 3.25
Pours reddish brown with a finger nail head that leaves no lacing and recedes almost immediately. Subtle nose of brown sugar and bready malts. Taste is a malt forward amber- bready malt, brown sugar, and a grassy finish. Taste feels half finished, like they forgot to add something. Medium body and light carbonation with a weird finish and no aftertaste.
It's a good start but underwhelming and forgettable "blah" amber. The finish is gummy and unappetizing. I expected more.
482 characters

3.24
/5
rDev
-9.5%
look: 3 | smell: 3.25 | taste: 3.25 | feel: 3.25 | overall: 3.25
IBU: 24. OG: 1.055. "13C71G." Label identifies it as an American Amber, so I'm reviewing as such. Label art is simple and uninteresting. 12 fl oz brown glass bottle with branded silver-coloured pry-off pressure cap acquired as a single bottle at Whole Foods HQ and served into an Avery stem-tulip in me gaff in low altitude Austin, Texas. Reviewed live. Expectations are average; this brewery has yet to impress me. No ABBV is listed on the label. Brewed with Cascade and Golding hops.
Served cold - straight from me fridge. Side-poured with standard vigor as no carbonation issues are anticipated.
A: No bubble show forms as it's poured.
Pours a one finger wide head of off-white colour. Nice creaminess and thickness. Decent even lacing clings to the sides of the glass as the head recedes. Head retention is average - about 2 minutes.
Body colour is a nontransparent semitranslucent dark amber. Has an understated glow when held up to light. No yeast particles are visible.
Overall, it's a bit darker than the best ambers I've had, but it looks pretty standard otherwise. Not unique or special. There are no egregious flaws.
Sm: Amber malts. Cocoa powder. Generic floral hop character. Bready malts/bread crust. Toffee. A hint of vanillicin. Light toasted character. Heavy caramel/sweet caramalt. Some hints of char. Maybe a kiss of stonefruit. A surprisingly multifacted aroma for an amber, but one that abandons the usual bright refreshing character of a good amber. I'm interested to try it. Pleasant overall and of above average strength.
No yeast character or alcohol is detectable.
T: Plenty of amber malt and caramel/caramalt, along with a healthy amount of toffee and bready malts. Hopping is underwhelming - generic floral character is all I find. Soma cocoa and toasted character. I didn't expect it to be quite this bready. It's got interesting complexity for an amber, and even dips into winter warmer character. Unfortunately, what little stonefruit fruitiness it has isn't enough, and I'd prefer a brighter more juicy fruit character. More sweet than it is bitter. There's some subtlety, particularly inasmuch as the cocoa powder is concerned.
Overall, it's a balanced flavour profile with some interesting elements, and its different approach to an American Amber does make it stand out. An intriguing build, and one I'm enjoying more with each sip. That said, it's far from mind-blowing. I like it for what it is.
No yeast character or alcohol comes through.
The cocoa is a highlight for me, and really sells this as a different type of amber than most breweries are doing.
Mf: Smooth and wet. Has a full-bodied strong presence on the palate, with plenty of thickness. A biteen overcarbonated. Complements the flavour profile well, but I wouldn't say the texture is custom-tailored to the taste per se. Its bready qualities make it a filling beer - again, this straddles the line between an amber and a winter warmer.
Not oily, harsh, rough, gushed, boozy, or hot - though there is a slight alcohol-induced warmth which is atypical of a conventional amber but suits the vague winter warmer vibe this beer gives off.
Dr: Not a beer I would want to kill a 6 pack of on a gameday, but it's quite drinkable, sure. I'd have another. Hides its ABV decently. I could see myself getting this at a local bar when (i.e. if) it gets a bit colder in the upcoming winter months. This is my second beer from No Label and is considerably more interesting than the first. I'll be giving their other beers a try based on the relative strength of this one. While I wouldn't recommend it to trade partners, I might endorse it to friends if I see it at a bar. Well worth trying.
On a more local (Austin) note, I don't see this as a competitor to Thirsty Goat Amber (which by my estimation is currently the widely available amber around restaurants and bars in Austin.) It's a different type of amber and I'll be happy to see both coexist in the same market.
Serve cold and let warm a bit. Like a Winter Warmer, it develops a bit with some warmth.
Actually, this might age decently for a year or less. It's got the right malt presence for development with a bit of time.
Drank fine from a tulip, but I'd recommend a nonical pint glass.
High C+
4,277 characters

3.26
/5
rDev
-8.9%
look: 3.5 | smell: 3 | taste: 3.25 | feel: 3.75 | overall: 3.25
12oz bottle poured into a snifter
A- pours a deep Amber with a ruby hue, small foamy white head reduces to a film on top, leaving nothing behind
S- green vegetal aroma up front with some singed brown sugar and toasted bready malt, light grassy and herbal malt
T- vegetal flavor follows the aroma, reminiscent of beef stew. Toasted bread crust malt with some brown sugar notes, grassy and herbal hop finish
M- medium body and carbonation leads to a foamy mouthfeel that continues to the finish
O- a little off puting at times, but remains pretty drinkable
564 characters
3.46
/5
rDev
-3.4%
look: 4.5 | smell: 3.5 | taste: 3.25 | feel: 3.5 | overall: 3.5
Pours dark amber, cloudy with a finger width foamy head. Head retention is actually very good. Lacing is moderate. Has more of a floral, sour fruit type aroma. Almost more like a lager to me. Just slightly sweeter. Has an overall bready, malty taste. Somewhat of a spicy hoppiness at the end. Sour fruit taste at the end. Slightly dry and soapy at the end. A little skunky. Not a bad beer, but not really what I go for.
430 characters
3.47
/5
rDev
-3.1%
look: 3 | smell: 3.5 | taste: 3.5 | feel: 3.5 | overall: 3.5
A – A medium brown-rouge color that is translucent with a very small top of beige-white head and very little carbonation flowing up from the bottom. It doesn't look awesome but lets see what she smells like.
S – The aroma is just a smack of toffee, butterscotch, burnt wheat toast and perhaps a hint of vanilla and dark fruit. Really the most prominent smell though is the burnt toast aspect with the surrounding flavors just serving as sweetening elements. I'm not sure how I feel about this smell, it's kind of turning me off, but I am intrigued—it is unique.
T – The flavor is definitely an improvement upon the aroma, but only in the intensity with which the flavors are at. The flavor is much sweeter than the aroma with the toffee/butterscotch playing a far bigger role, but the burnt toast that was first noticed in the aroma is still very much present in the taste. It's not wholly unpleasant, but I wouldn't call it great either. It definitely has a bit of vanilla element to it and I can see where I thought up the dark fruit in the aroma as there is just a hint of it in here. Malt is definitely the star though…As it warms the flavors come together more congruently and it begins to taste rather good actually.
M – Mouthfeel is medium, moderate carbonation, not overly smooth or silky but it is kind of nice.
O – I do not love this beer. I think that it works, and for a while I was actually feeling it, but at the end of the day I don't love the smell or the flavor. I don't really recommend it.
1,540 characters
3.51
/5
rDev
-2%
look: 4 | smell: 3 | taste: 3.5 | feel: 3.5 | overall: 4
On tap at the Public House in Katy, TX.
A: Pours a dark amber/red/brown color. A two finger white head forms and recedes in a second. Plenty of sticky lace is left behind.
S: Toasted and sweet caramel malt. Some light hops. Overall, fairly neutral.
T: Sweet and toasted malt again. Bread and biscuit as well. Some citrus hops lingering. Enjoyable.
M/D: A medium body that is a bit thin on the carbonation. Not hard to drink, I could quaff a few without a problem.
Decent and enjoyable for the most part. The pale ale blows this away however.
543 characters

3.62
/5
rDev
+1.1%
look: 3 | smell: 3.5 | taste: 3.75 | feel: 3.5 | overall: 3.75
I didn't think it was a great beer but it is easy drinking in the Texas heat.
L: Dark brown reddish semi clear hue with a thin head.
A: The aroma is toasty malts and caramel.
T: Toasty malts, sweet caramel, some hop bitterness but not much. Could have had a a bit more flavor.
F: Medium body, easy drinking, and overall nice.
330 characters
3.66
/5
rDev
+2.2%
look: 4 | smell: 3 | taste: 4 | feel: 4 | overall: 3.5
Growler filled from The Whip In in Austin.
The beer pours a reddish-amber color with a white head. The aroma is full of toffee and cocoa. The aroma is fairly sweet and is definitely all about the malt.
The flavor is more complex than the aroma. I get a lot of cocoa and toffee notes, but I also get a little bit of dark fruit and cherry notes. There is also something that resembles vanilla in the flavor which goes very well with the other flavors.
Medium mouthfeel and medium carbonation.
496 characters
3.73
/5
rDev
+4.2%
look: 3.5 | smell: 3 | taste: 4 | feel: 4 | overall: 4
Ridgeback Ale pours to an amber/reddish hue with a cloudy body and a nose that combines cocoa, toffee, and just a dash of herbs. The foam level is moderate, but leaves a good deal of lace on the sides of the glass as you consume.
Ridgeback Ale offers a nice amount of complexity and the taste is fuller than the nose would indicate. Flavors of cocoa and toffee are present, as expected based on the aroma. But examine each sip a little more and you will discover other pleasant sensations such as pale malt, caramel, some roasted malts, grains, vanilla, and a touch of dark fruit and herb. The bitter sensation in the finish is slight, with the taste quickly returning to that of sweet malts in the aftertaste.
Ridgeback Ale was just recently released in bottles, along with the two other No Label Brewing core products. My review is based on the bottled version, but I have sampled the draft version dozens of times and find both of them similar in taste and enjoyment. The complexity of this beer is well above average and upon first impression, the taste of cocoa is the one that stands out. But with more samples and more sips, other flavors make themselves known and the complexity continues to deliver all the way to the bottom of the glass.
Ridgeback Ale is a good choice for the craft beer lover who wants something a little more adventurous without going to extremes in any direction. Grab a six-pack of bottles and enjoy the great taste of this non- pretentious and interesting amber ale.
1,504 characters
4.01
/5
rDev
+12%
look: 4.5 | smell: 3.5 | taste: 4 | feel: 5 | overall: 4
This is a really nice looking beer. Beautiful, thick, creamy head that sticks around a while, then laces the glass. I wanted to be a little clearer, but the color is right on.
I'm getting floral hops and some roastiness in the nose. Tastes like slight caramel with some bittering that doesn't over power. Quite roasty. The body is excellent. The malts stick to the roof of my mouth.
This is a very nice beer. Feels much hardier than most Ambers. Also, with more flavor than most.
483 characters
4.08
/5
rDev
+14%
look: 4 | smell: 3.5 | taste: 4.5 | feel: 4 | overall: 4
The beer pours a very dark brown color with a red tint, the head is tan with loose bubbles. It has a strong sweet toffee smell with a hint of chocolate. Tastes very good, I detected some dark chocolate with caramel and bread with a hint of bitterness from the hops. It has a medium body with moderate carbonation and a dry finish. This is a very nice amber I could drink this a lot more.
387 characters
4.25
/5
rDev
+18.7%
This one pours a very reddish-gold color that is clear and has a nice tan head that is thick, long lived and settles slowly leaving moderate lacing down the glass. the head settles so slow it pulls the lacing with it.
The nose is peppery, spicy hops with hints of grass, pine and bread.
The taste is nice and hoppy with notes of pepper, pine and camphor with a tinge of alcohol and nice bready sweet malt undertones.
The moutfeel is a little bit more watery than I would like, but not bad.
OVerall this on eis quite drinkable and enjoyable. I highly recommend it.
567 characters
Ridgeback Ale from No Label Brewing Company
3.58
out of
5
based on
160
ratings.