Don Jalapeno Ale
| No Label Brewing Company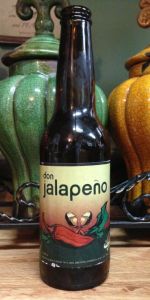 BEER INFO
Brewed by:
No Label Brewing Company
Texas
,
United States
|
website
Style:
Chile Beer
Alcohol by volume (ABV):
6.70%
Availability:
Rotating
Notes / Commercial Description:
No notes at this time.
Added by Mora2000 on 04-20-2012
Reviews: 13 | Ratings: 107
2.7
/5
rDev
-30.1%
look: 3.5 | smell: 3.5 | taste: 2.5 | feel: 1.5 | overall: 2.5
Tried at the brewery tour, I don't like the flavor of the jalapeno in this beer and the acidic burn in the back of my throat made me feel like I had been burping up bile.
I don't think I'll try another one.
★
209 characters

4.63
/5
rDev
+19.9%
look: 4 | smell: 4.75 | taste: 4.75 | feel: 4.5 | overall: 4.5
Pours a dark amber with quickly receding head. Smell is a nice spicy smoked jalapeno with a taste to match - a well made beer and the smoked jalapenos are definitely there. Has a nice spicy kick to it with perfect carbonation. Definite smokiness but not overpowering; really plays well with the beer. Overall a great chile beer that I will be having again for sure.
★
369 characters
4.4
/5
rDev
+14%
look: 5 | smell: 5 | taste: 4 | feel: 4.5 | overall: 4.25
Only had it once, bottled, enjoyed it for not having any food to pair it with. Do want again, didn't taste like anything gimmicky but exactly as advertised. Maybe too much for people. Carbonation was good, smell is even better. It's BA score is a little underrated.
★
265 characters
3.71
/5
rDev
-3.9%
look: 3.5 | smell: 5 | taste: 3.5 | feel: 3 | overall: 3
This is one of the best beers I have ever smelled, but, to be fair, it smells more like an entree than a beer. Unfortunately the flavor is pretty muddled. I didn't expect it to be watery but it is.
★
197 characters
5
/5
rDev
+29.5%
look: 5 | smell: 5 | taste: 5 | feel: 5 | overall: 5
By far my favorite beer. Once I run out I may make the 5 hour trip to Houston for more.
I love jalepenos. Jalepenos + Beer? This beer is pure magic.
★
153 characters

3.12
/5
rDev
-19.2%
look: 3.25 | smell: 3.75 | taste: 2.75 | feel: 2.75 | overall: 3.25
It tasted so good to me when I tried it as a sample at the store but when I got it home and opened one, I couldn't finish it. However I did bump it up to a 3.25 because it is really great to marinate chicken in while cooking.
★
225 characters
3.96
/5
rDev
+2.6%
look: 3.5 | smell: 3.75 | taste: 4 | feel: 4.5 | overall: 4
12 oz. bottle poured into nonic
(2/23/15 printed on bottle)
L: gold/amber, mostly clear, 1/3- to 1/2-inch head of white/off-white foam; keeps a decent collar, not much skin; no stick or lace
S: smokey and peaty ... very rauchbier-like ... there's smoke in there for sure
T: has that same smokey/peaty note from the smoked jalapenos, but there's also some standard grain taste as well as a distinct green pepper flavor ... the jalapenos are present, both in the flavor and in some lingering pepper heat in the aftertaste; as it warms, it really opens up and tastes like pureed jalapenos; the spicy tickle is both green and cayenne-like, very warm
F: fantastic ... the carbonation helps keep it crisp while the lightweight liquid is easy going down with all that heat off the peppers
O: really cool beer ... I'm surprised by the smoke/peat/rauchbier taste, but it works really well here; the fact that you can taste the jalapenos is perfect -- if this is a gimmick, at least you can taste the gimmick. and for me it's NOT a gimmick ... this brew is just begging to be paired with some food, tacos or cheese or something.
★
1,129 characters

4.79
/5
rDev
+24.1%
look: 4.75 | smell: 5 | taste: 5 | feel: 4 | overall: 4.5
I totally understand why people don't like this beer and I also totally understand why my feelings toward it are thought of as crazy by people. It's got a lot of chile in it. I mean a lot. Not like Punishment or Ghost Face Killah levels, but it's strong.
The aroma is pure jalapeno, to the point where you feel like you're burying your face in the chile stand at Central Market. The one with all the peppers near the produce. All those fresh peppers and your eyes start to water and you just know whatever you're cooking tonight is gonna be hot as hell and you're gonna love it.
Or rather, I'm gonna love it. Because apparently, others don't love that flavor as much as I do. Or, apparently, the aroma. But I do. Take a gulp and the adventure continues, coating the back of your throat with a magnificent peppery flavor.
With a name like Don Jalapeno, though, I guess I don't get what everyone else expected. I love it.
★
924 characters

4.04
/5
rDev
+4.7%
look: 3.75 | smell: 4 | taste: 4.25 | feel: 3.5 | overall: 4
this beer is like drinking a whole meal.
when you smell it-it smells smoky
then you taste it:
as soon as it gets in your mouth
you get smoky and salty like a slice of brisket
then you get a little spice like what you get from a pickled jalapeno
then you get the ale
overall this is a pretty good beer and might be perfect for Cinco de Mayo
★
341 characters

3.5
/5
rDev
-9.3%
look: 3.25 | smell: 3.75 | taste: 3.5 | feel: 3.5 | overall: 3.25
Pours a orange amber with a nice head. Smell is definitely jalapeno and the taste is definitely jalapeno with a decent burn. Not too much body or other flavor but for those who like a spicy beer, this beer delivers. A true jalapeno beer that they really nailed in terms of delivering jalapeno.
★
293 characters

3.99
/5
rDev
+3.4%
look: 3.75 | smell: 4 | taste: 4 | feel: 4 | overall: 4
Thanks to Chris (spycow) for this obscure Texas chile beer. You know what I like Chris. Served in a snifter.
A - White foam settles to a thick collar, wisps, and minimal lacework. Hazy dark orange body.
S - Smells like vegetal and lightly smoked chile peppers. There's some crystal malt and sugar cookie supporting things, along with some fruitiness; not sure if it's from the peppers, yeast or malt.
T - Tastes like it smells; it's an amber ale with jalapenos. A nice mix of vegetal and spicy flavors, with sufficient malt heft to get things from getting out of hand. Nice lingering burn in the finish.
M - Medium body, with lower carbonation, and a surprisingly smooth and creamy texture. The jalapenos impart a heat the gets seriously intense over time.
D - I thought this was great. It had the right level of spice, without going into gimmick territory; you can still taste the base beer and it integrates nicely with the peppery flavors. Would happily drink this again, although it'd be hard to have more than a bottle in an evening.
★
1,043 characters
3.76
/5
rDev
-2.6%
look: 3.5 | smell: 3.75 | taste: 3.75 | feel: 4 | overall: 3.75
Appearance: Pours a cloudy honey color; the rather modest head dots the side of the pint glass with lace
Smell: Toasty and grainy, with a distinct roasted pepper character
Taste: Toasted malt, up front, with the roasted hot pepper flavor arriving and dominated from mid-palate through the finish
Mouthfeel: Medium body with moderate carbonation
Overall: A rather fun beer; I wish the malt were a bit more interesting but, unlike most chile beers I have tried, this one gets the heat just right
Thanks, BeerHunter76, for the opportunity
★
540 characters
3.68
/5
rDev
-4.7%
look: 4 | smell: 3.5 | taste: 3.5 | feel: 4 | overall: 4
On tap at the Big Texas Beer Fest.
The beer pours a hazy golden color with a large white head. The aroma is a mix of biscuit malt and fresh green jalapeno peppers. The flavor is more of the same and about what I expected. The biscuit malt is overpowered by the peppers, which are also accompanied by a little bit of grass. Unlike some other pepper beers, the chilis add more flavor than they do heat, which in this case is a good thing. Thin mouthfeel and medium carbonation.
★
479 characters
Don Jalapeno Ale from No Label Brewing Company
86
out of
100
based on
13
ratings.