Mint IPA

No Label Brewing Company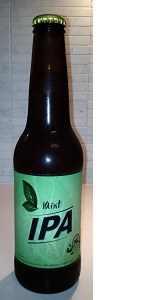 Write a Review
Beer Geek Stats:
| Print Shelf Talker
Style:

ABV:

8%

Score:

80

Avg:

3.44

| pDev:

14.53%

Reviews:

13

Ratings:

From:

Avail:

Retired (no longer brewed)

Wants

Gots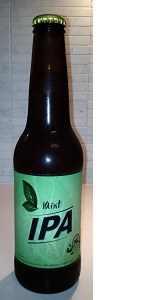 Notes:
Reviews: 13 | Ratings: 93
3.58
/5
rDev
+4.1%
look: 3.75 | smell: 3.75 | taste: 3.5 | feel: 3.5 | overall: 3.5
A great beer to share, but a whole pint....na. Not a person that likes mint in my beer. To me this is the same premise as rating a beer while chewing gum. Your palate is kind of all over the place
199 characters

2.96
/5
rDev
-14%
look: 3.25 | smell: 2.75 | taste: 3 | feel: 3 | overall: 3
BOTTLE: 12 fl oz. Brown glass. Simple yet elegant green label art & design. Branded silver pry-off pressure cap.
IBU: 125. OG: 1.071. Reviewed live as a mint IPA per the name and label. Served cold into a pilsner glass at low altitude in Austin, TX (where it was also purchased).
Expectations are fairly low given the brewery and this beer's premise.
No bubble show forms as it's poured.
HEAD: 3 fingers wide. Off-white/pale khaki colour head. Has a smooth even consistency with a full presentation and creamy soft appearance. Retention is pretty good for the high ABV - about 7 minutes. Leaves a light coating of webby lacing on the sides of the glass as it recedes.
BODY: Clear translucent vibrant copper. Abundant fine yeast particulate is visible suspended in the body.
Overall, it's a lively appearance for an IPA, and I dig its unfiltered look. But it's not a special or stand-out appearance in its style.
AROMA: Herbs dominate, with spearmint and juniper berries ringing most distinct. The gin-like juniper is quite off-putting, and while the cool spearmint does have its appeal, it doesn't really work alongside the sweet caramalt undertones. That said, I always like it when a beer evokes the note it promises to - I need pumpkin in my pumpkin ales, coffee in my coffee stouts, and mint in my mint IPAs, and this brings it. But the actual hop aromatics are minimal - which is a dire problem in an IPA - and the herbal mint eclipses.
Aromatic intensity is moderate to high; that mint is quite fragrant.
No yeast character, overt booze, or off-notes are detectable.
TASTE: It definitely brings the mint, with mint leaves and spearmint immediately coming through - though some drinkers will find the vague toothpaste vibe of this beer off-putting. Hop profile is herbal - which complements the mint nicely - but boy is it boring. Where's the citrus and pine promised in the description on the label? I do get some faint spiciness, but the loudness of the mint makes it hard to focus on the hops - which is a problem in an IPA. The caramalt and cream backbone works surprisingly well, though this does seem a bit imbalanced towards sweetness; in fairness, though, I think that's more from the lack of hop bitterness than from the prominence of the malty sweetness.
It's not a complex or intricate IPA build by any means, but the mint does help this flavour profile stand out when compared to the run-of-the-mill generic citrus builds of forgettable IPAs that tend to sit on shelves. It's an overt, plain brew, but I love that it commits to the mint. Luckily the juniper berry I found in the aroma is largely absent here. Depth, duration, and intensity of flavour are average. I do wish this were better balanced.
TEXTURE: Smooth, wet, coating, cool, fairly refreshing, and medium-bodied, with moderate thickness and something of a sharp overcarbonation. It's never syrupy or anything, but could definitely use improvement. More of an oily resinous sticky feel would do it wonders. As-is, it's a decent complement to the taste, but fails to elevate the beer. Overall presence on the palate is okay.
OVERALL: It's easily on the high side of average in its style, and as good as the mint is, it would work so much better in a porter or a darker ale. The hop profile is lacking in this beer, which is a problem when the style is meant to be a hop showcase. I like the integration of mint, but the fundamentals just aren't here. It's a drinkable brew, hides its ABV well, and isn't the gimmick beer it could be, but the discerning drinker will be left unimpressed. I wouldn't buy this again, and continue to be underwhelmed by No Label.
High C
3,657 characters
3.87
/5
rDev
+12.5%
look: 4.5 | smell: 3.75 | taste: 3.75 | feel: 4 | overall: 4
I am finally trying this beer. Being from Houston, a fan of Karbach and a fan of IPAs; I still have been hesitant about it with "mint" in the name. While not the greatest IPA, I was expecting worse and am pleasantly surprised. Pours cloudy, dark amber color with a finger width foamy head. Head retention is good. Lacing is moderate. Slightly citric, piney aroma up front that is quickly overpowered by a strong mint aroma. The taste seems to follow suit. The mintiness is strong at the end, leaving a minty, bitter aftertaste. Slightly soapy. While the mint is a bit overpowering, it does seem to compliment the hoppiness of the beer. It is very hoppy. Would drink again, but would probably not buy a 6 pack to keep on hand.
737 characters
3.5
/5
rDev
+1.7%
look: 3.5 | smell: 3.5 | taste: 3.5 | feel: 3.5 | overall: 3.5
Cloudy copper colored pour with a slightly off-white one-finger head. Aroma is light floral hops. Taste of pine and floral hops upfront backed by a very light minty coolness. Medium bodied. Finishes dry. Really nice beer that is slightly different. While there is a strong hop presence and bitterness, the mint ads a nice slightly cool edge to the flavor.
355 characters
3.51
/5
rDev
+2%
look: 4 | smell: 3.5 | taste: 3.5 | feel: 3.25 | overall: 3.5
12oz bottle into a snifter. The brew appears a clear copper color with a yellowish stained head a finger strong that holds well. A full wall of lace sticks to the glass.
The smell is quite herbal with hops contrasted by a caramel grain backing. A bit of solvent alcohol is also noted. No real mint aspect protrudes beyond the typical herbal component of the hops.
The taste is quite bitter. Some herbal and sulfuric character blends in with a carbonic bite. Some neutral solvent alvohol is quite apparent with an added tannic bitterness that is bitey and drying on the tongue.
This is a medium bodied brew with a modest amount of carbonation. It is quite bitter almost to fault with very warming alcohol. I dont get much mint flavor but its more like an added/accenting bitterness. Was cool to say I tried it but I doubt this is something I would revisit.
858 characters

3.15
/5
rDev
-8.4%
look: 3 | smell: 3.5 | taste: 3 | feel: 2.75 | overall: 3.25
A: pours with a large head and a thick honey yellow color. A to of visible carbonation and lacing.
S: not really mint but as others have pointed out there is some spearmint and yeast. Nothing too potent.
T: different is what they drove for and warmed to be what they got. Some mintish and slight lemon in there. A kind of flavor mix between an unfiltered wheat and normal IPA...odd
M: heavier than it should be with a sour back end that lingers unpleasantly.
O: different is all I can say about this one. Not worth anything other than a flight glass unfortunately.
565 characters

3.59
/5
rDev
+4.4%
look: 2.5 | smell: 3.5 | taste: 3.75 | feel: 3.5 | overall: 3.75
12 oz bottle pours a sickening opaque light brown color with a modest cap of off-white head. This beer is so cloudy, I cant even see my fingers behind the glass - not very cool.
Nose is definitely minty - more spearmint than peppermint. I really dont get much else to be honest. The mint does smell natural, fragrant and good.
Taste is minty as well and actually plays pretty well with the hops, which come on pretty full force after the initial mint blast. Malts are substantial (toffee, light toast and mild caramel) but dont impede the mint and hops. I cant believe the ABV is 8%, the beer integrates it well. Despite my initial misgivings on a Mint IPA and the sordid appearance, I am enjoying the flavor of this well enough. I would probably even go so far as to say this is the best beer I have had from No Label. I hadnt pulled the trigger on a six-pack purchase of this due to the previous offerings I have had from NL, picked this bottle up as a single. I think I would even buy a sixer of this, especially if I had a couple upcoming BIFs, this would be a fun beer to share with others.
1,097 characters

3.55
/5
rDev
+3.2%
look: 4 | smell: 4 | taste: 3.25 | feel: 3 | overall: 3.75
Appearance: Golden amber. Medium carbonation and head.
Smell: Very hoppy, faint citrus.
Taste: Hoppy, piney. Slight spice/mint in the aftertaste. Mint is not incredibly obvious.
Overall: This is a solid IPA. I expected more mint based on the name. I would recommend this to someone looking for a nice IPA, but not something "exotic".
334 characters
2.6
/5
rDev
-24.4%
look: 2.75 | smell: 2.75 | taste: 2.5 | feel: 2.75 | overall: 2.5
Rocky white head sits atop a burnt orange body. Calling this beer murky would be an understatement. Smells of piney hops, toasted and honey malts, and a touch of spearmint. The mint comes off more as an essence than what is billed as the star of the show.
Pine and citrus hops are present, but this is very much a malt forward IPA. Some honey. By the end everything kind of blends together into something indiscernible, but there is a pleasant lingering bitterness. The mint is so subtle I could be imagining it. I guess this is medium-bodied, but there is something hard to drink about it. Mild carbonation. Sitting kind of heavy.
633 characters
2.05
/5
rDev
-40.4%
look: 2.5 | smell: 2.5 | taste: 2 | feel: 2 | overall: 1.5
Pours out a murky apricot. Very little head. Aroma is quite faint for an IPA. Some citrus in the nose, but wow, really faint. Mint? Don't get any. Flavor is just muddy. Muddy bitterness. Hop flavor is the opposite of bright (muddy again??). Just a weird, flat bitterness. Fairly sweet up front, but dries up in the back. Mouthfeel is severely lacking in carbonation. A bit slick and fluffy at the same time. Kind of numbs my tongue. Weird. This reminds me of someone's mediocre attempt at homebrew. No Label through and through.
528 characters
3.88
/5
rDev
+12.8%
look: 4.25 | smell: 3.75 | taste: 4 | feel: 3.75 | overall: 3.75
Very nice looking, kinda tannish orange with a slight haze and a great big head that didn't want to go away and stuck heavily to the sides of the glass.
A definite mint presence is noted in the nose and taste. Sticky, resinous hops dominate, with piney notes being up front, along with some citrus. It's a little sweet and the malt base is ample enough to balance out the plentiful hops.
Body is medium, carbonation is medium, drinkability is good for one, a bit overpowering if you're wanting more than one. Alcohol is not noticeable much in the nose or taste but there's a bit of warming on the way down.
It's likeable, if not outstanding. I would certainly try another of this brewery's beers after trying this one.
721 characters
3.18
/5
rDev
-7.6%
look: 4 | smell: 3.5 | taste: 3 | feel: 3 | overall: 3
On tap at Beaver's in Houston.
A: Pours a dark orange/red color. Slightly hazy. A two finger white head forms with plenty o sticky lace.
S: The aroma is of pine, tree sap, very resinous. Piny hops that fades to a bit of caramel sweetness.
T: Follows the nose with lots of pine and resin. Sticky, soapy hops that are a bit over barring. Finishes on the sweet side with burnt brown sugar and caramel malt.
M/D: A medium body and carbonation. Sticky, soapy, oily, and slick. The alcohol is a bit to much and I am not a huge fan of the slick, oily feel. Not something I care to come back to often.
A fairly average IPA. To much slick, oily piny hops for my taste. If you like piny and resinous hops, this is for you.
714 characters
3.58
/5
rDev
+4.1%
look: 4 | smell: 3.5 | taste: 3.5 | feel: 4 | overall: 3.5
On tap at The Holy Grail. The beer pours a hazy golden-orange color with a white head. The aroma is full of pine and pineapple, with a hint of biscuit malt. The flavor is very similar. The pine and orange citrus notes stand out. There is a good amount of bitterness. I get a very light mint aftertaste but I doubt I would get it if I wasn't looking for it. Medium mouthfeel and medium carbonation. A good IPA, but definitely lacking in the mint character.
457 characters
Mint IPA from No Label Brewing Company
Beer rating:
80
out of
100
with
93
ratings