DeCicco's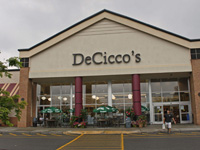 PLACE INFO
Type:
Bar, Eatery, Store
50 Independent Way
Brewster
,
New York
, 10509-2360
United States
(845) 278-0836 |
map
deciccoandsons.com
Notes:
No notes at this time.
Added by BeerAdvocate on 11-29-2010
Reviews: 31 | Ratings: 72
4.5
/5
rDev
-0.7%
vibe: 4.5 | quality: 4.5 | service: 5 | selection: 4
First try. Bartender (Andrew) knowlegeable and extremely helpful. Well worth a visit. An unusual venue, but a great experience. Excellent selection, rotating beers on a regular basis. Flights available.
This is the first bar I've ever heard of in a supermarket. It works. Growlers both 32 oz. and 64 oz. available at very reasonable prices.
You can purchase food in market and bring into bar. Relaxed atmosphere. Staff is attentive, but not intrusive.
Stop in market for excellent selection of craft beer. (80% of shelf space is devoted to craft beer)
555 characters

4.41
/5
rDev
-2.6%
vibe: 4 | quality: 4 | service: 5 | selection: 4.5
Went here while I was in the area.
Store has a very large selection. They also have a sweet bar area where you can drink and have growlers filled while your wife shops. Off the top of my head, I know ST Mokah was on tap. Don't recall the others as I was in there for bottles, not for a pint.
The aisle was huge and full of stuff I don't see regularly, as I live in MA. A large refridgerated section as well. Quite a few gems. Cantillon, Bruery 2010 Coton, GI Big John and Nighstalker come to mind. Good selection of Cigar City as well, which is where the problem arose.
My CC Jai Alai was far past its prime, despite being in the fridge. No bottle date, and word from CC is that they've been bottle dating that beer for at least 3 months. Alas, I don't live in the area, and I can't return it. Waste of $12.99. I ended up with a Cantillon Classic Gueuze, and the gf bought a few singles.
Prices overall seemed reasonable. From the stuff I knew, it was priced similarly to MA. Service overall was very good. Too bad when I think of this store, I'm going to think of the one lousy sixer of Jai Alai I bought, and will be hesitant to buy any other non-dated IPA there.
Edit: Two months later, I've received a fresh sixer of jai-alai after courtesy of Drew, who works there, He went out of his way to mail me a package that included not only the Jai-Alai, but a Captain Lawrence/Decicco's collaboration beer.
This may not change the fact that you may get an old sixer of IPA there, but that's true for a lot of places. But this shows their clearly doing their best not to let it happen.
1,588 characters

4.8
/5
rDev
+6%
vibe: 5 | quality: 4.5 | service: 5 | selection: 5 | food: 4.5
Like many others, the first time I went to this place, I was just expecting a high end market. I had heard about the beer selection at the Ardsley location, but was still skeptical. I was blown away by the selection, both in cooler and room temp, and that was before they installed the growler fill station/bar.
A: The atmosphere of the market is set up like an old Italian Market in a newer builing. The beer is in the back right corner, with about a dozen cooler doors and many shelves for the room temp beer. The bar/growler fill area is to the immediate left when you walk in, by the cash registers. They also have 2 large HD TV's (1 on each side of the bar) showing whatever sporting events are on. They will usually change the channels to whatever you want to watch, as well. MANY free samples of cheese set up throughout the building.
Q: The quality of the food on the hot bar is always top notch. Their pizza is pretty solid. The beers on draft always have clean lines.
S: The service in the bar is always top notch. Andrew, the barkeep, is very knowledgable and friendly, and will always give you a sample(s) of whatever beer(s) you would like to try. In the bottle department, workers will regularly go in the back to see if they have something you're looking for if it's not on the shelves.
S: The bottle selection blew me away the first time I went. They carry MANY things I can't get in CT, ie GI, Troeg's, Pretty Things, Founders. The bar gets great kegs on tap as well, from local, national, and international craft breweries. They recently had DFH Hell Hound on draft, as an example. They currently run 12 tap lines.
F: The food selections are off of a pay-per-pound hot/salad bar. They also have fresh pizza and soup. All of the above are fresh and great. Andrew will also often put out little snacks on the bar for patrons as well.
V: I find most things at DeCicco's to be fairly priced with a few rare exceptions. I would say that 90% of the time they are right on market value.
2,003 characters
4.7
/5
rDev
+3.8%
vibe: 4.5 | quality: 4.5 | service: 5 | selection: 5 | food: 4
When they were building this place I thought it was going to be just another gourmet market. I must confess for a long time after they opened I hadn't gone in and still took it for a high end grocery store. My parents told me that they had one of the largest selections of beer in the county. Being skeptical about what I had heard I went to the store with a friend not expecting too much. When I got into the store I have to say I was impressed with how it was set up. Along the outer walls they have a little village theme set up with all the bells and whistles of a fully functioning marketplace. Now, on to the beer. I have to say I was very impressed with the large array of beers to choose from. I must have spent about 45 minutes going through their spectacular selection. A few months later I returned to DeCicco's to find that they had recently opened a fully functioning bar in the store. I met up with a fellow Beer Advocater who I also went to high school with who happened to be the bar tender there. He explained to me that soon DeCicco's might be selling beer making supplies which I got very excited about. The taps at the bar are rotating every week with excellent craft beers. They also have growlers available to fill up upon request. Needless to say I will definitely be recommending and returning to DeCicco's often.
1,337 characters
4.53
/5
rDev 0%
vibe: 4 | quality: 4.5 | service: 5 | selection: 4.5 | food: 4
I've visited twice since the opening to buy beer.
I live in CT, so there's always some great beers that I can buy there: Cigar City,Troegs,Founders,Pretty Things,Goose Island and others. Lot of the high end Italians and a really nice selection of Belgians. I always buy more beer than I think I will.
Also, the store itself is awesome. The cheese, salumi, olive selection blows me away....lots of good prepared meals, and my main source for farro at a reasonable price. Quality produce....Ok, I'm off topic...beer, right ?
Last night, we also stopped into the new bar for beers and a growler. We were able to grab some food from the store and bring it into the bar to have with our beer. Nice lineup for glasses and growlers. A few from our visit: Gnommegang, My Antonia, Sixpoint Sweet, Bigfoot, Espresso-Oak Yeti... and others.
Really nice space... prices on glasses and growlers were about right for the area. Wine is also available by the glass and there are some food options, beside what you bring in...cheese plates, duck...will have to try something next visit. Nice glassware used for each selection. Wide screen TV's on either wall. You could easily settle in and spend some time here.
Growlers are filled with a counter pressure filler. Also besides the normal 64 oz. , you can get all beers in a 32oz swingtop. Nice option !
Andrew, behind the bar, has a lot beer knowledge,a real passion for beer; and he treated us really well. He made helpful suggestions and talked with us about upcoming events and plans for the bar area...all of which sounded good....and beer in general. It makes a big difference for a place to have good, beer-smart people to run a place that beer geeks will flock too.
I am really happy that it's only a 35 minute drive from where I am and plan on making frequent trips to DeCicco's.
1,827 characters

4.44
/5
rDev
-2%
vibe: 4 | quality: 4.5 | service: 4 | selection: 5
I travel here once a week from across the line in Danbury, CT, which is a 15 minute ride. You can munch on all the free cheese samples while you pick through the huge beer selection, which seems just as large (if not larger) than the one in Ardsley. Awesome selection of micro and craft beer, freindly staff, and a nice place to do some grocery shopping as well (although the groceries are expensive when compared to say, Stop N Shop). Expect to see Troegs, Goose Island, The Bruery, Cigar City, Founders, Bear Republic, lots of Mikkeller, and a nice Belgian and English selection. There's a growler filling/wine bar/appetizer station opening any day now as well.
663 characters
5
/5
rDev
+10.4%
vibe: 5 | quality: 5 | service: 5 | selection: 5
OK...beer heaven just got a little bit brighter. I'm in DeCicco's last Thursday night, about 30 minutes before close. I have the beer sections (fridged and otherwise) to myself and I'm loading up the cart with my BA "wants" list. $70 later, I wander towards the check out and make inquiry as to what is going in the cafe-like space to the right of the check out lines. "Oh, that's where the growler bar is going"....no friggin way! I blurt out. Is there a couch and a TV?! "Yes, sir, and a bathroom and you can purchase some food in the store (which is pretty much all gourmet) and you can sit in the cafe and drink your beer"...no friggin' way! I blurt out again...when can I move in???? Are they offering lap dances too? PLEASE send your business to this place and keep the dream alive...btw, I believe the growler bar opened this past weekend (2/12-2/13)
Update: Growler bar is now open as of April 1. I stopped by and filled up one of Captain's Kolsch, which I tried at the bar there. However, the Jamoke behind the counter failed on their CO system and "flattened" my entire growler. I was not happy, as Saturday was a sunny, somewhat summery, drinking day and I was looking forward to my Kolsch...damn...
1,211 characters

4.3
/5
rDev
-5.1%
vibe: 4 | quality: 4.5 | service: 4 | selection: 4.5 | food: 4.25
Being a big fan and frequent visitor to the Ardsley DeCiccos location, it was a no brainer to do a slight detour and check this location out on a recent trip to Massachusetts. It's just a few minutes off of Rt. 84, up a hill in a typical big box shopping mall.
Large store, tons of quality cheese, meats, fish, veggies, everything you would expect. Think almost Whole Foods through an Italian, gourmet lense.
O.K. but you want to know about the BEER...it's to the rear, right corner. First in a huge cooler and then more on shelving further back and along the right wall. Extensive selection of bombers, sixers, locals (Captain Lawrence, of course), regionals and national good stuff. Plus Belgians, Brit, German imports. They basically have all the quality beer that's available in the area. You will find plenty of options and combined with the quality and plentiful food available, this is a very worthy stop for beer focused foodies.
Taps and growler fills are said to be in future plans.
995 characters
4.7
/5
rDev
+3.8%
The newest edition to the DeCicco's Marketplace family. Real happy with this one because it's a lot closer than the Ardsley Location (which is awesome too). Brewster did not disappoint at all. Theres a really big cooler full of all sorts of beers and a big shelf full of some really special stuff. Locals like Southern Tier, Captain Lawrence, Brooklyn, just to name a few. As well as Cigar City, Troegs, Cantillon, Boon, Nogne O, Mikkeller, Avery, and a whole lot more. Really awesome selection and the employees are very helpful. They are constructing a Bar area that, to my knowledge, will have Multiple taps for Growler fills with a counter pressure filler, as well as a licence to serve beer on location. Food Shopping + Pints = Good Idea. The product in these stores is excellent quality. The cheese selection is very good, as well as every other aspect of this store. Loaded with locally sourced products and the best of the best in almost every section. Really worth checking out.
987 characters
3.75
/5
rDev
-17.2%
DeCicco's is a very nice, upscale semi-supermarket located next to the Kohl's in the Kohl's/Home Depot Shopping area right off Rt 84 in Brewster. The refrigerated beer case is in the back right of the store, and contains a lot of Micro six's. It did not look like you can break up the 6 packs. There were also a good amount of Bombers in the case, consisting of Belgians, Local micros (Cap't Lawrence, etc) and more famous micros. There is a shelf further back to the right that holds some treasures. Mikkeller, Nogne, British Ales, and a few I haven't seen in NY before: Baird's (Japanese brewery), Cigar City (2 varieties), and a few Belgians. Selection is excellent. As it is a supermarket, there wasn't any beer knowledgeable staff around, but the regular staff is very friendly. Definately worth a trip.
808 characters
4.35
/5
rDev
-4%
brand new big super market with high ceilings.
it has a huge 40 foot (approx) wall of glass door coolers full of beer. also a un-refrigerated bomber and single shelf that is about 15 long.
selection is great and coming from CT they had a number of brews like troegs, bear republic, green flash, full sail to name a few that i can't get in CT. Although they didn't have great lakes or cigar city which i often travel to ny for. Ardsley Dicicco had both as I recall and may be a matter of time or availability.
It is by far the best beer selection in Brewster wide area. I stopped by a few beer/soda stores locally and all felt a bit run down and dirty.
the only place to go in the area imho.
694 characters
DeCicco's in Brewster, NY
4.53
out of
5
based on
72
ratings.