Kloby's Smokehouse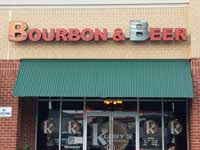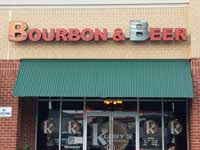 Bar, Eatery
7500 Montpelier Rd
Laurel
,
Maryland
, 20723-6012
United States
(301) 362-1510 |
map
klobysbbq.com
Notes:
Reviews by yourefragile:
More User Reviews:
milkshakebeersucks from Maryland
4.31
/5
rDev
+1.7%
vibe: 4 | quality: 4.25 | service: 4.25 | selection: 4.5 | food: 4.5
Located in a strip center midway between Baltimore and Washington, right off US Rt 29 and not too far from I-95. BBQ is a main draw (the beef brisket is great!) but most nearby beer knurds know of the stand-out tap selection. Counted roughly 20 of them and about half were from Maryland breweries. On our most recent visit, there was also a Corsendonk Triple available. Ample selection of bottles as well. Service is usually very reliable.
Nov 13, 2020
RBorsato from Virginia
4.23
/5
rDev
-0.2%
vibe: 4 | quality: 4.25 | service: 4 | selection: 4.5 | food: 4.25
Great rotating beer selection !
Jun 07, 2016
Big_V from Maryland
3.91
/5
rDev
-7.8%
vibe: 3.25 | quality: 3.5 | service: 4.25 | selection: 4 | food: 4.75
Aug 14, 2015

jzeilinger from Pennsylvania
4.5
/5
rDev
+6.1%
vibe: 4 | quality: 4.5 | service: 4.75 | selection: 4.25 | food: 5
When I'm in the area on business I like to visit Kloby's for some great BBQ and good craft taps. No matter how busy, the service has always been great , the food has been great, and lots of screens with sports in the bar area. Kloby's also keeps their online beer list up to date and they have somewhat of a love for good bourbon so you can find that there as well!
A recommended stop. I'll be back next time I'm in town!
Jul 29, 2015


shahn from Maryland
4.76
/5
rDev
+12.3%
vibe: 4.5 | quality: 5 | service: 4.5 | selection: 4.75 | food: 5
Great draft & bottle selection! Seasonal selections & hard-to-get beers on tap! Also great bourbon selection Knowledgable & friendly staff on both sides. Cool atmosphere, kind of eclectic mix of bourbon barrels meets fireman with beer signs. Bar on one side w/tables as well. And a general seating area on the other side.
I love the food here, I also love barbecue. I've taken friends here who don't particularly love barbecue & they found items they liked.
I love going here!
Jan 13, 2014


bigdaddyd069 from Maryland
4.25
/5
rDev
+0.2%
vibe: 4 | quality: 4.25 | service: 3.75 | selection: 4.75 | food: 4.5
Atmosphere is nice and the place is clean. Was completely renovated in the past 1 1/2 and now has a dining room and a dining/bar area. Plenty of flat screens to watch the game and no bad seat at the bar.
Service is good and bartenders are knowledgeable about the beers that they have. They also make good recommendations on their food.
Beer selection is great with 32 crafts on tap. Price for beer is "ok" and have a sampler. The sampler gives you 4 - 5oz pours of your choice.
Food is not just BBQ but North Carolina style Southern BBQ. So its not like St Louis, Chicago, or Memphis (sweet). Its really good and they feature all your usual southern BBQ foods (Ribs, chicken, pork, etc.). They also have local specials (i.e. Cream of Crab Soup). The food is of high quality and very good.
Summary - The place is a little pricey but Its nice to find a place with great food and great crafts on tap and this place has both.
Jan 15, 2013
John_M from Oregon
4
/5
rDev
-5.7%
vibe: 3 | quality: 4.5 | service: 3.5 | selection: 4.5 | food: 3.5
Located in a strip mall just off of hiway 29, Kloby's is a sizeable restaurant with two dining rooms, each with it's own bar area. The atmosphere is kind of stark, with a few nascar decorations and some beer posters positioned haphazzardly around the dining rooms and walls. The vibe is quite informal, and I think they had to have had some 15 or 20 flat screen TV's positioned around the two dining rooms (including a large screen in the main dining area). Except for those times when there's some major sporting event (I assume), Kloby's comes across as a family restaurant, which is what I primarily saw in attendance on this day. The cuisine here is not particulary adventurous (burgers, wings, pulled pork, ribs, brisket, etc.), and the food prices struck me as fairly gentle for the area (very close to ultra expensive Columbia and Howard County). My two meat platter came to around $15 and was decent size for the money I thought.
As for the beer selection, it was really pretty good. Kloby's boasts that they have 32 beers on tap, with the only macro swill consisting of bud lite and miller lite (both are also in bottles, which I thought was a bit strange). Quality was pretty high otherwise, with the more interesting selections consisting of Union Jack IPA, Bear Republic Mach 10, Rasputin RIS, Midas Touch, Old School barleywine and tweason. They were also running a special on DuClaw beers (5 of which were on tap); you could get all 5 beers in a sample size arrangment for a discounted price. In addition to the draft selection, Kloby's also has a fairly decent bottle/can selection, broken down into domestic beers, craft/microbrew, imports and cans. Interestingly, Samuel Adams and SNPA were both included in the domestic selection (along with miller, but lite and the like). The can selection included stuff from Oskar Blues and Sixpoint (as I recall).
In terms of service, I guess it was OK. The waiter/bartender wasn't particularly engaging, but everything came out quickly enough once I placed my order. Prices for beer were a bit on the high side, but I was expecting that given the location of Kloby's. Pint prices are typically $6 a pop (I was here during happy hour when all drafts are a dollar cheaper), with higher abv. beers going for $7 and coming in a 12 ounce chalice. The Old Schoole BW comes in a snifter (for an even higher price I would assume - I didn't order one), as do things like the 120 minute IPA and WWS when they have those beers.
As for food, again it's OK for what it is. I've had good barbeque in Memphis and KC, and naturally the quality of the BBQ here doesn't come close to the stuff you get in those cities. On the other hand, the meat was good quality and the pork ribs I got were babybacks. The biggest problem is that the meat tasted as if it hadn't been cooked nearly long enough (I'm not even sure they "slow cook" the pork shoulder), and there was sort of faked/liquid smoke flavor to the meat. I'll probably order something else if I come here again.
Shrug.... this is a place I'll definitely keep in mind if I'm ever back in the area, but otherwise there's really nothing here that you can't find more cheaply at some of the other places closer to home in Baltimore. The food is decent, but is not so wonderful that it merits a special trip (IMHO). From what I could tell, Kloby's seems to appeal to a local crowd, and that makes sense to me. I'd come here from time to time if I lived close by, but as I don't, I probably won't.
Feb 21, 2012
Dragerman from Maryland
4.45
/5
rDev
+5%
vibe: 4 | quality: 4.5 | service: 4.5 | selection: 4.5 | food: 4.5
A friend and I were pleasantly surprised at the tap selection here at this firefighter-themed restaurant and bar that specializes in smoked bbq. The owner, Steve Klobosits, is just starting to build his tap offerings. We were glad to suggest certain brewers and beers and he is one of the very few who actually listen. Recently we enjoyed a tap selection of Oscar's Gordon, Dogfish Midas and 90, Allagash Black, Kona Porter, Ommengang Chocolate, Victory, Heavy Seas, Rogue, Bear Republic Racer 5 etc. We were very pleased to see him make an effort to put in taps. This is the closest place around Montgomery County, MD where real tap and bottle selection exists for microbrew lovers. We used to have to drive all the way to Frisco's in Columbia MD to find the taps.
Steve was wise to follow our suggestion to create a tap beer flight of four tasters to help customers taste a variety from the tap row. This is an inexpensive way to tray the taps without committing to 16 oz of something you don't like, and it saves the bar from giving away lots of expensive tastings, I wish more tap houses did the same. The place has a microscopic bar at this point in time, but promises a major expansion in the next month or two, and will specialize in a large variety of whiskey's and scotch's along with having great beers on tap.
The place smells great from all the bbq, food was great, service was very good. This place has a family-run feel and you'll see his wife and kids helping out. This is no place for swearing drunks or pumping dance and rap. The owner is planning on live music, classic rock and blues style. The beer fridge is crammed with tasty selections for bottle drinkers.
After searching for a place within striking distance of our northeast Silver Spring addresses, Klobys is one of very few places just outside of Montgomery County to offer the best variety of taps north east of the beltway.
Feb 13, 2011
Kloby's Smokehouse in Laurel, MD
Place rating:
4.24
out of
5
with
12
ratings