Skunk Black IPA
| Three Heads Brewing
BA SCORE
83
good
65
Reviews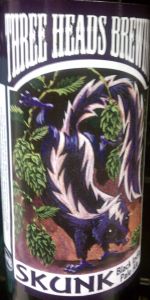 BEER INFO
Brewed by:
Three Heads Brewing
New York
,
United States
threeheadsbrewing.com
Style:
American Black Ale
Alcohol by volume (ABV):
6.50%
Availability:
Year-round
Notes / Commercial Description:
Yes, Skunk Black IPA. Big hop aromas hover over this perfectly balanced, dark beauty. Who knew a skunk could smell so good? Discover why a hint of roasted malt is the perfect complement to big hop flavor. Get Skunked!
6.5% Alc/vol. 75 IBUs
Added by John on 12-05-2010
Reviews: 65 | Ratings: 148
3.98
/5
rDev
+9.3%
look: 4 | smell: 3.5 | taste: 4 | feel: 4 | overall: 4.5
Got this from indiapaleale, as part of my Fantasy Football BIF pay off! Brave name for a beer, the skunk on the label looks similar to a few I dodged on the way home the other night...Cheers Russ!
Pours an effervescent cola/black with a finger of mocha colored head. Very good lacing & above average head retention
S: Piney & herbal hops, faint chocolate notes & stronger caramel once warm
T: Follows the nose, wet charred grain, some baker's chocolate up front. Dark chocolate & a touch of vanilla hides behind herbal & lemon rind hops, there also a touch of mint that makes me think "Girl Scout mint cookies" then some more forceful woody hops. Finishes with woody & herbal hops, dark chocolate, a touch of coffee & dryness
MF: Medium bodied, firm carbonation, great balance
Drinks pretty easy, a nice take on the style
830 characters
3.86
/5
rDev
+6%
look: 4.5 | smell: 3.5 | taste: 4 | feel: 3.5 | overall: 4
Bountiful, rich head. The liquid is very dark, near black color. Light shines through but indirectly--it makes the beer glow. Spotty lace.
Mostly roasted malts to the nose. Although this is a black IPA, there is very little hop.
In the taste, the rolls reverse. The hop is more pronounced while the malt takes a back seat. There's a touch of burnt toast. The bitterness shows up in the swallow, but overall this beer is decently balanced. The beer is relatively thin. Carbonation is on the low side.
501 characters
4.05
/5
rDev
+11.3%
look: 3.5 | smell: 3.5 | taste: 4 | feel: 4 | overall: 5
pours very dark. smells of dark malts, and some floral hops. this beer has the taste of a black ale, with the hopping of an ipa. i know thats the idea behind this beer but wow is it well balanced for the style. taste and drinkability go hand and hand through the beer. for those who like black ipa's this is a must try. good job 3hb keep new ones coming.
354 characters
3.95
/5
rDev
+8.5%
look: 4.5 | smell: 4.5 | taste: 3.5 | feel: 4 | overall: 4
A - A black body with a brownish/tan head. Hold it up to the light gives it a bright red flare inside the glass.
S - A strong piney smell.
T - A mild pine/citrus taste with slight bitter. Expected a stronger taste from the smell.
M - Fairly smooth, lingers on the tongue for a moment. Nicely carbonated.
D - Would drink this again but not my favorite BIPA. Definitely has good drinkability.
394 characters

3.05
/5
rDev
-16.2%
look: 3.5 | smell: 3.5 | taste: 3 | feel: 2 | overall: 3
This is my first Black IPA. Been reading a bunch of reviews, and have been looking forward to it!
A- Poured into a tulip glass, it blossomed with a 1 1/2 finger creamy tan head that left a ton of lacing sticking like a web. Dark middle with ruby hips on this one! Looking good!
S- Hops, slight alcohol, and charred wood. Not quite smokey, but subtle hints of fire. Malt and just a note of fruit when inhaled. I'm liking this.
T- Definately charred Malts, smokey and toasty with a slight hop finish. Hops and grapefruit very faint against the dark malt... not so much IPA here... more like porter I think. Hmmm...
M- Very thin and watery... I was expecting something totally different from a beer this dark and roasty smelling. Char really covers up what little hop fruitiness is there.
D- Not bad, a little underwhelmed. Probably be good with really fatty and rich BBQ'd pork ribs or smoked fish... again... more smoked porter than IPA. Not bad, just not what I expected.
978 characters

3.65
/5
rDev
+0.3%
look: 4 | smell: 4 | taste: 3.5 | feel: 3.5 | overall: 3.5
The beer pours a dark brown/black color with a thick frothy tan head that slowly fades to lacing. The aroma is good. It has a well balanced roasted malt and citrus hop nose. The taste is decent. It has a bone dry patent malt flavor; dry and earthy. It's light with lots of roasted malt character and a mild hop taste. The hop flavor is muted with the black malt flavor. The mouthfeel is fine. It is a medium bodied beer with adequate carbonation. This is a pretty good beer. It could use a bit more hop flavor to balance the malt character.
540 characters
3.58
/5
rDev
-1.6%
look: 4 | smell: 3.5 | taste: 3.5 | feel: 4 | overall: 3.5
Wow, this is one of only two beers with the word skunk in the name? I am surprise. Love the label on this one.
Pours dark brown with some reddish highlihgts and thin, filmy head.
Aroma is noseful of hops. Lots of bitter, fresh, greeniness. Are they using citra or simcoe in this brew?
One sip and your tongue is slapped silly by bitter, astringent hoppiness. That flavor of citrus and pine dominates with a decent cherry-esque malt backbone.
I couldn't drink too many of these as my tongue would be destroyed. Still, I can't help liking this brew for what it is.
My first beer from Three Heads and I'm intrigued enough to hunt down some of the others...
660 characters
3.65
/5
rDev
+0.3%
look: 4 | smell: 4 | taste: 3.5 | feel: 3.5 | overall: 3.5
Decent though not my best ever black IPA. The name had scared me but in fact the aroma was a little hoppy. On tap at Pizza Plant. A good mouthfeel. A blackbier with a bitter charge in the finish.Dark not much head.My first from this new brewery contracting somewhere where I expected it would not be as well executed.
317 characters

3.8
/5
rDev
+4.4%
look: 4 | smell: 4 | taste: 3.5 | feel: 4 | overall: 4
22 oz bomber into a Sam Adams perfect pint no freshness date on the bottle.
Very dark nearly black, head is beach sand tan tinted. Nice and rocky shows good lace as it drinks.
Smell, a bit too roasty for my taste, orange peel, mango and candied apple. Chocolate and cracked coffee beans.
Very roasty upfront in the flavor followed by citrus orange and lime tangy hops and then some raspberry. Roastiness lingers in the finish.
Good mouthfeel, touch of astringency, semi dry finish.
Not bad, this style is hit or miss for me. I really liked Alpine Black from Otter Creek, but for my taste the hops have to dominate like an IPA they need to be very fruity and citrus in tone with an underlying touch of chocolate and roast. I have to state to be honest though had this after "The Kind" and the hops were really fresh and upfront on that.
840 characters

3.8
/5
rDev
+4.4%
look: 4 | smell: 4 | taste: 3.5 | feel: 4 | overall: 4
On tap at the Village Beer Merchant in Buffalo, brought a growler to a party.
There is some variation among this style, some are dark roasty beers with a healthy amount of hops, others are IPAs with a touch of dark malt added. This beer is one of the latter. It's primarily an IPA, and a good one at that. The dark malts add a touch of roasted flavor and make the body fairly rich and full.
Citrus, pine, and some bitterness against a nice mouthfeel, good hop aroma, and a dark pour.
It's a style I have alternately enjoyed and hated, this is in the "good" column for me. Doesn't assault me with hops - it's hoppy but balanced. Worth trying, just a couple notches short of my favorite for the style - Southern Tier Iniquity. A stronger, more complex malt presence would improve it, otherwise it's definitely drinkable and good.
831 characters
3.58
/5
rDev
-1.6%
look: 4 | smell: 3.5 | taste: 3.5 | feel: 4 | overall: 3.5
Pours a deep dark brown with thin light brown head. I have not had many American Black Ales before.
Smell of hops and slight roasted malt- not much else
Taste is hops and much more bitterness than The Kind IPA. There is some roasted taste and some malt finish
Feels lighter than it looks. The look makes you think heavy, but it is not
A little too bitter for me to have more than a couple, but still a good brew.
I enjoyed this beer, but prefer the regular IPA. This seemed more like a Rochester beer to me than The Kind. That is not a bad thing, just not my favorite.
574 characters

3.73
/5
rDev
+2.5%
look: 4.5 | smell: 4 | taste: 3.5 | feel: 4 | overall: 3.5
I love the illustrations on these bottles. This one has a skunk sticking out its tongue. Poured a little darker than a coca cola with a small but nice n 'frothy light brown head. A perfect ring of lace has already formed.
Aroma is super fresh, citric and floral with a slight fruitiness to it. Nice and hoppy, you would never know this was a black beer if you were blindfolded.
There really isn't any more than a hint of roasted malt flavor that would differentiate this from a normal orange colored IPA. This actually tastes more bitter to me than the regular IPA athough supposedly the IPA has one 1 bitterness unit!
The feel is surprisingly moderate to full while being smooth yet prickly from the good amount of carbonation.
Where their regular IPA was loaded with fresh in your face hoppage this seems to have more of the harsh bittering hops that punch you in the face. Due to this its not insanely drinkable.
Still, a very good offering from the 3 heads!
966 characters
5
/5
rDev
+37.4%
look: 5 | smell: 5 | taste: 5 | feel: 5 | overall: 5
Had on tap at the Tap and Mallet in Rochester, NY.
Pours a lovely dark color with a nice thinnish head.
Smells of a lovely bouquet of hops, with maybe some other um... stuff thrown in. I can see where the skunk name came from ;)
Tasted lovely and roasty with huge hop bombs in the mouth. Nice range of bitterness mixing with the roasty flavor. Medium bodied with a nice mouth feel.
To be fair, I feel I should confess I drank 5 of these in a row. And each one was as good as the first. Look forward to drinking many more.
526 characters
4.39
/5
rDev
+20.6%
look: 3.5 | smell: 4.5 | taste: 5 | feel: 4 | overall: 3.5
Had this on tap at the tap and mallet last night...
a - dark black in color (go figure) with red hues and a very thin rim of tannish head
s - huuge skunky smell with hops everywhere. almost overwhelming and definitely unique...smells dank :)
t - hops and skunk all over the place with roasty characteristics to back it all up. my first thought was this is a ballsy beer for the east coast. I love it. It's not too often that a beer can be so dominantly hop-flavored and still remain this complex and interesting.
m - medium-bodied, some nice carbonation, just all around good
d - may not want too many of these, but considering the bitterness going on here this is very drinkable indeed
I must say I was slightly skeptical - but I'm a fan. I look forward to trying more from Three Heads.
789 characters

4.3
/5
rDev
+18.1%
look: 4 | smell: 4 | taste: 4.5 | feel: 4 | overall: 4.5
On tap at The Owl House, Rochester, NY.
So glad to see a new brewery in Rochester, especially one that pumps out brew like this! Right off the bat when this beer arrived at the table I was a bit confused. Didn't realize it was a black IPA when I had ordered. I held it up to the light and it was the most vibrant blood red color, clear as glass. It was truly beautiful. Smells of slight sweet/roasted malt and great hop character. Super floral and juicy hops kick you in the nasal cavity. It tasted even better with citrus notes up front then giving way to more aggressive flowery, fruity, and bitter flavors( not too bitter though because I could still taste my meal through it). Covered the mouth with a juicy, chewy, full feeling, rather surprised as this was 6.5%. We ordered a pint of this and a pony of Wild Devil and they accidentally poured 2 of each for us and we had no problem finishing them, I could drink a whole 6 pack of this in one evening when they start bottling this. Three Heads is about to blow the world's minds.
1,035 characters
Skunk Black IPA from Three Heads Brewing
3.64
out of
5
based on
148
ratings.