Zamkowe Jasne
| Browar Namysłów Sp. z o.o.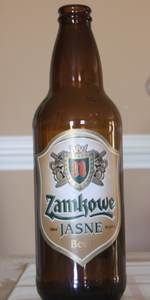 BEER INFO
Brewed by:
Browar Namysłów Sp. z o.o.
Poland
ryan.com.pl
Style:
Euro Pale Lager
Alcohol by volume (ABV):
5.50%
Availability:
Year-round
Notes / Commercial Description:
No notes at this time.
Added by mikesgroove on 07-26-2007
Ratings: 12 | Reviews: 10
Reviews by stoutman:
3
/5
rDev
+0.3%
look: 3 | smell: 3 | taste: 3 | feel: 3 | overall: 3
Clear medium yellow color with a average, frothy, fair lacing, mostly diminishing, white to off-white head. Aroma is light to moderate malty, toasted, sweet malt, sugar. Flavor is moderate sweet with a average duration. Body is light to medium, texture is watery, carbonation is soft. Drinkable, but the alcohol lingers on the palate.
334 characters
More User Reviews:

2.98
/5
rDev
-0.3%
look: 1.75 | smell: 2.5 | taste: 3.5 | feel: 3.25 | overall: 2.75
Not usually a fan of sweet beers however this one is actually pretty good, somehow it's inherent sweetness is kind of addictive and refreshing, unlike other pilsners where you are awaiting more hops. This somehow works quite well!
230 characters
3.67
/5
rDev
+22.7%
look: 4.5 | smell: 2.5 | taste: 4 | feel: 4 | overall: 4
Saw this bottle sitting alone at Greens the other week and decided to take a gamble on it. Polish lagers always seem to go well for me, very drinkable and light for summer.
A - Poured a plae golden yellow with a big white fizzy head, at least two inches. Slowly settled down but left about a half inch throughout session. No lace, but awesome visible carbonation, tons of straming bubbles throughout. Really the best I could figure a pale lager looking.
S - Light, grainy and a bit of a bread touch mixed in there, pretty typical.
T - Light, nice malt back, and that was about it. Some earthy grains, nothing murky or moldy. Nice bread flavors and good use of some almost corn like qualities.
M - Really good carbonation left an awesome feel. Just alive and really went down very very well, Awesome consistency and just overall depth in feel was nice.
D - Very cold+very good. Such a light lager, could easily drink all night, or all day doing yard work, just very very nice.
Overall this was a classic euro lager, but done very well. Seemed very fresh and very enjoyable. Rating it very good in its category as it is one of the best I have had in this category. Woud definatly try again.
1,206 characters

2.83
/5
rDev
-5.4%
look: 3 | smell: 2.5 | taste: 3 | feel: 2.5 | overall: 3
Single 500 ML bottle purchased in Livingston...
Appearance: Pale, light, cloudy hue... Minimal head, minor lacing, minimal carbonation...
Smell: Less-than-average, non-assertive aroma with hints of corns and grains...
Taste: Refreshing, yet bland, unflavorful, pale, light taste...
Mouthfeel: average, light-bodied mouthfeel, decent drinkability...
Typical rendition of the style...
Nothing special...
401 characters


3.45
/5
rDev
+15.4%
look: 3 | smell: 3 | taste: 3.5 | feel: 3.5 | overall: 4
500ml bottle
A- Zamkowe Jasne pours a very pale, very transparent dirty yellow color with lots of lively carbonation. Its small pure white head disipates after about a minute leaving patches and some sticking.
S- Corny, grainy, macro lager nose.
T- Tons of pale malt up front, no detectable hop bitterness except for a slight citrus note on the finish. Some spiceyness. Funky aftertaste.
M- Medium/light body, slightly syrupy. Carbonation is moderate.
D- This one goes down very easy, as with most pale lagers from Poland. Fans of Polish beer, this is a must try.
568 characters

2.51
/5
rDev
-16.1%
look: 3.5 | smell: 2.5 | taste: 2.5 | feel: 2 | overall: 2.5
Pours a golden urine colour with big fucking head, white and fluffy. Seriously, it's huge and sinking slowly, leaving mostly dull specks of lace. Very thin bead. Looks pretty standard and fizzy, good head though.
Nose is grainy and slightly sour. Fair amount of malt that smells like sour mash or spent grain with a hint of aloe vera and cut grass. Not much else, pretty plain and not very enticing
Taste is a bit insipid. Lots of sweet flavour which is kind of like refined sugar dissolved in water. Slight phenols, not very clean on the back but still remains sweet with an odd alcohol heat probably due to lack of flavour otherwise. Maybe a slight lucerne or straw character on the finish and slight acidity which combines with tingly fizz of the mouthfeel to give it a slight bite. Mostly thin overall.
Hopefully it will match the Polish food i'm having with this, because I certainly wouldn't drink this on its own. A matcher maybe, but a drinker no.
958 characters
3.25
/5
rDev
+8.7%
look: 3.5 | smell: 3.5 | taste: 3 | feel: 3 | overall: 3.5
0.5L bottle, tasted with a plate of paprika chicken at Alchemy Polish Cafe in Surry Hills.
Frothy headed, thick from a big bubbled and heavily carbonated body, this looks the classic Euro lager from the get-go. Colour is standard pale yellow. Sure, it's not the best look in the world, but it's not bad for the style.
Wet grain and a little sweetness on the nose. A little something organic and a slight green apple note to go with it. Not great, but it's still classical for the Euro pale genre again.
Taste is clear, with a touch of sweetness. Some metallic notes with a grainy finish whacked with bread yeast. Not offensive, but the taste is not from the stock of better stylistic examples. Mouthfeel suffers from the aggressive carbonation.
OK, it's not the greatest beer in the world, but it's not bad. It certainly strikes me as something you could drink happily with abandon in the squares of Warsaw or Krakow.
921 characters


2.74
/5
rDev
-8.4%
look: 2 | smell: 3 | taste: 3 | feel: 3 | overall: 2
The thing about Polish beers is that sometimes you have no idea what you'll get when you open the bottle, a bit of a beer lucky dip, there's no English on the brown bottle of my Browar Namysłów Zamkowe Jasne Petre, only a smattering of "Trudno uwierzyć, ale pierwsza wzmainka o książęcej warzelni..." Whatever do you mean Mr Polish Piwo? So full of mystery. Then you open it to find a boring Lager. Yawn.
Poured from a 500ml bottle into a stein.
A: Clear urine yellow with waaaay too much carbonation going on and a colossal 3 inch white head... massive head must symbolise a good beer in Poland, but here, i.e. the rest of the world, it's a bit much.
S: Honey, malt grain, sour bread and metal are the primary aromas. At least it smells like your average bog-standard Euro Lager... not a fan of metallic beers but it has, for some unapparent reason, become acceptable for Macros to do that.
T: Honey sweetness, a tad overdone but frankly it's more honey-tasting than beers with actual honey added to them (this is the honey that Beez Needz Matilda Bay). Following this are notes of malt grain, enough metal to give my fillings a buzz, and a hint of sour bread. The finish is dry with a tiny cut grass hop bitterness.
M: Medium bodied (heavy for a Lager) with carbonation that had plenty of time to calm down it was light by the time I came to describing the mouthfeel.
D: If it wasn't for that metal flavour distressing my dental fillings and giving off a nasty twang* I would have rated this as above average, however I'm finding it hard to finish this brew with all the metal flavour going on. Aside this there are some good points - I liked how much it tasted like a honey beer even if it was a bit one-dimensional. Could have used a bit more yeast and hops. I say below average to you Zamkowe.
Food match: Polish I guess.
*Now that I think about it I haven't seen my dentist in a while, should probably book in for a check-up...
1,948 characters

2.53
/5
rDev
-15.4%
look: 3 | smell: 2.5 | taste: 2.5 | feel: 2.5 | overall: 2.5
This beer is along the same lines as a Jever, and some other German Pilsners that are out there. This brew was decent to say the least. It had a big old head on it that kept me from finishing a good pour. The beer was clear yellow. Light refreshing mouthfeel. The flavors of some citrus come through at points. Kind of interesting.
331 characters
3.21
/5
rDev
+7.4%
look: 4 | smell: 3 | taste: 3 | feel: 2.5 | overall: 4
Live review. Poured from the 500ml bottle that I got as a Christmas gift from Mat & Christine. It is part of a whole group of beers that I will taste and rate from that Christmas gift. Poured into my Dark Horse Brewing Company pint glass. Strange "backwards N" stamped on the back label but it could also be: I/1. I am not sure what it might mean of that is even correct.
A Translucent very light orange body with sediment floating about under a one inch off white creamy head that leaves little to no lacing. Good look for the style from which I do not expect a whole lot of good looks. 4.0
S Smell of barley husks, very organic, grainy and a whisp of sweet honey in the background. Frankly, it has the smell of a weak Euro lager, so I suppose it is to style. 3.0
T That fakey, slight sweetness is in the taste along with the strong barley husk taste. This is really forgettable. 3.0
M Pretty thin but I would expect that from this style. I do not like it very much but it is true to the style, making it a challenge to score correctly. 2.5
D Well good with the low ABV, level of thinness but I do not see seeking it out again. 4.0
1,137 characters
Zamkowe Jasne from Browar Namysłów Sp. z o.o.
2.99
out of
5
based on
12
ratings.