Porters Bar & Grill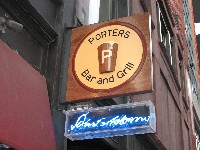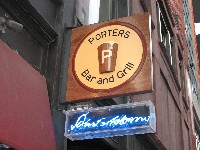 Bar, Eatery
173 Portland Street
Boston
,
Massachusetts
, 02114
United States
(617) 742-PORT |
map
portersbar.com
Notes:
Reviews by TheLongBeachBum:
TheLongBeachBum from California
4
/5
rDev
+25.8%
vibe: 4 | quality: 4 | service: 4.5 | selection: 3.5
After a business trip to Worcester for a meeting with a bunch of fellow Engineers, I returned to Boston for the weekend to fly back but had a day spare. I contacted and met up with fellow BA, neo06051, for a few beers in Boston. This Bar was on the list that neo06051 had brought with her. It is only a few streets away from the Boston Beer Works in Canal Street, which was our first port of call, and this is well worth the 3 minute walk from there.
Outside the exterior is unassuming but the word "Porter" attracted me.
Once inside from the cold snow covered street, we were immediately greeted by a very friendly waiter that appeared to vaporize out of thin air right in front us. He asked "would you like to take a Table?", I answered "Yes, but I am not sure it will fit in my Suitcase". After several hours of my company the English humor was understandable to Neo, but not the Waiter. We declined to sit at the nice looking Bar on the right as you walk in, and opted for a Booth.
Once at our Table the service was excellent, the beer list is reasonable, not great but by no means poor, it does have some nice redemptions from the usual suspects. Neo tried a Stone Cat Ale from the bottle, which was very good, and I tried a Chimay Red. Also on draft I noted were SNPA, Harpoon IPA and Porters Winter Black Lager. Later I recall that neo06051 ordered a Duff beer, labeled exactly as in the Simpson's. Hmmm, it was how I imagined it would be. It is highly likely that this is one of the "Bud-Coor-Mill-Lite" beers re-badged. But hey I am all for trying everything once and let's face it, the re-badging works; we wouldn't have tried it otherwise. The Service was great and although quiet during our Saturday Evening Visit, it was a friendly place, quite cozy and well worth the visit.
A BIG Thanks again to the lovely neo06051 for the excellent company and daring to order a Duff beer and drink it in my presence. LOL.
Last Visit 2/1/03
Mar 02, 2003
More User Reviews:


morebeergood from Massachusetts
3
/5
rDev
-5.7%
vibe: 3 | quality: 3 | service: 3 | selection: 3
Stopped by here recently before a Celtics game to grab a beer. Pretty average looking place inside, long bar, table seating, but not much room to stand near the bar. Service was OK, the bartender gave us the obligatory check when our beers were running low. As for selection, they had an average number of bottle and taps. They feature a House Porter, and when I asked I was informed it is just Ipswich Porter. I had one just for the sake of having the house brew. Didn't eat, but sitting at the bar, you can see the food coming out of the kitchen, and it looked decent. This was the first stop on our crawl through North Station. Honestly, I was more impressed with a couple newcomers to the area, DJ's At The Garden and Johnnies On The Side.
Apr 25, 2008
MattBrooks from Massachusetts
2.6
/5
rDev
-18.2%
vibe: 3 | quality: 2.5 | service: 2.5 | selection: 2.5 | food: 3
For months all I've heard on sports radio is Porter's-Porter's-Porter's. It's THE place to go and get a beer before the game.
Well, recently I went to see the Bruins get demolished as usual and decided to see what all the fuss was about.
Now I wish I'd just gone into the Subway restaurant three doors down instead.
Decent atmosphere with brick walls, annoying neons and wall to wall sports fans. Just what we'd all expect this close to the Garden. However, if you're going to be THE place to grab a beer before the game...you might want to have a couple of extra TV's around showing sports.
The beer selection was average. I had a couple of local micro/macros...you know the guy I mean... and my buddy had the Julius Echter served in a traditional glass-although it was a different brand.
Service was horrible. The waitresses all wore shits that were too tight and low-rider pants..ok, that wasn't too bad; but either they were understaffed or just too busy doing whatever else because it took forever to place an order and get additional brews.
Standard selection of food that tasted just like everyone else's was a little dissapointing, too.
All in all, maybe I'd give them another shot next season if they'd make at least an effort to seem like they cared about their customers.
Feb 12, 2008
johndawsonaustin from England
2.38
/5
rDev
-25.2%
vibe: 3 | quality: 3 | service: 1.5 | selection: 2 | food: 3
I visited this place on the basis of the earlier reviews and was quite dissappointed. Okay, they had a micro brew or two, but nothing to write home about.
The service was pretty awful too. I had to wait for ages while the barman finished chatting to his friends and could be bothered to serve.
Food Ok, but that's all I can say about it.
If this place was the only bar open in a 5 mile radius, I'd be happy with it, but as it is, I can't see a single reason for not walking two blocks up to Canal Street and go to the beer works instead.
Nov 20, 2006

Hibernator from Massachusetts
3.66
/5
rDev
+15.1%
vibe: 3.5 | quality: 4 | service: 3.5 | selection: 3.5
Decided to stop by Porters Bar on a Thursday after work and is was much better than I was expecting.
Located near North Station and Banknorth Garden on Portland Street, this is one viable option for anyone in the area. Decor is rather simple with a lengthy wooden bar to the right and tables/booths to the left. Maybe 4 or so TV's present for sports.
The bar is comfortable and clean. Solid selection of beer options and much better than most other bars in this area. Specifically, there are 12 draft options. Here are the highlights:
Ipswich Ale, Ipswich Harvest Ale, Sam Adams, Sam Adams Octoberfest, Harpoon IPA and Harpoon Octoberfest. They also offer your typical Euro selections like Boddingtons, Guinness, Stella Artois and Bass. Porters offer unique selections such as Duff Beer and the Porters Porter. I sampled the Porters Porter and it was real tasty. Mercury Brewery (Ipswich) brews this fine porter. Worth checking out if interested.
The glassware here was solid too. I like the real 20 oz. pint glasses. They offer a 23 oz. Sam Adams draft for $6. What a good deal for a bar with this perfect of a location. The bottle selection will offer you unusual choices like Chimay. The draft selection is the way to go though. Every beer I tasted was fresh and clean.
Atmosphere was on point. I will have to come back in the winter when it gets cold. It's comfortable in here. Service was attentive. Music was good with The Beatles and Rolling Stones in the background. I like this place. It's also worth mentioning that they have copies of Yankee Brew News at the front of the bar. The overall ratings for Porters on this site are a tad underrated if you ask me. Check this place out if you in the area, I was pleasantly surprised.
Sep 23, 2005

rousee from Massachusetts
3.88
/5
rDev
+22%
vibe: 4.5 | quality: 4 | service: 4 | selection: 3.5 | food: 3.5
I think Porters might be a little under-rated and unknown. One of many bars in the Fleet Center area, it really doesn't stand out from the street walking by. Inside the decor is very lounge-ish. Dark and wood/leather combo with dimly set hanging lights. Bar on right, high tops immediately to the left with a low wall that separates the dining area from the bar.
On-tap are the usual downtown beers: Guinness, Bass, Sam Adams, etc. They do have a Porters porter which is made by Mercury and their Ipswich ale as well. They also have a beer called Duff's. When I was there last Saturday --it was Miller High life under the guise of Duffs--beware.
Bottle selection--decent--they have Chimay which I would never buy in a bar unless I was with a bunch of people who had never tried it. They also have on the top of the bar a Julius -Echter as if it is available in bottle--Here's the good part--it is not Julius Echter but Hacker-Pschorr hefeweisse that they have instead. In my opinion, Hacker-Pschorr blows away JE in the bottle.
Haven't tried to much of the food but I had these cajun red-bliss potatoes that were quite good. Reasonable pricing on the food too. People who work here are great. Brian who is one of the owners and always seems to be working is always very cool to me and anyone I come in with.
One of my favorite things about Porters is how mellow it is. I have never seen it too noisy or crowded and I have never seen a trivia contest in here, etc.
Nov 03, 2004
CharlesRiver from Connecticut
3.03
/5
rDev
-4.7%
vibe: 2.5 | quality: 3 | service: 3.5 | selection: 3 | food: 2.5
This place has a lot of potential based on it's location and size. Only a few steps from the Fleet Center and easily within T access, this place draws all kinds of different people. They do have live music on the weekends that can be hit or miss. The beer selection isn't great but it isn't poor either. If McGann's is too full and you can't get into Boston Beer Works you might want to try this place. Boy I wish Commonwealth Fish and Beer Company was still open!
Nov 15, 2002
Porters Bar & Grill in Boston, MA
Place rating:
3.18
out of
5
with
9
ratings