Flat Jack Pumpkin Ale
| Flat 12 Bierwerks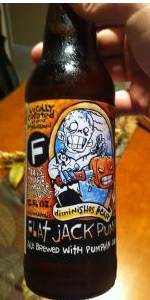 BEER INFO
Brewed by:
Flat 12 Bierwerks
Indiana
,
United States
|
website
Style:
Pumpkin Ale
Alcohol by volume (ABV):
5.70%
Availability:
Fall
Notes / Commercial Description:
No notes at this time.
Added by BeerAdvocate on 02-17-2011
Reviews: 10 | Ratings: 85
4.47
/5
rDev
+18.6%
look: 4 | smell: 4.5 | taste: 4.5 | feel: 4.5 | overall: 4.5
Grabbed a growler of this to go on a recent visit to Flat 12 Bierwerks. This was to be my first Pumpkin Ale so I was pretty excited.
The pour and appearance turned out to be a very light copper with a decent sized 1 inch head. The smell hit me hard. You can taste the pumpkin spice just by giving it a big whiff. The smell was fabulous. You could definitely smell more spice than pumpkin.
The taste didn't let me down. The taste of the ale went very well with the smell. It hits your mouth with an initial strong pumpkin taste and finishes off with spice. You can taste some malty tones as well, but the pumpkin spice really takes it over.
I'd recommend anyone to definitely take a chance with this Pumpkin Ale. I don't have any others to compare it to, but it was all that I had expected. The pumpkin spice is very apparent and refreshing on a brisk fall day.
★
864 characters

4.17
/5
rDev
+10.6%
look: 4 | smell: 4.5 | taste: 4 | feel: 4.5 | overall: 4
This beer pours a light bodied honey gold in color with a two finger, very soapy off white head. It's a little lighter in color than most pumpkins. The nose is slightly sweet with a nice balance of nutmeg and cinnamon with ground pumpkin and vanilla in the back ground. The flavors are also well balanced. You get sweet pumpkin filling and vanilla before getting a good amount of nutmeg and cinnamon. It's not overly sweet and the spicing is just right, making this one very sessionable. The lighter malt also makes this pretty lean and gives it a lighter, smoother mouthfeel. I'm a pretty big fan of this one. While not as big as Punkin of Schlafly, I would put this in the category of cant miss pumpkin beers. I'm also glad that they bottled this, making it the only bottled pumpkin beer from Indiana. Good job guys!
★
818 characters

4.06
/5
rDev
+7.7%
look: 5 | smell: 4 | taste: 4 | feel: 4 | overall: 4
A - I don't know what it was about the look of the beer but I immediately thought I was in for a spiced treat. It was a tarnished golden with small carbination bubbles creeping up the side, leading to a small but inviting head.
S - Pumpkin spice overwhelmed, as to be expected, but the spice dominated. Cinnamon accents, reminded me of fall.
T - This is a good pumpkin. I've been drinking many lately and my personal preference with the style is a more prominent pumpkin flavor, more on the sweet end of the scale than spiced. This beer is further down the spice line but is supported by malt.
M - No complaints here, just the right amount of carbonation and toothiness for a spiced beer.
O - I enjoyed it. It's not my favorite pumpkin but that's simply a style preference on my end. I'd order it if it finds it's way to a local tap.
★
841 characters
3.97
/5
rDev
+5.3%
look: 3.5 | smell: 4 | taste: 4 | feel: 4 | overall: 4
12 ounce bottle. Served in a nonic pint glass, the beer pours a light golden/orange color with about a half inch off-white head. Head retention is good, and there's a decent amount of lacing. Aroma is nice, the brew smells like pumpkin (or should I say Indian(a)) spices, pumpkin, and some sweet malt. I think the taste is just like the aroma, it's all pumpkin, pumpkin spices and sweet malt. Mouthfeel/body is light/medium, it's a bit slick, smooth and easy to drink. I liked this pumpkin ale, I wouldn't mind buying some more the next time I come across it. $10.99 a 6-pack.
★
576 characters

3.86
/5
rDev
+2.4%
look: 4.5 | smell: 3.5 | taste: 4 | feel: 3.5 | overall: 4
Flat 12 really nailed the earthy flavors in both their amber and porter, so I'm expecting something good from this pumpkin ale. Cheers!
A: Clean golden color in the body, with a billowing three-finger head. Smooth white and soapy, it condenses to a wet, shining foam, leaving behind chunks of thick lacing. Fizz rises constantly from the bottom of the glass, a torrent of bubbles.
S: Strong potpourri scent to start: allspice, nutmeg, pine, and cinnamon. Bit of pumpkin and pecan pie aromas give some savory, sugary effects, though they never crack the surface of the spice. Smells like autumn – still, it's overspiced.
T: A pale, hoppy beer, which isn't what I expected from a pumpkin ale: herbal bitterness with bright lemon and spicy Noble notes. Spice coincides beautifully, especially since it's propped up by the malts – white pepper, nutmeg, and cinnamon over vanilla and pumpkin pie filling. As far as pumpkin beers go, this one is more on the spicy side than the pumpkin-forward, sugary side; I like the rich pumpkin flavors a little more, but this is quite tasty. Dry, lemony aftertaste echoes from the hops.
M: The body on this ale is light, with carbonation that reminds me of a pale lager. Doesn't feel like a sipper.
O: Another hoppy pumpkin beer for me, and it definitely left me satisfied. Granted, it's over-spiced, but I'm glad I got a six-pack.
★
1,386 characters
3.78
/5
rDev
+0.3%
look: 4 | smell: 3.5 | taste: 4 | feel: 3 | overall: 4
Review from notes. 12 oz. bottle poured into a New Glarus pint glass.
Appearance: Pours a clear pale gold color with a huge white head. Tons of carbonation. I can never seem to get a full bottle of a Flat 12 beer into a glass in a single pour. Massive carbonation. Leaves a very nice lacing down the glass.
Smell: Strong pumpkin pie spice backed up with a little bit of biscuit malt and some slight yeast esters. Yeast becomes more dominant as I continue to drink.
Taste: The pumpkin isn't nearly as dominant as I was expecting from the aroma. Very well balanced between biscuity malts and pumpkin, cinnamon, cloves, nutmeg. Not a spice bomb at all (which far too many pumkin beers are).
Mouthfeel: Light bodied. As I was expecting, too much carbonation makes it a little harsh on the palate, but still goes down pretty smooth.
Overall: A very well done pumpkin beer, and a nice change of pace from the spice bombs out there.
★
931 characters

3.69
/5
rDev
-2.1%
look: 3 | smell: 4 | taste: 3.75 | feel: 3.5 | overall: 3.5
A- Clear as day, light orange. No carbonation, head that barely lasts.
S-Good deal of pumpkin spice, cinnamon, sweet.
T-Starts with a bread/toasty note then the pumpkin but mainly spices. Balance isn't really there.
M-Lighter, watery as well. Not much carbonation either.
O-A bad pumpkin beer. The toast/bread notes are so bizarre for the style. Not worth trying.
★
367 characters
3.57
/5
rDev
-5.3%
look: 3.5 | smell: 3.25 | taste: 3.75 | feel: 3.75 | overall: 3.5
This is a great beer for Halloween an around October. It has a bread and toasty note to it. It. I just wish that it had more of a pumpkin taste to it than it had. Over all of the pumpkin flavored beers that I have had this one is ok. But if they bring it back I would not mind having another one again.
★
302 characters

3.53
/5
rDev
-6.4%
look: 2 | smell: 4 | taste: 3.5 | feel: 3.5 | overall: 3.5
Pours all suds! Gradually, as it all subsides, lace is pretty spotty and erratic. Color is cloudy light amber.
Nose is spicy, with plenty of nutmeg, allspice, and cinnamon. Inviting!
When the overcarbonation settles down, the flavor is more of this spice and plenty of hoppy bitterness. The actual pumpkin is subdued and the body is light. Gets better as it warms, and more character is brought out.
Still, as it is, not among my favorite pumpkin brews.
★
457 characters

3.18
/5
rDev
-15.6%
look: 4 | smell: 3.5 | taste: 3 | feel: 3 | overall: 3
On tap at Tomlinson Tap Room. Very light golden, much lighter than most pumpkin ales I've seen, but with some good head and good lacing. Huge pumpkin pie spice scent, with a bit of decent malt underneath. Very unbalanced taste with a ton of pumpkin spice to it, which unfortunately covered almost everything else up; hints of sweet pale malt underneath, but not much. Went down decently well, just a bit rough. I was sadly disappointed in this, as most of Flat 12 beers have been quite good.
★
491 characters
Flat Jack Pumpkin Ale from Flat 12 Bierwerks
3.77
out of
5
based on
85
ratings.