Chaotic Insecure Delusions

2nd Shift Brewing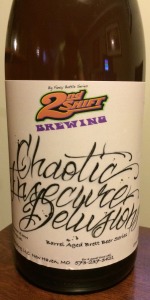 Write a Review
Beer Geek Stats:
| Print Shelf Talker
Style:

ABV:

7.4%

Score:

Avg:

4.3

| pDev:

6.51%

Reviews:

11

Ratings:

From:

Avail:

Rotating

Wants

Gots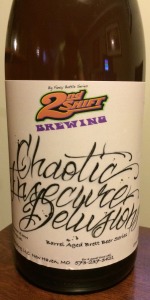 Notes:

3.85
/5
rDev
-10.5%
look: 3.5 | smell: 3.5 | taste: 4.25 | feel: 3.5 | overall: 3.75
750ml bottle. Bottled July 2014 (29 mths old). Appearance: Light golden, hazy, with minimal foam head that dissappeared immediately. Aroma: Lemon rind most noticeable, with a perceptible acidity. Light brett barnyard funkiness. Taste: Light maltiness, a moderately strong lemon and grapefruit juice acidity, low bitterness. Brett character is fruity, not funky. Mouthfeel: Light bodied with a low carbonation. Finish: Leaves a tart lingering lemony citrus flavor and acidity. Overall: A nice wild ale that has more of a citrus and sour character than a funky brett note. A tad undercarbonated, but is overall bright and refreshing
630 characters

3.85
/5
rDev
-10.5%
look: 3.75 | smell: 4.25 | taste: 3.75 | feel: 3.5 | overall: 3.75
Light yellow and transparent. Minimal to no head. Nice citrus and white wine aroma. Mild acidic lemon flavor, minimal funk. Light, dry body with plenty of bubbles. I feel this beer would be a better berlinerweisse than a saison. Not bad, just lacking complexity and body in my opinion.
291 characters
4.55
/5
rDev
+5.8%
look: 4.5 | smell: 4.5 | taste: 4.5 | feel: 4.5 | overall: 4.75
750ml bottle sealed with orange pressure cap.
batch 3; bottled January 2016.
poured into Jester King wine stem.
Appearance: Straw yellow body with thin cap of bone white head.
Smell: Lemon and citrus mix with white wine. Light funk and moderate oak barrel.
Taste: Moderate tartness. Lemon and stone fruits. Nice white wine character. Minimal funk, but its there. Moderate oak as well. So very similar to the nose.
Mouthfeel: light body with low moderate carbonation. Refreshing and bright; crisp and clean. Semi dry finish. Such a light bodied beer for being 7.4% abv.
Overall: This is a fantastic barrel aged saison. Easily the best beer that I have drank from 2nd shift brewing. This beer would be a whale if it was brewed by Hill Farmstead , Side Projects, Casey, or Saint Adarius. For perspective, I think that Chaotic Insecure Delusions is hands down a much better beer than HIll Farmstead Flora. I used Flora as the example because both beers are saisons aged in white wine barrels with microflora (brett); therefore it is a legit comparison on the premise of similarity. An extremely well executed beer by 2nd Shift.
1,132 characters
4.49
/5
rDev
+4.4%
look: 4.25 | smell: 4.5 | taste: 4.5 | feel: 4.5 | overall: 4.5
Crider rules!
The guy is a wild man. His brewing has always been more about cocksurity than consistency. When they're good, though, they're very good.
The first time I had chaotic insecure delusions, it was still ropey even though they had bottled it in released it. Loving their lager!?!, technical ecstacy, a Few months ago, I decided to embrace the chaos again.
Much better experience from the get-go. Slightest cloudiness. Straw color. Lemon tartness on the nose joined by coriander and a nice interplay of Marco, Brett and Pedio nuances through the drink. Would have liked a little more carb. Something like an imperial bier du pays or transient pentameter. Great stuff!
683 characters

4.39
/5
rDev
+2.1%
look: 4 | smell: 4.25 | taste: 4.5 | feel: 4.25 | overall: 4.5
Big thanks to bstyle for this
750 ml bottle poured into a flute
A- A slightly hazy golden straw color with a two finger white head.
S- Sour, white wine, grapes, some lemons, leather, mild oak, some funk, slightly sweet stone fruits
T- This is sour, lemons, grapes, sweetness that reminds on of stone fruit, sweeter white wine, some leather, mild funk and some oak.
M- Smooth, dry, light to medium body.
O- A solid barrel aged sour, no flaws, but could have been funkier. Very happy to have had a chance to try this, worth seeking out. First beer I've tried from 2nd Shift, excited to try more from them.
612 characters

4.42
/5
rDev
+2.8%
look: 4 | smell: 4.5 | taste: 4.5 | feel: 4 | overall: 4.5
Batch 2 brewed in July 2014
A: Straw yellow with a very light haze
S: Gueuze-like, white wine, oak, lemon, earthy Brett, apricot, tart
T: Sweet white grape, earthy Brett, vinous, light tartness, oak, vanilla, peach, apricot, balanced
M: Low-medium carbonation
O: I wish this was a little fluffier mouthfeel but overall this is a great Saison with some Gueuze quality to it
378 characters
4.14
/5
rDev
-3.7%
look: 4 | smell: 3.75 | taste: 4.5 | feel: 4 | overall: 4
Rich golden hue with plentiful carbonation bubbles rapidly churning within. Massive inch thick dense off white to beige head. Deeply tart,sharp aroma of Brett. I also faint a dry cider note. The taste is more like dry cider with Golden Delicious apples. There's tart Brett but it is more of a background note. The body is heavily carbonated, crisp, and dry.
363 characters
4.54
/5
rDev
+5.6%
look: 4.25 | smell: 4.5 | taste: 4.5 | feel: 4.5 | overall: 4.75
Big thanks to rudzud for sharing this, the beer of the night.
Big fluffy fizzy head fades at a med pace but reinforced with lots of bubbles rising up, light soapy lacing, hazy honey orange color.
Nose is just all Brett funk, tons of Brett, horsehair funk with orange zest, spices, citrus, lemony, sour lemon tartness funk, little peach floral thing, nice light buttery toasty barrel, vinous notes.
Taste brings lots of Brett funk, big acidic bite, with nice fruits, juicy sweet peach like stone fruit and mild tart sour funk, into nice buttery oak barrel, little yeast flavor. Great lambic like sour funk, Brett lambicus. Touch of bitterness on the finish, with tons of acidity and sour funk, nice peach and sweet like stone fruit.
Mouth is med to lighter bod, big acidity, nice carb.
Overall very very good, great Brett funk and sourness, tart fruit, nice stone fruit and sweetness blend nicely with the sour, nice barrel notes, so good.
947 characters
4.55
/5
rDev
+5.8%
look: 4.5 | smell: 4.5 | taste: 4.5 | feel: 4.5 | overall: 4.75
Received this bad boy as an extra in a trade and man alive do I wish I had another. Shared with JLindros and Threelions at my 30th birthday celebration.
A - Poured into my Kate the Great tulip a crystal clear golden hue with a one finger white blanket with nice lacing.
S - LOADS of brett! Saison yeasts, light wine notes, good dunk. Light stone fruits, almost peach or apricot like. Super aromatic, waves of vinous wine and fleshy stone fruit. Incredibly aromatic.
T - Taste is similar to the nose. Lactose, stone fruit apricots and peaches, super brett notes just barrels of it, acidic lemons, saison yeasts, more stone fruit and nectarines with a good clean wine barrel flavour as well. Delicious.
M - Mouthfeel is nicely carbonated, creamy, good hidden alcohol. Again, well done.
O - Overall this beer was absolutely awesome. Enormous brett notes, nice vinous wine notes, creamy, awesome. Gotta try and get another bottle of this.
Serving Type: Bottle
963 characters

4.44
/5
rDev
+3.3%
look: 4.5 | smell: 4.25 | taste: 4.5 | feel: 4.5 | overall: 4.5
CID - Chaotic Insecure Delusions (named after a line in a Tool song)
The original 2nd Shift Barrel Aged Brett Beer. Put in barrel March of 2012, Steve used multiple strains of Brettanomyces as well as Saccharomyces. Bottled Summer 2014, only 100 cases were bottled!
L - Pours a hazy golden orange with a paper white head. The tight bubbles on the head are producing great lacing and this beer has great retention.
S - Oak barrel and white grapes collide to give you such a pleasant aroma. I couldn't sleuth the internet enough to fine what wine barrels it was aged in. A funky and tart aroma in the back along with some old barnyard notes.
T - So delicious. A sharp tartness hits at first and develops some citrus notes. A bit acidic with the oak and white grapes coming through. Ends with some funk peeking through along with a bit of sweetness.
F - Light bodied and high carbonation. Has a prickly carbonated bubbles that dance around. The finish is dry, but wet. It's like craving for more.
O - Probably the best 2nd Shift beer I've ever had. Everything about this beer is spot on and together. Well done!
1,113 characters
4.71
/5
rDev
+9.5%
look: 4 | smell: 4.75 | taste: 4.75 | feel: 4.75 | overall: 4.75
Poured into a wine glass from a 750ml bottle.
Pours a slight hazy golden color. A nice bright white head props up that recedes quickly.
Aroma is very vinous. Upon inspection the brew smells like the inside of a oak wine barrel. Notes of white grapes. Buttery white wine notes. Woody oak notes. Notes of moldy old wood and funk. Old barnyard and corn husk notes. And yes these are all good things ;) Slight tartness and mild citrus notes can be perceived in the nose.
The flavor is delicious. Notes start of with sharp citric tartness that quickly evolves into a nice fruity and more vinous tartness. Slight acidity gets complimented and balanced out by wood, funk and nice notes of grain. Notes of grape mixed in with the funky wood. Quite a delicious and vinous brew. Nice slight sugary fruit sweetness is perceived along with the dry tartness of the finish. Perfect lighter buddy with a slightly lower carbonation that gives the brew a deceivingly oily finish as well. ABV is not perceived as such.
My favorite 2nd Shift brew thus far. Crider and his team really outdid themselves on this one. A delicious take on the style with amazing wood, funk and wine notes.
1,171 characters
Chaotic Insecure Delusions from 2nd Shift Brewing
Beer rating:
94
out of
100
with
88
ratings