Hibiscus Wit
| 2nd Shift Brewing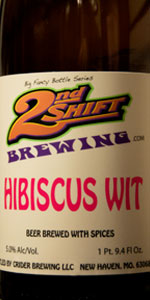 BEER INFO
Brewed by:
2nd Shift Brewing
Missouri
,
United States
|
website
Style:
Witbier
Alcohol by volume (ABV):
5.20%
Availability:
Rotating
Notes / Commercial Description:
Here's what I've been goofin' around with for a while. I love Belgian wits on hot summer days (or freezin' your butt off days). Anyway I took a witbier and threw in a bunch of hibiscus flowers in it and made the stuff even better.
Added by zeff80 on 02-07-2011
Reviews: 10 | Ratings: 63
3.74
/5
rDev
-0.5%
look: 3.5 | smell: 3.75 | taste: 3.75 | feel: 3.75 | overall: 3.75
Gold with pure white head
Light fresh stone fruit and floral tones
Mouthfeel is clean fresh and lightly tart and almost sour
Clean fresh flower floral light fruit tones
Clean light lemon finish
★
197 characters
4.06
/5
rDev
+8%
look: 4.25 | smell: 3.75 | taste: 4.25 | feel: 4 | overall: 4
Draft pint at Pappo's.
Pinkish hue, opaque with a slight pinkish hue to the foam also.
Lightly fruity, wheaty with a light coriander presence.
Tart fruity hibiscus and creamy wheat flavors. Light coriander present.
Smooth light feel, tastes good. Overall it's a nice use of hibiscus and a refreshing beer.
★
306 characters

3.74
/5
rDev
-0.5%
look: 3 | smell: 4 | taste: 3.75 | feel: 3.5 | overall: 3.75
From a wine-style 750 ml bottle, this brew is a very pale yellow color. Plenty of appropriate haze and a nice, big, puffy white head. The smell is great...wheat and yeast...twang and a little acid-smelling notes, and...some spice. Slightly tart and crisp in the taste. Yeast and wheat and pallet-cleansing sharp acidity. Enjoyable. Medium-Light in body, with an abrupt finish. I enjoyed this one.
★
403 characters

3.93
/5
rDev
+4.5%
look: 3.75 | smell: 3.75 | taste: 4 | feel: 4 | overall: 4
Served on-tap at Bailey's Range in St. Louis, MO, in a tulip. The body is a solid, hazy, color that I can only call a blend of yellow and pink. Unusual. Small, white head at the top of the glass, that leaves just a bit of lacing.
Light aroma, mostly floral notes. A bit of citrus, predominantly lemon, comes through as well.
Very interesting flavor. The hibiscus definitely shows up with floral flavors and meshes rather well with the normal witbier flavors, especially the lemon. Overall, it is sweeter than most wits I've had.
Light to medium mouthfeel that is very drinkable. I could see this being a regular for me, especially in the summer. Interesting combination, but well done.
★
688 characters
4.3
/5
rDev
+14.4%
look: 4 | smell: 4 | taste: 4.5 | feel: 4 | overall: 4.5
Poured from the 1 Pint 9oz 'Big Bottle Series' into a pint glass.
A: Pours a pale pinkish tinted color. Fair amount of head, lacing sticks around for a long time.
S: Smells of floral notes, i.e. Hibiscus and citrus notes.
T: Tastes like a unique witbier. Very light tasting, get a good taste of the Hibiscus.
M: Very light in the mouth. Easy to drink down.
O: Probably one of the more unique beers I've drank. Great balance of flavors. A good summer beer.
★
460 characters
3.83
/5
rDev
+1.9%
look: 4 | smell: 3.5 | taste: 4 | feel: 3.5 | overall: 4
Found this pint at Somebody's Bar and Grill in New Haven MO today for lunch. I will admit that I was very excited to try it being a matchup that I had never had before.
Appearance was amazing, the traditional creamy head and cloudy body with a tent of pinkish red that made it a color I have never seen in beer before. The nose was of light fruit and citrus and a scent that I couldn't nail down, hibiscus I'm sure...
Taste and mouthfeel were great and right where I was hoping it would be. The taste of the Wit is a great way to bring out the hint of the flower but not overpowering at all.
Over all I'd drink another and recommend you have one too
★
654 characters
3.73
/5
rDev
-0.8%
look: 4 | smell: 3.5 | taste: 4 | feel: 3.5 | overall: 3.5
Poured from the tap a hazy orange-tea color with a thin bright white cap.
Aroma was earthy with floral and wheat notes.
The taste was tart and citrusy with lemon and tangerine along with wheat, floral notes and earthy yeast. Finishes clean.
Thinner bodied with a sharp carbonation.
A decent and interesting Witbier from 2nd Shift.
★
334 characters
3.64
/5
rDev
-3.2%
look: 4.5 | smell: 3 | taste: 4 | feel: 3.5 | overall: 3.5
- On tap at The Stable after killing a keg of 2nd Shift Unicorn Killer (amazing Saison!)
A- Pours cloudy and pink, must be from hibiscus flower
S- Smells funky, not very aromatic for a floral wit
T- Not sweet at all, more grapefruit and floral bitterness
M- Smooth and light floral finish. A lot of particles in this beer, the head appeared like curdled milk. Bartender was curios if it was a bad keg.
O- This was a bit of a stretch for me. Never had a hibiscus beer, but it was very refreshing nonetheless. I appreciated the experiment of the beer but felt it could lean towards more of a sour if they tried.
★
614 characters
3.59
/5
rDev
-4.5%
look: 3 | smell: 4 | taste: 3.5 | feel: 3.5 | overall: 3.5
Pours a cloudy, salmon color. 1/4 inch head of an off-white color. Decent retention and decent lacing. Smells of wheat, floral, spice, sweet malt, and slight pale malt. Fits the style of a Witbier. Mouth feel was sharp and crisp, with an average carbonation level. Tastes of pale malt, slight sweet malt, floral, slight wheat, and hint of yeast. Overall, the floral and spice where nice additions, but the strong pale malt flavors and aroma were not desireable.
★
461 characters
3.55
/5
rDev
-5.6%
look: 3.5 | smell: 3.5 | taste: 3.5 | feel: 4 | overall: 3.5
Tap at The Bridge in St. Louis.
A - Poured a cloudy, straw yellow color with a small, fizzy, white head. It receded quickly and left little to no lacing.
S - It smelled of wheat, lemon and floral notes.
T - I got a lot of lemon flavor with some mild wheat and clove taste. There was a floral taste from the hibiscus.
M - It was crisp, sharp and had a fizzy bite. A light bodied ale that had a dry finish.
D - This is a nice wit. The hibiscus makes it interesting.
★
478 characters
Hibiscus Wit from 2nd Shift Brewing
85
out of
100
based on
10
ratings.