Brahma Extra
| Companhia Cervejaria Brahma
BA SCORE
74
okay
11
Reviews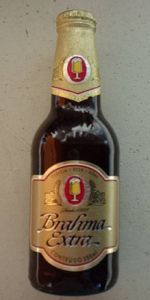 BEER INFO
Brewed by:
Companhia Cervejaria Brahma
Brazil
brahma.com.br
Style:
American Adjunct Lager
Alcohol by volume (ABV):
5.50%
Availability:
Year-round
Notes / Commercial Description:
No notes at this time.
Added by BeerAdvocate on 01-13-2003
Reviews: 11 | Ratings: 26
2.99
/5
rDev
+10.3%
look: 3.5 | smell: 2 | taste: 3.5 | feel: 3 | overall: 3
In Embu, Brazil and having a Brahma Extra Cerveza and we stopped for lunch at a real neat place...so we decided to have a couple.
A-3.5 golden clear thin head nice lace
S-2 weak grain
T-3.5 good beer taste for a adjuct lager, leans toward grain
M-3 real good feel
264 characters
2.27
/5
rDev
-16.2%
look: 3.5 | smell: 1.5 | taste: 2.5 | feel: 2 | overall: 2.5
Bright golden color with a two finger head with good duration and a few laces and apparent carbonation. So far positive leaving any prejudice behind.
Light aroma of corn and oxidation. Unfortunately back on track...
Sweet flavor of malt and noticeable floral-herbal hops. A bit of cardboard.
Mildly dry aftertaste. Light body with good carbonation.
Definitely better than the regular Brahma, but still carries its original sin of being overly sweet, besides the usual off-flavors from the style.
495 characters
3.38
/5
rDev
+24.7%
look: 3.5 | smell: 3 | taste: 3.5 | feel: 3.5 | overall: 3.5
I work in Los Angeles, in a truly multi-cultural Office. After 16 months in the USA, my beer credentials are now well known throughout the Engineering Office, and one of my Brazilian colleagues brought me back some beers from his recent Xmas and New Years trip to the homeland. This is one of them.
Comes in a 355ml brown glass bottle, resplendent with gold foil around the crown cap, the gold label simply states "Brahma Extra". Looks very important.
Pours a superb clear golden pilsner color, the head is quite superb and voluminous, a white frothy mass with a smooth appearance that has great staying power. Lacing is high as the beer is consumed and rings the glass with every mouthful.
Nose is of malt and hops. Hops are quite prevalent actually, surprisingly refreshing odors and aromas, but average in strength.
Initial mouthfeel is satisfactory; introduction is of a thirst quenching golden liquid that has a singular purpose in life – to quench the Sun's hot, hydrating rays and provide a quaffable alternate to boring mineral water. This beer will do that for sure. Middle of the beer has a slightly diacetyl buttery taste, but this is very feint indeed and barely perceptible. Hops are still strong in the middle, and these fade to a rather nice bitterness in the end, with a slightly metallic after-taste.
Above average "hot-country" Pilsner, in the mold of Keo from Greece, and other Spanish lagers. That said, it is well worth a try, and I would imagine that this is the best of the pseudo-Pilsner bunch, and probably one of the better Lager-Beers available from Brazil.
1,625 characters

2.83
/5
rDev
+4.4%
look: 3 | smell: 2.5 | taste: 3 | feel: 2.5 | overall: 3
330ml bottle poured in a ordinary glass.
A simple Lager. Better than the "regular" sister "Brahma Shop" and also better than its direct competitor Skol (In the end, also Ambev). However, not a big deal anyway...
A: Pours a clean golden yellow color with a big aired and bubbled white head
S: Not much to tell about here. Adjunct malts, basically
T: Where's the taste? :p Sip it again... Hum... Well, some malts and hops there... Lacks bitterness
M: Very light body and reasonable carbonation
D: Refreshing but...
515 characters

2.73
/5
rDev
+0.7%
look: 2.5 | smell: 2 | taste: 3 | feel: 4 | overall: 2.5
Poured into a pilsner glass from a 355ml bottle. Freshness date is listed as "18/04/12."
Pours a pretty yellowish, clear appearance. Lots of carbonation, although contained a head that never disappeared, to my delight. Still, I have seen prettier pilsner-related beers, and this definitely isn't one that is around to look presentable.
There is no aroma to speak of, sadly. I never understand why beers can end up this way, but there's a reason that I usually tend to not review beers of this style: they weren't really created to be evaluated like fine wine. They were meant to be savoured and enjoyed. Too bad, though, as even lagers can have subtle, sweetened aromas. Other than some grains, this has hardly any.
Flavor is a good step up from the aroma. The grains are more emphasized, but there's a light addition of sugar that makes it sweet and refreshing. Somehow, there's a gelatinous backdrop that makes it unusual at first, yet refreshing in the end. What truely shines is how refreshing and balanced the mouthfeel of this beer is. It has the body of champagne, yet is not too watery in the end. Contains a thickness that makes it far more interesting than most adjuncts I've ever had. Really smooth overall.
Not what I expected it to be (as this is supposed to be more "authentic" and representative of Brahma's old recipes than their normal offering), but not too exciting. Makes a good pairing with food, but isn't the best on its own. It's not a bad beer, but why drink it when even the most common German pilsner is more flavorful and interesting?
1,566 characters

3.2
/5
rDev
+18.1%
look: 2 | smell: 2 | taste: 3.5 | feel: 4 | overall: 4
Straight pour from a twist-off, 355ml bottle to small tumbler; best by of December 11, 2011 printed on label (111211)
Appearance (2.0): Clear, golden body with maybe a finger of bone-white head fading quickly to a thin ring around the edge and a hazed surface. The body's actually almost exactly what "piss yellow" looks like (which is also, coincidentally, half of Michigan and USC's colors).
Smell (2.0): Weak, but smells like the style should (aside from weakness)—a little bit of biscuity malt, and some mild, herbal hops.
Taste (3.5): Mild hop bitterness enhanced by the clean, crisp malt profile make for a moderately bitter start, followed by just a hint of pale / biscuity malt, a little chalky, with a very mild undercurrent of sweetness. Bitterness comes back around in the finish, in a medicinal sort of way.
Mouthfeel (4.0): Smooth, velvety carbonation that covers the tongue, punctuated with bursts of little bubbles—really pretty nice. Crisp, clean, really pretty smooth.
Overall (4.0): This is definitely a beer whose flavor profile and mouthfeel are enhanced by the temperature at which it's served—that is to say, drink this very, very cold. When I studied abroad in Brazil as an undergrad, this was my favorite of the cheap, fizzy yellow beers there. It's not great, but for what it is and for what it's meant for—that is to say, something refreshing and ice-cold—this is about as good as you're going to get in Brazil. I don't think a lot of people share my opinion in this, but they are all wrong.
1,554 characters
2.56
/5
rDev
-5.5%
look: 3 | smell: 2 | taste: 2.5 | feel: 3 | overall: 3
Just found my notes on this one...
Despite spending a large chunck of time in Brazil, this is the first time I've had the Extra (7/04). Pours a nice golden with a rather large head that has more staying power than most Brazilian adjunct filled brews. Although the bubbles are large and soapy, it at least stays. Smell is very faint but a little bit of malt is detectable. There is actually a small spicy hoppiness to this beer. That is definately not expected. There isn't really a lot going on with this beer, but I've definetely had worse. An average lager that i'd take over a bud any day.
well, i guess that's what i thought.
635 characters
2.33
/5
rDev
-14%
look: 2.5 | smell: 2 | taste: 2.5 | feel: 2 | overall: 2.5
This beer pours a clear medium golden color with a smallish white head. The smell was of a very mild graininess. The taste was of adjuncts with a slight maltiness peeking through no sign of hops. The mouthfeel is predictably thin. Yet another mass produced lager.
263 characters
2.41
/5
rDev
-11.1%
look: 3 | smell: 2 | taste: 2.5 | feel: 2.5 | overall: 2.5
I honestly wasn't expecting much from this one...and I wasn't surprised.
A - Clear yellow/straw with white head. Bubbly. Head dissipated rather quickly
S - There's a smell to this?
T - Tasted rather watery. Not much taste at all in fact.
M - Drink seemed pretty bubbly an for that reason kind of 'sparkled' in my mouth. I felt like I was tasting champagne, except with less taste.
O - As it's most common in Brazil, I'd probably drink it again, but I'm more than certain there are much better brews out there.
514 characters
2
/5
rDev
-26.2%
Curiosity to hear some good feedback; golden appearance, translucent; no foam; simple odor, at least not of metal; flavor with malt and hops and mild, at least not felt metals and corn cheaper sister... Heineken has more personality... Taste is taste, but to pay more or less?
276 characters
3.73
/5
rDev
+37.6%
look: 3.5 | smell: 3 | taste: 4 | feel: 3 | overall: 4.5
This is my oldest favourite Brazilian beer. I began drinking this in the old, old days. This is a good premium lager with a remarkable drinkability. This is really nice both for cool or hot days.
Appearance: Yellow gold, very good head that doesn´t go away that quickly.
Smell: Not strong, but nice.
Taste: Malt at a very good intensity.
Mouthfeel: Gentle. Smooth. Light.
Drinkability: Extreme ! I usually drink some of it during the day, at a barbecue party, among beautiful Brazilian girls dressing tiny bikinis...
533 characters
Brahma Extra from Companhia Cervejaria Brahma
2.71
out of
5
based on
26
ratings.