Dismiss Notice
Dismiss Notice
Hubbard & Cravens Porter
| Thr3e Wise Men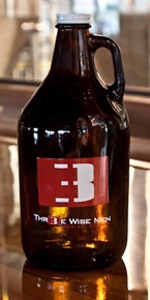 BEER INFO
Brewed by:
Thr3e Wise Men
Indiana
,
United States
|
website
Style:
American Porter
Alcohol by volume (ABV):
5.00%
Availability:
Year-round
Notes / Commercial Description:
Brewed with local Hubbard and Cravens coffee, Indianapolis.
Added by JamesS on 01-24-2011
Reviews: 11 | Ratings: 55
4.62
/5
rDev
+22.9%
look: 4 | smell: 4.5 | taste: 5 | feel: 4 | overall: 4.5
Amazing coffee porter brewed with local Hubbard & Cravens coffee from the Indianapolis area. Literally tastes like you're drinking a coffee, in a good way! Great color with decent head and lacing, but the only down side is the 5% ABV. Very drinkable and something different, it's a must try if you ever come across this one!
★
324 characters
3.76
/5
rDev 0%
look: 3.25 | smell: 3.5 | taste: 4 | feel: 3.75 | overall: 3.75
Had this on tap at Harry & izzy's. Color was one of the lightest I've seen for a Porter and surprisingly translucent. The aroma was a bit weak, hint of coffee flavor, so it was surprising to me just how much coffee flavor came with it. The flavor is actually pretty good, but the body, appearance, and somewhat harsh mouthfeel bring this down a bit.
★
349 characters
4.18
/5
rDev
+11.2%
look: 4 | smell: 4 | taste: 4.25 | feel: 4.25 | overall: 4.25
The CASK version is pretty great and has a taste of pure coffee. It's much different and IMPO it's better than the regular version. This is actually my first time trying a beer from a cask and it was pretty great. The carbonation was a tad low (however, I understand that's expected) it was dark but not too bitter and the taste of coffee was fluent and constand. If you are in luck, try it from the cask.
★
405 characters

3.79
/5
rDev
+0.8%
look: 3.5 | smell: 4.5 | taste: 3.5 | feel: 3 | overall: 4
On draft at Scotty's.
Pours very dark brown with red hues and a minimal mocha head.
Strong coffee in the aroma along with dark chocolate and good roasted malts. Was surprised by how good this smelled.
Flavor was pretty good right off the bat. Strong espresso and coffee flavors along with bitter chocolate. Somehow unlike most other porters/stouts, it got worse as it warmed. The espresso character faded with temperature and left a lightly flavor chocolate/roasted malt beer. Still pretty tasty, but not nearly as good as the first sip and not overly complex.
A little bit thin bodied, but not horrible. Appropriate carbonation.
Probably the best 3 Wisemen brew I've had, but still could've been better. Would definitely get it again, but I wish more of the coffee/espresso would've stuck around for the whole glass.
★
822 characters
3.7
/5
rDev
-1.6%
look: 4 | smell: 4 | taste: 3.5 | feel: 4 | overall: 3.5
Poured from my growler. First visit to 3 Wise Men.
Dark and dark. Not Edmund Fitzgerald dark...but dark. Reddish brown dark.
Aroma was dark chocolate...dark milk chocolate maybe. Strong coffee too. VERY PROMISING.
Taste was very good. chocolate, coffee and roasted malt. Just right
Medium bodied, creamy...a little thinnish, but very good.
Overall - very nice. enjoyable chocolate and coffee porter. Very good.
Reviewed on: 24 Dec 11
Report Abuse | id: 1512325
★
467 characters
3.93
/5
rDev
+4.5%
look: 4 | smell: 3.5 | taste: 4 | feel: 4.5 | overall: 4
Pours dark and thick with a nice head. All you look for in a porter pour.
Smells a little more like a dry coffee stout than a porter. Not very rough, but nice nodes of bitter barely with light hints of vanilla and a small, but noticeable, dose of English hops.
Tastes like it smells, only a little more portery. The rougher, lightly sour nodes of the porter malts balance out well against the more bitter, burnt barley nodes, the coffee, and the hops. Not especially complex or innovative, but very tasty nonetheless.
A very solid--if very boilerplate--American porter.
★
573 characters
1.9
/5
rDev
-49.5%
look: 3 | smell: 3 | taste: 1 | feel: 3 | overall: 1.5
I generally like porters that achieve the coffee notes from specialty malts, rather than coffee additions. Occasionally, someone gets it right with a coffee addition and I enjoy it.
This is not one of those times. The coffee they used seems to have been incinerated before addition. The taste is of very, very over-roasted (read: burned) coffee. The beer notes are there, barely, in the far background, but the taste of burned coffee dominates.
Color and mouthfeel are average for the style and fine. Aroma is strongly coffee, but not unpleasant. But, a beer is meant to be drank, and for me, this is actually undrinkable.
★
624 characters

3.85
/5
rDev
+2.4%
look: 3.5 | smell: 3.5 | taste: 4 | feel: 4 | overall: 4
poured cold from the tap at the brewpub a deep dark chocolate brown to a 6oz taster with a full finger tan head leaving lace to the rim.
aroma of black coffee and milk chocolate.
big creamy espresso forward, semi-sweet chocolate following closely behind.
medium bodied, medium carbonation, smooth, creamy.
overall - very nice. enjoyable coffee forward porter.
★
364 characters
3.12
/5
rDev
-17%
look: 3 | smell: 3.5 | taste: 3 | feel: 3 | overall: 3
Tried this one as a 6oz. sample at 3WiseMen. The beer is a dark brown with minimal head & lacing. It smells of mild roastiness and coffee. It tastes of a slightly bitter med/light roast coffee with a subtle chocolate and nutty flavor. The beer is lightly carbonated with a med/light body.
This is a easy going coffee porter that is a bit thin. The flavors are not assertive, but are balanced. The coffee carries this beer.
★
423 characters

3.47
/5
rDev
-7.7%
look: 3 | smell: 3.5 | taste: 3.5 | feel: 3.5 | overall: 3.5
I tried this at the Scotty's in West Lafayette. They got the keg specially for St. Patty's Day. This beer arrived a dark brown, and thin soda brown with a slight beige head. It looks pretty thin for a porter. It smelled of roasted malts, light roasted coffee, and bitter chocolate. Despite the adjectives used in the sentence prior, none of which were very impressive. They were pretty weak. The taste was of light coffee and then it got really dry and bitter. It was somewhere in between hops and bitter chocolate. It wasn't smooth and didn't offer enough balance. It drank a little thin for my liking, a little watery. Overall I'd say that this beer is just ok but I do hope that the West Lafayette Scotty's continues to get kegs from Thr3e Wisemen.
★
751 characters

4.5
/5
rDev
+19.7%
look: 4 | smell: 4 | taste: 4.5 | feel: 5 | overall: 5
Pours a great dark brown with decent head and good lacing. Nice deep and dark malty scent, with good roasted grains and a nice undertone of coffee and slight hoppiness. Great flavor, a nice deep roasted grain malt sweetness with wonderful coffee tones (brewed with Indy local, Hubbard & Cravens, coffee), and a great bitter aftertaste that lingers and mingles well with the coffee. Goes down really smooth and creamy.
★
417 characters
Hubbard & Cravens Porter from Thr3e Wise Men
85
out of
100
based on
11
ratings.