People's Pale Ale
| Intuition Ale Works
BA SCORE
81
good
140
Ratings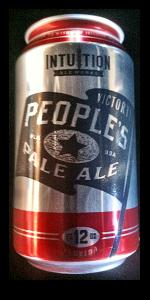 BEER INFO
Brewed by:
Intuition Ale Works
Florida
,
United States
intuitionale.com
Style:
American Pale Ale (APA)
Alcohol by volume (ABV):
5.50%
Availability:
Year-round
Notes / Commercial Description:
No notes at this time.
Added by Fieldzy27 on 01-29-2011
Reviews: 30 | Ratings: 140

3.07
/5
rDev
-12.3%
look: 3.5 | smell: 3.25 | taste: 3 | feel: 2.75 | overall: 3
Pored from a 12 oz can. In the glass it was a an orange rust color small white head laced the glass pretty well. There were smells of pine and a lot of hops; this is carried into the taste. There are a lot of hops and some citrus with little to no malt. A bit light on the feel but smooth. I prefer sweeter beers as I have said before, however since the goal of this beer is obviously not to be that I will try to take it for what it is. Having said that I enjoyed this beer, it was drinkable and refreshing if not the most satisfying in mouthfeel. I may not be the most qualified to judge this on style, but again I enjoyed it.
635 characters

3.03
/5
rDev
-13.4%
look: 3.5 | smell: 3 | taste: 3 | feel: 3 | overall: 3
Have this on tap @ 3 different places in town. this review is from notes near first of the year.
A: dark off yellow with a small head. served @ 36F, too cold. spare lacing, lots of bubbles. clear body, filtered.
S: Strong hops detected..more like an IPA. Very little malt, or sweetness detected in nose. Pine, some grapefruit.
T: WOW dales IPA/APA clone surprise. lol. again too be expected the brewer learned on w/c is a hop head. If he relabeled it a IPA it might be closer to style, AN APA its not. its an unbalanced mess. oily, sticky tasting mess.
M: semi smooth until you gag on the hops. Nice Carbonation.
O: I keep trying it hoping it get better, but so far, its not my thing, hop lovers, may like it, maybe.
I know these folks are trying but many of them need to apprentice under a real experienced brewer before they decide to open a brewery IMHO. but since folks in this town are hurting many take what they can get I guess. Still overpriced @ brewery for 14OZ.
978 characters

2.94
/5
rDev
-16%
look: 4 | smell: 2.5 | taste: 3 | feel: 3.5 | overall: 2.75
12 oz can poured into a snifter. No freshness info.
Pours out a cloudy deep orange copper color. Retains a nice full slightly off white colored head with pretty good lacing.
Smells a little bit like it's past it's prime. Old cardboard, stale hops a bit woody. Along with that some very light grapefruit citrus, resinous aromas.
The taste is a bit better than the aroma. Still has some stale hop, wet cardboard taste, but not as bad. Slight resinous piney woody hops balanced a bit by some biscuity, light toasted malt.
Average mouthfeel for a pale, maybe a hint of tartness perhaps from the age of this beer.
I'm guessing this is around a year old. Really a shame. Could've greatly benefitted from a canned on date.
725 characters
2.66
/5
rDev
-24%
look: 3.5 | smell: 2.5 | taste: 2.5 | feel: 3 | overall: 2.75
Bottle received as an extra in a trade. No apparent freshness info. Poured in to tulip.
A - Hazy medium orange with a thin layer of cream coloured head.
S - Big sweetness with caramel and honey aroma. The hop profile is seemingly non-existent.
T - A slight bitterness up front but the hop profile is very subdued overall with a huge caramel malt sweetness dominating this beer. This definitely seems old/
M - Light body with moderate carbonation.
O - I am pretty sure that this was an old beer. That said, there was no freshness info available, so I can't be sure. As such, I have reviewed this beer without taking freshness in to account.
646 characters
2.5
/5
rDev
-28.6%
look: 2.5 | smell: 2.5 | taste: 2.5 | feel: 2.5 | overall: 2.5
Tried this on tap at one of my favorite restaurants. They were out of what I wanted, so I went with something local. The appearance is pretty weak for a pale ale. It was very clear and only slightly darker than an American macro. The head was mediocre, but did have a nice lace.
The smell resembled no other pale ale I can recall. Smelled like an American macro.
The taste did nothing to change my opinion that this really is an American macro because it tasted like a pilsner I can get anywhere, only slightly more hoppy. Tastes like an American macro.
Felt like an American macro. A bit more bitter, but mostly like an American macro.
Overall, this was pretty bad. It was so bad that my next drink was a glass of water. Ultimately I contend that this isn't really a pale ale, but actually an American macro.
822 characters
People's Pale Ale from Intuition Ale Works
3.5
out of
5
based on
140
ratings.