White Zombie Ale
| Catawba Brewing Co.
BA SCORE
84
good
37
Reviews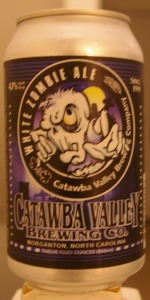 BEER INFO
Brewed by:
Catawba Brewing Co.
North Carolina
,
United States
catawbabrewing.com
Style:
Witbier
Alcohol by volume (ABV):
4.70%
Availability:
Rotating
Notes / Commercial Description:
No notes at this time.
Added by Deuane on 01-13-2010
Reviews: 37 | Ratings: 207
3.36
/5
rDev
-9.4%
look: 3.75 | smell: 2.75 | taste: 3.75 | feel: 3.25 | overall: 3.25
Pretty nice beer. Very light overtone of heffeweisen on a mostly american pale ale. It could stand to have more taste and aroma. The aroma is almost non-existent.
Very refreshing in the summer.
★
194 characters

3.75
/5
rDev
+1.1%
look: 3.5 | smell: 3.5 | taste: 4 | feel: 3.5 | overall: 3.75
A - 3.5 - Pale yellow with a white head that dissipates fairly quickly.
S - 3.5 - Faint, a hint of honey/malt
T - 4.0 - The nicest mix of malty and orangey. The orange is kind of like candy, sort of a floral/fruity/honey. Perfectly balanced. Leaves a mild bitterness behind.
M - 3.5 - Soft, lots of gentle carbonation
O - 3.75 - A pleasant, friendly, very drinkable wit.
★
374 characters

3.43
/5
rDev
-7.5%
look: 4 | smell: 3.5 | taste: 3.5 | feel: 3.5 | overall: 3
A - Pours with one and a half fingers of white foam on top of a straw colored, slightly hazy body.
S - Te aroma is typical of the style with notes of coriander, wheat, vanilla, and slightly musty yeast.
T - Light, slightly watery grain flavor up front with some coriander in the middle. Finishes with clean grain, a touch of generic spice and a bit of musty hop flavor.
M - Light body, moderate carbonation, and a balanced finish.
D - Nothing unpleasant here, but it is unusually light and bland. Still, it hits the basic notes of the style and isn't any worse than the majority of American attempts at a Belgian style wit.
★
627 characters
3.5
/5
rDev
-5.7%
look: 3.5 | smell: 3.5 | taste: 3.5 | feel: 3.5 | overall: 3.5
A: single finger head with some retention and lacing on a hazy golden body.
S: grains, sweet corn, light sweet lemon and honey.
T: grains, musty pale malts, hint of lemon tartness and herbs.
M: medium body and moderate to high carbonation.
Overall: how good can a beer in this category really be. Its not one I would get routinely or have more than one or two of at a time.
★
377 characters
3.23
/5
rDev
-12.9%
look: 4 | smell: 3.5 | taste: 3 | feel: 3.5 | overall: 3
A - pours bright yellow with a big, dense, white head that has good retention.
S - heavy lemon zest, faint straw
T - straw, coriander, orange peel, lemon zest
M - light to medium bodied, smooth, very crisp
This is a light, easy to drink beer. It has a heavy citrusy character and the carbonation is a bit heavy, but overall it's not bad.
★
341 characters

3.82
/5
rDev
+3%
look: 3.5 | smell: 4 | taste: 4 | feel: 3.5 | overall: 3.5
Gold colored with a bubbly white head, it's cloudy and there's a large amount of arbonation.
You can smell the coriander used in this as well as the orange peel, there is also a fruity yeasty aroma Im picking up.
First I taste the wheat, followed by breast toast with an orange peel finish.
Light bodied and crisp make this a very refreshing beer. The bold wheat and bread flavors give way to a more subtle orange citrus flavor.
This is a good smelling beer that has both aroma and flavor complexity. The bold flavors really surprised me as I was expecting something more laid back. This is a unique beer.
★
605 characters
4
/5
rDev
+7.8%
look: 4 | smell: 4 | taste: 4 | feel: 4 | overall: 4
12oz can into miller lite pint glass
Appearance is a clear straw yellow with a white head that stays around quite long for the style. Tons of citrus rind in the smell and some wheat light/dry notes. Taste is again orange rindy and wheaty with some hints of yeast, finishes with a light spiciness (from the hops or coriander?). No off notes. Mouthfeel is light body and medium/high carb and some dryness (not much for the style).. Very easy to drink
An interesting with that leans heavily towards the orange rind instead of the yeast and spice. Very well suited for warm weather drinking. Nice to see a light beer like this pulled off with no off notes that are so easy to come out in these light beers. Nothing wrong with this one, I just prefer the yeasty/spicy wits.
★
770 characters
4.6
/5
rDev
+24%
look: 4.5 | smell: 4.5 | taste: 4.5 | feel: 4.5 | overall: 5
On tap at Sammy's in Belmont, NC. Poured into a Killian's Irish Red perfect pint. Pours a very lightly colored hazed white slightly yellow color with a thick white head and a ton of lacing. Smells of wheat and yeast, orange, lemon, and citrus rind. Tastes of wheat flavor, only vague suggestions of hops and tons of lemon and orange notes. Mouthfeel is very nice and has a nice carbonation. Drinkability is high.
★
412 characters

3.95
/5
rDev
+6.5%
look: 4 | smell: 4 | taste: 4 | feel: 3.5 | overall: 4
On tap at several locations in Charlotte, NC
Appearance: Looks tasty, cloudy straw-pale-golden pour.
Aroma: Light and refreshing, some wheat, lemon, citrus and orange rind
Flavor: Similar, light wheat/rice grains followed by a crisp, clean acidity.
Mouthfeel: A bit thin, but expected for such a light beer
Drinkability: This is where this one shines, perfect for outside on a hot day, which is exactly when I had it.
★
418 characters
4.25
/5
rDev
+14.6%
look: 4 | smell: 4 | taste: 4 | feel: 4.5 | overall: 5
Grabbed my first of many at the Flying Saucer in Charlotte during the Craft Beer Week.
Pours a brilliantly bright but cloudy orange hued amber body. A nicely fluffed cloudy head tops it off and lingers for a good while during your session.
Smells of sweet wheat and light amounts of barley in a fine balance. Hints of corriander and orange peel dance about the malt characters with a slight earthy hop underlying aroma. Very pleasant smell with some nice character but not overdone.
Taste extremely balanced for the style. Nice crisp belgain-esque fruity character blended over the light wheat sweetness. All of this balanced by the herbal corriander and sweet orange bits that snap across your tongue as you let it settle. A smooth and well balanced finish that is both spicey yet refreshing and inviting you for another sip.
An easy drinking, great summer beer that is well suited for any craft and want to be craft beer enthusiast!
★
934 characters
3.68
/5
rDev
-0.8%
look: 4 | smell: 3.5 | taste: 3.5 | feel: 4 | overall: 4
A new one for me, not really sure how long this one had been out, but looked like a nice was to start off the night. Served in a pint glass, and consumed on 02/09/2010.  
The pour was good for the style. Very light, pale golden in color with a good bit of visible carbonation that could be seen streaming up toward the surface of the glass. Really nice little head of white foam forms on top and settles down gently into a great little head. Aroma is very light, very bright with a nice touch of lemon and citrus on the nose. Light, very bright, crisp and clean feel here. Almost sparkling at times. Very, very light. Flavor fades quickly on me though as light grains, and a light touch of citrus are really all that remains after just a few moments and the very light and dry final sips seem to pull it all together quite nicely.  
Overall while not being the most terribly interesting thing in the world, it was enjoyable and the purpose and follow through were both definitely there. I could see myself having this one a couple times on a warm day.
★
1,057 characters

4.07
/5
rDev
+9.7%
look: 3.5 | smell: 4 | taste: 4 | feel: 4 | overall: 4.5
A-Hazy golden yellow with a thin white head that reduced to a thin veil and left spotty lace.
S-Very citrusy with notes of tangerine, orange and lemon. Nice backing of spicy coriander and biscuit malt
T-Lemon zing with subtle orange notes. Spicy coriander and chamomile herbalness. Very refreshing.
M-Light bodied, crisp with nice lingering citrus bitterness and herbal earthiness.
D-Tasty stuff, very easy to drink. A very citrus forward wit, which is what I prefer.
★
479 characters
White Zombie Ale from Catawba Brewing Co.
3.71
out of
5
based on
207
ratings.