Thundarr The Bavarian (Bavarian Style Imperial Wheat Ale)
| Burnside Brewing Co.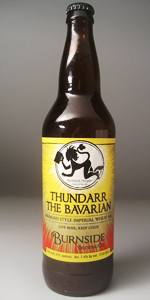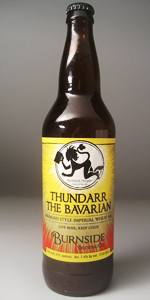 BEER INFO
Brewed by:
Burnside Brewing Co.
Oregon
,
United States
burnsidebrewco.com
Style:
Hefeweizen
Alcohol by volume (ABV):
7.40%
Availability:
Rotating
Notes / Commercial Description:
No notes at this time.
Added by artoolemomo on 10-06-2013
HISTOGRAM
Ratings: 11 | Reviews: 5
None found.
More User Reviews:

4.44
/5
rDev
+15.3%
look: 4.25 | smell: 4.5 | taste: 4.5 | feel: 4 | overall: 4.5
A Beautiful honey colored golden pour into a pint glass, unfortunately with no head.
S Lovely unfiltered wheaty Weiheistephany goodness, you've got terpenoids resembling banana with a bitter not-quite-clove backing.
T Like the yeast died a good death. Sweet, but not sickly, like a good Hefe should be. Honey, white grape, toasted wheat and Oktoberfests come to mind. Would be good with pretzels und braten.
M No head but it feels crisp and "bubbly", complements the watery consistency well. Easy to drink, and you'll be sorry when it's gone.
O A really tasty, easy-drinking witbier with plenty of punch (7.4% ABV). I'll definitely be picking this up again, as it is my new favorite offering of the local Burnside Brewery.
726 characters
4.21
/5
rDev
+9.4%
look: 4 | smell: 4.25 | taste: 4.25 | feel: 4 | overall: 4.25

3.59
/5
rDev
-6.8%
look: 3.5 | smell: 3.75 | taste: 3.5 | feel: 3.75 | overall: 3.5
Pours a finger of head on a cloudy light straw colored body.
The aroma is all sorts of fruit: apple, banana, apricot and sweet corn.. and a little soap.
The taste is mild sweetness from banana and candy corn.
The texture has a nice fizz to it.
Enjoyable and interesting.
271 characters


4.37
/5
rDev
+13.5%
look: 4.25 | smell: 4 | taste: 4.5 | feel: 4.5 | overall: 4.5

3.08
/5
rDev
-20%
look: 3.5 | smell: 3 | taste: 3 | feel: 3 | overall: 3.25
22 oz bottle bought from Safeway in West Salem OR $4.29 Pours a clear dull gold with a large frothy/rocky eggshell white head. Nice aromas of over ripe sweet bananas, spice ( clove?), a little cheesy dough and vanilla. Taste is at the sweet end of the style..though it bitters up near the end. Not as complaex as the aroma. Mouth feel could use more carbomnation to keep it from getting sticky in the end..plus a wee bit of off putting alcohol shows. Not great but i can finish it.
481 characters


3.62
/5
rDev
-6%
look: 4 | smell: 3.75 | taste: 3.5 | feel: 3.75 | overall: 3.5
22oz : Weizen glass
Pours a hazy, golden wheat color, with a thick, foamy white head.
Classic banana and clove notes in the aroma.
More in the taste, though they are just a bit less distinct, and blend into a more general, malty, weizen profile.
Medium+ body, foamy, fizzy carbonation, as expected in the style.
A well done weizen. Certainly nothing groundbreaking, but a well done example of the style.
408 characters
3.61
/5
rDev
-6.2%
look: 3.5 | smell: 3.75 | taste: 3.5 | feel: 3.5 | overall: 3.75
Appearance- Pours up a fair amount of head which has little retention. The head is a pure cotton white while the body is a cloudy but bright lemon yellow which shows hints of orange when held up to the light. No lacing as of yet. A little bit of lacing is left behind.
Nose- Aroma portends that this is going to be a banana bomb. There are notes of clove but they get pushed out by the dominant banana nose. A little generic smelling, almost like taffy. Swirling only reveals a milder whiff of the overall banana scent. More swirling show some citrus- orange and lemon.
Taste- Light hints of orange and lemon which move quickly into orange and lemon peel, coriander with banana and cloves bringing up the rear. Not quite as dominant as on the nose. It seems to want to be a hefeweizen but it's not really phenolic enough for me to classify it as that right now. Tiny bits of spice and apple and its unfiltered nature are making me lean toward listing it as a hefeweizen. Hints of spice from the yeast as well. Could use a lot more presence- tastes a little thin. There's nothing wrong with this beer and it's better than average. It simply fails to be interesting. Hides the 7.4% very well- I would guess this were much lower if I were simply handed this beer and was told that it was a hefeweizen. Slight tartness from lemon and apple. Faint hints of cinnamon on the finish.
Mouthfeel- Light bodied- perhaps could benefit from a little more carbonation to prop up the slight and subtle spice.
Drinkability- Very easygoing as a result of its very subtle character. Pretty reasonable at 6 bucks a bomber but a little boring for a hefeweizen. There are definitely better ones at the same price.
Overall- Above average but straddles the fence between two styles: Hefeweizen and American Pale Wheat Ale. Worth at try but you might want to pass if you're looking for banana/clove/phenol bomb. This is much lighter but this does make it very drinkable.
1,955 characters

3.97
/5
rDev
+3.1%
look: 4 | smell: 3.75 | taste: 4 | feel: 4.25 | overall: 4
Thundarr The Bavarian (Bavarian Style Imperial Wheat Ale) from Burnside Brewing Co.
Beer rating:
3.85
out of
5
with
11
ratings