Permafrost
| Burnside Brewing Co.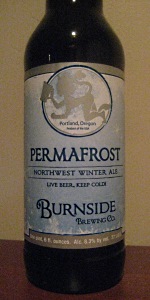 BEER INFO
Brewed by:
Burnside Brewing Co.
Oregon
,
United States
burnsidebrewco.com
Style:
Winter Warmer
Alcohol by volume (ABV):
8.30%
Availability:
Rotating
Notes / Commercial Description:
No notes at this time.
Added by artoolemomo on 11-11-2013
Reviews: 7 | Ratings: 26
4.02
/5
rDev
+8.4%
look: 4.25 | smell: 4 | taste: 4 | feel: 4 | overall: 4
22oz bottle, a cool (no pun intended) new winter offering for we in the veritable midst of it right now, but duly south of any 'permafrost', as such.
This beer pours a fairly hazy, yet bright orange-brick amber hue, with three fingers of weakly foamy, and mostly bubbly beige head, which leaves some decent pockmarked iceberg shelf lace around the glass as it slowly ebbs away.
It smells of biscuity, crackery, and grainy caramel malt, muddled dark orchard fruit - maybe some raisin, maybe some dried cherry - a bit of bittersweet cocoa, a certain oily nuttiness, and even-keeled leafy, weedy, and citrusy hops. The taste is bready caramel malt, more strangely biscuity dry nuttiness, a sidling hot metallic booziness, some muddled dark fruitiness, and that obligatory West Coast toast to citrus and pine hoppiness.
The carbonation is a bit peppy and edgy overall, the fizzy and frothy essences not quite in rhythm, the body a solid medium weight, and smooth enough, I suppose, the normal intransigencies seemingly nonsensical at this juncture. It finishes barely off-dry, the biscuity malt still most certainly large and in charge, while the dark fruit and agreeable noble hops pay their respects.
Not exactly what I was expecting, apropos of nothing, of course, as my one previous exposure to this brewery is hardly a barometer for what we're talking about right now. Overall, this is very much like a boozed up (but quietly, of course) ESB, which is a very good thing in my world, all things not necessarily hop-frontal, full stop.
★
1,540 characters

3.78
/5
rDev
+1.9%
look: 3.75 | smell: 3.75 | taste: 3.75 | feel: 4 | overall: 3.75
Poured into a Dogfish Head pint glass. Pours a medium to dark reddish orange amber with a thin, light tan head with good retention and light lacing. Aroma of biscuit malt, raisins, lightly nutty; light seasonal spicing. Flavor is citrus hops, grapefruit and lemon, caramel malt and muddled mixed fruit. Medium bodied with a hint of creaminess. An interesting riff on a red ale, with that style's general fruitiness, sweet malt and moderate to aggressive hopping. Light hints of winter spices are not overdone, but add to a lack of direction in this ale. Some of the flavor balance is reminiscent of a light barleywine. An interesting and pleasant winter ale that does not really come together cohesively.
★
704 characters

2.66
/5
rDev
-28.3%
look: 2.5 | smell: 3.25 | taste: 2.5 | feel: 2.25 | overall: 2.5
Bomber poured in a nonic, Permafrost is lightly hazed chestnut with a thin off-white skim that leaves light, scattered foamy lace.
Smell is hot, fusels. Cherries as it warms and opens.
Taste is also hot, with muddy, sweet malts and fairly robust hop bitterness. A little bit of fruitiness.
Mouthfeel is flabby, surprisingly thin.
Drinkability isn't too high. This is disjointed and poorly executed. Frankly, par for the course in my experience with these guys, although I've only had their common bottlings so maybe their special draughts are better, but I'm not in a hurry to find out.
★
594 characters

4
/5
rDev
+7.8%
look: 3.75 | smell: 4.25 | taste: 4 | feel: 3.5 | overall: 4
22 oz bottle bought from "Roth's Sunnyslope Market" in South Salem. $5.49 Pours a hazy darker amber colour with a nice sized cream coloured head. Very appetizing malty aromas (if that's your thing) coffee,semi-sweet chocolate,figs,raisins come to mind..fruity hops. Taste similar to aroma a bit more sweet though! nice dark chocolate bitter aftertaste. Nice enough mouth feel medium to ow carbonation but its smooth enough over the tongue. Touch of alcohol warmth in the very end. I actually liked this one quite a bit..its a sipper though.
★
544 characters
3.19
/5
rDev
-14%
look: 3.25 | smell: 3 | taste: 3.25 | feel: 3.25 | overall: 3.25
Appearance- Pours up an okay amount of head but has pretty poor retention. The head is a light beige while the body is a deep amber with hints of maroon and crimson which appears as mostly dark amber when held up to the light. Some spots of lacing.
Nose- At first, I was at a lose- I couldn't smell anything. Maybe a little bit of cornflakes, something funky but not Brett funky. That's gone but now I get light cherry and raisins. Not exactly sure what style this beer is supposed to be (I'm guessing Winter Warmer) and the aroma hasn't provided any clues. Swirling shows cherry and raisins with a bit of tartness.
Taste- Sweetness on the front- initially, a light play of citrus and raisins and cherry. Progresses to show more of a malt bill that hints at caramel and a little bit of leather. Some grapefruit and other citrus from the Amarillo and Meridian hops. At the moment, I don't really think they work with the malt bill which seems a bit dull and musty. (And not musty in the way that I like). Not much more complexity than what I've mentioned and it may just be all the HOTD I had last night, but this beer seems pretty boring. No flaws but a pretty average beer. Light caramel. Light matchstick. Just above average. I've enjoy both Amarillo and Meridian hops but this beer falls flat.
Mouthfeel- Medium bodied with a slight dryness. Pretty low carbonation. A little gritty, possibly even chewy.
Drinkability- Fairly sessionable and no real heat. The problem is that this beer is boring. Not a big loss at 5 bucks for a bomber but this is not a purchase I intend to repeat.
Overall- Just above average (if that). I would give it a try but do not mistake that for an enthusiastic endorsement. I know Burnside can do better than this.
★
1,753 characters
3.99
/5
rDev
+7.5%
look: 3.75 | smell: 4 | taste: 4 | feel: 4 | overall: 4
On tap. In a shaker glass.
A: clear, amber, with good amount of lacing.
S: honey sweet, slightly malty.
T: malty sweet, slightly longan flavor, medium to light bitterness. SemI-dry finish.
M: medium to full bodied. High carbonation. Very crisp.
O: Surprisingly got the same style yesterday to compare. I personally prefer this one to Elysian Bifrost. Very drinkable (despite its high alcohol content) and flavorful.
★
415 characters
4.13
/5
rDev
+11.3%
look: 4.25 | smell: 3.75 | taste: 4.25 | feel: 4.25 | overall: 4.25
A light reddish color with a nice white cap great carbonation. As with all Burnside beers looks awesome. The taste hits hard with citrus hops and a big malty sweetness. Very well balanced between sweet breadiness and bitter hop juiciness. Alcohol is warming indeed but we'll hidden
★
281 characters
Permafrost from Burnside Brewing Co.
3.71
out of
5
based on
26
ratings.