Burnside Stock Ale
| Burnside Brewing Co.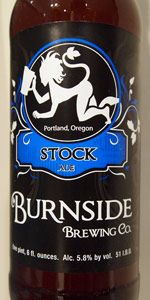 BEER INFO
Brewed by:
Burnside Brewing Co.
Oregon
,
United States
burnsidebrewco.com
Style:
Extra Special / Strong Bitter (ESB)
Alcohol by volume (ABV):
5.80%
Availability:
Year-round
Notes / Commercial Description:
"Burnside Stock Ale displays soft malt flavor with a delicate hop flavor and aroma. This is the perfect balance between both, creating a perfectly harmonious ale with a striking deep copper color. Made in the E.S.B tradition."
abv: 5.8% ibu's: 51
Added by msubulldog25 on 04-07-2011
Reviews: 11 | Ratings: 27
4.07
/5
rDev
+8%
look: 4 | smell: 4.5 | taste: 4 | feel: 3.5 | overall: 4
Apparently this one had just started to be bottled when I acquired my 22oz'er. Lucky me!
THE LOOK of Burnside's "Stock Ale" was good. It has a nice amber/red body with great off-white malty foam and lacing everywhere. Definitely malt-tastic! Label says "deep copper" color, but I'd have to disagree: more red, than brown for sure.
THE SMELL is the strongest point of this beer. With strawberry, grapefruit, vanilla, chocolate, butter (?!), and even a faint bit of toffee, this is a wonderful smelling brew! Good balance. Complex, yet not overpowering.
THE TASTE features hop, strawberry, marshmallow, cherry, and caramel and leans closer to a red ale than an ESB. Many red ale characteristics, but mostly ESB flavors and bitterness. The Stock Ale is also slightly spicy. Citrus quality is very strong on this one. Extremely bitter, overall.
THE FEEL is very malty, smooth, and creamy. Medium-full, I think. Alcohol feels higher than 5.8% (maybe 6.5%-ish), but does not detract from the experience.
CONCLUSION: This is the best ESB I've ever had, but in general I'm not a big fan of this style so that's not saying much. The flavors are quite good and the execution is masterful, I just think it borders on being a red/ESB fusion which is not something the label makes clear so that's a con in my book.
1,306 characters
4.02
/5
rDev
+6.6%
look: 4 | smell: 4.5 | taste: 4 | feel: 3.5 | overall: 3.75
Clear reddish amber with a very good two finger white head. Clouds of lacing as the head recedes. Aroma is malty nice clean grains. Some earthy hops.
Taste is earthy leather hops with a nice complement of rich maltiness.
Mouthfeel is just right for this style maybe more carbonation than a British version but fine by me.
Overall an outstanding example of a style which is becoming very hard to find in the USA.
Finish is wet and moderately bitter. Well done Burnside!
470 characters

4
/5
rDev
+6.1%
look: 4 | smell: 4 | taste: 4 | feel: 4 | overall: 4
22oz bottle into tulip pint.
Pours a clear, light copper with a foamy, cream colored head that leaves nice lacing.
The aroma is toasty biscuit malts.
More toasty biscuit and grain upfront, some faint toffee/caramel and a faint bitter finish.
A nice medium body with appropriate carbonation.
A well done ESB, and another enjoyable brew from Burnside Brewing.
362 characters
3.95
/5
rDev
+4.8%
look: 4 | smell: 4 | taste: 4 | feel: 3.5 | overall: 4
22 oz. bottle poured into The Beer Mongers glass 4.09.12.
One finger rocky white head, slow dissipation, decent lacing over clear medium amber body, multiple bubbles rising up from bottom of glass. Malt forward nose, Maris Otter?, balanced by floral hop aromas. Taste mirrors nose, big malt up front, toffee, grainy, not a lot of hop bitterness. Mouthfeel just on the light side of medium, average effervescence. Wonder how this would taste on cask, I think this is something The Old Tavern Rat would enjoy, which is high praise for the style.
544 characters
3.92
/5
rDev
+4%
look: 3.5 | smell: 4 | taste: 4 | feel: 3.5 | overall: 4
Bottle purchased from Pearl Whole Foods in Portland Oregon.
Pours a pleasant and true-to-style burnished orange hue, with more haze than expected. However, the haze refracts the light, making the beer glow, which is rather pleasant. Head is filmy and bubbly—a soft off-white. Some lacing, but not all that persistent or extravagant. It looks decent.
Nose is mellow, but brushed with pleasant leafy, darkly herbal and earthy English hops, with a sense of nuttiness like EKG gives (they don't actually list the hop varieties on the bottle though, so that's a guess). It's fragrant for an English style, but still firmly in the tradition. Malty, grounded, almost savoury in its usage of the hops. Quite pleasant.
Taste is similar. Smooth entry, with plenty of neutral to slightly-nutty malt, before the earthy flourish of hops comes through leaving a herbal bite in the aftertaste. Bitterness is pronounced, but leaves a hole in the palate—where American high-alpha hops would cut straight through, these hops melt around the edges, letting the malt do more of the work. It's pleasant, and true to the tradition it's attempting to uphold.
Feel is a little bit weak, but it's almost there. To be honest, all it needs is to be pulled from a handpump and it'd be great.
Good stuff. I like it when American breweries do good examples of British styles without trying to Americanize them. Sure, they're duller than they might be, but let's face it: so are the Brits.
1,467 characters

3.91
/5
rDev
+3.7%
look: 4.25 | smell: 3.75 | taste: 4 | feel: 3.5 | overall: 4
Pours a half finger of off-white frothy head on a cloudy dark straw colored body.
The aroma is a nice, if faint, grain smell. Really nice.
The taste has nice complexity and balance. Dry grain, lemon, apricot, more grain.
The texture is crisp with moderate carbonation.
A really good ale with some great flavor packed into a fairly low ABV.
341 characters

3.67
/5
rDev
-2.7%
look: 3.5 | smell: 4 | taste: 3.5 | feel: 4 | overall: 3.5
22 oz from Capital Market,Salem. $4.99 Copper/amber coloured body with a large bubbly egg shell white head. Mainly malty aromas..caramel,hay bread.,chocolate a touch of floral hop. All the above are also in the taste..and all balanced well. Semi bitter finish. Good mouthfeel with low carbonation. Overall nice smooth beer
322 characters
3.65
/5
rDev
-3.2%
look: 3.5 | smell: 3.5 | taste: 3.5 | feel: 4 | overall: 4
Served in bubble pint glass. Poured a nice light amber brown color with about an inch of white head that had good retention and lacing.
The aroma was typical, for a good ESB. Nicely earthy grains on top of a gently sweet malt base with just the right amount of hops to tingle the nose. The flavors were very good as well. The beer was nicely malty, smooth and grainy. The beer was sweet but had a clean finish and a nice tickle of hops at the back end.
The body was very good, full and smooth. The beer had really good drinkability, it went down smooth and easy. Overall, this a good session brew (even if it doesn't meet the technical criteria), this an easy drinking , all-afternoon beer. Definitely try it if you see it.
725 characters

3.5
/5
rDev
-7.2%
look: 3.5 | smell: 3.5 | taste: 3.5 | feel: 3.5 | overall: 3.5
Bomber poured into my large Gulden Draak tulip, Burnside's Stock Ale is bronze with a small auburn tinged head leaving light lace.
Smell is fruity, apricot, classic british esters.
Taste is sweet malt, caramel, a little bubblegum, with a nice herbal hop snap and firm bitterness on the finish.
Mouthfeel is dry, some crispness, medium light bodied.
Drinkability is pretty good, nice flavor, easy drinker, satisfying. Shared with my Dad, he wished I had more.
466 characters

3.47
/5
rDev
-8%
look: 3 | smell: 3.5 | taste: 3.5 | feel: 3.5 | overall: 3.5
22oz bottle. Thanks Tim!
A: Pours amber with a short lived thin white head that faded into a faint collar.
S: Caramel, roasted grains, and lightly sweet stone fruits come through on the nose.
T: Mild taste, malty, not cloying or syrupy. I get notes of toasted and crackery malt, mild fruit sweetness, caramel, and a hint of red apple juice.
M: Soft carbonation, clean mouthfeel, medium-light body, drinks well.
O: Refreshing, no-frills. Solid all-around. I would drink this again.
485 characters

3.45
/5
rDev
-8.5%
Really distinctive nutty, woody, musty flavor. Color is just plain orange with a modest foam in the Glupener tulip. Smell of leaf mold.
Different from typical American-style ESBs. This has more of the Old Ale tang and a whiff of a German Altbier. The grainy flavor is intriguing. A touch of butter. Long bitter aftertaste is the familiar English-style spoiled fruit bitter hops. Walnut skin bitterness.
From the 22 oz bottle purchased at the brewery restaurant in Portland.
3.5 3.5 3.5 3.5 3.0
500 characters
Burnside Stock Ale from Burnside Brewing Co.
3.77
out of
5
based on
27
ratings.