Orange Avenue Wit
| Coronado Brewing Company
BA SCORE
80
good
108
Reviews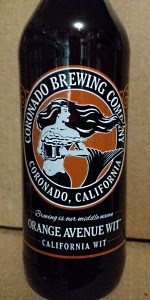 BEER INFO
Brewed by:
Coronado Brewing Company
California
,
United States
coronadobrewingcompany.com
Style:
Witbier
Alcohol by volume (ABV):
5.20%
Availability:
Year-round
Notes / Commercial Description:
No notes at this time.
Added by armock on 04-18-2010
Reviews: 108 | Ratings: 532
3.53
/5
rDev
+0.9%
look: 4 | smell: 3.5 | taste: 3.5 | feel: 3.5 | overall: 3.5
Poured into a Shofferhofer weizen glass.
A. Pale yellow with a tall white head. Seems very lively, plenty of bubbled streaming upwards. The bottom of the glass is a mass of bubbles.
S. Lots of tropical fruits, candy floss. floral notes and some spiciness.
T. Wheat, grapefruit, a slight hint of bubblegum and a nice hop presence. Lightly carbonated.
M. Light to medium.
D. A nice refreshing, thirst quenching beer.
★
419 characters

4.35
/5
rDev
+24.3%
look: 4 | smell: 4 | taste: 4.5 | feel: 4.5 | overall: 4.5
Served in a dainty little tulip glass. I'm guessing an 8 oz. serving.
Juicy in color (like the skin of a nectarine) and the look of its viscosity (if that makes sense). Summery and elegant. Loses points for the lack of head.
Spicy, herb aroma with hints of clementine.
Orange zest and fresh coriander flavors, balanced well with spectral grassy and peach nectar qualities.
The ingredients altogether taste natural and fresh, carried refreshingly, sip after sip, with a touch of sparkling carbonation.
★
504 characters
4.35
/5
rDev
+24.3%
look: 4 | smell: 4 | taste: 4.5 | feel: 4.5 | overall: 4.5
A: Poured from a bottle to a pint glass. Had a pale yellow color and a cloudy consistency. There was a quarter inch of creamy, somewhat long-lasting head. Good lacing.
S: A sweet aroma of citrus, spices, and malt.
T: Tasted of lemon, orange peel, coriander, malt and some hops. Nicely balanced.
M: A good amount of carbonation and a slick finish. Light-bodied. A good summer beer.
D: A well made, solidly drinkable beer.
★
424 characters
3.62
/5
rDev
+3.4%
look: 3 | smell: 3.5 | taste: 3.5 | feel: 4 | overall: 4
Pours a light gold with a little style-appropriate haze. Head begins tall, but nearly disappears immediately. Light carbonation.
Oats seems to be more prominent on the nose, with wheat playing backup. Light citrusy notes that favor the orange blossom honey rather than orange zest or orange peel.
A light hop bitterness finishes with a slight honey note. Finishes short, but refreshing. A bit more hops than expected.
Overall a very quaffable beer. A nice west-coast adaptation of a classic Belgian style, though I might have called it "wheat" rather than "wit," as color and spice profile are significantly different from witbier. I would recommend giving it a try.
★
669 characters
3.56
/5
rDev
+1.7%
look: 4.5 | smell: 3.5 | taste: 3.5 | feel: 3.5 | overall: 3.5
Received this as an extra from imperialbeachbrw.
A: A white fluffy 1 finger head fades at a medium pace over golden wheat banana color with some orange clumps and hazy, with tooons of bubbles rising from the etch at teh bottom.
N: Lots of wheat, creamy malts, orange peel, citrus, coriander, somewhat clean and crisp. Lots of wheat though.
T: Wheat flavors, lots of orange peel and tangerine, toasty breaddy flavors of Munich malts or biscuit malt, strange, doesn't fit well with the beer. Some spices, coriander, some bitterness from the orange peel, a little creamy malts.
M: Light body with tons of carbonation.
F: Some bitterness, mostly orange peel and spices for the bitterness, with lingering, yep, orange peel and spices. Some wheat flavors, tangy orange lingering, coriander and spices lingering too. Weird bitterness just lingers, like I just bit on an orange peel.
★
881 characters
4.02
/5
rDev
+14.9%
look: 3.5 | smell: 4 | taste: 4 | feel: 4.5 | overall: 4
A: Nice light color. Little bit of head, some lacing. Decent amount of carbonation.
S: Sweet initial aroma hits you, ends with some nice citrus.
T: Good for its style. You can taste a lot of the honey and citrus flavor. Nice balance of flavors, no real hoppy bight.
M: Decent amount of thickness for such a light beer. Good amount of chew.
D: It's definitely drinkable, I'd drink one again if I had it.
Overall: Overall, it was a good beer with a nice balance of citrus and sweetness. It's not really my type of beer, but for its style, it was enjoyable. A good change of pace, though.
★
590 characters

3.86
/5
rDev
+10.3%
look: 2.5 | smell: 4 | taste: 4 | feel: 3.5 | overall: 4
P- Al's of Hampden
A- a clear carbonated bright hay yellow color. A stciky lacing left on my pint with a one finger head.
S- orange and supple wheat are prominent but then there is coriander and honey on the back end.
T- Strong orange and wheat dominate. I then get some sweet honey and the hint of coriander.
M- dry and citrusly wheaty. Goes down easy and without a cringe.
D-Overall a good brew, unique and one of a kind. this would be a good summer beer.
★
462 characters
3.5
/5
rDev 0%
look: 3.5 | smell: 3.5 | taste: 3.5 | feel: 3.5 | overall: 3.5
A - Poured a slightly hazy yellow color with a thin white head that leaves spotty lacing behind
S - Is of light wheaty malt with orange citrus scents
T - Follows the nose with wheat and orange citrus flavors
M - This beer has a light body with medium carbonation to it
D - This was the perfect beer to start the day with light and refreshing with a good taste makeing this an easy drinking beer worth trying
★
419 characters
Orange Avenue Wit from Coronado Brewing Company
3.5
out of
5
based on
532
ratings.