Mornington Peninsula Sorachi Kolsch
| Mornington Peninsula Brewery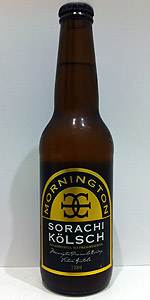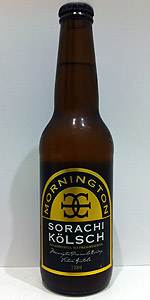 BEER INFO
Brewed by:
Mornington Peninsula Brewery
Australia
mpbrew.com.au
Style:
Kölsch
Alcohol by volume (ABV):
5.20%
Availability:
Rotating
Notes / Commercial Description:
No notes at this time.
Added by lacqueredmouse on 04-06-2011
HISTOGRAM
Ratings: 12 | Reviews: 9
Reviews by Hoptron_3000:

3.53
/5
rDev
-5.1%
look: 3.5 | smell: 3.5 | taste: 3.5 | feel: 3.75 | overall: 3.5
A: Fairly clear pale straw colour. No head. Bottle conditioned.
S: Lemon, straw, green apple
T: Crisp refreshing lemon. A little bit of mineral dryness. A tiny bit of green apple. Small amount of bitterness on the finish.
M: Light and crisp mouthfeel.
O: A great summer beer. Refreshing with enough interest to make you come back for another.
342 characters
More User Reviews:
3.42
/5
rDev
-8.1%
look: 3 | smell: 3.5 | taste: 3 | feel: 4 | overall: 4
Pours gold with a large head.
Nose shows spicy and herbal hops along with faint lemon custard and soft clean malt.
Similar flavours, pretty much the same characters as mentioned above followed by a mild bitterness.
Carbonation seems a little excessive.
252 characters

4.17
/5
rDev
+12.1%
look: 4 | smell: 4.5 | taste: 4 | feel: 3.5 | overall: 4.5
Pours a pale straw colour, light haze and steady bead. Head is white and dense and retaining a very nice crown with some sticky off-white lace. Lookin' good, there, Kölschy.
Smell is gawwwgeous. So light, floral and tangy. Lots of citrus with some apricot jam, orange sherbet and plum sauce for sweetness and richness. Rich and tangy like good barbecue sauce and yet light like a good champagne. Wonderful complexities, and the best kölsch I've smelled in a long time.
Taste is tangy from the get go with huge citric notes and pepperberry - orange and lemon flavours with a touch of lavender providing slight floral bitterness, plus some lemongrass and white peppercorns come through on the mid that last until the end. The characteristic kölschy dryness is distinct late-mid but it just adds to the weird, wonderful array of fruit and spice assaulting my palate. Bit of a chemical, soapy flavour on the back is the only dud note in an excellent palate. Front is just beautiful though.
Lots of carbonation is mostly padded by the decently full body, but it does border on harsh at times.
Excellent drop, great use of hops to carry a beer forward, nicely flavoured and rounded off and refreshing as a dip in the pool after several years in Hell.
1,255 characters

3.99
/5
rDev
+7.3%
look: 4 | smell: 3.75 | taste: 4 | feel: 4 | overall: 4.25
330ml bottle poured into pint glass 6/4/14
A hazy from tiny particles in a golden yellow body, finger of soapy white foam falls after a few sips leaving lace where it existed
S apple juice, lemon, bubble gum, white grapes, sweet malt, and a little sweet orange
T more sorachi in the mouth, I'm not getting lemongrass but I'm getting lemon, grass and a little hay, bubble gum, and cracker, tastes a little stronger with more going on
M light, fluffy, now on the finish I'm getting lemongrass, just a little grit left behind and super smooth going down
O I know its strange having the highest grade in the overall but I could've gone above 4 in a couple areas, this ones easy to smash down my throat
I like the hop and it works well in this light, easy drinking brew. I could drink a few of these without getting board and could slaughter a case of this under a hot sun if I had a day to work with
903 characters
4.32
/5
rDev
+16.1%
look: 4 | smell: 4.5 | taste: 4 | feel: 4 | overall: 5
Tried on tap at The Local Taphouse in Sydney.
I tried this one (which was labelled at the Taphouse as merely the "Mornington Peninsula Kölsch") without realising this is the one that prominently features Sorachi Ace. What a difference it makes, what a unique hop! It was clear from early on that this was a unique-flavoured beer.
Pours a hazed but translucent golden yellow colour. Head is fine and with, with sudsy lacing that doesn't stick quite as much as it could. Minimal carbonation, and what appears to be a light body, but amazingly, when swirled, it forms some good static bubbling. Overall, a good looking beer.
Nose is where you start to notice the uniqueness here. It's fresh and fruity; very sweet, with almost a raspberry character coming through (notes say "this isn't the Sorachi Ace one is it?"). But to balance the sweetness, there's a good dose of clean and crisp organics. Some hay aromas sharpen the sweetness. Lovely.
Taste is similar, with a raspberry leaf kind of sweet organic freshness. Clean light bitterness at the back which isn't overdone. The light body gives it that crisp lager style. Thoroughly enjoyable.
A very drinkable brew. So refreshing, and different enough to give it buckets of interest. Very unique, very different. It's a cracking brew, worthy of a place in the Australian Craft Brewing zeitgeist with the likes of Stone & Wood Pacific. Try it!
1,405 characters

3.48
/5
rDev
-6.5%
look: 2.5 | smell: 4.5 | taste: 3.5 | feel: 2.5 | overall: 3
Mornington Peninsula, another first for me (so many craft brewers, so little time...) and the brew that appealed to me most from the many they have on offer is the Sorachi Kölsch. I had a light bulb moment when I noticed it of: "Sorachi Kölsch of course, the lemony flavour of Sorachi hops would work in perfect symphony with the summery Kölsch style, why didn't I think of that?!". In any case if this is the first Sorachi Kölsch out there and it tastes great it will be a masterstroke of a brew - and who doesn't love a good masterstroke every once and a while?
Poured from a 330ml bottle into a Stange.
A: Hazy light straw with a large 2 inch foamy white head... what's with all the excitable heads lately?
S: Candied sour lemon on the nose, good we know that there will be some excellent Sorachi hop flavours ahead. This is followed by notes of Verdelho (white wine), floral hints of sweet orange blossom and some dry champagne yeast in the background. I can tell this is going to be one tasty treat.
T: The taste is intriguingly off-kilter due to a front-palate earthiness that comes from out of nowhere, mid-palate is dry acidic lemon, and it finishes with some bitter lemon hops (if you're not a fan of lemon stay away from Sorachi hopped brews). More bitter than sweet and that grainy earth flavour really throws you out. That said this would be a killer summer beer, not unlike a good Kölsch. Notes of white wine come out a bit further down the glass.
M: Carbonation is a little bit high with a mid to light body.
D: This was a real interesting brew for me, the flavours that worked really well (all the lemon ones) came into harsh contact with the flavour that distracted (that grainy earthy note) as such I was really on the fence with this one and minus the grainy earth and plus a touch more sweetness I would easily have been sold on the merits of this brew. I will however commend Mornington Peninsula Brewery for not skimping on the Sorachi hops though.
Food match: Seafood is a clear winner with this lemon-heavy Kölsch.
2,050 characters
3.98
/5
rDev
+7%
look: 4 | smell: 4 | taste: 4 | feel: 3.75 | overall: 4
How I've never reviewed this ill never know and it pours a pale straw yellow crystal hue with a nice thick two finger creamy head and lacing as far as the eye can see it definately looks like a kolsch,the smell is straight out Sorachi with aromas of lemon,grassy herbs and a touch of lime the smell is stronger than you expect off a kolsch but it's nice,the mouthfeel is light bodied yet creamy and well carbonated and has tastes of a lemon herbalness first up then a touch of a bitter lime and followed by grassy hoppy bittness which is more pale ale than kolsch but other than the smell and bitterness the kolsch is still there and I like this new style kolsch and to be honest it's a lot better straight from the keg then the bottled version and yeah after this being my second two litre fill I'm pretty sold on this and I'd buy it again no doubt cheers.
857 characters


3.76
/5
rDev
+1.1%
look: 4.5 | smell: 3.5 | taste: 3.75 | feel: 4 | overall: 3.75
330ml - poured into a stange glass
L - pours golden, clear, good sized white frothy head - fills up a third of the glass. Better than expected retention
S - fresh, wet grass, hay, with lemon and floral notes
T - crisp, sweet honey flavours quickly give way to a hint of lemon and a general overall sourness. Tangy, herbal bitterness to the finish
F - crisp finish, medium bodied, well carbonated
O - nice tangy summer's beer. While present, the lemony sourness isn't too strong.
486 characters

3.33
/5
rDev
-10.5%
look: 3.5 | smell: 3.5 | taste: 3.25 | feel: 3.25 | overall: 3.25

4.13
/5
rDev
+11%
look: 4 | smell: 4 | taste: 4.25 | feel: 4.25 | overall: 4
From bottle, pours a hazey pale golden colour with a good thick white head that sticks on well. Aroma orange, lemon, grass, malt. Taste orange, lemon, earthy. very crushable. Easy to drink.
189 characters
Mornington Peninsula Sorachi Kolsch from Mornington Peninsula Brewery
Beer rating:
3.72
out of
5
with
12
ratings