Cricketers Arms India Pale Ale
| Sundance Brewing International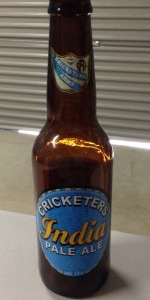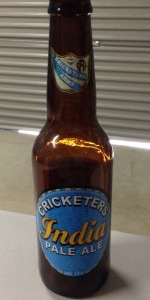 BEER INFO
Brewed by:
Sundance Brewing International
Australia
Style:
American IPA
Alcohol by volume (ABV):
5.20%
Availability:
Year-round
Notes / Commercial Description:
No notes at this time.
Added by ADZA on 11-07-2013
HISTOGRAM
Ratings: 11 | Reviews: 4
Reviews by SmashPants:

2.81
/5
rDev
-7.6%
look: 3.5 | smell: 2.5 | taste: 2.75 | feel: 3.5 | overall: 2.75
Bottle: a standard 330mL brown bottle with a decent label, particularly for a standard macro brewery lager.
Appearance: pours a crystal-clear amber colour with a reasonable amount of carbonation. A small head pops up and dissipates quickly to a ring around the glass.
Aroma: not particularly brilliant to be honest. I'm not sure if they were after a pale ale, a lager or an IPA. Indeterminate hop characters that are smothered by a pretty awful wet fug.
Taste: the characteristics on the nose follow through here - some hops with a lumpy malt flavour behind. Not particularly brilliant here either.
Aftertaste: the awkward fug dissipates a little, but there is still not much in the way of the hop profile expected from an IPA. Disappointing.
Mouth feel: mouth feel at least is decent - lighter in body with enough carbonation. Goes down pretty easy, but the flavour is just not good enough.
Overall: a pretty unspectacular IPA - in fact I wouldn't have picked it as an IPA if it wasn't on the bottle. A pretty boring and awkward combination of muted hops that tastes more like a home brew rather than a professional job.
1,128 characters
More User Reviews:
3.33
/5
rDev
+9.5%
look: 3.25 | smell: 3.25 | taste: 3.5 | feel: 3 | overall: 3.25
What u get on the nose is in the taste citrus
45 characters

3.02
/5
rDev
-0.7%
look: 3.25 | smell: 3 | taste: 3 | feel: 3 | overall: 3
3.19
/5
rDev
+4.9%
look: 3.5 | smell: 3.25 | taste: 3 | feel: 3.5 | overall: 3.25
2.63
/5
rDev
-13.5%
look: 2.75 | smell: 2.25 | taste: 3 | feel: 2.25 | overall: 2.5
I saw this at a local bottlo that's just a random stop off for me and ice tried the lager red bottle and never rated it but this sky blue label grabbed my eye and it pours a clear very light copper hue with a fast vanishing one finger head and a macro rim of lacing and a swirl of haze in the middle and yeah it ain't no looker and unfortunately the smell is very forgettable it's akin to hop pellets and wet cardboard,I wish I could say more about this but it's not great it just tastes like a brew u brew at some U Brew It chain it's light pale malts mixed up with herbal hop pellets and overall it tastes like VB brewed an IPA avoid and save ur money unless you want to try convert ur VB loving mate to our world with baby steps but not for the seasoned pallet.
764 characters

3.17
/5
rDev
+4.3%
look: 3.5 | smell: 3.25 | taste: 3 | feel: 3.25 | overall: 3.25

3
/5
rDev
-1.3%
look: 3 | smell: 3 | taste: 3 | feel: 3 | overall: 3

3.25
/5
rDev
+6.9%
look: 3.25 | smell: 3.25 | taste: 3.25 | feel: 3.25 | overall: 3.25
From bottle, Pours dark amber with mildly hoppy aroma. Yellowed froth which goes thin quickly. Innane feeble taste with bitter metallic after palate. it's ok.
158 characters

2.75
/5
rDev
-9.5%
I had a 330ml bottle.
Appearance: pours with approx 1 cm off white head that dissipates quickly. Golden Amber colour.
Flavour: nice caramel overtones. Mild carbonation. Not heavily bittered as you might prefer from an IPA. Was an ok taste.
Aroma: some floral hop aromas but not much.
Overall: an ok beer but it's not hitting all the marks you would expect or want from an IPA as bitters are low and there is no fresh floral hops in the aroma.
445 characters
Cricketers Arms India Pale Ale from Sundance Brewing International
Beer rating:
3.04
out of
5
with
11
ratings