Rye Hopper
| French Broad Brewing Co.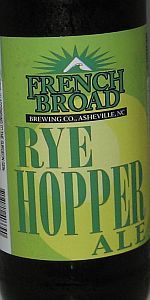 BEER INFO
Brewed by:
French Broad Brewing Co.
North Carolina
,
United States
frenchbroadbrewery.com
Style:
Rye Beer
Alcohol by volume (ABV):
5.90%
Availability:
Rotating
Notes / Commercial Description:
No notes at this time.
Added by ncvbc on 09-22-2008
Reviews: 135 | Ratings: 244

4
/5
rDev
+4.2%
look: 4 | smell: 4 | taste: 4 | feel: 4 | overall: 4
From BSP.
Served in a pint glass. Dark copper, mostly clear but a slight bit of haze. Nice little whitish head fades quickly.
Nose is hoppy. Not much of the rye there.
Taste is spicy rye, interweaving pine hops and malts, and more lingering bready rye. Nice combination of flavors.
Pretty decent mouthfeel and drinkability. Nice beer.
335 characters
4.26
/5
rDev
+10.9%
look: 5 | smell: 4 | taste: 4.5 | feel: 4 | overall: 4
I had this on tap at the Brick Store Pub in Decatur GA. The beer was hazy dark copper color, thick rich looking off-white head, lots of wet lacing on the glass. Spicy rye and earthy hops in the aroma. The taste had a nice bite of rye and bitter hops, caramel malt througout but the spiciness sets the overall tone. Very good, as drinkable as any rye beer I've had to date.
372 characters
4.05
/5
rDev
+5.5%
look: 4 | smell: 4 | taste: 4 | feel: 4.5 | overall: 4
On-tap at the Brick Store in Atlanta.
Pours a hazy copper color with a one-finger off-white head. The head recedes into a patchy layer on top leaving solid lacing.
Smells of grassy hops and robust caramel malts with a hint of spiciness from the rye.
Tastes similar to how it smells. Caramel malt flavors up front are soon joined by grassy and piney hop flavors. Near the end of the sip a good amount of spiciness kicks in before a solidly bitter ending.
Mouthfeel is good. It's got a very nice thickness with solid carbonation.
Drinkability is good. I had no problem finishing my glass and could have a few of these.
Overall this is a good and hoppy rye beer (as the name would suggest) that does a good job of integrating the rye. It falls short of the best rye beers out there, but is still worth a shot.
Note: I tried this side by side with the bottle version and the tap version is thicker with a cleaner hop flavor. Definitely try on-tap if possible.
962 characters
4.17
/5
rDev
+8.6%
look: 3.5 | smell: 4 | taste: 4.5 | feel: 4 | overall: 4
Another solid beer from French Broad. So nice to see these available in Atlanta now. Pours a slightly hazy dark amber with very little head and relatively low carbonation, but with some scant lacing left behind as the beer is drained. Smells of spicy rye, piney hops, and a touch of malt. Fairly well balanced in the nose. I wouldn't call the taste balanced, but it's delicious nonetheless. Starts with a bang, with a big blast of rye and piney hops intermingled to create a quite spicy, dry, bitter, prickly mouthfull. I like it, and the rye and the hops work well together. Bone dry with very little noticeable malt makes this almost tannic, and approaches rye whiskey in its flavor profile, without the burn. Big and spicy in the mouth, this one surprised me when I poured it after working in the yard expecting a lawnmower beer. That it is not. My only real complaint is that it's a bit one-dimensional, but this is one of the better beers out there for showcasing the beauty of rye, so I'll forgive it its singlemindedness. Nice, I'll be buying this again.
1,061 characters
4.1
/5
rDev
+6.8%
look: 4 | smell: 4 | taste: 4 | feel: 4 | overall: 4.5
Pours amber with little to no head. Decent lacing. Minimal carbonation.
Nose hints at rye and hops, but not as strong as I would like. Somewhat flowery, but very mild. Some breadiness as well, but not yeasty.
Malty sweet on the hit, but the rye zing quickly kicks in. Nice dry rye finish. Mouthfeel is just chewy enough for the style.
Overall, very good and worth seeking out if you like rye's.
398 characters
4.05
/5
rDev
+5.5%
look: 4 | smell: 4 | taste: 4 | feel: 4.5 | overall: 4
22oz bottle into a Duvel snifter pours a crisp copper with a decent cream head. Aroma is a nice bit of rye with citrus hops right behind. The taste is a nice sharp rye bite balanced nicely with citrus hops. The beer is light and smooth with decent carbonation, very refreshing. This is certainly a great beer, one I'd love to see around this area as long as the price isn't jacked up by the distributor.
403 characters
4.03
/5
rDev
+4.9%
look: 4.5 | smell: 4 | taste: 4 | feel: 4 | overall: 4
Rye Hopper Ale, growler courtesy of dkachur - thanks!
Appearance: Pours a clear, dark orange amber, one-finger of sticky, offwhite head with good - perhaps great - retention, replete with tons of fast, fine-bubbled effervescence. Very nice across the board - retention, clarity, and color. Great stickage on the lace too, falling like rings with every sip.
Aroma: Rye is huge in this one, spicy and bold, and comes accompanied by tons of other hop notes - orange zest, slight herbal notes, and a well-roasted array of backing malt notes (though the rye's definitely the real star here).
Taste: Rye is huge again, bigger than in most brews I've had. It's almost like "hey, so THIS is what rye tastes like!" Remainder of the malt bill is slightly toasty, with hints of toasted bread and faint cocoa. Overall, it's sort of dry, with hint of bitterness and perhaps a few other faint hop undertones.
Mouthfeel: Incredibly smooth and soft, though it does manage to still be slightly crisp given all the carbonation, all wrapped up in a medium body. Very light and airy.
Drinkability: A damn good beer, in my opinion, and one of the few rye beers I've truly enjoyed. I'd glad to have this one again, and would really like to try it on tap. Manages to strike all the right notes without going overboard, and the abv% seemed low enough to where a few of these wouldn't be a problem. Recommended.
1,392 characters
4.01
/5
rDev
+4.4%
look: 3 | smell: 4.5 | taste: 4 | feel: 3.5 | overall: 4
Amber in color with no head and no lacing. This could be more from the pour than the beer itself.
Nice aroma of earthy hops and rye.
Sweet caramel malt backbone with a healthy dose of rye. The hops are more subdued than expected given the name of the beer. But they are there and of the earthy variety. This beer is more rye heavy than hop heavy imo.
Mouthfeel is medium with a bit more sharpness from the rye which I like.
Overall it's a good beer that you should give a try if you have the chance.
499 characters
4.05
/5
rDev
+5.5%
look: 4 | smell: 4 | taste: 4 | feel: 4.5 | overall: 4
Draft sample at KBJ08.
Poured clear copper color with an average fizzy off-white head that mostly lasted and produced good lacing. Moderate rye & citrus hoppy aroma. Medium body with soft carbonation. Moderate bittersweet flavor with a medium bittersweet finish of moderate duration.
My expectations where met and I hope this was not a one off.
346 characters

3.92
/5
rDev
+2.1%
look: 3.5 | smell: 4 | taste: 4 | feel: 3.5 | overall: 4
Sampled on tap at the Mellow Mushroom in Asheville.
A - An amber, caramel color with good clarity. It had almost no head and very little lacing.
S - Mostly toasted malt. I was expecting more hops but there wasn't much.
T - Starts malty and sweet but quickly goes to a nice hop flavor with grapefruit. Some rye flavor joins in but not a lot. Slightly tart and bitter in the finish.
M - A bit thin with a nice low carbonation.
D - Very smooth, balanced and drinkable. I really enjoyed this beer.
497 characters
4.07
/5
rDev
+6%
look: 3.5 | smell: 4 | taste: 4 | feel: 4 | overall: 4.5
Served on draft at both the brewery and at Barleys in Asheville.
Dispensed from the tap a chocolate brown color with a small white head. Not much in the way of lacing or head retention.
Aroma is clearly rye and some hops. Not much else. Some chocolate and coffee but rye seems to be the star of the show, and that is fine with me.
Very nice flavor. Chocolate and rye greet the tongue immediately. Medium body and such a smooth and sweet drinkability. I really enjoyed this: so much so that I had the same beer in two different places. Well done!
548 characters
3.93
/5
rDev
+2.3%
look: 4 | smell: 3.5 | taste: 4 | feel: 4.5 | overall: 4
On-tap at Barley's in Asheville.
A - Dark brown with ruby red highlights. Very thin tan head that quickly dissipates to a thin layer. Very good lacing.
S - The nose was the most disapointing part of this beer. Faint spicy rye aroma and some darker caramel malts. Very little hop presence.
T - A somewhat medicinal spiciness initially, priamrily a rye spiciness. Caramel sweetness comes through quickly providing a nice balance. A lightly spicy bitterness comes through mid drink before the medicinal spiciness comes back through.
M/D - Very dry like a good rye beer. Medium bodied and very crisp as well. Easy drinking but not the best rye beer I have had. Still not sure why they chose to highlight hops in the name.
721 characters
4.22
/5
rDev
+9.9%
look: 3.5 | smell: 4 | taste: 4.5 | feel: 4.5 | overall: 4
A 20 oz Draft of a clear amber body below a thin white head that dissipates quickly.
Aromas of bitter hop character with a slight hint of rye.
The taste is great with a balance of malt, hop bitterness and a slight rye spice. A caramel malt character that gives some sweetness lies just beneath the surface of flavor.
This is probably one of the best rye beers I've had.
373 characters
3.78
/5
rDev
-1.6%
look: 4 | smell: 3.5 | taste: 4 | feel: 4 | overall: 3.5
On tap at Asheville Pizza.
Poured up a light brown, almost copper color, with some reddish hues escaping with the light.
No head, minimal lacing.
Aroma- malty with some very faint piney hops notes.
Mouthfeel- I found this to be rather bold in the flavor profile- mlaty with some caramel, hops are medium but the Rye, oh the Rye doth give this one an edge! me likey! Finishes with a bit of a medicinal bitterness. I'll agree with the previous review this one does not get crazy with the hops but the Rye really makes it a bit more aggressive on the palate. I could session this one but it feels like it might have an ABV of at least 6.5%. Good brew
647 characters
3.92
/5
rDev
+2.1%
look: 3.5 | smell: 4 | taste: 4 | feel: 3.5 | overall: 4
This one is a brownish hue with amber and ruby shades. Minimal head and retention isn't the greatest. Smell is nice but not what I had expected from a beer with Hopper in the name. Bigger on the malts than anything. Some caramel, chocolate, and a distinct nutty scent. Very light to no hops present, though still very enticing. Taste is much of the same. Reminds me of the malt profile of many Catawba Valley brews. A definite malt presence. Oh so yummy chocolate and caramel malt. A good nutty flavor to compliment. A hoppy flavor shows up toward the finish but could have done wonders if used a bit more liberally. Of course, there is a light spicy flavor, though like the hops not as present as I had imagined. Still, very nice and interesting to say the least. Mouthfeel lacked the bitterness that again I had expected from the name alone. Smooth, good carbonation, though lacking a certain bitterness from the "hopper" in the name. I could have a couple, if not a few, pints of this. A good beer that just didn't live up to my hop head expectations. I still want to give it another go.
1,090 characters
Rye Hopper from French Broad Brewing Co.
3.84
out of
5
based on
244
ratings.