Anvil Porter
| French Broad Brewing Co.
BA SCORE
84
good
36
Reviews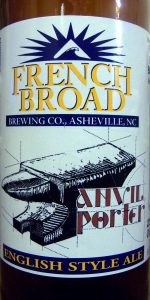 BEER INFO
Brewed by:
French Broad Brewing Co.
North Carolina
,
United States
frenchbroadbrewery.com
Style:
English Porter
Alcohol by volume (ABV):
6.00%
Availability:
Fall
Notes / Commercial Description:
No notes at this time.
Added by atsprings on 11-18-2010
Reviews: 36 | Ratings: 124
3.36
/5
rDev
-9.2%
look: 4 | smell: 3 | taste: 3.5 | feel: 4 | overall: 3
I got this porter in a recent trade but can't remember for the life of me who sent it, thanks to whoever you are. Dark black color, boring smell that only briefly suggested malts. The flavor however was malt heavy, robust, not bad at all but I am a huge sucker for any porter. Overall I would not purchase this beer but I was happy to have had the opportunity to try it.
370 characters
4
/5
rDev
+8.1%
look: 4 | smell: 4 | taste: 4 | feel: 4 | overall: 4
Color as expected and well done. Nice creamy off-white head. Smells nutty with some caramel notes. The "dark" flavors hit the palate quite briskly. So in other words, this is a bright dark beer. Nutty and slightly tangy, like an old school English porter. A good amount of roasted qualities, though, which take it from average to good. Body doesn't feel muddy or heavy. Because of it's lighter approach, while still showcasing roasty and sweet qualities, this beer would be a great one to pair with foods, may it be hamburgers, rich pastas or deserts.
If you couldn't tell by my ratings, this is a good beer. Good. That's about where its stops, but in truth, good is something I can rely on.
692 characters
4.15
/5
rDev
+12.2%
look: 4.5 | smell: 4.5 | taste: 4 | feel: 4 | overall: 4
Pours a slightly reddish sable with a decent, if not too persistent, tan head. Aroma is strong and oily with smoky, nutty and semi-sweet chocolate tones - very appealing. Smoky flavor has tones of coffee, unsweet chocolate, nuts and oak. Texture is smooth, fizzy and grainy, not as thick as a stout but still pleasing. Look for it.
331 characters
3.67
/5
rDev
-0.8%
look: 3 | smell: 3.5 | taste: 4 | feel: 3.5 | overall: 3.5
Pours a clearish dark brown with thin tan head and a couple blobs of lace along the glass. Smell: moderately roasty, an acidic coffee note, caramel, raisin, herbal and grassy. Taste: a semi-astringent roasted grain, caramelized sugar and a little bakers chocolate, sweet black plum. The mild sweetness is rather fleeting and balanced by herbal and grassy hop flavors. Carbonation is fairly sharp upfront but becomes creamy. Out of the bottle a little overcarbed. Pretty decent.
477 characters
3.45
/5
rDev
-6.8%
look: 3.5 | smell: 3.5 | taste: 3.5 | feel: 3 | overall: 3.5
Pours dark brown with a thin tan head. Nose includes roasted (burnt) malts, light chocolate and coffee and a hint of darker fruits. Mouth feel is very thin and the taste matches somewhat - its a little weak. The taste, as I mentioned, is a little weaker than I'd prefer, but not horrible. It's decently balanced with notes of chocolate, coffee and roasted malt. Hops are very understated. Its a decent porter, but there are certainly better ones.
446 characters

3.59
/5
rDev
-3%
look: 3 | smell: 4 | taste: 3.5 | feel: 3.5 | overall: 3.5
22oz bottle, recent release. Served at cellar temperature.
Pours thin dark brown, red under light, with a one finger light brown head that leaves some short-lived lacing and holds a wispy cap.
Aroma is roasted malt, a touch burnt, some chocolate and coffee, hints of dark fruits and a touch of herbal hops, quite nice. Good to very good strength.
Flavor is weaker than the aroma but still good, features chocolate, coffee, roasted malts, some raisins/dark fruit, fairly sweet with a bit of hop bitterness for balance. Starts to develop a cola-like flavor as it goes on.
Mouthfeel is on the thin side, medium to high carbonation.
Solid Porter, pretty drinkable, but not as robust as others on the market.
713 characters
4
/5
rDev
+8.1%
look: 4 | smell: 4 | taste: 4 | feel: 4 | overall: 4
Pours black to look at it deep dark walnut when held to the light with a nice sized tan head that falls slow to cap and laces well.
Aroma is roasted malts, nice dark chocolate hints with some smoky notes and hints of dark fruits.
Taste is like aroma nice malty notes lightly roasted some bakers chocolate notes pop up and linger for a while until finish thats got herbal grassy hops mixed with smoky notes. Very tasty have been enjoying some baltic porters latley and have to remind myself what a real porter is.
Mouthfeel is is smooth solid medium feel just a touch of pep that comes out in the finish.
Drinkability is good an enjoyable solid brew from a local brewery.
674 characters
3.58
/5
rDev
-3.2%
look: 4 | smell: 3.5 | taste: 3.5 | feel: 4 | overall: 3.5
On-tap at Taco Mac Prado in Atlanta.
Pours black with a one-finger tan head. The head recedes into a wispy layer on top leaving decent lacing.
Smells of deep roasted malts with hints of char and unsweetened chocolate.
Tastes similar to how it smells. Mildly harsh roasted malt flavors kick things off and are joined quickly by even deeper dark malt flavors. Midway through the sip moderate amounts of unsweetened chocolate come into play. Finally, mild amounts of char make an appearance before fading out into a solidly bitter ending.
Mouthfeel is good. It's got a nice thickness with smooth carbonation.
Drinkability is OK. I finished my glass without much problem however I would not look forward to another.
Overall, the appearance and mouthfeel were easily about this beer, otherwise the roastiness and lack of balance were too much.
844 characters
4.25
/5
rDev
+14.9%
look: 4 | smell: 4 | taste: 4.5 | feel: 4.5 | overall: 4
16 ounce pint - $5.25 at Taco Mac in Woodstock, Georgia.
Appearance: Effectively, a black body, though, as you drink it down, some mahogany shades appear at the edges. Scant, beige head, but they really fill 'er up here at Taco Mac.
Smell: Dark kilned malts, though not overtly roasty or burnt, instead calmly leaning towards sweetish chocolate and caramel.
Taste: Dark maltiness prominently featuring sweet chocolate tones, though a bit Tootsie Roll-esque. Also, some sweet caramel. It's never particularly roasty, at best you're given a hint of sugar sweetened coffee. A few drops of prune juice. Understated hoppiness and a low level of bitterness. Remains chocolaty approaching the finish, picking up a bit of vanilla, and ends with still a bit of residing residual sweetness.
Mouthfeel: Medium-bodied. Medium carbonation. Smooth mouthfeel.
Drinkability: Stays on the soft, sweet, malty side of things, making for a pleasing, tasty brew.
946 characters
4
/5
rDev
+8.1%
look: 3.5 | smell: 3.5 | taste: 4.5 | feel: 3.5 | overall: 4
I thought this was a nice beer. The little bar I was drinking in as I passed through Asheville had only a few taps and most were local. When I said I wanted to try the beers this one got a few mixed reviews but I enjoyed it. The body was dark it also formed a nice head and lace. The aroma was malty more than anything. The flavor was not overly roasty but just right. The roasty bitterness equaled out the toffee and chocolate tones well. The mouthfeel was just a little bit thinner than most porters. Overall it was a good beer.
530 characters
3.85
/5
rDev
+4.1%
look: 3.5 | smell: 3.5 | taste: 4 | feel: 4 | overall: 4
Brand new beer from French Broad just kegged yesterday on-tap at Flying Saucer served in a standard pint glass a dark brown with a thin slowly diminishing head. Aroma is decent dark malts and subtle chocolate. The taste is a nice amount of dark malts, cocoa and burnt caramel. The beer is quite light and smooth with decent carbonation. Another great beer from French Broad, they seldom disappoint!
398 characters
Anvil Porter from French Broad Brewing Co.
3.7
out of
5
based on
124
ratings.