French Broad IPA
| French Broad Brewing Co.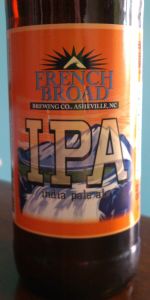 BEER INFO
Brewed by:
French Broad Brewing Co.
North Carolina
,
United States
frenchbroadbrewery.com
Style:
American IPA
Alcohol by volume (ABV):
5.90%
Availability:
Year-round
Notes / Commercial Description:
No notes at this time.
Added by GJ40 on 08-27-2011
Reviews: 37 | Ratings: 159

3.82
/5
rDev
-1%
look: 3.5 | smell: 4 | taste: 4 | feel: 3.5 | overall: 3.5
1st beer at Brixx on $2 pint night.
Body is light amber with a small white head.
Smell is very balanced. Not a ton of fruity or piney flavors, all bitterness all the way.`Definitely translates to the smell. Not Hop extracts or alpha acids, but just straight bitterness. Kind of like the bitterness in Green Flash West Coast IPA. Actually, in the same realm. Powdery sweet malt, finishes very bitter.
401 characters

3.63
/5
rDev
-6%
look: 4 | smell: 3.5 | taste: 3.5 | feel: 4 | overall: 3.75
22 oz bottle served in a snifter.
A: amber color; clear with modest size off-white head. The head is exceptionally sticky and leaves great lacing.
There's plenty of grapefruit and orange in both the aroma and the taste. The malt is more evident in the nose, and implied by the tempered bitterness in the taste. The beer is, nonetheless, rather bitter, with a lingering grapefruit rind flavor in the aftertaste. Alcohol is not hidden at all.
M: smooth; very good carbonation level; medium body; semi-dry finish.
O: a solid if rather unremarkable IPA. Enough hop load to satisfy hop heads.
594 characters
4.2
/5
rDev
+8.8%
look: 4.5 | smell: 4.5 | taste: 4 | feel: 4.5 | overall: 4
A - pours a pale amber with a faint orange hint to it; big inch of white head that is thick, soft, and cloud-like; great retention
S - big orange, citrusy notes first followed by a solid floral aroma
T - faint bread, sweet, faint birthday cake, big hoppy character, citrusy, oranges, floral, bitter, lightly piny, bitterness hangs on the palate for a while after the swallow
M - lightly carbonated, medium bodied, smooth
This an enjoyable, highly drinkable beer. The hops are intense and the overall flavor is solid despite the below average malt character. I would have preferred a little more malt to lend some balance to the intense, flavorful hop character. Overall though this is one more solid French Broad offering.
726 characters
4
/5
rDev
+3.6%
look: 3.5 | smell: 3.5 | taste: 4.5 | feel: 3.5 | overall: 4
Amber in color with some orange hues when held up to the light. Small pillowy white head. Deep caramel and pine aromas. Not a very complex aroma but both potent and pleasent. Taste better than it smells. Sharp citrus hop bite at the bigging with a sweet caramel hop finish. Bitterness lingers just a bit. Very balanced and drinkable. Sessionable. If you like your IPA's a bit more balanced then this one is for you. Slick oily mouthfeel. Kind of coats the mouth. This is a good standard offering IPA. It's not going to knock your socks off with the hops, but it's very drinkable and plenty flavorful enough to sit down and have a few pints over some good conversation.
668 characters

4.32
/5
rDev
+11.9%
look: 4 | smell: 4.5 | taste: 4.5 | feel: 4 | overall: 4
Saw this one at my local shop and as I am always excited to try new local IPAs, I picked it right up. Cracked this bomber on 1/9/12. Poured into my Surly pint glass.
Pours a dark ruby orange. Half-finger off-white head. Little retention. Little lace. Nose is sweet with candy malts, citrus tones and an earthy hoppy singe. Great mouth. This is one of the first French Broad brews that I've had didn't overflow or burn the palate with an extraordinary amount of carbonation. Very juicy hops bursting with flavor. Citrus - orange, grapefruit. Sweet kiss on the finish. Fantastic balance. A killer standard IPA from NC. Next to the rotating-yet-elusive Jade, this is my favorite NC IPA. I love it.
696 characters

3.98
/5
rDev
+3.1%
look: 4.5 | smell: 4 | taste: 4 | feel: 3.5 | overall: 4
Enjoyed on-tap @ Barley's Taproom & Pizzeria in Asheville, NC for $3.75. Tapped from an unknown tap handle (since sitting @ a table) into a 16oz Barley's Taproom & Pizzeria Pint Glass.
Aroma- Has a mild, grassy hop aroma and good character throughout of fruit and pine. Went back frequently to enjoy this aroma.
Appearance- Received with a 1 finger head that had good retention. Had a nice reddish copper body that glowed and mostly clear. Thick lacing was left in both ring and random form.
Flavor- Good hop flavor hits home first and then has a bit of citrus behind it. Spices are included in this one also. Very wild for this type of style but dig it. A medium bitterness level concluded this then.
Mouthfeel- Medium-Full Bodied, Light Carbonation, Smooth, and an alcohol warming that I don't find in many IPA's...
Overall Impression- Nice IPA overall! I'm not sure about this alcohol warming in here though... For the ABV's in this one, I'm not sure it should have this. Liked the flavor and light spices in it. An IPA you should attempt!
1,052 characters

4.09
/5
rDev
+6%
look: 3.5 | smell: 4.5 | taste: 4 | feel: 4 | overall: 4
Came to Ashville , NC and walk down into the Bier Garten. Nice atmoshpere in an artsy fartsy town. Decided to try the local brew. The first. One is this IPA. Pours out of the tap a little flat with smaller head and some mild lacing. The best thing about this beer is its stong caramel smell. Hoppy and alcohol come out in taste makes you wonder where that caramel aroma went. A great way to start your trip.
407 characters
3.57
/5
rDev
-7.5%
look: 5 | smell: 3 | taste: 3.5 | feel: 4.5 | overall: 3.5
Pour an effervescent orange/amber with 2 fingers of cream colored head. Superior lacing & head retention
S: Breadyness & faint fruitty notes
T: Breadyness, grassy woody, & citrussy hops up front. Some caramel, dryness, piney & woody hops as this warms, some orange rind as well. Finishes with woody hops, a touch a of grainyness, mineral hops & caramel notes
MF: Medium bodied with fairly subtle carbonation, good balance
Drinks easy enough, kind of subdued as AIPAs go. If you like them balanced & drinkable this a good choice. Would drink this again when seeking that
573 characters

3.58
/5
rDev
-7.3%
look: 4 | smell: 3.5 | taste: 3.5 | feel: 4 | overall: 3.5
Bought this on a recent holiday trip. Served in a snifter. This beer has a hazy light copper color with a thin head and nice lacing. Not much of a nose. Faint citrus and floral tones.
Very tame and well-balanced with a slight sweetness. I expected more of a hop kick. You taste malt, then the hops kick in and leave rather abruptly, while the malty sweetness tends to linger. The sweetness is very pleasant and not medicinal.
I bought this beer during a Thanksgiving trip and didn't get around to trying it until mid-December. Perhaps I held onto it too long and the hops started to fade. I may try it again in the future.
624 characters

3.83
/5
rDev
-0.8%
look: 4 | smell: 3.5 | taste: 4 | feel: 3.5 | overall: 4
Poured from a bomber into a pint glass. Nice amber color with 2 finger head. Good amount of lacing on the glass.
Strong, sweet malt aroma with a touch of citrus, floral scent.
Big malt flavor up front with a nice grapefruit rind bitterness on the finish.
Mouthfeel is decent, medium with good carbonation.
Picked this up on a business trip to Ashville, NC. A solid IPA, I like the strong malt backbone in this, it balances the hops well.
441 characters
3.9
/5
rDev
+1%
look: 4 | smell: 4 | taste: 4 | feel: 4 | overall: 3.5
hazy burnt amber with a thick off white, frothy pillow like head. Thick gooey lace poured down the glass and lingered long after it was empty.
strong piney hops very much balanced against a nice mellowed malt sweetness. Smell did seem kinda muted though, could have been more full. slick, with not alot of carbonation. Taste was very bitter with a dry finish, but not llong lingering as I had hoped. Came off a little oily, with a lot of bitter piney flavor.
459 characters

4.5
/5
rDev
+16.6%
look: 4.5 | smell: 4.5 | taste: 4.5 | feel: 4.5 | overall: 4.5
Sampled on tap at Barley's in Asheville, NC. This is apparently a brand new IPA from French Broad that'll be available year round.
A - Deep golden color with good clarity and a moderate off-white head. Great lacing.
S - Lots of citrus. A great start for me.
T - Lots of citrus flavors without being especially bitter. Great freshness. Some malt backbone but this is very much in the west coast style. The hops run wild yet keep you wanting more.
M - Creamy with a low to moderate carbonation.
O - Flavorful yet easy to drink. Very well done. This may be the best NC IPA for me and I look forward to having more.
616 characters
French Broad IPA from French Broad Brewing Co.
3.86
out of
5
based on
159
ratings.