French Broad Brewing Co.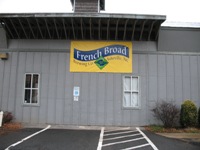 PLACE INFO
Type:
Brewery, Bar
101-D Fairview Road
Asheville
,
North Carolina
, 28803
United States
(828) 277-0222 |
map
frenchbroadbrewery.com
Notes:
No notes at this time.
Added by aracauna
Reviews: 10 | Ratings: 44
3.77
/5
rDev
-7.1%
vibe: 4 | quality: 3.5 | service: 4.25 | selection: 3.5
This was an interesting little stop on our self-made tour of Asheville. The place is so tiny you can barely call it a bar, but they use the space well, managing to squeeze in some tables, and even a small stage for bands, apparently. Brewing processes in full view.
For its size, they had a decent amount of beer available on tap, 7 selections of good variety. Nothing really blew me away, but everything was pretty solid, the barleywine and rye ale being my favorites of the bunch.
Service was fine, and the girl working the bar seemed knowledgeable about the brewery and the beer. No food. Cheap prices.
There's really nothing here you haven't had or seen before, but it's still a nice spot, and worth checking out if in the area.
735 characters
4
/5
rDev
-1.5%
vibe: 4 | quality: 4 | service: 4 | selection: 4
Considering we had a private tour of this brewery, we were treated great. This is a 4 and 1/2 year old brewery, and the head brewer Jonas, we were told used to run Jack of the Wood. When you walk in this nice sized warehouse, you are greeted by a welcoming light wood bar that looks out into the tank room. About 8 stools to prop on. Also a small couch, some tables, and a couple highboys near the wall. Nice cozy atmosphere, and cool paintings. This is a brewery? Seemed like a good place to just hang.
Taps are flowing from a fridge that's been transformed. Eloise was our tour master, with the help of brewerer Jeremy. She was well spoken, easy to hear, and understand. Lots of info not only on their beers, which she is very proud of, but beer history in general. She kept our tasters full the whole time we were there. They have 7 beers on tap year round, and we had a chance to try all. We were told Jonas has a passion for Northern European lagers, and Belgium brews. They have average pricing for shirts, glasses, and beer to go. No food here, as they are only brewing beer here.I believe it's $6 for the tour, and you get a pint glass to go. Well worth the money.
1,174 characters

4
/5
rDev
-1.5%
vibe: 4 | quality: 4 | service: 4 | selection: 4
Easy drive from the downtown area. This building is more about brewing operations than a brewpub, as there was only a few tables and a small bar here in the corner of what I would call an afterthought. Most folks were sitting outside. There was brewing going on several workers running around in the brewing area. Enjoyed a Kolsch, Irish Stout, and ESB here. Definitely a must stop as this is part of the history of Asheville brewing culture.
446 characters
4.03
/5
rDev
-0.7%
vibe: 4.75 | quality: 4 | service: 4 | selection: 3.75
ATMOSPHERE: the tasting room is inside the active brewery, smell of malt and hops and the aroma of the brewing process is evident, and for me that is just the best. very small seating area with concrete floors and a small stage for local musicians, people had there dogs there with them. It's a really chill place.
QUALITY: Great Beer. Good prices.
SERVICE: simple one person working the taps not much need for anyone else.
SELECTION: 4 or 5 when I was there, I think they normally have more, good variation of styles.
FOOD: I don't think they have food, who needs food?
VALUE: good prices for great beer will be back I wouldn't suggest it for large groups due to the small area and crowded feeling, get a growler before you leave.
Hallabrew
742 characters
4.06
/5
rDev 0%
vibe: 3.5 | quality: 3.75 | service: 4.75 | selection: 4
Stopped in for a quick pint while we we're staying in Asheville. Taproom itself is very small, but it is practically in the brewery floor. So you get a great up close look at the brewery in operation. They were canning the Kolsch while I was there. Service was excellent. Bartender let me get two 1/2 pints so I could try a couple different brews. The appeared to be some seating outside, but it was pouring when I was there, so I am not sure how that was. It would certainly help expand the room. Worth checking out.
517 characters

4.14
/5
rDev
+2%
vibe: 4 | quality: 4 | service: 4.5 | selection: 4
We stopped here one afternoon after going hiking on the way back to Asheville.
A - This is a working production brewery. The tasting room/bar is set at one end with a full view of the brewery. There is a small stage area and music on weekend evenings. Since we were there during the afternoon the people in the brewery were working so if you like that then that's a plus. It's in a small industrial area just south of downtown Asheville. Not the nicest or prettiest location but it is a working production brewery. There are a few picnic tables outside.
Q - We have had French Broad beers in other places so none were a surprise. Everything we tried was good and the unique thing at the time was the Zepptemberfest - which is their take on a fest beer. Nothing stunning, but everything is solid and well worth a taste.
S - Service was good. One bartender for the small crowd. People were coming and going buying growlers and bottles and everyone still had good service.
S - The selection is on par with most other breweries in the area. They had five on while we were there - IPA, ESB, Zepptemberfest (from bottles), Kolsch, and Porter.
F - I gave it an N/A because technically they don't have food. But, they did all of a sudden have fresh hot pretzels for sale - small for $2.50 and large for $5. We split a big one and it was good. Good mustard and a good snack.
Overall this place is worth a visit and we had a good time. But this is much less of a pub or place to hang out than other breweries in the area. It is a bigger production brewery and is more industrial in feel. But the beer is solid and it feels good to give our money directly to the people making it.
1,675 characters

4.16
/5
rDev
+2.5%
vibe: 3.75 | quality: 3.75 | service: 5 | selection: 4
I wanted a sixtel of their Kolsch and was visiting from Alabama. The Kolsch wasn't to be in kegs until 1PM on the day I was leaving which was too late. Wes came to my rescue by taking my keg and having it washed and filled with Kolsch at 10AM the day I was leaving. Great service and nice people!
296 characters
4.25
/5
rDev
+4.7%
During my recent trip to Asheville, I hooked up with the Asheville Brews Cruise and this was the second stop. The tasting room was basically a corner of the brewery; there is a small bar with a smattering of tables and chairs. Adjacent to the rest room is a cooler from which one can purchase French Broad bombers. I went for the Wee Heavier.
A great brewery with some excellent brews.
388 characters
4.3
/5
rDev
+5.9%
vibe: 4.5 | quality: 4.5 | service: 4.5 | selection: 4 | food: 3.75
I thought I was way too far from any good breweries in Asheville when I found that I was only 3/10 of a mile from this place on BA. Loved the atmosphere, picnic tables and friendly dogs. Had a pretzel while enjoying a 13 Rebels ESB and a Rye Hopper rye pale ale. I would def like to try a wee heavy Scotch ale, have to wait til next time. This is the perfect size brewery in my humble, meaningless opinion. It had a great down homey feel with folks stopping in after work for a brew. Both beers were delicious by the way.
521 characters

4.66
/5
rDev
+14.8%
vibe: 4.5 | quality: 5 | service: 5 | selection: 4
Monday's are $3 pint days. Wednesday have $7 growler re-fills. Live music Thur, Fri, Sat. Open before many tasting rooms (1 PM), and were one of the first to open on Sunday.
Sunday special is a case of bombers for $33 (2.75/each)
Tourists, dogs, and kids welcome.
For the locals/regulars, we consider this our "Cheers", where everyone knows your name. It is also the second brewery to open in Asheville, following Highland Brewing.
435 characters
French Broad Brewing Co. in Asheville, NC
3.71
out of
5
based on
1,458
ratings.