Town Hall Tap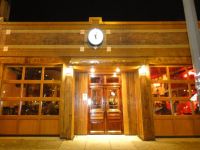 PLACE INFO
Type:
Bar, Eatery
4810 Chicago Ave
Minneapolis
,
Minnesota
, 55417-1009
United States
(612) 767-7307 |
map
townhalltap.com
Notes:
No notes at this time.
Added by kbutler1 on 01-12-2011
Reviews: 19 | Ratings: 51
4.78
/5
rDev
+11.2%
vibe: 4.5 | quality: 4.5 | service: 5 | selection: 5
Once we walked in my girlfriend and I were greeted nicely and sat down at the bar right away. It was a very relaxed setting that was extremely inviting and warming as we both felt right at home. Loved the open face to the street with the garage style doors wide open to the patio to allow in the beautiful weather. The quality was excellent as was the service. The tenders switched while we were there but both were very helpful and informative and quick to address conversation about beer and the like. Selection was massive and I wish I could have stayed to try them all (no time plus a 6 hour drive the rest of the way home). I ordered a sampler featuring: English Summer Ale, Thunderstorm, Hop Index, and a beer from a guest tap - Lift Bridge Chestnut Hill; all were very refreshing and tasty. Masala Mama lived up to its following and I enjoyed it the most. We didn't try the food as stopping here was a last minute decision and we had already eaten. As far as price goes I felt it was a bit much but I may be comparing that to the place I go regularly here in Omaha. Overall I was very impressed and will make an attempt to stop every time I'm in Minneapolis.
Enjoy!
1,173 characters
4.63
/5
rDev
+7.7%
vibe: 4.5 | quality: 4.5 | service: 4.5 | selection: 5 | food: 4.5
This is an extension of Town Hall Brewery. Well know for their craft beers.
A. It's a very nice "uptown-ish" bar, with a nice relaxed feel. Booths, high-top tables and bar eating are available. A very relaxing place to go for just a beer, or for dinner. No dress up needed,
Q. Although they can't brew their own beer (due to MN law), they carry a full line of Town Hall Tap only beers brewed at the main location. They also offer a nice line of craft "Guest Beers" that always make a nice addition. It's always great beer and good food.
S. I've never had any less than the best service here. The servers are always very attentive.
S. There is a great selection of Tap specific beers supplied by Town Hall Brewery. The list of Guest Beers is great. And being that almost all of the beers are only available at the Tap, it keeps things interesting.
F. The food here is great. I personally love the Ragamuffin Fried Chicken Sandwich. I have yet to have something bad here. The price is a bit high for what you get for some items.
V. The beer options are great. The price is fair for any normal brew pubs. Some items are a bit high in price. The brie cheese curds are overpriced for the 8 pieces you get. But overall the place is very nice with a well suited selection off food and brew.
1,289 characters

4.28
/5
rDev
-0.5%
vibe: 4 | quality: 4.5 | service: 4 | selection: 4.5 | food: 4
Town Hall Tap is a very neat little establishment. The dimly-lit building is exactly the atmosphere I look for in a beer bar. The walls are clad with beer-related items, and makes for an old-school feel. One of it's advantages is the location. Unlike the original establishment, parking is free and easy to find.
Aside from just Town Hall Brewery offerings, there is usually at least one cask offering and a good selection of guest taps and bottles. The menu isn't huge, but there are many unique appetizers, along with burgers and sandwiches, all reasonably priced. The food alone is better than the typical bar norm, and the fries are out of this world!
Having gone there on a rainy Monday afternoon, it wasn't very crowded and the service was quick and quite good. The staff is friendly, and make the patrons feel welcome upon entering. For those that haven't been here, I recommend checking it out. I know I'll be stopping in whenever I'm in the area.
959 characters

4.2
/5
rDev
-2.3%
vibe: 4.5 | quality: 4.5 | service: 4 | selection: 4 | food: 4
Enter Town Hall Tap. Its like a smaller cozier version of THB. Beautiful bar and beer related stuff on the walls. Small dinning area that makes for an intimate setting.
This place hits it right on the head for me. You still get the same great beer as you do at the THB but they really stepped up the game with their food here. The Walleye with jalapeno tarter sauce is excellent.
Selection is from THB beers so of course great but they do have a few guest taps. Good selection though.
Food is I have said above much better then the average bar in the Minneapolis area.
Value is great. If your in south Minneapolis get to this joint , a real gem.
649 characters

4.95
/5
rDev
+15.1%
vibe: 5 | quality: 5 | service: 5 | selection: 5 | food: 4.5
It is hard not to compare Town Hall Tap with its mother brewery Minneapolis Town Hall Brewery so I'm not going to bother in trying. Besides, I think comparing and contrasting might be beneficial to people who have been to the brewery, and are interested in visiting the tap.
Town Hall Tap is much smaller than Town Hall Brewery, but the atmosphere is more inviting to me. It has much more of a neighborhood bar feel to it than the brewery does. The old beer signs on the walls are nice, as is the large mirror behind the bar. The two garage doors are sure to be nice when opened on a warm day, and I imagine would give entire place a patio feel. The music they play is very eclectic which I like a lot. The neighborhood Town Hall Tap is in is on the nicer side, and street parking is free and plentiful which sure beats the ramp and metered parking at the brewery.
Town Hall Tap carries four regular beers brewed at Town Hall Brewery: Dortmunder Lager, Marmalade Sky Pale Ale, Masala Mama IPA, and Parkway Java Porter. They also have two or three rotating selections from Town Hall Brewery. That makes six or seven Town Hall beers on tap at a time. In my experience Town Hall Brewery usually has eight or nine of their beers on a any given time so Town Hall Tap doesn't lag all that far behind. It should be said that the tap does not regularly carry Town Hall Brewery's infused beers. In addition to Town Hall Brewery beers Town Hall Tap also has eighteen or so solid craft beer taps from other breweries, and two to three casks options. The selection of these taps is among the best I've seen in Minneapolis, is constantly changing, and always has some harder to find stuff.
Service at Town Hall Tap is considerably better then at Town Hall Brewery. When sitting at the bar the bartenders are always present and available. They have always been able to answer any question I've had about any beer they service whether it be a house beer or a guest beer. When seated at a table or on the patio the wait staff has always been very prompt, friendly and quite knowledgeable. Food has always been arrived promptly and at the right temperature.
I consider the food at Minneapolis Town Hall Brewery to be one of its major attractions. I would go there simply to eat. The food at Town Hall Tap, to put it nicely, has a long way to go to reach that level. Their menu is much smaller than the brewery's with a half dozen appetizers, a few burgers, a few sandwiches, and a couple salads. (Since I wrote this review they have expanded their menu slightly. However, it still remains a small menu, and everything I originally said still applies.) I'm fine with the smaller menu as it is a small neighborhood bar. The problem I have is with the execution of the menu. The burgers, although decent, are not nearly as good as they are at the brewery. The Pork Wings, however, are mouthwateringly excellent, and Rag Top Fried Chicken Sandwiches are both really good.
Overall, I will go back to Town Hall Tap if I want a good beer in a good setting. If I want a good beer and good food I'll head to Town Hall Brewery.
3,105 characters

4
/5
rDev
-7%
vibe: 4.5 | quality: 4 | service: 4 | selection: 4 | food: 3.5
48th and chicago on west side of chicago st
A spin off from the original MTHB..is town hall tap as you walk in a beautiful bar on the left side is adorned with a huge mirrored carved oak mantel with taps lined up in the rear..on the right side are pub tables and booths,,stained glass and lots of beer memorabilia hang on the wall..wood floors thru-out,and 2 big garage doors that will open when the weather is nice
service was good as this was lunchtime but still the place was 75% full.all the brews were listed on two different chalkboards must have been close to 20 taps.1 cask, about 8 mthb brews,and several guest taps..a nice selection
food was good but not great..we had burgers and wings ..i like the food better at MTHB ..but its still good and im here for the beer first so not an issue
Overall a great looking bar with a good tap list ..its a place close to the house and will be going there many more times
923 characters
4
/5
rDev
-7%
vibe: 4 | quality: 4 | service: 4 | selection: 4
Made a stop here on a Friday evening around seven and the place was packed to the gills. Standing room only and even that was a bit scarce. Very cool interior with beer memorabilia all over. Dimly lit which I like. A good variety of guest taps, I believe about 10 in all, one cask line that had Summit Oatmeal Stout (why not a TH brew?), three Town Hall seasonals and four year rounds as well. A nice variety of beers overall. Didn't try the food and really didn't get to experience service full on as we didn't stay long due to the high volume of people. I think I prefer the good old regular Town Hall, but this is a nice neighborhood joint and a place I will have to visit again.
682 characters

4.28
/5
rDev
-0.5%
vibe: 4 | quality: 4.5 | service: 4 | selection: 4.5 | food: 4
Here is the review I wrote when the Tap just opened in November 2010.
The Tap is an outpost of the Town Hall mothership in Seven Corners.
Space: Pretty cool, alot of vintage beer signs and an old bar Pete found at some antique store. The coolest thing is that two of the front windows are garage doors with glass so come spring, they can open them for a view of the street and a "patio" without going outside.
Beer: There are 10+ guest taps on right now which include Old Rasputin, Anchor Steam, Boddingtons, Youngs Doub Choc, and 21st IPA. The real story is this. The exclusive "TAP" beers are the Marmalade Sky, an Orange IPA and a Coffee Porter made with coffee roasted up the street. They also had the usual Masala Mama IPA and the Dortmunder. However, Mike said they were thinking of switching the Dortmunder out with the Saaz Pils for the Tap. They had 4 seasonals on and as of now they were the blueberry porter, Triple Threat, 3 Hour Tour and Eye o' the Storm, a honey ale. (Nov. 2010)
They had 3 cask pumps, but all the equipment has yet to arrive. There is also some new glassware, all the TH beers are served in Imperial Pint glasses and all the guest beers are served in their proper glasses (when available). The Imp Pint glasses are sweet, I may have to buy a couple.
I didn't try the food, but it looked good.
Deals: No growlers yet due to previously mentioned on BA laws. No Pint Club freebees, but you will get your $0.75 off. No word yet on happy hours. No liquor either.
Verdict? A very nice addition to the area! If you live down in the Longfellow ... or even in the South Metro, this should be a stop on your list. It is closer for me to ride the bike to the mother ship so I'll be there most often. But, a great ambiance (did I spell that right?), plus windows that open, plus TH beers? Sounds good to me!
1,835 characters

3.98
/5
rDev
-7.4%
vibe: 4.5 | quality: 4 | service: 3.5 | selection: 4 | food: 4.5
A satellite restaurant of Minneapolis Town Hall this establishment is located on 48th and Chicago. They redid the restaurant that was there and did some really nice custom woodwork to give the place a really nice bar atmosphere. You'll see some familiar faces working there if you ever were a regular at Town Hall. There beers are all brewed at the main brewery but they feature some that are different than TH, like the Parkway Java Porter that is one of my favorites. Their food menu is also different that TH with more along the lines of just sndwiches and burgers. They have several (I think 4) taps strictly dedicated to ciders. They also have sevaral rotating guest taps and a cask line. Some of the servers still seem pretty new so the service isn't always the best but I think that will improve with some time.
Overall, this has become a nice bar to pop in and have a beer and food at.
894 characters
Town Hall Tap in Minneapolis, MN
4.3
out of
5
based on
51
ratings.