Cafe Con Leche
| La Cumbre Brewing Co.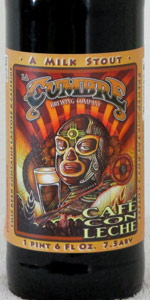 BEER INFO
Brewed by:
La Cumbre Brewing Co.
New Mexico
,
United States
lacumbrebrewing.com
Style:
Milk / Sweet Stout
Alcohol by volume (ABV):
7.50%
Availability:
Rotating
Notes / Commercial Description:
No notes at this time.
Added by JonnytheBoy on 01-31-2014
Reviews: 9 | Ratings: 63
4.13
/5
rDev
-3.5%
look: 4 | smell: 4 | taste: 4.25 | feel: 4.25 | overall: 4
Solid appearance. Brown at the edges, spots of light foam linger. Aroma bit light ... but I seem to find this common in even the tastiest milk stout. Just not highly aromatic as a style. Flavor pops - a sweet, condensed milk, coffee concoction. dessert. The complexity is lacking. Really those two dimensions driving: a sweet carmelized milk flavor, and moka pot coffee threaded through. Full body, particularly for the abv.
424 characters

4.18
/5
rDev
-2.3%
look: 4 | smell: 4 | taste: 4.25 | feel: 4.25 | overall: 4.25
Thanks to New Mexico Beer Ambassador ONovoMexicano for this enchanting nectar.
Pours a deep opaque mahogany with a creamy 2 fingers of cumulus, billowy fluff. Gorgeous.
Aroma carries forth a smooth roast with some lactose.
Tastes commences as a rich cafe Americano with some heavy cream and a small amount of sugar. There is a slight boozy embrace that warms gently. This is a bit of a surprise for the listed ABV. But nonetheless, it adds to the pleasure for me. As it warms, nuanced noted to chocolate appear.
Mouthfeel is creamy, almost silky. It really is the full package.
Overall, this is one of the best milk stouts I've had.
636 characters
4.02
/5
rDev
-6.1%
look: 3.75 | smell: 3.5 | taste: 4.25 | feel: 4.5 | overall: 4
Cafe con Leche pours a ruby-tinted black with a finger of tan head that leaves heavy lacing. There's definitely a creaminess to the aroma -- you can smell it's a milk stout. This is coupled with a little nuttiness and dark-roasted coffee behind. It's all pretty muted though.
The nose left me a little worried, but, wow, this is tasty. Great fresh-ground coffee taste up front. Full, creamy mouthfeel with just a touch of graininess. There's a little fruitiness to the malt, too, maybe cherry and plum. And definite sweet cream flavor throughout, too. This one lives up to its name.
595 characters
4.17
/5
rDev
-2.6%
look: 3.75 | smell: 4.25 | taste: 4.25 | feel: 4.25 | overall: 4
Bottle from brewery. Brought back to Boise for bottle share. Big coffee nose and taste, but not overly bitter due to the lactose. Smooth and tasty. Really well coffee/milk stout.
178 characters
4.27
/5
rDev
-0.2%
look: 4 | smell: 4.5 | taste: 4.25 | feel: 4 | overall: 4.25
Served from a 22 into my brandy snifter.
Look: Obsidian body. Off-white, wispy head that quickly retreats to a thin ring around the collar with a light cloud cover in the middle. The body looks solid.
Smell: Rich coffee and chocolate milk, nicely blended. The coffee is on top and smells just like it smells when it comes out of the Bunn...after I add some cream, but it is cold.
Taste: Coffee, stout, and cream. Easy, bitter roast. The perfect amount of sweetness. Nice blend.
Feel: This could use some heft, it is a tad bit thin. Low to medium carbonation. This teeters on the flatter, softer side. I like it that way.
Overall: This beer is fairly basic, but deserves more attention. It is a distant relative of Victory at Sea. Plus it has a cool label.
773 characters
4.34
/5
rDev
+1.4%
look: 4.5 | smell: 4.25 | taste: 4.5 | feel: 4 | overall: 4.25
-deep dark black espresso color
-roasted coffee with a hint of bitter
-great flavor long lasting sweet robust coffee smokiness
-not as thick as i was hoping for but still a great body for a stout
-overall a very impressive stout taking doing great in capturing the flavor notes it was trying to obtain.
303 characters
4.44
/5
rDev
+3.7%
look: 3.25 | smell: 4.75 | taste: 4.5 | feel: 4 | overall: 4.5
Thanks to Rado for sharing this one at Oneinchaway's tasting.
Pours an almost opaque super dark brown with a foamy khaki head that settles to wisps of film on top of the beer. Tiny dots of lace form around the glass on the drink down. Smell is of dark roasted malt, cocoa powder, coffee bean, and brewed coffee with cream aromas. Taste is much the same with chocolate syrup, coffee bean, and brewed coffee with cream flavors on the finish. There is a mild amount of roast bitterness on the palate with each sip. This beer has a lower level of carbonation with a slightly crisp and medium bodied mouthfeel. Overall, this is a very good beer with fantastic coffee and cream qualities that are slightly better in the smell to me.
Serving type: bottle.
750 characters

4.56
/5
rDev
+6.5%
look: 4.25 | smell: 4.5 | taste: 4.5 | feel: 4.75 | overall: 4.75
One of my favorites from La Cumbre - always look forward to the winter release. This year they blended with espresso and a new coffee maker.
Look - Pitch black, looks thick in the pour and a tan foamy top covers and then quickly dissipates. Usually the thicker the stout, the less bubble action and this has plenty of the larger foamy bubbles that remind of of 'thinner' porters that I've had recently.
Smell - oh damn, HUGE coffee aromatics. Its coffee from start to finish and it's rich. The lacto-milk/cream is slightly hidden by the strong coffee/espresso beans but still present. Coffee lovers rejoice!
Taste - lovely, again the coffee dominates but there is a good balance of milky goodness and coffee. No coffee bitterness, beautiful smooth transition from coffee, to creamy milkshake beer, and then back to coffee
Mouthfeel - the creamy milkshake feel is awesome and perfect for this brew. Sometimes the coffee bean bitterness is too much but here it is totally muted and creamy - a true milk stout for sure.
Overall - I love this beer and I bet you will too, peace!
1,081 characters

4.38
/5
rDev
+2.3%
look: 4.5 | smell: 4 | taste: 4.5 | feel: 4.5 | overall: 4.5
On tap at the brewery on Jan. 31, 2014.
This beer's appearance is basic, but beautiful. A pitchblack liquid, opaque and coffee-like as the name suggests. Head is two-fingers thick and forms a semi-dome above the liquid. It's caramel in color and persistent. After it dissipates, it settles into a lacy layer above the liquid and around the rim of the glass.
The nose is again, simple and straightforward: coffee, lactose, coffee with cream (hence the name). It's slightly sweet, but not much.
From the first sip, coffee bursts onto my palate, followed by some sweet cream, vanilla and toffee sweetness like you get from one of those cream products and hints of milk chocolate. There's really a lot going on.
As for the drinkability, this beer starts off sweet and creamy, then becomes stiff and coffee-like, then becomes dry and chocolatey, and the coffee and chocolate linger long after. It's damn easy to drink despite the nearly %8 ABV.
Overall, a spectacular beer and one I'll be sad to see go.
1,008 characters
Cafe Con Leche from La Cumbre Brewing Co.
4.28
out of
5
based on
63
ratings.