Elevated IPA
| La Cumbre Brewing Co.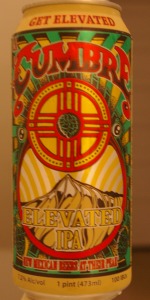 BEER INFO
Brewed by:
La Cumbre Brewing Co.
New Mexico
,
United States
|
website
Style:
American IPA
Alcohol by volume (ABV):
7.20%
Availability:
Year-round
Notes / Commercial Description:
Did someone ask for hops? Tired of beers that promise a full lupulin experience, but never deliver more than richly malted bitterness? It's no secret that this is what we excel at. We've been brewing world class IPAs for years. Our flagship is the culmination of a decades worth of studying and brewing. Take a step above and acclimate to what an IPA should be.
100 IBU
Added by jdense on 02-13-2011
Reviews: 208 | Ratings: 1,371

4.03
/5
rDev
-7.1%
look: 4 | smell: 3.5 | taste: 4 | feel: 4.5 | overall: 4.5
Tapped into a pint glass. My 300th beer rating. Woot!
Appearance - White one finger head with good retention and decent to good stick.
Smell - Medium strength hoppiness. Very grassy. No off flavors. Very smooth and balanced hop. No overpowering characters, and yet not boring.
Mouthfeel - Excellent. Full bodied. Smooth. Carbonated. No astringency.
Overall Drinkability - Probably one of the best American IPAs I've had. No extreme characters or off flavors, just a great session IPA.
★
488 characters

4.42
/5
rDev
+1.8%
look: 4 | smell: 4.5 | taste: 4.5 | feel: 4 | overall: 4.5
Gold/amber color with a small white head.
The hops jump right out at you. Mostly herbal, a little bit of citrus. Wonderful aroma.
The taste doesn't disappoint. Resinous pine, some grapefruiut and orange. Sweet malt background.
Medium-bodied, on the drier side.
Loved the beer, loved the brewery. Would drink this anytime.
★
325 characters

4.45
/5
rDev
+2.5%
look: 4.5 | smell: 4.5 | taste: 4.5 | feel: 4 | overall: 4.5
Picked up a fresh growler today, having had this beer many many times before, I figured it was time I review it.
Appearance: Really dark golden-orange color, with a light frothy white head. Great activity from the carbonation, and really nice head retention.
Smell: WOW! Jeff Erway has done it again, with an extremely hopped IPA with really intricate nuance. I get lots of tropical fruit and citrus at first, along with some earthy bitterness on the nose. Plenty of malt sweetness, though the hop profile definitely takes center stage here.
Taste: Awesome, assertive, and clean bitterness. What else could you want in an IPA? Great earthy and fruity notes carry over, along with a nice mellow malt profile. Dry bitterness which keeps this beer drinkable; the sweetness on the nose is basically absent in the taste.
Mouthfeel: Great dryness, and nicely balanced bitterness...really solid carbonation. The mouthfeel is very comfortable, making for a really drinkable IPA.
Overall: Another New Mexican IPA which never ceases to amaze!!! It's always fresh, and it's always just as good as the last time. We're lucky here to have another brewery with a golden track record
★
1,173 characters

4.47
/5
rDev
+3%
look: 4 | smell: 4.5 | taste: 4.5 | feel: 4.5 | overall: 4.5
The flagship brew of La Cumbre Brewing is worthy of its status and name. From the tap, the beer is lighter in color than most IPAs with a touch of golden amongst the amber waves. A half inch of foam floated above. Grapefruit grabs the nostrils and doesn't let go. Pine aromas join the sensory assault. It is clear that hops are going to be the major player here. Modest at first on the palate, but it quickly evolves into a hoppy affair. Juniper pine braces the palate as the citrus, mainly grapefruit, moves in, mixes in, and slithers down. The mouth is left with the pleasure of a hoppy beer, but without the oiliness of some IPAs. The brewers have spent some time crafting this one and the fruit of their labors are a tippler's delight.
★
739 characters

4.35
/5
rDev
+0.2%
look: 4 | smell: 4 | taste: 4.5 | feel: 4.5 | overall: 4.5
I cannot remember this beer extremely well because it was late in the night on new years eve, but I do remember several things.
The appearance was your typical IPA.
The smell was floral and beautiful.
Taste was fresh and hoppy. Oily taste with perfect carbonation and the perfect amount of bitterness.
★
304 characters
4.92
/5
rDev
+13.4%
look: 4.5 | smell: 5 | taste: 5 | feel: 4.5 | overall: 5
A: Yellow/Gold/Lt Orange hue. Clear w/ a little chill haze. Pours a nice 1 - 1.5 finger head and thick. Stays through the entire glass with a nice lacing.
S: Very hop forward. Nice piney hops giving way to citrusy orange, and even a hint of apricot in there. Interesting that it ends with a piney bite again. Get a little touch of malt sweetness in the smell, but very hop forward.
T: The taste is floral all the way. Pick up heavy floral hop notes up front with just a touch of citrus. Then gives way in the middle to a well-balanced malt sweetness and what seems like a touch of wheat, with a little touch of some medium crystal malt notes. Really like the dry finish to this one with a little piney hop bite right at the end.
MF: Very nice medium to medium light carbonation. Silky smooth/velvet feel on the back end of the mouth/throat as it goes down. Not too much chewy/sweetness for a 7.2 ABV IPA.
D: Cannot believe that this beer weighs in at 100 IBU. You'd never know it. And 7.2% ABV to boot. Wow. Very well hidden and very well balanced. I would drink this any and every day of the week. I would put this up against the best Big IPA/IIPAs out there.
★
1,165 characters
4
/5
rDev
-7.8%
look: 4 | smell: 4 | taste: 4 | feel: 4 | overall: 4
he head faded so fast here it wasn't even funny. There was a moment with a 1/2 finger of head. Some light foam remains. Slightly hazy amber/copper color.
I like the spice in the aroma. Very fresh and an interesting balance to this. There is plenty of hop character but also a touch of malt depth. Green, grass and pine more than grapefruit/citrus focused.
Wow, a blistering bitterness that I enjoy. Oily hop coats your tongue out of the shoot. The malt backbone keeps it from going too far but there is no doubt where the power in this beer comes from. Green, oily hop goodness. Almost tastes like you are sucking on a hop pellet.
An unfiltered goodness to the mouth feel. A touch oily!
Nice beer.
★
701 characters
3.95
/5
rDev
-9%
look: 4 | smell: 4 | taste: 4 | feel: 3.5 | overall: 4
On tap at La Cumbre, 2.11.11, poured into nonic pint glass, $4.25.
Full pour resulted in minimal white head, small bubbles, deep honey gold body a bit murky re unfiltered. Nose is hop forward, citrus and tropical hops, caramel malt, a slight bit of pine as it warmed. Taste mirrors the nose with some bubblegum notes, fairly resiny finish increasingly so as it warmed. Mouthfeel on the light side of medium, a bit of a surprise, minimal effervescence, by design after talking to brewmaster, sticky finish. Drinkability is good despite a tad bit of alcohol heat. Listed as 100 IBUs, this is tasty but not Ruination-esque IBUs IMO. Didn't get much more bitter as it warmed, a nice interpretation of SD-style here in ABQ. Worth a try.
★
734 characters
Elevated IPA from La Cumbre Brewing Co.
4.34
out of
5
based on
1,371
ratings.