One Of Those Guys Beer
| Those Guys & TG Enterprises, Inc.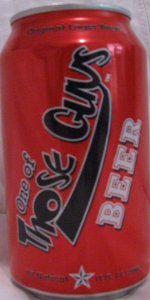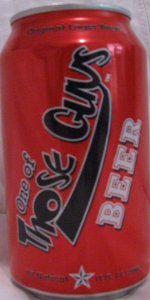 BEER INFO
Brewed by:
Those Guys & TG Enterprises, Inc.
Michigan
,
United States
Style:
American Pale Lager
Alcohol by volume (ABV):
not listed
Availability:
Year-round
Notes / Commercial Description:
No notes at this time.
Added by woodychandler on 01-18-2011
This beer is retired; no longer brewed.
Ratings: 15 | Reviews: 12
5
/5
rDev
+47.1%
look: 5 | smell: 5 | taste: 5 | feel: 5 | overall: 5
I am definitely not one to know exactly how to review a beer. I have seen people note and embellish as to why they scored the topics like they did. Me, however, I am your everyday man. I know more about how to crank a ratchet and mend a fence than I do about giving an expert review. With that being said "Those Guys" is my type of beer.
Where I come from (Southern Indiana) most men can be seen drinking a can of High Life, PBR, or any cheap Light beer that can be found in a thirty pack. I will be the first to admit that I have on many occasions have made a living off drinking your typical American Cheap Beer. Though, I would be lying if I said that I didn't enjoy a great micro-brew from time to time when I can get myself over the hesitance of buying beer that cost more than five dollars for a six pack.
At my local liquor store they are always coming in with new micro-brews and hand crafted beers from across the country. So when I saw Those Guys and they cartoonish red box I didn't pay it much nevermind. I was told that it was a full flavor beer that thinks it is a light style. What? I don't even think I knew what that meant but I passed on it for awhile.
Needless to say, I eventually broke down and gave it a shot. My first experience came in the form of a six pack of brown bottles. I was excited to say the least because I started to seem to "get" the packaging. The relaxing style that the packaging portrayed gave me reason to believe that this would be an enjoyable beer. (Note: I have been fooled by fun packaging before. Take Beer 30 Light for example.)
I had purchased the six pack along with a Folly Pack from New Belgium Brewery (The makers of Fat Tire and 1554...which I highly recommend.) so I planned on having a great night with good beer. I was honestly more excited about the Fat Tire as it is my favorite beer to drink, but the Other Guys was the coldest in the fridge so it won by default. I didn't bother pouring it in a glass, checking the head, figuring out what scented notes I was able to find or anything like that. I am a man; a beer drinker. So I did what I normally do. Open up bottle. Pour down throat. Repeat.
Holy Cow! (Yes, I am a Cubs fan so I typed that envisioning Harry Caray's voice.) This beer was amazing. I previously said that I am not the best at describing a beer's taste, but damnit this was awesome. Within a moment I remembered being told it was a full flavor beer that thinks it is a light style. It made sense now, I was able to enjoy the dominant lager flavor of the beer as soon as it hit my lips all the way down through my digestive tract. The shocker? It didn't have that bitter after taste that many lagers are known for. I drank it and as soon as the flavor hit and went there was no linger and it went down so smooth.
Flabbergasted I dug in for more. Before I realized what had happened my six pack was gone and my Folly Pack was still in the freezer. I've repeated it and I'll say it again. I can't give you a professional analysis of this beer. However, what I can tell you is. It is a lager full of flavor and it goes down as smooth as can be. To me it had a lot of wheat flavor in it but what do I know? Trust me when I say that everyone should try this beer. If not once then a thousand times.
The motto or catchphrase if you would for the beer is as follows: Fun, Sports & Kick'n Back. To this I have to disagree. I'll go with The American Dream in a Bottle/Can. I have always been and always will be One of Those Guys.
3,512 characters

4.29
/5
rDev
+26.2%
look: 3 | smell: 4 | taste: 4.5 | feel: 3.5 | overall: 5
This is a fun CANFind from one of The CANQuest (TM)'s numerous supporters. I like that they had an idea for a beer, CANtracted with a brewer to make it for them and then put it into a CAN. They actually have a working website and I may find it in my heart to buy something(s) from them. CAN you dig it? The CANQuest (TM) soldiers on!
The Crack & Glug went off as planned with beer going directly into the glass, producing just better than a finger of fizzy bone-white head that disappeared into the night like that young lady with my wallet the other night. Color was a sunshine yellow with a slight haze. I am in a slight haze following today's review schedule. May I always have a job, because me + free time = Wheeee! Jesus, how did I get here? This is my beautiful house but my beautiful girlfriend took off with my wallet. Nose was lager sweet but without a bunch of off characteristics. Is it possible that they skimped on corn in making their beer?!? Ah yes, the qualitative part of The CANQuest (TM). Mouthfeel was medium and had a very pleasant lager sweetness in the mouth. Perhaps NOT an AAL?!? Yay! Finish was clean, slightly sweet, definitely lager, but almost certainly adjunct-free.
Great goshdarn, but this was gooood! It tasted like pure, unadulterated lager, something that everyone should experience at least one in their lifetime. If I had some of this in my cooler on Hula in the Coola Day (01 Feb, annually), I'd be dancing like I knew how!
1,469 characters
3.62
/5
rDev
+6.5%
look: 3.5 | smell: 4 | taste: 3.5 | feel: 3.5 | overall: 3.5
Poured from a 12 ounce can into a beer mug.
Appearance: Beer is a bright, clear, pale golden color. Beer is eggshell white, and leaves spotty lacing as it recedes to a subtle foam on the surface of the brew.
Smell: Lemon zest atop a mellow grassy/earthy malt feel.
Taste/Mouthfeel: Beer is semi-oily going onto the palate. Dull earthy malt character is dotted with the occasional sweetness, but remains mostly bland. Still, it's a comfortable bland. Finishes pretty wet.
Overall: A decent beer. Not really noteworthy, but then again, I don't think that's what they were aiming for with this. An amazing bargain at 7 bucks a 12-pack.
636 characters

3.62
/5
rDev
+6.5%
look: 3 | smell: 3.5 | taste: 4 | feel: 3 | overall: 3.5
Bought for 6 bucks a 12 pack.
Appears bright yellow with a finger length of white head.
As for the smell it smells of fruity sweet malt. That's about all I am getting from this beer. Not that that is a bad thing from a lager like this.
It tastes of sweet almost bread like malts. I get an almost raison malty flavor as well. The taste is stronger then I expected. Honestly for the price it is pretty good.
The beer is quite crisp.
Overall this is a simple beer though it is pretty nice on a hot day. For the price it is not a bad deal.
542 characters
3.6
/5
rDev
+5.9%
look: 4 | smell: 4 | taste: 3.5 | feel: 3 | overall: 3.5
12oz can, nonic.
The color is a seemingly chill hazed golden yellow. It looks like a real beer, not a macro. The pour was a foamy affair, but the suds dwindled quickly to a half or quarter inch of white.
Like a couple other reviewers have said, this smells purely of malt. It smells like a bare bones all malt lager. A tiny bit of toast, cracker, and grain.
The flavor is slightly watered down from what is found in the nose. A twinge of grain and malty sweetness pass by and it's just fizzy liquid.
It may be a little on the low side of carbonation for the style. Quite watery, but one reason this is better than many of its peers is that it has no off flavors or aromas.
It goes down easily and the aroma is solid pale malt. Simple of the simple, this gets up there for an American Pale Lager.
804 characters
3.5
/5
rDev
+2.9%
look: 3.5 | smell: 3.5 | taste: 3.5 | feel: 3.5 | overall: 3.5
Reviewed from notes:
appearance: golden yellow with a 1 finger white head
smell: citrus, wheat, malts, lager yeast
taste: citrus, malts, light
mouthfeel: mild carbonation, thin to medium body,
overall: It's an alright brew, I like the name. Glad I got to try it.
Cheers,
The CPJ
285 characters

3.46
/5
rDev
+1.8%
look: 2 | smell: 3.5 | taste: 3.5 | feel: 4 | overall: 3.5
Received this from world famous BA Woodychandler at a recent tasting, under the condition that the beer must be reviewed in order to stop him from later hunting me down and filling my fish tank with Coors Light. Just kidding - I don't have a fish tank.
Poured into my favorite glass mug, I find myself looking at a slightly hazy, straw colored brew with about 1/4" of head. At least, for a brief period. Within seconds, the head was entirely gone, leaving nothing to indicate that it had ever actually been there. Had it been? Was I just seeing things?
As for both the smell and the taste...I don't know exactly how to describe it. This probably won't make sense to anyone but me, but this smells and tastes exactly like this mythical "beer" that I'd only ever seen my old relatives drink while I was a wee lad. Malty? Yep. A little bit of a crispness to it? You bet. Cringe-inducing hop bitterness? Nope. Like I said, this is beer in it's simplest form, as far as I'm concerned. And I'm a simple man, so I'm that's a compliment in my book.
Mouthfeel is surprisingly full for this. We're not talking Stone IRS full, of course, but it's not watery like the initial pour led me to expect. Well played, beer. Well played.
Overall, this is exactly the kind of beer I'd pick up if I lived near the brewery and they were pouring at the local ballpark.
1,349 characters
3.45
/5
rDev
+1.5%
look: 3.5 | smell: 3.5 | taste: 3.5 | feel: 3 | overall: 3.5
Thanks to the legendary woodychandler for this beer. Poured from a 12 oz. can. Has a golden color with a 1/2 inch head. Smell is of malts, some grains. Taste is crisp, malts and grain, very refreshing and smooth. Feels light in the mouth and has good drinkability. Overall a very good pale lager.
296 characters
3.38
/5
rDev
-0.6%
look: 4 | smell: 3.5 | taste: 3 | feel: 4 | overall: 3.5
woodychandler extolling the CANdid virtues of this brew made me wonder... and reminded me slightly of the V I T U S days... so when I spotted this one, I couldn't pass it up!
pours a chill-hazed buttery marigold hue with a voluptuous two-finger white creamy head with impressive retention that actually leaves some solid lace. enticing.
aroma is mild, pale malt, some citrus (lemon) and a touch of hops. reminds me of lemon verbena tea. some straw and crackers.
taste is clean with light malt and some decent citrusy hops. although it's on the edge of lemony. kinda funky. not exactly delicious, although not exactly offensive. if this were served colder, it might be quite refreshing.
mouth is acceptable. light body with enough fine carbonation to make it full and almost creamy. a lingering tart bitterness is subtle but pleasant and really helps it along.
about what i was expecting, although I really wanted to like it more than I do. while it's got more character than an average lager, the direction of that character isn't quite making my tongue happy. flavor aside though, this one is pretty solid. I'm sure on the right day, this could hit the spot... an exceptional lawnmower beer.
1,198 characters
2.95
/5
rDev
-13.2%
look: 3.5 | smell: 3.5 | taste: 2.5 | feel: 4 | overall: 2.5
As some others have previously mentioned, this brew was gifted to me by woodychandler under the promise of throwing down a review.
Poured from a 12oz can into a standard pint glass. This brew appears a clear yellow color with a finger and a half of big bubbly composed head that quickly dissolves to a thin coating across the top of the brew. When held to the light some faint particulate is stuck hanging in suspension.
The aroma of this brew is very light. Some grassy hop characteristics mingle with a light note of sulfur and some faint biscuit grain. I am searching to find more character but despite witnessing the full evolution of this brew from cold to warm, not much changes in the nose.
The taste is pretty sweet with a flavor of cereal grains coupled with sulfur and a minor amount of grassy hop flavoring that doesn't provide much contrasting bitterness to balance this brew out. The aftertaste and belch releases a flavor of young green yeastiness. The finish is somewhat crisp and the alcohol is hidden fairly well. It is medium to light bodied (favoring the lighter side) with a lively amount of carbonation.
I am no Connoisseur of all things CANned nor seasoned in the art of glugging American Pale Lagers so perhaps my experience is skewed. For the style it is fair, I admit there are better ones out there but none of them are an offering I would reach for if given a choice. On a hot day where a beer is needed and no sense of taste is expected, sure I would drink one again but as-is, I would pass on this again in the future.
1,551 characters

2.83
/5
rDev
-16.8%
look: 3 | smell: 2.5 | taste: 3 | feel: 3.5 | overall: 2.5
Thanks to woodychandler for a chance to try this midwest "macro craft" can.
I looked at the previous two reviews and well....time to skew the love and bring this one back to reality.
A-Crystal clear, pale, golden yellow with a thin white head that reduced to a thin wisp of retention and left spotty lace.
S-Light sweetness and ahhh...mmmm....hmmm...some cereal grain and ahhh...wow, pretty dull.
T-Flavour has a bit more going on with a non-offensive sweet grain, a light, white zinfandel type zing and little else.
M-Light bodied, sharp and crisp which is nice but then you realize it is also quite watery and lackluster. Good thing the crispness comes first!
D-Certainly nothing offensive here but, I simply don't understand "craft" breweries making beers like this. HELLO!--it has been done by the MILLIONS of barrels full by HUNDREDS of others! A watery, dull, rather lifeless brew. For cryin' out loud make a quality pils, cream ale or a kolsch if you want to make a light, "let's hope the masses will drink our product", style of beer.
1,048 characters

2.78
/5
rDev
-18.2%
look: 3 | smell: 2.5 | taste: 3 | feel: 3 | overall: 2.5
I accepted this can courtesy of woodychandler under the promise I would give it a review when I opened it. So, without further ado...
A: Perfectly clear, very pale golden/yellow body, not much different than a macro AAL. Surprisingly nice foamy and rocky white head which stuck around for a bit and left very minor lacing, saving this from getting mixed in the shuffle with the BMC products. Rather dull.
S: Disappointing. A bit of musk, corn husk, watery grains and some residual faint sweetness. This has maybe a bit more character than other AAL's, even though it's considered an American Pale Lager.
T: The flavors are rather dull, but definitely have some good things going on for it. The grain bill is the focus here, with some very faint and almost unnoticeable hop bite if you're not looking for it. It's not terrible by any means. Easy drinking, as refreshing as this style could be but nothing is really going on here.
M: OK mouth feel, a bit thin & watery, light-bodied and bubbly.
I expected more. I mean, seriously, this style has been done many times over and over again by the "big boys." It baffles me why a smaller brewery would even make a product like this. How about a solid Pilsner or Pale Ale? Something with a little more character. This easily would be lumped in with most the BMC products. Sorry.
Thanks to Woody though for the chance to try this!
1,378 characters

One Of Those Guys Beer from Those Guys & TG Enterprises, Inc.
Beer rating:
13.3%
out of
100
with
15
ratings