Vivant Tripel
| Brewery Vivant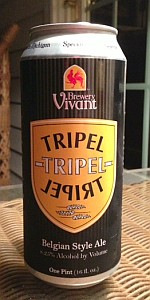 BEER INFO
Brewed by:
Brewery Vivant
Michigan
,
United States
breweryvivant.com
Style:
Tripel
Alcohol by volume (ABV):
8.25%
Availability:
Rotating
Notes / Commercial Description:
No notes at this time.
Added by SupaCelt on 02-20-2011
Reviews: 12 | Ratings: 79

3.59
/5
rDev
-4.3%
look: 3.5 | smell: 3.75 | taste: 3.5 | feel: 3.75 | overall: 3.5
Pours a bright golden yellow and looks almost flat after pour. Definitely a malt bomb.
Smells of fresh barley and sweet prairie malts. Smells like Belgium.
The flavor is a little lacking, mainly sweet caramel and a slight flavor of sweet corn. Tastes like the Midwest.
Mouthfeel is very smooth, but similar to taste, rather lacking.
Overall, a nice example of the Tripel style, but nothing to waste too much time looking for.
★
429 characters

3.05
/5
rDev
-18.7%
look: 3 | smell: 3 | taste: 3 | feel: 3.5 | overall: 3
$4.09/16 oz can at Lager Mill
Undated can at 45 degrees into snifter
Very faint fruity aroma
Head barely outlasts the pour, maximum of 2 cm, fizzy, white immediately diminishing to nothing – no ring, no layer – nothing
No lacing
Body medium orange, sparkling, clear
Flavor begins with over-ripe apple sourness and not much else. No alcohol, no hops, no malt, no diacetyl. Ends quickly.
Palate is medium, watery, lively carbonation.
A pretty flavorless attempt at a tripel.
★
477 characters
3.54
/5
rDev
-5.6%
look: 4 | smell: 3.75 | taste: 3.5 | feel: 3 | overall: 3.5
A: Copper, little haze with almost no carbonation, 4 fingers of yellowish head with good retention and great lacing.
S: Apple sauce, Belgian yeasts, little smokiness, balanced and light. Little fruitiness, not much floral.
T: Sweet and fruity, a little floral, nice Belgian yeasts, a hint of smokiness.
M: Thick syrupy quality, medium low carbonation.
O: A great tripel, a little sweet for me but great coming from Michigan. Got at Oppermans Cork-n-Ale in Saginaw, MI a week ago.
★
484 characters

3.84
/5
rDev
+2.4%
look: 3.75 | smell: 4 | taste: 3.75 | feel: 4 | overall: 3.75
A - Pours a clear gold with a two-finger foamy white head. Light sticky lacing.
S - A nice mix of banana, clove, bubble gum, & Belgian yeast.
T - Follows the nose. Sweetness upfront with banana and apple being the dominate flavor. Mid swallow the Belgian yeast comes out producing a biscuity flavor. The finish has a clove spiciness and a small bitter hop bite.
M - Medium bodied with high carbonation. Very crisp and clean mouthfeel with a dry finish.
O - A nice Tripel. Easy drinking and enjoyable.
★
504 characters
3.39
/5
rDev
-9.6%
look: 3.5 | smell: 3.25 | taste: 3.5 | feel: 3 | overall: 3.5
Golden sweet beer with a light white head. Light, easy taste. Caramel and sweet malt aroma. Really enjoyed this light beer. Pairs well with a variety of foods. Very crisp and refreshing taste. No unpleasant aftertaste. Overall very pleasant and enjoyable beer.
★
260 characters

3.31
/5
rDev
-11.7%
look: 4 | smell: 3 | taste: 3.25 | feel: 3.5 | overall: 3.5
A: One finger tall tiny bubble head poured from the can into the snifter glass and fell to a dusting on the top of the beer and a bright white edge around the rim. The appearance, a sunshine yellow color with no haze.
S: Cider like phenols that remind me of a white wine (white grapes and green apples). Not much in the way oh hops or grain detected.
T: The phenolic wine flavors of grapes come through in the taste as well. Grainy malt is detected behind the dominant yeast flavors. Enought bitterness to cut out some of the sweetness, but the yeast adds the perception of sweetness also.
M: High on the carbonation and light on the body. When sitting on the pallet it provides a prickly sensation with the tiny bubbles.
O: Truth be told belgians aren't my forte and this one tasted like a hopped wine. I'm giving my rattings a margin of error because of this but I don't think I'd get this again.
★
903 characters

4.13
/5
rDev
+10.1%
look: 3.5 | smell: 4.25 | taste: 4 | feel: 4.5 | overall: 4.25
16oz can poured into a tulip.
(A)- Pours a lightly hazed golden orange color. Produced a nice cap of white froth. Some lacing was left behind.
(S)- A nice nose of lightly spiced clove meets a dry biscuit-like yeast. Subtle hints of lemon and banana.
(T)- Very similar to the smell. More up front is some nice lemon and banana esters. the mid palate yields that same nicely dry biscuit-like yeast. Finishes lightly spiced (clove) and subtlely sweet.
(M)- A nice lively carbonation level meets a well balanced tripel overall. Dry, but fruity and ever so slightly sweet. Ever so minimally bitter as it warmed.
(O)- A solid Tripel from the states. Most tend to be way too sweet or apple cider-like, but this one is really on point.
★
732 characters

4.01
/5
rDev
+6.9%
look: 3.75 | smell: 4 | taste: 4 | feel: 4.25 | overall: 4
I picked up a can of Brewery Vivant's Vivant Tripel last week for $4.09 at The Lager Mill. I have really liked the past few limited releases from Brewery Vivant so I made sure to pick up a can of their Tripel, so lets see how it goes. No visible canning date, spring 2013 vintage. Poured from a tall 16oz can into a Belgium Tulip.
A- The can looks ok, it's pretty simple and it isn't as eye catching as some of their other limited release cans. It poured a slightly hazy yellow color that took on some darker golden hues when held to the light with two fingers worth of white head that died down to a thin ring that eventually faded away and it left a little lacing behind. This was a decent looking Tripel, but I wish the head and lacing were a little better.
S- The aroma starts off with a higher amount of medium sweetness followed by some typical banana, spices and some slight bubble gum aromas that are just what I would expect from the style. Up next comes Brewery Vivant's signature yeast that gives it a slightly barn yard funk like aroma with some nice tart aromas. On the finish I get a little more sweetness followed by a slight minty aroma that is pretty unusual but it somehow works. This beer had a good aroma, it was complex and pretty unique, I like it.
T- The taste seems to be fairly similar to the aroma and it starts off with a higher amount of medium sweetness that had a slight honey flavor to it and it was followed by some biscuit and caramel malt flavors and some of those typical Tripel flavors with some bananas and spices sticking out nicely with just a slight bit of bubblegum in the background. Up next comes that signature Vivant tartness with a slight bit of barnyard funk to it. On the finish there's hardly any alcohol that shows up with pretty much no bitterness at all just a lighter amount of tartness with a banana, malty and slightly tart aftertaste. This beer taste good, it had all the nice Tripel flavors I was looking for with an added complexity from the yeast, it was pretty enjoyable.
M- Very smooth, clean, crisp, medium bodied with a higher of medium carbonation that was a little a prickly. The mouthfeel was pretty good, with higher prickly carbonation worked very well with this beer.
Overall I thought this was a good beer and a good unique example of the style, it had enough traditional Tripel aspect to be fairly true to style and the extra complexity from the yeast was very nice and it set this beer apart from a lot of other Tripels. This beer had good drinkability, it was pretty smooth, crisp, clean, not filling, refreshing, and the flavors did a good job at holding my attention, I could drink a few these, it's very drinkable for the style and I think this would be a great beer to have during a warm summer day, this beer is really drinkable. What I liked the most about this beer was how well everything came together, there was a nice balance of Tripel flavors and typical Vivant tartness, the drinkability was also very good. What I liked the least about this beer was the appearance, I think the head and lacing could have been a little better, but it wasn't a bad looking beer. I would buy this beer again, I would like to drink some this in the summer, so i'll make sure to buy some more to put in the cellar, it's a little pricey, but I think it's worth it. I recommend this to anyone who likes Tripel's, it's for sure worth a try. All in all this was another good limited release from Brewery Vivant, I didn't like it as much as the last couple beers I have had from them, but I still thought it was a good Tripel with a nice Brewery Vivant twist to it and the drinkability was really good with the alcohol barely showing up. Good job guys, I'm really liking these limited releases. Update, Aged one for a year just to see what would happen, it was pretty good, it got funkier, but fresh is a better Tripel.
★
3,885 characters
4.1
/5
rDev
+9.3%
look: 4 | smell: 4 | taste: 4 | feel: 4 | overall: 4.5
16 ounce can into chalice, no canning date. Pours fairly crystal clear golden amber color with a 1 finger dense white head with good retention, that reduces to a thin cap that lingers. Spotty soapy lacing clings on the glass, with some light streaming carbonation. Aromas of pear, apple, grape, banana, clove, honey, candi sugar, light bubblegum, and earthy yeast spiciness. Very nice aromas with good balance and complexity of malt and yeast ester notes. Taste of banana, pear, apple, clove, bubblegum, honey, candi sugar, bread, and earthy yeast spiciness. Lingering notes of banana, light fruits, clove, bubblegum, honey, candi sugar, bread, and yeast earthiness on the finish for a good bit. Damn nice balance and complexity of malt and yeast ester flavors; with zero cloying sweetness after the finish. Medium carbonation and medium-full bodied; with a smooth and fairly slick mouthfeel that is nice. Alcohol is very well hidden with hardly any warming noticed after the finish. Overall this is an excellent tripel! All around nice balance and complexity of flavors; and very smooth to sip on. A very enjoyable offering.
★
1,125 characters

3.61
/5
rDev
-3.7%
look: 3.5 | smell: 3.75 | taste: 3.5 | feel: 4 | overall: 3.5
Served in a Lagunitas mason jar.
Well, some non-Michigander needs to review this stuff. To that I say, "I'm your huckleberry, and that's just my game." It pours a mostly clear sunset brass topped by over a finger of lightly cream-white foam. The nose comprises mild grapefruit zest, grape leaves, light Belgian yeast, and a touch of banana peel. It's certainly not very traditional, but it's definitely more than pleasant (refreshing, even) to me. That said, some spicy notes reminiscent of clove and black pepper peek through as time progresses. The taste seems to follow suit, focusing on the citrus aspects while the more Belgian-influenced yeasty and spicy notes float through from the background now and again. The body is a light medium, with a light moderate carbonation and a fluid feel. Overall, while generally pretty good, this beer lacks a lot of the usual Belgian charm and character that not only serves the style well but is welcomed by fans, myself included. Frankly, while not a bad beer, it's not a very good tripel, more like a quasi Belgian strong pale sort of deal, and it's certainly not worth the $16+ price tag the 4-pack is currently selling for around here. Unlike most of Vivant's offerings, this is likely one-and-done for me.
★
1,255 characters
4.04
/5
rDev
+7.7%
look: 4 | smell: 3.75 | taste: 4.25 | feel: 4 | overall: 4
Appearance - Honey-toned beer with delicate, frothy lacing. Gossamer head retention.
Smell - Bubblegum and a sparkling minty hoppiness. The yeast!
Taste - Begins with caramelly, rich maltiness. Hop/yeast flavors then emerge: grapefruity, clean, sparkling. Smooth for a high alcohol beer.
Mouthfeel - Superb. Smooth, rich, elegant.
Very tasty beer.
★
351 characters

3.97
/5
rDev
+5.9%
look: 3.5 | smell: 4 | taste: 4 | feel: 4 | overall: 4
The tulip lovingly cups a beautiful golden liquid that is very subtly moving maybe a shadow darker than expected. Perhaps just the lighting at the altar. Lovely. Nearly an inch of soapy white head with some rainbow bubbles stands atop this latest treat from our friends at Vivant. The head is of short duration, yet leaves some spittle bergs of lacing behind. Modest little carbonation bubbles spring forth and rise to stardom.
The nose is heavy on banana esters, a twinge of aromatic spice, a little black peppered popcorn, and candi sugar and bubble gum on top of some savory Vivant yeast tones.
The taste is delightful. The delicious candi sugar comes through underneath the funk and banana. Corn and hay linger. There is a subtle dryness that cuts through the sweetness just enough to bolster the complexity without blunting the more dynamic flavor aspects of this brew. There is a soft peppery spiciness that is perfectly imparted and present without being overbearing. This beer would be very nice to pour into the big hole on your face. The one with the teeth and tongue of course! For goodness sake don't pour this up, or down for that matter, your nose!
The body is on the lighter side of medium. It maintains a crispness and some brawn at the same time. This makes for a slickly deceptive brew that is highly drinkable and potentially dangerous considering the alcohol content. This body supports the flavors well and feels very appropriate.
The drinkability is good. This brew is a well rendered example of the style and it is a pleasure to pour down the gullet. Well done. Excited to watch this brewery.
★
1,621 characters
Vivant Tripel from Brewery Vivant
3.75
out of
5
based on
79
ratings.