Ringneck Bourbon Barrel Imperial Scharzbier
| The Brew Kettle Taproom & Smokehouse / Production Works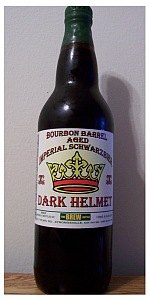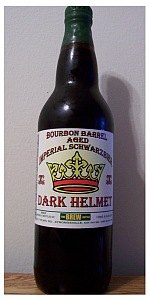 BEER INFO
Brewed by:
The Brew Kettle Taproom & Smokehouse / Production Works
Ohio
,
United States
thebrewkettle.com
Style:
Schwarzbier
Alcohol by volume (ABV):
8.00%
Availability:
Limited (brewed once)
Notes / Commercial Description:
No notes at this time.
Added by Pegasus on 02-12-2006
This beer is retired; no longer brewed.
HISTOGRAM
Ratings: 7 | Reviews: 5
Reviews by Pegasus:
4.47
/5
rDev
+33.4%
look: 4 | smell: 4.5 | taste: 4.5 | feel: 4.5 | overall: 4.5
Appearance: Clear deep ruby in color with a modest tan head, which retains suprisingly well considering the eight percent ABV, thick sticky lace, modest carbonation.
Aroma: Sweet, vinous, and spicy, with alcohol, abundant dark fruit, and molasses, rivals cognac in its complexity.
Taste: Opens with profound vinous and dark fruit notes which carry throughout, midway through a woody bourbon barrel note manifests. Late in the taste a strong alcohol note appears. Finishes with a linger spicy woody note, which carries well past the end of the taste.
Mouth feel: Rich, syrupy, and thick, very soft on the palate, more like a brandy or cognac than beer.
Drinkability/notes: Utterly superb, no less than magnificent, can easily hold its own with a fine brandy. Many thanks to Rick the Beer-Czar for bringing this to Texas, and congratulations to Ringneck for this utterly superb beer.
893 characters
More User Reviews:

4.42
/5
rDev
+31.9%
look: 4 | smell: 4.5 | taste: 4.5 | feel: 4 | overall: 4.5
Aroma: Slight bourbon/rum raisin note infused into a rich and deep plum malt ocean.
Appearance: Deep purple-amber, tiny collar left touches of lace.
Flavor: Rum raisin is up front with a well blended alcohol enhancer that seems to work with all the flavors going on. Butter and caramel play supportive roles and leave the flavor profile round, smooth, seamless, supple, and enjoyable.
Mouthfeel: Low carbonation level fits the heavy body but makes a chew mandatory. Smooth texture leads to a slow drying alcohol finish.
Overall Impression: Dangerously drinkable. Massive beer but so enjoyable. Tasty, rich, full, round, dry, just great. No real "Schwartz" taste going on, I would have called it an Impy Stout, but regardless, I call it GOOD!
Thanks to Rick and Betty for bringing this "growler" back from the brewery. Rick said something about this one being entered into the GABF. I'm thinking the only thing that held it back was the style oddity.
970 characters
3.13
/5
rDev
-6.6%
look: 4 | smell: 3.5 | taste: 2.5 | feel: 4.5 | overall: 3
22 oz. bottle
A: Pours a dark brown with a tan 2-finger head. Good sustain and lacing.
S: A clean, malty smell with slight aromas of cocoa, vanilla, and a touch of alcohol.
T: Stout-like flavor with moderate-high bitterness. An intense, earthy, bourbon alcohol flavor kicks in and overpowers the taste in the finish. Perhaps this spent a bit too long in the bourbon barrels (or bottle).
M: Medium bodied with a creamy texture and fine carbonation. The alcohol provides lots of warmth after each sip.
D: Overall, not bad, but I'd like the bourbon character to be a bit more subtle. I'd really like to like this beer, but the alcohol taste is just a bit too overwhelming (says the guy that likes big, alcoholic beers). If I didn't know better, I would think that a shot of bourbon was put directly IN each bottle.
826 characters
4.43
/5
rDev
+32.2%
look: 4.5 | smell: 4 | taste: 4.5 | feel: 4 | overall: 5
I got this on-tap at the Brew Kettle. There is no other place that carries Ringneck beers other than the Brew Kettle. They are very good when it comes to the temperature of their beers when they serve them. It was of course not too cold and not too warm either. They served it to me in a small 12 oz. Snifter glass. The one I had was called RN (Ringneck) Bourbon Aged Dark Helmet Imperial Schwarzbier and that beers is at a 8.8% ABV and 20 IBUs. I'm sure it's the same beer because how many Bourbon Barrel Aged Imperial Schwarzbier can one brewery make? :-)
Appearance: When it came to me, the beer was a pitch black color, but when my glass started getting a little low, I noticed the beer was actually a very dark red ruby color. It had a nice 1 finger head of tan colored foam that receded very nicely and left a few tan rings and barely any lace around the glass.
Smell: The aroma wasn't too strong, but that doesn't matter because it was very nice in dark roasted malt, dark fruits, and some sweet caramel and molasses at the end.
Taste: When I read on the sheet of paper and the chalk board at the Brew Kettle that it was Bourbon Barrel Aged, I thought that it might taste like oak or even Bourbon, but that wasn't the case with this beer. It had plenty of flavors, like dark roasted malt, dark fruits, sweet caramel, and at the end was a not too strong taste of alcohol. There might have been a slight taste of oak in it, but it was very subtle.
Mouthfeel: It was Full Bodied, rich, thick, chewy, and with an aftertaste of roasted malt and alcohol. Even though it was rich and thick, it still goes down nice and smooth without any alcohol burn.
Drinkability: This is defiantly a must try at the Brew Kettle (if they have it) and makes a nice sipping beer while you're enjoying their Beer Memorabilia on the wall and fine food. Way to go on raising the stakes on the Schwarzbier style. I could go for another one in the near future.
1,953 characters

2.53
/5
rDev
-24.5%
look: 3.5 | smell: 3 | taste: 2.5 | feel: 2 | overall: 2
What have I wrought? What have I WROUGHT?
Of all the things I've ever admired AndoBrew for, his ability to quickly and precisely review a beer is at the top of the list, and it is with that in mind that I asked him to tag-team review this beer with me.
Appearance: Pours a clear, dark brown body with a thinnish, tan-colored head. Shaking his head wryly, AndoBrew said it reminded him of the toilet water in a house still under construction, having been ruthlessly abused by both electricians and carpenters alike. What's he talking about?
Smell: A malty, sweet-smelling bourbon-esque aroma gussied up with sharp notes of molasses and vanilla beans. After AndoBrew entertained a phone call regarding the third season of Lost, he had this to say regarding the aroma: "Oh, I don't like that, its overly molasses. Too sugary, too sweet, and lacking any depth of complexity." Fair enough! Moving on.
Taste: Though not quite a cloyingly sweet as the aroma would have you believe, its still excessively sugary. Upfront, there's a brief, fleeting peppercorn taste, but its quickly swept away in a flood of bourbon-flavored simple syrup. Its all one can do not to sneer at the beer, set it back down, and then walk away from the bar. AndoBrew described as it both "punishing" and "dehydrating". Well said! I know I could use a few pints of water to dissolve the sugar coating my mouth and throat. And, that's how this beer goes until a slight bitterness in the finish that really does little in the way of cleansing the palate.
Mouthfeel: Full-bodied, due to its syrupy nature. Very low carbonation. If it were anymore syrupy, it'd belong alongside a short stack of pancakes.
Drinkability: In the end, AndoBrew felt the beer was reminiscent of "...a really big lie!" Also, he *did not like and would not buy* this beer. I believe he may have also said something about making "Molasses-Free in 2007" his brand-new slogan. As for me, I can see enjoying only a half a pint or so (AndoBrew went with a thimble-full) before growing weary of it.
So, that's it.
2,067 characters
Ringneck Bourbon Barrel Imperial Scharzbier from The Brew Kettle Taproom & Smokehouse / Production Works
Beer rating:
3.35
out of
5
with
7
ratings