Dismiss Notice
Extreme Beer Fest:Los Angeles
Join us December 9th in Los Angeles for the ultimate throwdown of craft beer creativity!
Learn more...
Dismiss Notice
Rye Kolsch (2010 Beer Week Collaboration With Willoughby Brewing)
| The Brew Kettle Taproom & Smokehouse / Production Works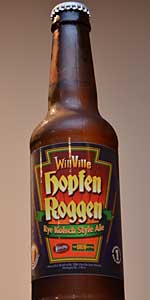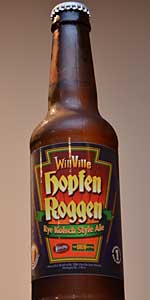 BEER INFO
Brewed by:
The Brew Kettle Taproom & Smokehouse / Production Works
Ohio
,
United States
thebrewkettle.com
Style:
Kölsch
Alcohol by volume (ABV):
5.00%
Availability:
Limited (brewed once)
Notes / Commercial Description:
No notes at this time.
Added by jampics2 on 10-23-2010
This beer is retired; no longer brewed.
HISTOGRAM
Ratings: 9 | Reviews: 8
Reviews by aanakinskywalker:
More User Reviews:
3.61
/5
rDev
-2.7%
look: 4.5 | smell: 3.5 | taste: 3.5 | feel: 4 | overall: 3.5
12 oz. bottle, 5.5% abv. Pours a clear, straw color. Huge pillow-likw white head, with impressive retention. Lots of streaming bubbles rising to the top.
Floral hop notes, with a restrained spicy character. Slightly bready malt. A hint of pepper.
Clean malt, good crisp feel. Dry, with some flashes of citrus. Rye character seems rather restrained, as there is very little of spicy feel.
Lighter body, with lively carbonation. Pretty smooth and easy to drink. Mostly straightforward. Not bad.
498 characters

4.35
/5
rDev
+17.3%
look: 4 | smell: 4 | taste: 4.5 | feel: 4.5 | overall: 4.5
From the Ohio Craft Brew Collaboration 12 pack, almost six months after it was supposed to be released. This was supposedly the beer most likely to go off because Kolsch in theory tastes best young. This beer was excellent, though. The aroma was citrusy hops with the flavor nicely balanced between floral (but not overpowering) hoppiness, sharp rye, and a subtle caramel malt evening everything out. I haven't had a lot of low ABV rye ales, but this was the best I've had (less bitter and more drinkable than Acadia's). The lightness of the beer's body combined with the refreshing, complex flavors make for a great session beer. Too bad they're not brewing more of these.
673 characters
3.78
/5
rDev
+1.9%
look: 4 | smell: 3.5 | taste: 4 | feel: 4 | overall: 3.5
12 ounce bottle. Pours slightly hazy bright amber color with a fairly foamy 2 finger white head with great retention that reduces to a lacing cap. Some decent lacing on the glass. Aromas of rye, citrus, and spices with a bit of caramel. Some nice and balanced aromas, but a tad weak. Taste of caramel, citrus, rye, and spiciness. Mostly sweetness on the front, with a fairly strong bitterness on the finish that lingers with citrus and rye flavors. A nice balance of flavors as well, and a good amount of flavor. Medium-light bodied with medium carbonation. Very crisp and drinkable brew. Overall, a very nice beer with good flavor and mouthfeel. Good stuff, I have never had a Kolsch before, but this is quite tasty.
717 characters

3.73
/5
rDev
+0.5%
look: 4.5 | smell: 4 | taste: 3.5 | feel: 4 | overall: 3.5
Looks very nice and appetizing. Very lively with carbonation, tiny bubbles galore all racing towards the large white fluffy coning head. Rocky at the middle with great retention.
Was worried about how this one was holding up but from the aroma so far indications seem okay. Nice biscuity malt aromas with floral hops, light rye spice, and a twinge of fruitiness.
Good bitterness and hops presence still. Spicy on the finish with good lively carbonation. Floral hops with hints of citrus and earth. Not an overly complex beer but hell it is a kolsch.
552 characters

3.23
/5
rDev
-12.9%
look: 3.5 | smell: 3 | taste: 3.5 | feel: 3 | overall: 3
From the Ohio Craft Brew Collaboration 12 pack, Over six months after it was supposed to be released. Was It worth $20...Ehhh !
Poured a golden Yellow, fizzy head. I smell some citrus, and "Maybe" a touch of Rye spice. Tastes lightly hoppy, but I don't taste Rye.There is some sweetness from the malt and some graininess. This was a decent tasting beer, but I think It took a hit with the extra age on it. I would love to try it fresh.
435 characters
3.2
/5
rDev
-13.7%
look: 3 | smell: 3 | taste: 3 | feel: 4 | overall: 3.5
Most Kolsch aren't good enough for me. They need mroe aroma. This is no exception.Only a very aromatic kolsch works for me. It should fill the room with hoppy stink and this doesn't even fill the glass.
The rest of it is typical, and inoffensive. OK taste, slightly cloudy. Easy drinking and decent aftertaste. But not at all special. I could drink a lot more but I am not upset that the sampler only had one bottle of this.
I thought it was a Willoughby Brewing beer (both logos on the label). They are a mile or so from my house, but I never knew them to bottle anything. I've never been to the Brew Kettle (it's on the wrong side of town) but I've heard people talking about it for a long time.
699 characters

3.85
/5
rDev
+3.8%
look: 3.5 | smell: 3.5 | taste: 4 | feel: 4 | overall: 4
This is the fourth bottle out of the Cleveland Beer Collaboration that I have had and I think its another one that took a hit from the 6 month delay.
I poured the 12oz bottle into a snifter glass to find a clear bright golden body with very minimal head.
The aroma had some citrus notes along with the hops. I'm pretty sure that this is the first Kolsch style beer I have had and I didn't know what to expect. The flavor was good, I thought that the beer was going to be a bit sweeter than what it was. I noticed the citrus & hops in the flavor and a few hints of sweetness before leaving a slight bitter after taste.
The beer was easy to drink, crisp & clean. The carbination was very balanced with the texture.
Overall I enjoyed the beer, though at the same time I don't think that this was going to be a highlight of the colaboration pack for me.
856 characters

3.63
/5
rDev
-2.2%
look: 4 | smell: 3.5 | taste: 3.5 | feel: 3.5 | overall: 4
On tap at the Brew Kettle. Served in a pilsner glass. This beer was was a collaboration with Willoughby for the 2010 Cleveland Beer Week Collaboration 12 pack.
Described as "For CBW, a collaboration w/Willoughby Brewing Co. featuring 35% Rye and generously hopped w/German tradition hops.". 5.0%, 28IBU.
The beer looks nice in the pilsner glass. A golden, clear color with some nice yellow edges and a 1/4 finger white head that leaves some good lace. A nice looking Kölsch.
The smell is more of a normal Kölsch smell with just a hint of rye spice. A touch grainy with some sweetness and noble hops. I don't know if I expected the rye to jump out more or what as I don't have a ton of experience with rye Kölsch (but who does? Seriously, who is the world's expert on this style?). All kidding aside, it's pleasant and fragrant but could be a touch more flowery and expressive.
The taste is good, a bit more bitter than expected from the noble hops. I think the addition of the rye also added a bit of spice to the end, whereas some other Kölsch beers finish sweet and grainy. There is some sweetness from the malt (kiss of caramel) and some graininess and crackers. The beer finishes with spicy rye and a touch of lingering bitterness. Little to no fruitiness as some European examples feature (like Reissdorf Kölsc).
The mouthfeel is good on this beer - nice medium body with the rye making this a touch more weighty. The carbonation is lively as it should be. The finish is very brash at first but starts to grow on me. A nicely drinkable beer with little offensive flavors and a whole lot of goodness. A great break from the traditional Kölsch, but I was missing the sweetness in the finish as provided by the excellent COAST Kölsch that I constantly import to my home in the summer. Still a good beer in the mixed 12 pack.
1,848 characters
Rye Kolsch (2010 Beer Week Collaboration With Willoughby Brewing) from The Brew Kettle Taproom & Smokehouse / Production Works
Beer rating:
3.71
out of
5
with
9
ratings