Black Lung Bourbon Barrel-Aged Smokey Stout
| Moon Dog Craft Brewery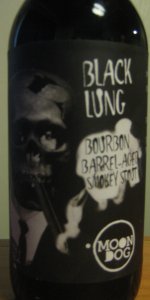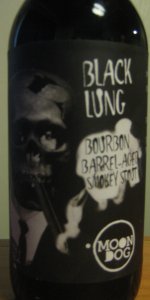 BEER INFO
Brewed by:
Moon Dog Craft Brewery
Australia
moondogbrewing.com.au
Style:
American Double / Imperial Stout
Alcohol by volume (ABV):
7.70%
Availability:
Limited (brewed once)
Notes / Commercial Description:
No notes at this time.
Added by ADZA on 12-26-2011
This beer is retired; no longer brewed.
HISTOGRAM
Ratings: 13 | Reviews: 11
None found.
More User Reviews:
4.26
/5
rDev
+21.7%
look: 3 | smell: 4.5 | taste: 4.5 | feel: 4 | overall: 4
THIS stout allows the drinker to indulge in Cognac (barrel ageing), Islay Whislky (peat malt), beer (naturally), and a fag (Charred barrel) all at once.
What else could you possible want?
A gutsy beer by gutsy brewers for gutsy drinkers - not for wimps!
253 characters
1.31
/5
rDev
-62.6%
look: 2 | smell: 1 | taste: 1 | feel: 1.5 | overall: 2
Pours black with a ridiculously large head, even after a gentle pour.
Nose shows peat, camp-fire smoke, charcoal. Very cigar-like. Way too much peat though, and the real problem is that there's an enteric, blue-vein cheese character to it, which only seems to get stronger as you go.
The enteric character is not quite as noticeable in the flavours, but there's still too much peat, smoke and booze.
Obviously there's quality control issues here, and obviously not what the brewer intended. From what I've heard though this defect isn't likely to be a one-off. I'd like to try an uninfected bottle in the future if I can find some, I'd been looking forward to this.
675 characters
2.38
/5
rDev
-32%
look: 2.75 | smell: 2.75 | taste: 2.5 | feel: 1.5 | overall: 2
Drank from my Chimay Chalice. Its a gusher !
A - Pours a dark cola like colour with no head.
S - Medicinal smoke like aromas. Not pleasent.
T - Up fromt some decent smokey flavours, followed by mollasis and no real bourbon flavours of note. Over the top boozyness and a warming finish.
M - Over carbonated and a little thin for a stout.
O - Not a great stout by any stretch. The mouthfeel is way out of whack and the bourbon is non existant. The smokeyness is intersting and not overpowering. I love the way this brewey tackles these brews but the execution is lacking.
574 characters

3.98
/5
rDev
+13.7%
look: 4.5 | smell: 4 | taste: 4 | feel: 3.5 | overall: 4
A-Black as night, with a huge tan head.
S-Smokey chocolate aroma
T-Sweet yeast and whiskey at the front, fading into chalky chocolate and smoke, The finish is a coffee bean bitterness.
M-Chalky and thick. I'm not sure what caused the chalkiness of this beer--it doesn't seem related to carbonation.
O-Decent barrel-aged stout. I wonder if it would have been better without the smoke, but that's not quite Moon Dog's MO.
425 characters

3.62
/5
rDev
+3.4%
look: 3 | smell: 3.5 | taste: 4 | feel: 3 | overall: 3.5
Pours a very, very dark brown. Brown head builds absolutely furiously and dies off altogether immediately. A shame. What's left is an oily-looking substance with pinprick bubbles around the edges of the glass.
Smell is not all that prominent but what's there is nice. Boozy, licorice, wood, smoke. Taste is similar - bourbon, licorice, smoke, hints of prune and coffee. The vaguest notion of formaldehyde. Not over the top, Good balance, but not much length to the flavors, although there's a lingering bitterness and warmth in the finish.
Flat, thin and oily in the mouth. Stops well short of doing the flavors justice. If the carbonation issue gets sorted and they maybe beef up the body a wee bit, this would really be something.
The first Moon Dog beer I had (Henry Ford's Girthsome Fjord) was a crushing disappointment given the generally positive reviews I've seen here and elsewhere - I must've gotten a bad bottle as it just about made me sick. Going to have a hard time returning to that one, but this one not so much. Approaching greatness.
1,055 characters

3.94
/5
rDev
+12.6%
look: 3.5 | smell: 4.5 | taste: 4 | feel: 3.5 | overall: 3.5
Pours very dark, almost black. Head is too generous when poured, but nice nonetheless, beige colour and sinks a bit too quickly. Big bubbles leaving no real lace. Big initial impression doesn't last.
Smells lovely: lots of smoke with nice, oaky vanilla notes. Wood smoke with a bit of meatiness as well as sweet coconut and vanilla aromas. Good blend. Nice complexity.
Taste is big and smokey with a nice blend of smokey stouty notes for the most part. Nice wood smoke, bacon and a touch of peat - yes, it borders on that level of smoke - that merges into nice roasty-burnt stout character towards the finish. A bit boozey on the back, maybe touches of bourbon-vanilla and coconut. Still quite roasty and bitter, but leaves decently with nice smokey notes blending with the sweetness.
Mouthfeel is a bit sharp on the front, and boozey on late-mid, I'd like a bit more levelling out of the palate.
Good, interesting stout. But a bit by the numbers for what it set out to do, and the balance is not ideal. Paradoxical as it sounds, I'd like it to be either more crazy since I kind of expect that, or level out and be surprisingly drinkable, and it's not quite either one or the other.
1,190 characters
3.27
/5
rDev
-6.6%
look: 3.5 | smell: 4 | taste: 3 | feel: 3 | overall: 3
Pours immensely overcarbonated, frothy and fizzling with a light brown head that eventually runs out of steam and sits as a centimetre of foam across the top, forming no lacing as it falls. This is perhaps not surprising—the body is remarkably thin for its 7.7%. The colour is right, at least, a heavily opaque black-brown. That carbonation, though...
Nose is pleasant, but perhaps not as big as it should be. However, the key characters for their stated style are here: smoke, bourbon, wood, roastiness. What it's missing are the big sweet vanilla oak characters bourbon oak can impart, or the depth of flavour that a bigger brew would lend. Still, it's pleasant enough, and with enough interest.
Taste is dark and roasty, but incredibly dry at its basis, which is just accentuated by the smokiness. Charred, barbequed bacon comes through, with dark roast grains and a touch of booze. Man, where's the barrel aging here? It's tragic that it has so little sweetness to offset the smoke. It needs it: it's CRYING OUT for it. Feel is also incredibly thin, even for a 7.7% ABV beer compared to an 11 or 12% beer.
This is so disappointing, because there's some really obvious ways it could have been improved. I love the style and the gall of Moon Dog, but this beer perhaps just shows their lack of execution. It needs to be bigger, sweeter, smoother—this will not only add balance, but depth and complexity.
It has some nice flavours, and some nice ideas. I'm just so sad that it's not better than this.
1,509 characters
3.95
/5
rDev
+12.9%
look: 4 | smell: 4 | taste: 4 | feel: 3.5 | overall: 4
Pours a dark as night black hue which leaves a chocolate coloured three finger head that quickly dissapates and leaves no lacing,the smell is straight bourbon,tobacco and peated smoked malts and not much else gets through,the mouthfeel is medium bodied and a tad syrupy with tastes of smoked peated malts,a light touch of bourbon and i mean light which is suprisingly good considering the strong smell you get followed by rich dark chocolate,brown sugar,dark fruits and finished just like a milky coffee with a bittersweetness and overall this brew is definately different and yeah i like these guys style as while being different it definately works and i would buy again cheers.
680 characters
3.67
/5
rDev
+4.9%
look: 3.5 | smell: 4 | taste: 3.5 | feel: 4 | overall: 3.5
massive gusher, lost about half of the beer on openinig. poured the remainder of a 330ml bottle into a pint glass.
A- Pours a jet black with some obvious sediment floating around, about 2 inches of tan head, even though it was a relatively careful pour. head relatively quickly subsides to about a centimeter then slows down gradually reducing to next to nothing
S- a fair bit of bourbon to begin with, a touch of alcohol, little bit roasty. quite nice.
T- A lot of bourbon upfront, a touch ashy and smokey, a little bit roasty and a fair bit of alcohol towards the end. the flavours are strong and a little overwhelming, a bit full on.
M- mid bodied to thick. a little bit of carbonation that tingles the tongue, but on the thicker side.
O- interesting, i think its not really my thing, the flavours are not really well integrated i think.
848 characters
2.82
/5
rDev
-19.4%
look: 2.5 | smell: 3 | taste: 3 | feel: 1.5 | overall: 3
330ml bottle into a tulip
A: Pours pitch black with a large fizzy brown head that quickly fades to next nothing.
S: Cigarettes, not just any kind either, it smells like an ashtray rubbed into a dirty share-house couch after a nye party. Plus alot of bourbon.
T: First up I get charcoal, booze, a little woodyness. Not a lot going here, it's really quite 1 dimensional.
M: This is the worst part of an average beer. It's far to thin in body for an imperial stout.. Add to that it's way too carbonated, and there's no head....
O: Well, where do I start? Too thin, over carbonated, this beer is 7.7% yet tastes like a 15%- it doesn't really make sense. Imperial stout is one of the most highly rated styles on BA, if you're going to release one, it has to be better than this.
779 characters
2.55
/5
rDev
-27.1%
look: 3.5 | smell: 3.5 | taste: 2 | feel: 3 | overall: 2
Inky black with a smooth, creamy and massive tan head. Fair head retention.
Alcohol, mild smoke and some barrel character hit up front before giving way to lots of fruitiness and some tartness. Interesting but not the ashy, smoky craziness promised on the label.
Sweet, fruity and tart with some light smokiness. To me this is clearly infected with distinct cherry notes and a lactic sourness not expected in a stout. It's unfortunate too because all 3 bottles I've had are the same.
Medium-full body with moderately-high carbonation.
This is a nice beer but either it is uninfected (as the brewery says) and unimpressive or it is infected. The underlying beer is clearly nice with some great notes coming out of the barrel but the cheery like infected notes ruin in on the whole.
785 characters
Black Lung Bourbon Barrel-Aged Smokey Stout from Moon Dog Craft Brewery
Beer rating:
3.5
out of
5
with
13
ratings