Macguava
| Moon Dog Craft Brewery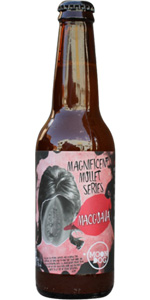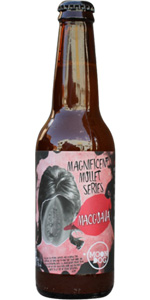 BEER INFO
Brewed by:
Moon Dog Craft Brewery
Australia
moondogbrewing.com.au
Style:
Berliner Weissbier
Alcohol by volume (ABV):
5.60%
Availability:
Limited (brewed once)
Notes / Commercial Description:
No notes at this time.
Added by bylerteck on 04-09-2012
This beer is retired; no longer brewed.
HISTOGRAM
Ratings: 7 | Reviews: 7
None found.
More User Reviews:
3
/5
rDev
-7.4%
look: 3 | smell: 3 | taste: 3 | feel: 2 | overall: 3.5
Pours pale straw with a large head.
Nose shows funky brett notes, very soft guava, gooseberries, lemon. Not particularly interesting.
A little more guava is noticeable as a flavour, mostly as an underlying sweetness amidst the brett and very faint acidity.
Carbonation is a bit full on.
286 characters
2.94
/5
rDev
-9.3%
look: 4 | smell: 2.5 | taste: 3 | feel: 3 | overall: 3
Opaque straw with a sizable fine-bubbled white head that falls very slowly with some good lace trails to a raised ring and film.
Nice sharp organic barnyard and composty funkiness is unfortunately tarnished by plasticy phenolics. Mild sweetness from the guava is the only relief from the plastic character.
Similar flavours with thankfully a tad less plastic. Very tart, dry organic base just barely gives way to some interesting guava sherbet notes. At times it seems almost tasty, at others not.
Light body with pretty aggressive carbonation. Kind of refreshing and confronting at the same time.
Great concept that was right up my street, but the phenolic unpleasantness was a bit hard for me to look past.
712 characters
3.06
/5
rDev
-5.6%
look: 4 | smell: 3 | taste: 3 | feel: 3 | overall: 3
Purchased from Slowbeer, drank with @tobeerornottobe.
Pours a pleasant cloudy yellow-gold colour, with a fine, filmy head of white. Decent sudsy lace, but a little inconsistent. Body is very light, with a fine bead of powdery carbonation. Looks pretty good, overall.
Nose is slightly funky, but slightly nutty, with a herbal, organic overtone, but not a huge amount of crispness, or direct lactic, Berliner weisse character. Also, not a lot of guava. I'm not overly impressed, to be honest.
Taste is clean and slightly organic, with a brusque herbal greenness on the back. It really doesn't have much of a guava character, nor does it have much of a true, clean Berliner Weisse crispness. In fact, it feels a little empty and unfulfilling. Feel is light, but empty.
Overall: eh. Really, this doesn't do much that's particularly interesting. Usually Moondog do interesting if not successful. This time they've done neither. Unimpressed.
939 characters
3.02
/5
rDev
-6.8%
look: 2.5 | smell: 3 | taste: 3 | feel: 3.5 | overall: 3
Had this on tap a few times but didn't review it. Part of the Magnificent Mullet Series.
A - Extremely cloudy light golden colour. One finger of white head. Good carbonation. No real lace with a film of retention.
S - Citrus, some sourness, light malt.
T - Definite tropical fruit flavour but with some tart sort of elements. Hard to pin down a consistent flavour path.
M - Good carbonation, medium body. Straight forward, dry finish.
O/D - I was never really a fan of this on draught and this is the same situation. A surprise for a Moon Dog beer. For the style they were going for, this misses. It's interesting, just nothing too good.
653 characters

3.58
/5
rDev
+10.5%
look: 4 | smell: 3.5 | taste: 3.5 | feel: 4 | overall: 3.5
A - Cloudy rockmelon colour, with a finger of bright white head and webby lacing.
S - Freshly cut stonefruit, grapes and brett.
T - Guava and melon, tart white grapes. Good stuff. Very different.
M - Medium in body and carbonation. Crisp and sour.
O - Good on these guys for bringing some much needed innovation to our local craft scene. I'd be delighted to drink another bottle of this and have my eyes peeled for the others in the Mullet series.
451 characters
3.7
/5
rDev
+14.2%
look: 3.5 | smell: 3.5 | taste: 4 | feel: 3.5 | overall: 3.5
Pours a cloudy pineapple juice hue which leaves a fast vanishing two finger head and sporadic clingy lacing,the smell is sour wheat,guava,white grapes and blueberries,the mouthfeel is medium bodied and smooth with a light touch of creaminess and has tastes of guava,mangoes,candied sour wheat and finished with a touch of hops and pineapple and overall its nice and different and look forward to the next in the series cheers.
426 characters
3.41
/5
rDev
+5.2%
look: 4 | smell: 3 | taste: 3.5 | feel: 3.5 | overall: 3.5
Cloudy straw colour with a smoth white head. Decent head retention.
Tart lactic aroma with a hint of hard fruit. No real guava aroma.
Slightly tart with a bit of sweetness. Some graininess. Mild guava flavour. A little musty. Interesting but not as good as the Melon Gibson.
Medium-light body with a spritzy carbonation. Not bad.
Another interesting beer from the boys at Moondog buy the fruit isn't all that pronounced so it falls down.
445 characters
Macguava from Moon Dog Craft Brewery
Beer rating:
3.24
out of
5
with
7
ratings