Freaks And Geeks
| Moon Dog Craft Brewery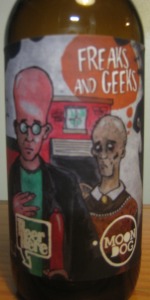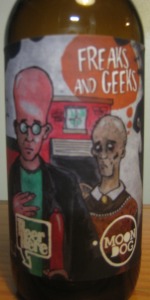 BEER INFO
Brewed by:
Moon Dog Craft Brewery
Australia
moondogbrewing.com.au
Style:
Saison / Farmhouse Ale
Alcohol by volume (ABV):
7.60%
Availability:
Limited (brewed once)
Notes / Commercial Description:
No notes at this time.
Added by ADZA on 06-22-2012
This beer is retired; no longer brewed.
HISTOGRAM
Ratings: 9 | Reviews: 7
None found.
More User Reviews:
3.16
/5
rDev
-5.4%
look: 4 | smell: 3 | taste: 3 | feel: 3 | overall: 3.5
Pours very dark brown with a creamy off-white head.
Nose shows spicy phenols, overt citrus notes, gooseberries, pepper, doughy wheat and an almost Brett-like funky note. Later on peated malt becomes quite noticeable. Pretty wierd. Like a spicy lemonade and lime drink with brett and peated malt added.
Flavours are even more interesting. Burning leaves, faint smoked hame, spicy rye, prominent peated malt, and again, a faint citrus-like acidic note. After a few sips the peat seems to dominate, overriding everything else.
Carbonation is excessive. Nice warming alcohol though.
578 characters


3.6
/5
rDev
+7.8%
look: 4 | smell: 4 | taste: 3.5 | feel: 3 | overall: 3.5
Pours a dark cherry colour, with nice beige thin crown of head. Bit of sediment that accidentally fell into the glass. Looks nice, though.
Smells fairly funky. Slight toastiness with sour cherry, raspberry and a touch of coconut (without being sweet). Could have more layers to it, but what's there is nice.
Taste is spicy, fairly toasty with a dry grain flavour upfront. Touch of coffee on there, some rye and mild smoke towards the back. Slight charry character and fair funk towards the back as well. Bit of a hodgepodge really, I'd like it better if it chose one flavour line and followed it. A bit too much of everything, but then I feel a bit of a broken record saying that as it's my criticism of every Moon Dog beer.
Decent body, a bit sharp towards the back with the pull from the wilder yeasts.
Alright beer; it's enjoyable enough but I'd really applaud Moon Dog if they pared their approach back a bit and made simpler beers. Little less eye of newt, maybe.
972 characters
3.3
/5
rDev
-1.2%
look: 3 | smell: 3 | taste: 3.5 | feel: 3 | overall: 3.5
Pours a deep, murky brown colour, with a fizzling, but fine-bubbled head of beige. It sits around really only as a ring, with some middling bubbles in the centre. Body is pretty fluid and light. Minimal lacing. Overall, I'm not overly impressed.
Nose is funky and yeasty, with a slight overtone of olives. There's something tannic about the darkness, and something acidic about the lightness. A hint of something meaty and porky (perhaps the touch of peated malt) comes through, but the sharp, almost piercing astringency seems to win out.
Taste is a little better, maybe because of the darker malts, which actually get a look-in here, leaving some dark fruits and a broader sweetness. Still, the yeast dominates again, and not in a way that's beneficial to the beer overall. Slightly piercing lightness streaks through to the back—it doesn't provide a true acidity, but it weakens the structure of the rest of the palate. This is not aided by the rye, which gives a spicy emptiness.
Feel is very light as a result.
Overall, I just don't know about Moon Dog. I love their concept, but I'm truly beginning to find a lot of their beers very samey. It's like they've made experimentation the new grey. The new dull. The new generic.
1,235 characters
3.88
/5
rDev
+16.2%
look: 4 | smell: 3.5 | taste: 4 | feel: 4 | overall: 4
This is a collaboration between Australias Moondog and Danish Beer Here and a hard one to catergorize as its stated as a cross pollination of a Danish Farmhouse Ale and in the ingredients it has rye and peated malt anyway it pours a kola beer hue with a creamy two finger head and nice lacing,the smell is spicy rye,kola,barnhouse funk and caramelized fruits,the mouthfeel is medium bodied and silky smooth with tastes of spicy rye which definately makes itself known,raisins,a touch of barnhouse funk due to the yeast used,dark fruity hops and finished with a spicy fruit dryness and overall its nice and definately in a catergory of its own as i havnt had many Danish Farmhouse Ales before but its got the typical Moondog twist which i like just to keep things a lil different while still being very drinkable.
812 characters

3.46
/5
rDev
+3.6%
look: 4 | smell: 3 | taste: 3.5 | feel: 4 | overall: 3.5
From iPod notes...
A massive 4 finger head, over a brown body. The head goes sudsy as it dies, spotty lacing.
Rye on nose a little funk, sweet syrup notes.
Taste is all rye, a dull earthy assault. Funk takes over as it warms and all becomes more integrated.
Mf all good - full bodied light carbonation
A true one off in the best Moon Dog way. To be applauded if not necessarily accepted as a business model for mainstream craft
EDIT Oct 2012 - second bottle - in true MoonDog stye, no head, no lace - go figure...
519 characters

1.84
/5
rDev
-44.9%
look: 4 | smell: 2.5 | taste: 1.5 | feel: 2 | overall: 1
Pours brown with good head and lacing.
Seem to smell massive Brett as soon as I crack the bottle.
Smell is Brett, lemony with lots of rye, a vaguely unpleasant organic character. Capsicum and chocolate syrup. Vitamin tablets.
Taste is rye and capsicum. Decent dose of residual sugar but big finishing bitterness, I think from the rye. Just not drinkable.
Mouthfeel is poor, harsh bitterness/sweetness.
This beer is all bitter, funky rye. I didn't like it and didn't care to finish it.
489 characters
3.56
/5
rDev
+6.6%
look: 4.5 | smell: 3.5 | taste: 3.5 | feel: 3.5 | overall: 3.5
A dark mahogany colour with a big, fluffy, tan head. Good head retention.
Quite phenolic and peaty on the nose. Some fruity notes. Bits of something like oak. Bits of funk.
Some phenolic smoke and bitterness. Quite sweet malt. The fruit flavours are interesting but subdued compared to everything else. Cherry comes through later.
Medium body with moderately-high carbonation. Fine.
An interesting beer. Lots of strange interplay between fruit, phenol and malt. I'm not convinced by it after going through six bottles but it isn't offensive.
545 characters
Freaks And Geeks from Moon Dog Craft Brewery
Beer rating:
3.34
out of
5
with
9
ratings