Wet Nurse Tonic Milk Stout
| Moon Dog Craft Brewery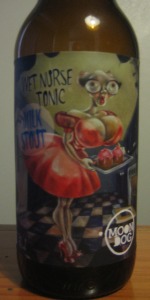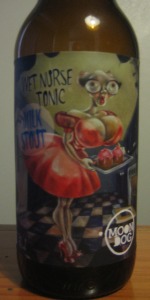 BEER INFO
Brewed by:
Moon Dog Craft Brewery
Australia
moondogbrewing.com.au
Style:
Milk / Sweet Stout
Alcohol by volume (ABV):
7.30%
Availability:
Limited (brewed once)
Notes / Commercial Description:
No notes at this time.
Added by ADZA on 09-06-2012
This beer is retired; no longer brewed.
HISTOGRAM
Ratings: 12 | Reviews: 8
None found.
More User Reviews:

3.58
/5
rDev 0%
look: 4 | smell: 3.5 | taste: 3.5 | feel: 4 | overall: 3.5
330ml bottle from Camperdown Cellars, into a Mikkeller tulip.
Dark appearance with a touch of brown on the edges. Tan foam on top that has a nice creamy look about it. Spotty lacing. Good looking beer.
Smells a little like light peat at the start and then gets into coffee and dark chocolate plus honey and Belgian esters. Interesting, if a little odd, certainly not run of the mill milk stout, that's for sure. Though run of the mill doesnt describe Moon Dog out here.
Tastes of bush honey, condensed milk and belgian chocolate plus light coffee. Again, different, but not offensive, nor world beating, pleasant to drink. No sign of the high ABV for the style.
Nice soft, silky mouthfeel, some tart sweetness from the honey livens it up as well. A little chocolate bitterness also adds to it.
Interesting take on a Milk Stout from guys that don't play by the book. Their stuff is always worth trying, like it or not.
922 characters
3.52
/5
rDev
-1.7%
look: 3 | smell: 3.5 | taste: 3.5 | feel: 4 | overall: 3.5
Pours black with a large, dark tan head.
Nose shows loads of roasted malt with honey showing underneath. Coffee and smoky notes are noticeable, and later some very soft cocoa.
Heavy roasted malt as a flavour too, before the lactose rolls through providing a fair bit of sweetness. Seems a bit disjointed, with the sudden change from bitter, harsh roasted malt to honey sweetness.
Carbonation is a bit excessive.
Nice but by the time I'd finished the glass it was getting pretty cloying.
486 characters

2.79
/5
rDev
-22.1%
look: 4 | smell: 2.5 | taste: 2.75 | feel: 2.5 | overall: 3
330ml bottle purchased from Slowbeer in Melbourne. The label is more colourful than most Moon Dog beers, and has a certain flair about it which I quite like. And no by "flair" I don't mean "boobs".
Pours a deep dark brown, with a solidly dark head of mocha. It forms a decent filmy persistence, although it started off being quite foamy and frothy. Lacing forms in sea-foam streaks, but doesn't stick around a great deal. Body is surprisingly, and perhaps disappointingly light. Otherwise, it looks pretty good.
Nose is roasty and dark, with some sweetness, and a faint hint of funk or acidity. I want to think that the sourness is imagined, but I'm not sure it is. Milk chocolate comes through though to fulfill its name, but that faint lacto acidity perhaps takes the milk in directions it wasn't meant to go.
Taste is better, but here it's harmed by the lightness perceived in the appearance. Mild roast and sweet chocolate seems at the mercy of a faintness and a slight carbonic thinness. Certainly a suggestion of acidity on the back of the palate, if not a direct puckering bite. For a 7.4% ABV beer, it's certainly very light in the feel as well, perhaps another suggestion of sourness.
So yeah, I'm guessing this wasn't meant to be sour. And while it's not immediately, intensely, puckeringly sour, it has this sourness overlain on everything which makes it hard to appreciate the sweetness the lactose supposedly adds. And if it was meant to be sour, then the additional sweetness just undermines everything the sourness is meant to be doing. No, I'm afraid it doesn't work for me.
1,594 characters

4
/5
rDev
+11.7%
look: 4 | smell: 4 | taste: 4 | feel: 4 | overall: 4
These guys are definately one of my favourite Aussie Brewers always pushing the envelope and take things to the extreme in brewing which i really rate also i love their artwork and always buy something they release and the brew pours the darkest kola brown which lets no light through with a mocha laced two finger creamy head and similar lacing everywhere and its a looker by all means,the smell is honey caramel,coffee,dark chocolate and a touch of Belgian funk,the mouthfeel is full bodied and creamy with tastes of creamy cappicino,honey,brown sugar,milk chocolate,toasted malts and finished quite sweet with hints of mocha and milk chocolate,overall even though im in the start of a cold this brew really hits the spot and be great for a pairing with dessert will buy again without doubt cheers.
800 characters

3.6
/5
rDev
+0.6%
look: 3 | smell: 3 | taste: 4 | feel: 4 | overall: 3.5
Hah! Can't recall source. Never mind.
Setting round to drinking this - it's been in the fridge for ages and its a hot night but whatever...
Pours black n tan with two finger head but the head just dies to no lace or film. Looks really ordinary as the beer goes down.
Chocolate on nose then roast malts. Restrained.
Taste is a little harsh. Quality milk chocolate is there, and yes it is sweet, but there is a sharp or maybe tart element. Still good tho.
Nicely carbonated medium bodied.
Unsure overall about this one. Maybe I should just not drink stouts on a hot night.
576 characters

3.46
/5
rDev
-3.4%
look: 4.5 | smell: 3.5 | taste: 3.25 | feel: 3.5 | overall: 3.5
Bottle: standard 330mL dark brown bottle, incredibly funky label - more a piece of art, in fact.
Appearance: intense black in colour with heavy brown highlights. A two-finger tan head pops up and settles to a solid half-finger. Decent retention and lacing.
Aroma: the nose has some roasted malts, that touch of honey underneath and a touch of ripe fruits. Not overwhelming, but not bad.
Taste: again with the roasted and sweet malts, and some chocolate and yeast. Quite nice, but not mind-blowing. Was expecting more - the flavour is too muted.
Aftertaste: not much here either. The flavours leave the palate almost immediately.
Mouthfeel: semi-solid with a subtle silkiness. Not sure about the carbonation though - I know it's a stout, but I still think it could have used a bit more to carry the flavours a touch better.
Overall: a good milk stout - subtly sweet with a good, traditional roast-malt stout base. I just wish it was a bit more powerful in flavour, and I'm not entirely certain it is worth AU$7 a bottle (2013); can get better for less. A good spectacle none-the-less, for the package as well as the variety.
1,129 characters

2.87
/5
rDev
-19.8%
look: 4 | smell: 2 | taste: 3 | feel: 3.5 | overall: 3
Appearance is black with tanned head and lacing.
Smell is...err...olives...tabasco? Big tabasco. And salsa, and peppers. Few hops.
I don't drink a lot of Bloody Marys but this seems like how one might smell. Just weird.
Taste offers some nice roast malt, a bit of milk and some sweetness which works well. There's some tabasco on the finish, and hops.
Mouthfeel is a fine bittersweet and not bad.
Overall a strange beer- the weird nose doesn't work all that well in my opinion. Not sure if some of the flavours were intentional or not.
540 characters
3.44
/5
rDev
-3.9%
look: 4.5 | smell: 3 | taste: 3.5 | feel: 3.5 | overall: 3.5
Look great with an inky black body and great tan head. Good head retention.
A little tart and very fruity. Characteristic of the Moondog Belgian yeast. A little chocolate.
Fruity and sweet. Touches of smoke. Lightly funky. A little tart.
Medium-full body with moderate carbonation. Fine.
A good beer but a little fruity and tart for style. Lacks the intensity of a sweet stout. May be a touch infected.
410 characters
Wet Nurse Tonic Milk Stout from Moon Dog Craft Brewery
Beer rating:
3.58
out of
5
with
12
ratings