Peter Piper's Pickled Pepper Purple Peated Pale Ale
| Moon Dog Craft Brewery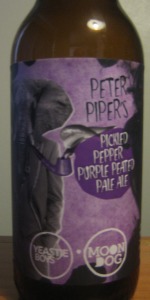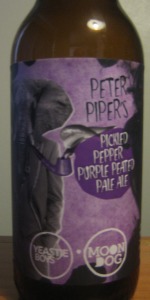 BEER INFO
Brewed by:
Moon Dog Craft Brewery
Australia
moondogbrewing.com.au
Style:
Smoked Beer
Alcohol by volume (ABV):
9.00%
Availability:
Limited (brewed once)
Notes / Commercial Description:
Collaboration with Yeastie Boys of New Zealand.
Added by ADZA on 09-07-2012
This beer is retired; no longer brewed.
HISTOGRAM
Ratings: 7 | Reviews: 6
Reviews by CrazyDavros:
3.46
/5
rDev
-2.3%
look: 2 | smell: 3.5 | taste: 4 | feel: 2 | overall: 3.5
Pours ridiculously frothy, almost all head at first. Had to wait 15 minutes just to pour it.
Nose shows peat, funk, spicy notes and faint fruit.
Flavours include peat, sweet malt, light fruit, spicy phenolic notes and some solvent-like booze.
Loads too much carbonation.
270 characters
More User Reviews:
3.64
/5
rDev
+2.8%
look: 3.75 | smell: 3.5 | taste: 3.75 | feel: 3.25 | overall: 3.75
What a mouthful. But then again, it sounds like "what a mouthful" is a phrase heard repeatedly when Moon Dog and Yeastie Boys got together to brew this beer, if their selected song list is anything to go by. 330ml bottle purchased from Platinum Liquor at Bellevue Hill.
Pours a disappointingly not-purple golden amber hue, with a very large, frothy, and loose-bubbled head of off-white. Carbonation is rapid, and pushes through the body quickly, as if wanting to prop-up that head as much as possible. body has a little weight behind it, but less than I'd expect for 9% ABV. Looks decent though.
Nose is interesting, to say the least. Fruity sweetness, plenty of peat-smoke, a touch of acid, and some dirty, dusty tones all mingle together into... what? I can't really tell what this beer is trying to do. It's interesting, and very strange.
Taste is rather pleasant: notable peat smoke characters provide a dank basis, and some medicinal bite towards the back, while a sugary, almost candy-like fruit flavour provides a counterpoint. Hops are noticeable, providing a sharp vector through the centre and then swirling away into the medicinal peaty bite later. Carbonation is much too high, although this could be to do with the long time this has been bottle conditioning. I'm sure it was more palatable early on.
Overall, this is very interesting stuff. I'm still not sure what the hell I'm drinking, but that just probably means it was successful in the eyes of these mad bastards.
1,487 characters

4.03
/5
rDev
+13.8%
look: 4 | smell: 3.5 | taste: 4.5 | feel: 3.5 | overall: 4
Wow what a mouthful and this a collaboration between Moondog and Yeastie Boys which is heavily peated with Simcoe and Big Banger hops and British Yeast,it pours a dirty orange amber hue with a creamy off white two finger head that stays and leaves similar lacing everywhere,the smell is toffee,peat,chilli and dark plums,the mouthfeel is full and creamy and the tastes are abit out there with hints of ashtray,boozy alcohol,brandied kumquats,burnt toffee,plums and finished with hint of peppery heat and overall its typical Moondog weird either you like or you dont cheers.
573 characters

3.2
/5
rDev
-9.6%
look: 3.5 | smell: 3.5 | taste: 3 | feel: 3.5 | overall: 3
From Jim's. No BB.
Pours a dark amber. Masses of head fill my Duvel tulip with only half the beer out the bottle. Coarse bubbles in head.
Aromas are of smoke and funk.
Taste is also smoke and bonfire driven. Sweet initial plate. Difficult to discern any other elements, a real hodge-podge. A little booze starts to come out as it warms. As the bottle goes down, so does the speed of drinking. Something about the palate just does not sit right, and a somewhat harsh non-hop bitterness builds overpowering the sweet intial palate.
Mouthfeel is well carbonated and early in the bottle no hint of 9%. Medium weight.
Odd idea and a bit one dimensional, needs a little less smoke and maybe the whole idea might gel a bit more. Sum is less than the contrasting parts. I'm with Danieelol tho - why on earth 9%????
811 characters

3.31
/5
rDev
-6.5%
look: 4.5 | smell: 3.5 | taste: 3 | feel: 4 | overall: 3
Pours an amber (not really purple unfortunately) with excessive head and lacing.
Smell is huge banana. Very wit-ty (hehe), or is that in fact the rauch malt they use? I get a similar profile from Black Lung. Some perfumed apple.
Taste is a (not out of balance) sweetness and an interesting citrus presence. Also, BBQ Shapes. More band-aid-y wit/rauch flavours. I can't help but feel that the swetness hides the booze and sometimes it gets a little bit much.
Mouthfeel is nice and thick. I think I occasionally feel a floatie or two but I might be imagining it. Finishes with a nice umami. Rather bitter.
An interesting experiment. I've no idea why it needed to be 9% however. Does seem to be a case more of "doing it because they can" rather than an inspired concept.
771 characters
3.67
/5
rDev
+3.7%
look: 3.5 | smell: 4 | taste: 3.5 | feel: 4 | overall: 3.5
Everything Moondog does is weird and this is no exception. Starting off with a purple tinged muddy amber colour with a rocky, off white head. Great head retention and some lacing.
The aroma is fruity with the berries being present then some citrus followed by a light and mild peat character that just works. A little sweet, a little tart, a little bitter, it's just a combo that seems to work.
The palate seems a little more muddled. The berries, malt and peat all competing for attention leaving the hops sitting in the corner. The mess on the palate just doesn't come together and while it is actually quite pleasant it doesn't hit the mark.
Medium-light body and moderate to moderately-high carbonation are good for the beer.
On the whole, I like what they have tried to achieve here and it is a good beer. Strange but good and in a way that is all it should be.
870 characters
Peter Piper's Pickled Pepper Purple Peated Pale Ale from Moon Dog Craft Brewery
Beer rating:
3.54
out of
5
with
7
ratings