Black Lung II Whisky Barrel-Aged Smokey Stout
| Moon Dog Craft Brewery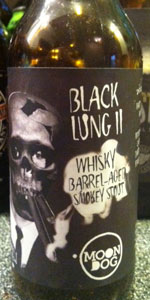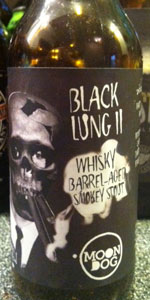 BEER INFO
Brewed by:
Moon Dog Craft Brewery
Australia
moondogbrewing.com.au
Style:
American Double / Imperial Stout
Alcohol by volume (ABV):
8.10%
Availability:
Rotating
Notes / Commercial Description:
No notes at this time.
Added by MrKennedy on 09-13-2012
HISTOGRAM
Ratings: 11 | Reviews: 6
None found.
More User Reviews:

3.46
/5
rDev
-10.1%
look: 4 | smell: 3 | taste: 3.5 | feel: 4 | overall: 3.5
330ml bottle from Platinum Liquor into a CCB snifter.
Matt black colour, not jet black but no light getting through. Nice mocha foam on top that has a bit of lacing.
Smell starts off as milk chocolate and a good while before the peat arrives, but it slowly takes over and asserts itself. An odd fruity hop aroma is also there which doesn't really fit in with everything else. Take that away and it would be a decent improvement.
Taste has light peat, smoke that isn't too bitter/intense built upon a solid chocolate base. A little touch of coffee also adds a bit later on.
Not the biggest body, but it seems to work. Smooth soft feel early and some bitterness and dryness from the coffee, peat & smoke stop it from being too one dimensional and make it a slower supper, but not to the point where this is a night killer.
Barrel/oak aged beers are improving out here. Great to see a solid attempt by a real newcomer. Nice chocolate base really underpins this. A little surprised in a nice way.
1,008 characters
3.5
/5
rDev
-9.1%
look: 3.5 | smell: 3.5 | taste: 3.5 | feel: 3.5 | overall: 3.5
Pours black with a large, lasting tan head.
Nose shows smoke, whisky, a faint sour/funky notes and heavy peat. Too much reliance on the peat.
Very similar flavours, again with lots of peat and smoke. Other than that there's some soft roasted malt but not very expressive.
Carbonation seems a bit full on.
Could have worked really well, unfortunately the peat tramples over everything else, preventing the whisky and roasted malt complexities from showing.
455 characters


3.98
/5
rDev
+3.4%
look: 4.5 | smell: 4 | taste: 4 | feel: 3.5 | overall: 4
Bottle purchased from Beer Cartel by @epiclurk.
Pours a deep brown-black, pretty solid and very heavy and dark. Head is slightly loosely bubbled, but forms a solid sheen of proper crema-brown atop the glass. Lacing is wavy and pretty solid. Carbonation seems slightly high, but otherwise, it's a really nice-looking beer.
Nose is also very good: mild smokiness permeates through everything, but the basis is a solid, rounded and slightly sweet stout character. Chocolate notes come through, along with a mild tobacco and rich earthy solidity. There's a whiff of carbonation to it, however: perhaps a slightly acidic tone that suggests again that the CO2 is a little high.
Taste is good. Solid. No rich sweetness here, but a firm, broad and consistent stout roast character mingled with the lingering hint of smoke. Again, the very mild acid comes through a little, but there's plenty of other flavours to mask it. It doesn't have huge complexity, and the feel is a little thin, but this is very decent stuff.
This is significantly better than the first Black Lung, or at least the bottle of that that I tried. But interestingly, this just seems to be a more rounded and fuller and better realised beer, it has nothing to do with the subtleties of the difference between the Bourbon aging and the more generic "Whisky" aging this one has. Maybe that means Moon Dog are starting to find their stride a little more.
That can't be anything but good news for the Aussie craft beer scene.
1,487 characters

3.75
/5
rDev
-2.6%
look: 4 | smell: 4 | taste: 4 | feel: 2.5 | overall: 3.5
Thanks to MrKennedy for sending this one over. The beer poured out as a very nice looking black color with a solid brown foam on top. The retention is really good on this and the lacing it decent. The smell of the beer is most definitely smoked. There is a light hop aroma in there too as well as more roasted malt. The taste of the beer has a big whiskey and smoke kick upfront off of the first sip. The smoke subsides a little the more you drink, the hops are pretty strong in this beer surprisingly. The mouthfeel is a little too high in carbonation, the feel was too sharp and I felt like it needed to be a much softer beer. Overall I still enjoyed it and was glad to get a hold of this one.
695 characters

3.8
/5
rDev
-1.3%
look: 3.5 | smell: 3.5 | taste: 4 | feel: 3.5 | overall: 4
No BB. From Jim's Cellars.
Pours a black body with a thin tan head. Head fades and little lace - even on swirl.
Aromas of basically bonfire. Very smoky, overpowering any more delicate roast malts.
Taste is still smoke-driven, but add in dark chocoalte, a hint of black coffee. Another reviewer mentioned hint of bacon which I concur with. Quite a dry finish overall.
Mouthfeel is full bodied, light carbonation.
Overall, a smoke-bomb, but not bad for it. Big beer for ABV. Interestlingly the taste did not go away for ages after I had finished the bottle. Needed a single malt to overcome the smoke :-)
607 characters

3.08
/5
rDev
-20%
look: 3.5 | smell: 3 | taste: 3 | feel: 3.5 | overall: 3
Inky black colour with no real head. What is there is tan but very short lasted.
Smoky and phenolic. Quite medicinal. Some malt. Roasty. Lacking complexity.
Somewhat sweet malt. Lots of roast. Phenolic. A touch fruity. Some earthiness. Interesting but not all that well integrated.
Medium-full body with moderately-high carbonation. Fine.
I don't mind this but Moondog's stouts just aren't that impressive. It lacks the integrated punch that a barrel aged stout should have and frankly lacks much barrel character.
518 characters

3.48
/5
rDev
-9.6%
look: 2.25 | smell: 3.5 | taste: 3.5 | feel: 4 | overall: 3.5
Black Lung II Whisky Barrel-Aged Smokey Stout from Moon Dog Craft Brewery
Beer rating:
3.85
out of
5
with
11
ratings