Total Wine And More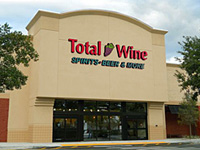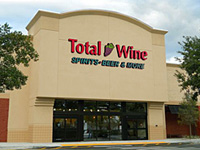 Store
2550 NW Federal Highway
Stuart
,
Florida
, 34994
United States
(772) 692-1530 |
map
totalwine.com
Notes:
Reviews by biggsbowler:

biggsbowler from Florida
3.86
/5
rDev
-11.1%
vibe: 4 | quality: 4 | service: 3.5 | selection: 4
This store works with different distributors than the Total Wine & More in Palm Beach Gardens. They carry hundreds (maybe thousands - I have no idea) of different American and imported craft beers, ciders and sakes. This Total Wine carries more Cigar City beers than others I have visited, with the exception of the one in Tampa. If you hit up the Total Wine in Palm Beach Gardens and can't find what you're looking for, It might be worth the trip to check this one out. Otherwise it is just like all of the other Total Wines.
Oct 07, 2011
More User Reviews:

KensWorld from Florida
4.18
/5
rDev
-3.7%
vibe: 4.25 | quality: 4.25 | service: 3.75 | selection: 4.5
Feb 28, 2019

Billolick from New York
4.12
/5
rDev
-5.1%
vibe: 3.75 | quality: 4.25 | service: 3.75 | selection: 4.5
If in the general area...go to this place....they are packing loads of quality brews..locals, regionals, nationals, imports...HUGE selection ...well worth driving a bit out of your way to check out what this place is stocking.....large wine, booze and beer box of a store....
Mar 17, 2017
Jobin_24 from Florida
4.94
/5
rDev
+13.8%
vibe: 4.5 | quality: 5 | service: 5 | selection: 5
Feb 19, 2015

Stringth from Maine
4.3
/5
rDev
-0.9%
vibe: 4 | quality: 4.5 | service: 4 | selection: 4.5
Thank God for this place! Visiting the 'rents and needing some sudsey salvation and boy oh boy did this place do the trick. Took me an hour in thier extensive beer aisle to fill one mixed six-pack. Was able to find some Fla. beers and also some odd ball Cali stuff too. Good import selection (lots of Belgian), lots of US craft from all over the country. I didn't venture out of this aisle but if I had the time to knock off a bottle of bourbon or absinthe before I left I'm sure they'd have had me covered. Just waiting for my haul to chill before I indulge, and maybe review some of these local beauties.
Apr 17, 2012

Heatwave33 from Florida
4.94
/5
rDev
+13.8%
vibe: 4.5 | quality: 5 | service: 5 | selection: 5
I frequent this Total Wine every other week. Since they have different distributors than the Total Wine in Palm Beach Gardens. Also beer selection is set-up by styles and not alphabetical. I prefer alphabetical since it's easier for me to find everything. The staff here are very helpful. Also this Total Wine carries more Cigar City brews than mine in Palm Beach Gardens which is a plus. I don't know the distributors at this location like I do in Gardens. Besides the set-up being different and there being more Cigar City brews it's almost like every other Total Wine I have been too. Cheers!
Oct 16, 2011
ShireReeve from New York
4.3
/5
rDev
-0.9%
vibe: 4 | quality: 4.5 | service: 4 | selection: 4.5
The store is clean and tidy. The staff are very polite and always willing to help you find a brew or any other product for that manner. I have visited this store at least a dozen times. I have gone to another Total Wine & More. In comparison this store is much better. Especially in the beer isles. They keep the beer broken down by regions and styles! This makes it very nice if you are trying to compare different brands of the same style or want to experiment in other regions of the world. For example you can grab over half a dozen Hefes within a couple feet of each other (left/right or up/down). The American Micros get an approximately 30ft long aisle all to themselves. The aisle is about 8ft tall. Yes, 240 square feet of American goodness! Prices range depending on import and sizes. Pints are around $3 and 12oz bottles range from $1.50 to $2. They have some beer tastings now and then and also offer classes on beer making, beer history, and beer education. I always enjoy a trip to Total Wine & More.
Sep 06, 2011

GallowsThief from Florida
3.86
/5
rDev
-11.1%
vibe: 4 | quality: 4 | service: 3 | selection: 4.5
Another Total Wine that has popped up reently. This store of course has a massive selection of wines as the name suggests. It had a pretty solid selection of beer as well.
Head into the store and turn right. About three aisles over you will see the beer aisle. Make sure to check the endcaps at the end of the aisle as well for some selections. The aisle consists of a huge selection of beer broken down by styles on the right side and country on the left side. They do have a good selection and you will find Cigar City (well represented here), Terrapin, Duvel, Rogue, Stone etc etc. There really is a solid selection of styles and countries. You will find something you like.
If you head down the aisle to the sections at the center of the store you will see the special releases and seasonals. There are always some interesting finds here. I recently found Marron Acidifie on the shelf. They seem to sell quickly so I would make a special trip in if your looking for a new release.
Cross over the center aisle and you will find half an aisle of six packs etc to go and all the way to the rear of the store are the coolers with cold beer. Not a huge selection of cold beer and most are BMC but Jai Alai and Maduro were in there as well.
I have never been asked if I needed help in there and dont see the same person working twice. No real beer guy that I can tell but the section is certainly well laid out.
This is well worth a stop if your in the area. I prefer the local shop in Jensen but you cant go wrong here either.
May 20, 2011
tobelerone from New Jersey
3.93
/5
rDev
-9.4%
vibe: 4.5 | quality: 4 | service: 3 | selection: 4.5
If you're in the area definitely check this place out. Prices and selection were really quite good, didn't shop for wine or other items but they seemed pretty impressive to my wine-loving friend. Good selection of Belgians, UK, broad selection of US micros. They also have a good website that's fairly up-to-date about what's actually in the store and what it costs: http://www.wineaccess.com/file/store/totalwine/beer-totalwine-jensen-beach.pdf.
Bought Cigar City Guava Grove (a pretty big miss in my estimation, esp. at 9.99) and Maduro Brown Ale (better, 1.99). Dogfish Head Palo Santo Marron (3.99), some obscure, sort of blah Belgian Wit whose name I can't recall at the moment, Sierra Nevada Glissade (1.79), Smuttynose Star Island single (1.99), and a handful of others. My friends got 4's and 6's of stuff like Delirium (and the glasses), Tripel Karmeliet, St. Bernadus, Dogfish Head Midas Touch, etc.
You might not find anything rare here but every beer geek will be able to find more than enough to keep them drinking happily.
Apr 06, 2011
Total Wine And More in Stuart, FL
Place rating:
4.34
out of
5
with
10
ratings