The Bluebird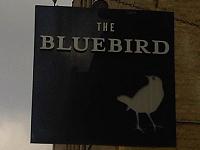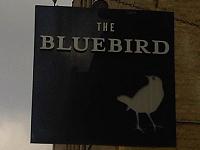 Bar, Eatery
1749 N Damen Ave
Chicago
,
Illinois
, 60647-5508
United States
// CLOSED //
Notes:
Recent ratings and reviews.
Ratings by jrallen34:
Reviewed by jrallen34 from Illinois
3.31
/5
rDev
-9.8%
vibe: 4 | quality: 4 | service: 3 | selection: 2.5
Stopped by here late night with Sean and the ladies after Hot Chocolate was too crowded. A trendy looking place and crowd. We made our way to the back and found a table right next to a fireplace picture frame. Comfortable chairs with a cool looking table. The art work was a bit much for me, a giant picture of half eaten ding dongs isn't art... The beer list is pretty decent, about 50 bottles or so, organized by country. They had about 10 special or new beers that rotate that they seemingly use as a draft list. They have no drafts here which is a big negative in my book. The beers they did have were pretty quality, Cantillon Kriek among others, but nothing that would have me come back just for the beer... The service was pretty shoddy, didn't come around much, didn't have any suggestions or know much about beer.

This is super close to me but I doubt I'd be back unless they had some crazy tasting. Maproom and Bristol are much closer, with better selections.
Feb 20, 2011
More User Ratings:
Reviewed by TurdFurgison from Ohio
3.95
/5
rDev
+7.6%
vibe: 3.5 | quality: 4 | service: 4 | selection: 4 | food: 4
I came here with masterski, jrallen34, and spycow to drink any and all Fou Foune we could find, after striking out at the Maproom. Two bottles available, excellent!

This place was dimly lit, set up somewhat like a hipster lounge and bar. Decent food which we ordered with the Cantillons. I remember quite a few Belgian beers available in bottle form, but Fou Foune was the draw for the night. Quick service, reasonable prices, no complaints at all.

When I'm in the area in the future I'll still go to Maproom first, but this is still a decent place for beers/food.
Apr 16, 2011

Reviewed by emerge077 from Illinois
3.53
/5
rDev
-3.8%
vibe: 3.5 | quality: 4 | service: 2.5 | selection: 4
I've been here 3 times, and never really thought of it as much of a beer destination. Sure they have a great bottled selection of beer, but it's much more expensive than Map Room, just a few blocks away. The main draw is the food and upscale atmosphere I suppose. Once in awhile they have a Two Bros. hosted event where they serve pin cask pours, but otherwise no taps here (unlike Map Room).

Atmosphere is modern, sleek lounge style, low lighting, with local art on the walls, recycled vintage materials, exposed brick, tin ceilings. The bar top is unfinished wood. It has a bit of an urban rustic cafe vibe going on. Crowd is typically nouveau riche yuppies and/or hipsters from Wicker Park, not a real beer geek bunch here. Service is ok if you get a table. The first time I stopped in here for a beer at the bar, the indifferent bartender charged tax and I got a little tray with a receipt. $12.73 or something for "a" beer :S

Selection is heavy on the Belgians, the list is leatherbound and well laid-out by country of origin, style, name, tasting notes, abv, and price. I'd return here for dinner sometime, i've heard the food is good. Your beer budget will stretch much farther elsewhere though, Map Room, Piece, etc., without the pretentious vibe.
Jan 28, 2011

Reviewed by ferrari29 from Illinois
3.88
/5
rDev
+5.7%
vibe: 4.5 | quality: 4.5 | service: 2.5 | selection: 4 | food: 4.5
Having heard about this place from some of my co-workers, I decided to head there for some drinks one evening. To my amazement, I quickly became impressed with a few things. One, the alcohol menu (both beer & wine) was perfectly bound in a tight leather binder. Nice presentation. The other was the beer menu layout, which was broken down by countries, listing style, name, brewery, region, size, ABV, and each beer had a brief description of what ingredients and flavors you'll experience. Very easy to read.

The bar also has monthly beer specials, about 10 or so, which are available on a temporary basis and are primarily chosen to pair up with the daily/weekly food specials. The types of beers you'll find here are of the craft variety and include may different types. Such as blonde ales, golden ales, pale ales, pilseners, lambic, amber ale, stouts, IPAs, weizenbock, lagers, doppelbock, kolsch, just to name a few.

One caveat it that they only serve bottles. Otherwise, you have plenty to choose from. The menu has the "Beer by the Bottle" section, which I just described above, and beers they age in the "From the Cellar" section. Right now The Lost Abbey Angel's Share from '08 & '09 along with Allagash Confluence '09 & '10 are available.

Bluebird is also host to The Salon Series sessions. You're able to attend these sessions with friends and other beer/wine lovers to chat and learn about art & dinner with proper wine & beer pairings.

Definitely try the mussels, the Brussels style taste is subtle (as its cooked with a White Ale & bay leaves) but very good. Other style include sauteed mussels with garlic, olive oil and shallots. I'll have to try that on my next visit.

Great atmosphere. Service could have been a bit better, waiter forgot my drinks a few times. In fact, I ordered a Founders Backwoods Bastard and didn't get it for 20 minutes. Since the place was only half full I expected the waiter to at least remember my beer, along with the fish entree my friend's wife ordered.

I'll be back soon and I'll be sure to bring some good friends along. It's the perfect place to hang with a large group of people.
Jan 28, 2011
The Bluebird in Chicago, IL
Place rating:
3.67
out of
5
with
6
ratings