Jake's Vanilla Bean Porter

Paw Paw Brewing Company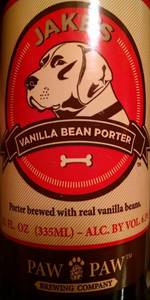 Rate It
Beer Geek Stats
| Print Shelf Talker
Style:

ABV:

6.3%

Score:

85

Avg:

3.73

| pDev:

10.19%

Reviews:

9

Ratings:

From:

Avail:

Retired (no longer brewed)

Wants

Gots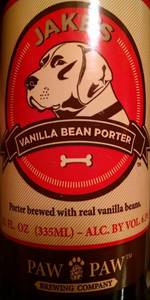 Notes:

rodbeermunch from Nevada
3.25
/5
rDev
-12.9%
look: 3.25 | smell: 3.25 | taste: 3.25 | feel: 3.25 | overall: 3.25
Thanks to whomever threw this in as an extra like 5 years ago. Looks like I drank it the morning of the Frankie Edgar/Urijah Faber fight that was an international card playing here in the morning.
Pours black/dark brown, brown head 1/5". Aroma was mild in terms of roasted malt and vanilla. Nothing off, just pretty muted.
Taste is fine, its got a decently smooth mouth feel, even if the vanilla doesn't amount to much in the sensory areas of aroma/taste, it does seem to provide a smoother beer, but that also could be from the lower roasting/heft of the malt, maybe more chocolate malt than something black patent or higher roasting/scorching. Lacks some of the hopping/bitterness that American Porters tend to be distinguished by.
All in all, its a good beer. No off flavors. When spring starts to warm up, its nice to kind of have a few beers of this nature and strength around to start the day off before it gets too hot for porters.
Apr 30, 2020

Big_Neezy from Michigan
2.87
/5
rDev
-23.1%
look: 3.5 | smell: 2.75 | taste: 2.75 | feel: 3 | overall: 3
With almost every brewery in Michigan producing at least two porters, Jake's falls deep towards the back of the back particularly in the vanilla porter category. In general, this beer is lacking but perhaps a start towards something better in development. Right now though, it's the C/C- student in the class.
First impressions are decent as it pours a rich, black color. You get hints of that vanilla bean but it's faint, too faint. I'm a huge fan of the use of vanilla bean versus extract in porters but I want to smell and taste it. In fact, the whole beer is like that in that nothing really stands out and it ends up a pretty standard porter in most respects.
Jun 05, 2016

Radome from Florida
3.38
/5
rDev
-9.4%
look: 3.75 | smell: 3.75 | taste: 3.25 | feel: 3 | overall: 3.25
Decent vanilla aroma, but lacks expected malt and chocolate. Flavors are not assertive, but expected elements are there at a low level. Biggest flaw is an overly thin body.
Feb 01, 2016
GRPunk from Michigan
3.74
/5
rDev
+0.3%
look: 4.25 | smell: 4 | taste: 3.5 | feel: 3.75 | overall: 3.75
Jake's Vanilla Porter
12oz. Bottle ($1.79 from Copper Vine), no date, poured into a nonic pint
A- A normal pour creates 1 finger of light brown head. The body is very dark brown, near black. The head keeps to a medium film and leaves awesome rings.
S- Roasted dark malts mix with vanilla to create a French vanilla coffee aroma. Hints of dark chocolate.
T- Pretty flavorful. Roasted and charred malts with light vanilla sweetness. Hopping is lighter, but comes across in the end as slightly minty.
M- Medium full body. Moderate carbonation. Pleasantly grainy.
O- It's a really solid porter. With vanilla on the lighter side, it's an easy drinker, but it doesn't set itself apart. I might not choose it over an Edmund Fitz, Bell's, or Founders, but it's not too far off.
4.25 4 3.5 3.75 3.75
Nov 30, 2015

Ozzylizard from Pennsylvania
3.81
/5
rDev
+2.1%
look: 3.75 | smell: 4 | taste: 3.75 | feel: 3.75 | overall: 3.75
Undated bottle at 45 degrees into snifter
$ 1.79/12 oz bottle at the Lager Mill
Aroma of slightly burnt roasted malt
Head small (two cm, aggressive pour), light brown, frothy, rapidly diminishing to one mm ring and no layer
Lacing – fair – narrow partial ring of tiny bubbles
Body dark brown/black, opaque
Flavor slight vanilla, some licorice, some roasted malt; no hops, no alcohol, no diacetyl
Palate medium, creamy, soft carbonation
Appearance 3.75, Aroma 4, Flavor 3.75, Palate 3.75, Overall 3.75
Aug 18, 2015

StoutHunter from Michigan
3.47
/5
rDev
-7%
look: 3.75 | smell: 3.5 | taste: 3.5 | feel: 3.5 | overall: 3.25
I picked up a bottle of Paw Paw's Jake's Vanilla Bean Porter a couple weeks ago for $1.69 at The Lager Mill. This is the last of the six different Paw Paw beers that I picked up and I hope this one turn out to be good, so lets see how it goes. No visible bottling date. Poured from a brown 12oz bottle into a imperial pint glass.
A- The label looks good and it goes well with the info on the side, it's a little eye catching. It poured a nice black color that takes on a slight brown hue when held to the light with a fingers worth of tan head that died down to a thin ring that stayed till the end and it left some patchy lacing behind. This is a pretty nice looking beer, I have no complaints.
S- The aroma starts off with a lower amount of medium sweetness with the dark malts being the first to show up and there's a noticeable and weird black olive aroma coming through. Up next comes some light chocolate and light sweet malt aromas followed by the vanilla bean which is noticeable and not too overpowering. This beer has a nice aroma, but I could go without the light black olive like aroma.
T- The taste seems to be fairly similar to the aroma and it starts off with a lower amount of sweetness with the malts still showing up first and they impart the same aspects, but this time there's more grainy flavors with less chocolate coming through and it tastes a little watery. Up next comes a slight bit of doughy yeast that leads into the vanilla which is a lighter than it was in the aroma and it shows up a little more on the finish with a medium amount of bitterness with some lingers grainy malt and light chocolate flavors. The taste was nice, but I wish it didn't taste a little watery and I would the chocolate and vanilla to show up more.
M- Smooth, a little crisp, not too creamy, on the slightly lighter side of being medium bodied with a medium amount of carbonation. The mouthfeel was nice, but i wish it was just a little thicker and creamier.
Overall I thought this was a decent beer and I thought it was pretty close to being an average example of the style, it wasn't bad, but nothing stuck out about it and it just wasn't memorable. This beer has ok drinkability, one is enough for me, I don't really have the urge to drink another one. What I like the most about this beer was was the appearance, it was pretty nice and it was the highlight of this beer. What I liked the liked the least about this beer was the balance and the watery finish, those two aspects could use some work. I wouldn't buy this beer again, I would much rather have an Atwater VJ Porter and I can't say I would recommend it. All in all this wasn't a bad beer, but it wasn't anything that I was really into and in the end it just seemed rough around the edges. It's not a favorite Paw Paw beer and it's average for the style. Better luck next time guys, this could use a little bit of work.
May 11, 2015

Clockwork420 from Missouri
3.68
/5
rDev
-1.3%
look: 3.5 | smell: 3.5 | taste: 4 | feel: 3.25 | overall: 3.5
Pours black with a white/cream head. Reduced down to a thin ring of white around edge of glass.
Strong malty notes. Metallic. Dark roasted grains and cocoa hints.
Huge depth. Starts off sweet and inviting and changes into a smokey but delicious brew. Coffee and chocolate notes with just a hint of vanilla. Bit malty taste. Good balance.
Mouthfeel is medium thin. With lower carbonation. Balanced and appealing. No burps.
Overall, a very balanced brew. A lot it happening in it. Everything blends together and makes it somehow work properly, as some beers tend to over it and make one feature over power the other notes. Smoke, vanilla, coffee, chocolate. Drinkability is fairly high. Would recommend.
Apr 22, 2015

Gryphon69 from Michigan
3.53
/5
rDev
-5.4%
look: 3.5 | smell: 3.5 | taste: 3.5 | feel: 3.75 | overall: 3.5
12oz bottle
A- Very dark brown, near black, murky and non transparent. Not much head, and weak spotty lacing.
S- Milk Chocolates, cocoas, roasted malts, some light vanillas.
T- Malts, cocoas, chocolates, some mild sweetness, no noticeable vanilla to me.
M- Medium/Full body that has a nice smooth feel.
O- Looks ok, was disappointed with the head and lacing, had a good balanced smell and flavor, with nothing overpowering the other. Decent beer and easy to drink.
Jul 26, 2014
superspak from Ohio
3.68
/5
rDev
-1.3%
look: 4 | smell: 3.5 | taste: 3.5 | feel: 4 | overall: 4
12 ounce bottle into pint glass, no bottle dating. Pours pitch black color with a 1-2 finger dense tan head with good retention, that reduces to a small cap that lingers. Nice spotty soapy lacing clings on the glass, with a moderate amount of streaming carbonation. Aromas of milk chocolate, cocoa, roasted malt, toast, dark bread, herbal, light vanilla, and roasted earthiness. Nice and pleasant aromas with good balance of dark/roasted malt notes with light vanilla presence; with solid strength. Taste of milk chocolate, cocoa, roasted malt, vanilla, toast, dark bread, herbal, and roast/toast earthiness. Minimal bitterness on the finish; with lingering notes of milk chocolate, cocoa, roast, vanilla, toast, dark bread, light herbal, and roasted earthiness on the finish for a good bit. Good balance of dark/roasted malt and moderate vanilla flavors with light hop presence; with solid complexity and zero cloying flavors after the finish. Medium carbonation and body; with a very creamy and smooth mouthfeel that is nice. Alcohol is well hidden with minimal warming present after the finish. Overall this is a nice vanilla porter. Good balance and robustness of dark/roasted malt and moderate vanilla flavors; and very smooth to drink. A nicely enjoyable offering.
Apr 29, 2014
Jake's Vanilla Bean Porter from Paw Paw Brewing Company
Beer rating:
85
out of
100
with
62
ratings