Dismiss Notice
Black River Oatmeal Stout
| Paw Paw Brewing Company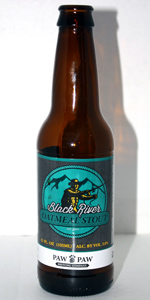 BEER INFO
Brewed by:
Paw Paw Brewing Company
Michigan
,
United States
|
website
Style:
American Stout
Alcohol by volume (ABV):
5.80%
Availability:
Rotating
Notes / Commercial Description:
No notes at this time.
Added by jale on 03-24-2011
Reviews: 11 | Ratings: 58
4
/5
rDev
+6.1%
look: 4 | smell: 4 | taste: 4 | feel: 4 | overall: 4
12oz. Picked up in grand rapids. Thicker looking black pour, frothy layer of cream colored head that just barely sticks.
Aroma, good oat, caramel, chocolates. Some roast malt.
Taste, Great chocolate covered nut and oatmeal. Nice toasted/roast maltyness. Dark chocolate, cocoa. Some coffee and light anise in the finish.
In the middle body wise, a food level of carb, not quite creamy. Coating enough but still easy drinking.
Really a solid example of the style.
★
465 characters

4
/5
rDev
+6.1%
look: 4 | smell: 4 | taste: 4 | feel: 4 | overall: 4
On tap at Paw Paw brewery. Served in a sampler glass. Pours near-black with a nice tan head and some lacing on the way down. The nose has a nice, rich sweetness along with a bit of roasted malt and mild chocolate. Very nice. The flavor has a nice depth with sweetness that isn't over the top along with quite a bit of malt flavor. Nice chocolate component. Medium-full body with a nice chewiness. Very nice brew.
★
414 characters

3.97
/5
rDev
+5.3%
look: 4.5 | smell: 3.75 | taste: 4 | feel: 4 | overall: 4
Undated bottle at 42 degrees into snifter
$ 1.79/12 oz bottle at the Lager Mill
Aroma of toasted malt and bitter chocolate, weak, doesn't last
Head average (three cm, aggressive pour), light brown, frothy, slowly diminishing to
Lacing excellent – complete curtains of tiny bubbles
Body dark brown, opaque
Flavor light bitter chocolate, ends slightly bitter; no hops, no alcohol, no diacetyl
Palate medium to full, creamy, soft carbonation
Appearance 4.5, Aroma 3.75, Flavor 4, Palate 4, Overall 4
★
501 characters
3.91
/5
rDev
+3.7%
look: 4.5 | smell: 3.5 | taste: 4 | feel: 4 | overall: 4
Poured from a growler into a standard pint glass. I got this in the growlers plus BIF.
Appearance: Pours black with no light coming through at all. There if a half finger of tan head that fades to a layer on top of the pour. Nice looking beer.
Smell: Mildly sweet and quite roasty. Just a bit nutty.
Taste: Very full flavored, roasty stout. Roasty grain dominates. Hints of nuts and coffee. The roast continues throughout the pour and stays through the finish. It's nice to have a well crafted, regular stout.
Mouthfeel: Body is very smooth and on the thick side. There is some tingly carbonation and a dry finish.
Overall: A really nice stout. Not a lot of craziness going on, but that's one of the things that made me enjoy it so much. Would definitely have it again.
★
774 characters

3.83
/5
rDev
+1.6%
look: 4 | smell: 4 | taste: 3.75 | feel: 3.75 | overall: 3.75
I picked up a bottle of Paw Paw's Black River Oatmeal Stout last week for $1.69 at The Lager Mill. I'm in the mood for something that's on the darker side today and It's been a while since I've had an Oatmeal Stout, so lets see how it goes. No visible bottling date. Poured from a brown 12oz bottle into a imperial pint glass.
A- The label looks nice, but I don't see how it goes with the name and it isn't too eye catching. It poured a nice black color that didn't let any light come through and it had almost two fingers worth of creamy dark tan head that died down to a thin ring that stayed till the end and it left some patchy rings of lacing behind/ This is a good looking Oatmeal Stout, I have no complaints.
S- The aromas starts off with a slightly higher amount of medium sweetness with the malts being the first to show up and they impart some nice roasted malts, sweet malt, chocolate and light coffee like aromas with the chocolate sticking out the most and it blends with this creamy aroma that makes a little milk chocolate and mocha like. This beer has a good aroma, ii has a pretty robust aroma which is what I like in this style.
T- The taste seems to be similar to the aroma and it starts off with a slightly higher amount of medium sweetness with the malts still being the first to show up and they impart the same aspects. but they are just a little lighter this time. Up next comes that same creamy aspect that I got in the aroma with a light amount of bitterness on finish and it's slightly watery with a slightly smokey, roasted malt and chocolate like aftertaste. This is a pretty nice tasting beer, but I wish the finish wasn't slightly watery.
M- Smooth, a little crisp, slightly sticky, on the slightly thicker side of being medium bodied with a medium amount of carbonation. The mouthfeel is pretty nice and it works well with this beer.
Overall I thought this was a pretty nice beer and I thought it was a good example of the style, it had had all the aspects that I look for in the style, but the finish made it just slightly rough around the edges, but it didn't hurt the beer that much. This beer has nice drinkability, I could drink a couple of these, especially in the winter time. What I like the most about this beer is the aroma, it's good and i enjoyed it. What I like the least about this beer was the finish, it could use just a little work. I would buy this beer again when in the mood for this style and I would recommend trying it if you like the style or dark beers in general. All in all I liked this beer, it was a nice example of the style and I would drink it again. So far it's my favorite Paw Paw beer and it's an above average example of the style. Nice job guys, I like this one.
★
2,757 characters
3.68
/5
rDev
-2.4%
look: 4 | smell: 3.5 | taste: 3.5 | feel: 4 | overall: 4
12 ounce bottle into pint glass, no bottle dating. Pours fairly pitch black color with a 2 finger dense tan head with great retention, that reduces to a nice cap that lingers. Spotty foamy lacing clings down the glass. Aromas of dark chocolate, cocoa, coffee, roasted malt, oats, toast, light char, dark bread, light herbal, and roasted earthiness. Nice aromas with good balance and complexity of dark/roasted malt, oats, and light earthy hop notes; with good strength. Taste of dark chocolate, cocoa, coffee, oats, roasted malt, toast, dark bread, light char, herbal, and roasted earthiness. Fair amount of earthy herbal/roasted bitterness on the finish; with lingering notes of dark chocolate, cocoa, coffee, oats, roasted malt, toast, dark bread, light char, herbal, and roasted earthiness on the finish for a good bit. Nice balance and robustness of dark/roasted malt, oats, and light herbal hop flavors; with a good roast bitterness/sweetness balance and zero cloying flavors after the finish. Medium carbonation and body; with a moderately creamy, smooth, and lightly chalky mouthfeel that is good. Alcohol is very well hidden with minimal warming present after the finish. Overall this is a nice oatmeal stout. All around good robustness and complexity of dark/roast malt and oat flavors; and very smooth to drink. A nicely enjoyable offering.
★
1,350 characters
3.65
/5
rDev
-3.2%
look: 2.5 | smell: 3.75 | taste: 3.75 | feel: 4 | overall: 3.5
Thanks to Jeff for the bottle. Deep brown, zeroing in on black near the very center with some hanging, white-colored sediment chunks that float around all over the place... kind of strange looking, possibly not so fitting for this type of beer. The foamy, big-bubbled tan head sinks quickly to a swampy skin that lasts for the entirety of the brew.
The nose is laced with thick notes of cocoa and a light touch of oats; it has a nice, creamy smoothness to it that massages and relaxes your nostrils as it lulls them to sleep, only to be awoken again by some mildly sweet, faint back-end black licorice. I'm typically not a huge fan of the black licorice/anise aromas, but it's light enough here to compliment, rather than hinder.
Smooth and deep cocoa syrup trudges out with the first sip, under which a light touch of cream and sugar resides. There's a hint of some nice, roasted malts throughout, though they never completely peak. The finish is perhaps the best part, as it leaves your mouth feeling like you just ate a bittersweet chocolate bar; decent balance all around, with a somewhat creamy and smooth mouth feel, most likely from the oats. Low-medium carbonation.
Definitely a bit better than I expected, especially after taking a look at the sediment-ridden brew. Nothing mind blowing, pretty standard aromas and flavors for a stout (or an oatmeal stout, I guess), but a nice execution all around. Would like to try more from these guys... Thanks again to Jeff for cracking the bottle.
★
1,499 characters
3.63
/5
rDev
-3.7%
look: 3.5 | smell: 3.5 | taste: 3.75 | feel: 3.75 | overall: 3.5
Bottle from trade with Cbuk1013. Aroma is chocolate, roasted coffee and toffee. Nice clean sweet stout. Oatmeal adds nice depth. Also some sweetness from chocolate.
This one has a smooth, clean finish. A nice example of a well crafted oatmeal stout with enough coffee bitterness and chocolate sweetness to balance it well.
★
324 characters

3.62
/5
rDev
-4%
look: 4 | smell: 3.25 | taste: 3.75 | feel: 4 | overall: 3.5
12 oz bottle, undated, served in a snifter at about 55F.
This Oatmeal Stout pours nearly black. A bit of sediment remained in the bottom of the bottle after a full pour. The dark tan head has decent retention and leaves good lacing.
The aroma has a bit of unattractive burnt and sour components with the dark roasted grains and hints of dark fruits. The oatmeal is evident in the flavor and soft feel. Hints of coffee and dark chocolate add to the flavor which is strong and, as expected, dominated by dark roasted grains. Minimal burnt grain but a touch of smoke and plenty of very dark roasted grains here. Low hops.
Feel: Soft, low carbonation. Near full bodied. Creamy smooth. Fairly dry finish.
★
705 characters
3.61
/5
rDev
-4.2%
look: 3.5 | smell: 3 | taste: 3.75 | feel: 4.25 | overall: 3.75
A: pours dark black slightly thick with a tan 1 finger head. Head had good retention.
S: rich dark malts. Very faint oats and chocolate come through on the back end. Not an incredibally strong smelling stout.
T: bittersweet chocolate pull through simultaneously with the bite from the dark malts. Well balanced and but not very intense.
M: this is one of the best parts of this beer. Velvety smooth and thick with a creamy feel. It almost gives it the feel of nitro.
O: malty, smooth, and bittersweet. Not an intensely flavored brew but this keeps it very drinkable.
★
571 characters
3.58
/5
rDev
-5%
look: 4 | smell: 3.5 | taste: 3.5 | feel: 3 | overall: 4
Had on tap at the brewery.
A: Pours black with 2 quarters of tan head.
S: Roasted malt, coffee and slight chocolate.
T: Roasted malt, bitter coffee, chocolate and mild smokiness.
M: Medium body with moderate carbonation.
D: Would drink another with a little more body.
★
283 characters
Black River Oatmeal Stout from Paw Paw Brewing Company
85
out of
100
based on
11
ratings.