Rush Hour - Breakfast Stout
| Tioga-Sequoia Brewing Company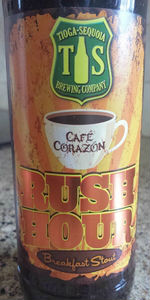 BEER INFO
Brewed by:
Tioga-Sequoia Brewing Company
California
,
United States
|
website
Style:
Milk / Sweet Stout
Alcohol by volume (ABV):
7.20%
Availability:
Rotating
Notes / Commercial Description:
No notes at this time.
Added by aquazr1 on 03-21-2014
Reviews: 15 | Ratings: 106

4.31
/5
rDev
-1.6%
look: 4 | smell: 4.25 | taste: 4.5 | feel: 4 | overall: 4.25
Very well done Coffee Stout. Had this on nitro at the brewery. I like my coffee stouts w/o the bitterness some tend to have. This was very coffee forward, but still creamy, not bitter. In fact, you could of switched this with my morning cold brew and I wouldn't have been able to tell, except for the rich viscosity. If you like coffee forward beers, seek this out.
★
370 characters

3.98
/5
rDev
-9.1%
look: 3.75 | smell: 3.75 | taste: 4 | feel: 4.5 | overall: 4
On tap at the brewery. Judging from this beer and the porter I'd love to try the barrel aged stuff but at $5 a taster I think I'll pass on them this time through Fresno.
★
169 characters
4.4
/5
rDev
+0.5%
look: 3.75 | smell: 4.25 | taste: 4.5 | feel: 4.5 | overall: 4.5
Type: 22-oz. bottle
Glass: Clear 9-oz. plastic cup
From: Liquor King in Fresno, Calif.
Price: $6.99
Purchased: March 31, 2016
Consumed: April 1, 2016
Misc.: No BOD on bottle
A breakfast stout? Yes please. Really looking forward to this one. I don't think I've had a bad breakfast stout yet and this one looks really good.
Poured an almost pitch black color with 1-to-2 fingers of khaki tan fizzy head, which thinned out rather quickly. Average amount of sporadic lacing on the sides of the cup. Below average retention on the top all the way down. (Sight - 3.75)
Smelled dark, deep roasty, coffee malts. Also dark chocolate, bitter coffee beans, smoky fire, char wood, ashtray and dark cocoa. (Smell - 4.25)
Tasted just awesome, getting dark roasty coffee malts, bitter dark chocolate, smoky fire, char wood, ashtray, dark cocoa, dark caramel sweetness, roasty nuts and artificial vanilla. (Taste - 4.50)
Full body. Creamy texture. Average carbonation. Long, bitter finish. (Feel - 4.50)
Really liked this and I think I'd put this up against Founders Breakfast Stout. Lovely. (Overall - 4.50)
4.40 | 98 | A
★
1,122 characters
4.52
/5
rDev
+3.2%
look: 4.5 | smell: 4.25 | taste: 4.75 | feel: 4.25 | overall: 4.5
Draft pour at the T-S biergarden. Dark espresso color with little head. Strong cafe con leche coffee flavor melds well with the dark chocolate present in the base. Smooth, slightly sweet finish.
★
194 characters

4.35
/5
rDev
-0.7%
look: 4.5 | smell: 4.5 | taste: 4.25 | feel: 4 | overall: 4.5
Bottle poured into a tulip glass. Pours a dark, almost black, brown with 2+ fingers of tan moderate density head that left a small amount of lacing. Nose is mostly roasted coffee and chocolate. Taste is dominated by coffee, difficult to pickup much else but there were some hints of sweetness. Mouthfeel was a little thin, good carbonation, and finishes slightly bitter. Quite enjoyed this beer, still prefer FBS, but I'll definitely but it again.
★
452 characters

4.56
/5
rDev
+4.1%
look: 4.5 | smell: 4.75 | taste: 4.5 | feel: 4.5 | overall: 4.5
Excellent example of a coffee forward milkstout. Abv is completely hidden and has great drink ability...literally as a morning cup of Joe or a night cap. The coffee is the star here
★
181 characters

4.31
/5
rDev
-1.6%
look: 4.25 | smell: 4.5 | taste: 4.5 | feel: 3.25 | overall: 4.25
Enjoyed on Feb 20, 2015 out of a 22oz bomber poured into a tulip.
Nice dark brown pour in the glass with a 1.5" tan head. Smells like fresh brewed coffee & chocolate milk. Taste is a strong roast coffee throughout. Thin mouthfeel and that's probably by design, but I would have liked a thicker feel (like Founders Breakfast Stout).
Overall, highly drinkable and very enjoyable. Nice, low ABV. Seek this out. High-five for Fresno, which can be pretty dreary most times.
★
471 characters

4.66
/5
rDev
+6.4%
look: 4 | smell: 4.75 | taste: 4.75 | feel: 4.25 | overall: 4.75
Huge coffee aroma, you would swear that this beer was hot w steam coming off of it. Taste is very coffee heavy also with a very subtle chocolate sweetness and a milk/cream mouthfeel and finish. The finish smooths out which has almost no coffee acidity. Get one if you can, once a year release that can be found on shelves until around April.
★
341 characters
4.17
/5
rDev
-4.8%
look: 3.25 | smell: 4.25 | taste: 4.25 | feel: 4 | overall: 4.25
Thanks to Brent for sharing this one at Retsinis' tasting.
Pours an opaque super dark brown with a foamy khaki head that settles to wisps of film on top of the beer. Small dots of lace form around the glass on the drink down. Smell is of dark roasted malt, cocoa, coffee bean, and brewed coffee aromas. Taste is much the same with cocoa, coffee bean, and brewed coffee flavors on the finish. There is a mild amount of roast bitterness on the palate with each sip. This beer has a lower level of carbonation with a slightly crisp and medium bodied mouthfeel. Overall, this is a very good beer with great coffee forward characteristics all around.
Serving type: bottle.
★
669 characters
4.25
/5
rDev
-3%
this beer is so good. heavily coffee flavored, and smells like a welcomed pot of black drip after a big night. more coffee than grain in nose and taste, but the body is so wonderful. lacking any acidity or staleness which so many coffee beers have, it just glides down, thick and a little sweet from maybe some lactose late boil. big chocolate notes in the taste too, and a slight hickory smoke thing in there before the bitter espresso sets in. super well balanced too, just sweet enough, but coffee forward, well creamed if you will. not much carbonation, but thats appreciated in this one, it really doesnt miss it. one of the better coffee flavor first beers out there right now, and a class A introduction to what looks like a very cool brewery!
★
750 characters
4.31
/5
rDev
-1.6%
look: 4.25 | smell: 4.5 | taste: 4.25 | feel: 4.25 | overall: 4.25
Thanks to rudzud for sharing.
Decent creamy head, dark mocha colored, decent lacing, very dark beer with slightest hint of light.
Nose tons of coffee, fresh espresso roasted coffee, nutty and earthy, soft like roast, some light fresh choc, European soft choc, little caramel, fudge, roast, creamy milk and lactose, etc.
Taste fresh coffee, soft coffee no real tannins, fresh earthy nutty coffee. Mild caramel and roast, quickly into mild choc, soft creamy lush cocoa and lactose, fluffy feeling, little fudgey even. Hint chewy, little hop note. Finish is creamy slightly dry, little sticky, fudgey, choc, mild coffee.
Mouth is creamy, decent carb, med to fuller bod.
Overall pretty nice, coffee is awesome, base beer is pretty good.
★
740 characters
4.39
/5
rDev
+0.2%
look: 4.25 | smell: 4.5 | taste: 4.5 | feel: 4 | overall: 4.25
Split with Threelions.
A - Poured into a night shift tulip a super rich dark black with a thin mocha head that faded to leave a thin halo and light wisps. Nice legs.
S - Aromas of light chocolate and roast, Nice rich fragrant coffee notes. No bitterness this is very rich smelling. Coffee pops nicely too.
T - Taste is light creamy chocolate, light roasted malts, creamy lactose. The coffee is there no super assertive but prominent and rich. The cold pressing is a nice touch and really translates well to the beer.
M - Mouthfeel is lightly creamy smooth, lowly carbonated.
O - Overall this was a tasty beer, very balanced beer. Well fine.
★
645 characters

4.42
/5
rDev
+0.9%
look: 4 | smell: 4.5 | taste: 4.75 | feel: 3.5 | overall: 4.25
22oz. bomber split with Rudzud.
7.2%
A: Pours into my treehouse tulip a light-stealing gravity warp of a dark beer. No real head, but very leggy. This is the epitome of darkness. Very light carbonation.
S: I sort of wish I weren't drinking this so late in the day because this smells like some of the best coffee I could imagine. Doesn't smell overly bitter, chocolate in the background but again not bitter. Light heat in the nose.
T: Wow, right up there. Out of the gates the coffee was there but the chocolate was far more up front. Nice lactose, not overly sweet. Nothing too bitter. Very well balanced. So tasty. Very light bitterness on the finish but it's really only a whisper.
M: Very silky, smooth. No real carbonation. Almost syrupy, close, but not quite there thankfully. Would have benefited from some more carbonation.
O: This is delicious. Super dark, leggy but no real head and little to no carbonation cut down from what would have been higher marks. The smell hit me right in the face with a great coffee smell with no astringency. Taste is the best part of this beer. Nothing too assertive which is preventing a five here but the balance is incredible. Nice chocolate, coffee and lactose flavors that meld together into a remarkable tasting beer. The mouth if semi lackluster. No carbonation, silky smooth and creamy holding it together. Great drinking beer.
★
1,386 characters
4.83
/5
rDev
+10.3%
look: 5 | smell: 4.5 | taste: 5 | feel: 5 | overall: 4.75
Never had a breakfast stout and love supporting local breweries so I thought I would pick this bad boy up!
A: Pours pitch black and leaves a small tannish/espresso colored head, it was incredibly bubbly like a highly carbonated beer but the head didn't build too much and went quickly, the color of this beer is like a glossy pitch black color in your glass, it reminds me almost of a magic 8 ball, super dark, how a proper stout should look, at the surface of the beer it leaves a small ring of the tannish/espresso head that gives it a bit more to it's presentation, great looking stout right here
S: The first thing that hits you while you are pouring is coffee, it fills the room immediately and it smells great. I get loads of coffee, faint chocolate notes, and a faint vanilla caramel mixture, the coffee is really dominant and it is a bit hard to pick up those other flavors, excellent smell but I think if there was a little more chocolate and caramel presence in the nose it would have made the smell a 5 IMO
T: Absolutely blown away with this category, the flavor is reminiscent of the nose, but the other flavors are much more present and it is fantastic! Up front you get an exceptional coffee flavor, but it is not as dominant like the smell, it is properly balanced, after the coffee you get a slight bitterness, and then this beer really takes your palate on a journey, from the bitterness you get a sweet milk chocolate coffee blend, that then transitions to a coffee caramel blend and then finishes with a touch of everything but the vanilla/caramel mixture from the nose is slightly more dominant, fantastic transition of flavors, and this beer isn't overly sweet, the coffee and sweet profile is very well balanced with this beer and it is stunning!
M: This category IMO was the make or break for the flavor profile and I think they nailed, it seems to be pretty carbonated for a stout, but that is good for this beer, it lightens it up and doesn't make it so syrupy like I was expecting it to be, it still has that stout like feel to it though even with the carbonation, and the flavor of this beer really lingers, but that is in every way a good thing, every time it lingers the flavor profile changes and you get a little something different every time, it's phenomenal!
O: Fantastic beer, absolutely blown away by this, had very little expectations for it as I have had some other beers from this brewery(though still good, just not super impressed with them), I was not expecting a whole lot from it, but it blew me away, definitely try this beer if you get the opportunity to, I need to run to the bottle shops to get more, this might have just become one of my new go to's for stouts!
★
2,715 characters
4.94
/5
rDev
+12.8%
look: 4 | smell: 5 | taste: 5 | feel: 5 | overall: 5
You may be skeptical of my ratings, however, you won't know until you try this beast. Out of the gate this beer fills the room with the smell of pure coffee. It pours a rich black color with minimal head. The nose after pour is even more intense with almost an overpowering jitter from the scent alone. The taste is smooth and rich and goes down perfectly. The coating of your mouth now is ruined with coffee in a great way. Overall, a MUST find for any stout or coffee lover.
★
476 characters
Rush Hour - Breakfast Stout from Tioga-Sequoia Brewing Company
4.38
out of
5
based on
106
ratings.