Original
| Antarctica (Companhia Brasileira De Bebidas)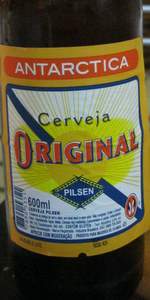 BEER INFO
Brewed by:
Antarctica (Companhia Brasileira De Bebidas)
Brazil
antarctica.com.br
Style:
American Adjunct Lager
Alcohol by volume (ABV):
5.00%
Availability:
Year-round
Notes / Commercial Description:
No notes at this time.
Added by soper2000 on 06-18-2004
Reviews: 8 | Ratings: 37
2.17
/5
rDev
-21.7%
look: 2 | smell: 2.5 | taste: 2 | feel: 2.5 | overall: 2
Almost six months for expiration date (this is key for those pseudo pilseners). Pratically made no head. Faint hop aroma. Good carbonation with small bubbles. Refreshing taste but with a watery ending. This one did not present a bad aftertaste (started a little as it warmed up). Those beers are like child Kinder eggs, in each bottle a surprise. There is no standard, it suffer mutations according to sell volumes, or industrial processes and economics. This time I was lucky. A few years ago this was a good beer, specially for summertime, then Ambev took advantage of the good brand to mass sell it (and adapting its formula to the overall public).
651 characters

2.11
/5
rDev
-23.8%
look: 3 | smell: 2 | taste: 2 | feel: 2.5 | overall: 2
600ml bottle served in a traditional Brazilian "copo americano" (American glass in free translation).
A: Pours a pale golden in color, perfectly clear, forming a huge bubbled aired white head. Low retention but a very thing layer remains forming some lacings in the surface but not much in left in the glass
S: Very light in the nose. Sweet grains and corn mainly. Lager yeasts
T: Following the nose, sweet grains, corn. Disgusting cardboard taste with metallic notes. Hoppy bitterness is simply imperceptible, a shame, really. It doesn't really worth mentioning it...
M: Extremely light and watery body. Good carbonation. Cardboard aftertaste :S
O: Just another large scale Adjunct Lager produced in Brazil. Produced with low quality adjunct malts, this type of beer has to be served extremely cold to hide the annoying rice and corn taste and flavors. As it get warmed, it becomes difficult to drink. Well, in a nutshell, a "beer" to avoid...
952 characters
3.69
/5
rDev
+33.2%
look: 3 | smell: 4 | taste: 3.5 | feel: 3.5 | overall: 4
Rated to style. For an industrial lager, this is exceptionally clean. Pale gold, racing trails of fizzy foam, thin cap of foam on the surface. A ring of lacing appears after the first few sips.
Clean aroma, light apple and grains. Nothing off about it, clean and simple.
Crisp and light bodied, finishes dry. No astringency or off flavors detected. Quaffable in larger gulps or sips, still pretty smooth. Quenching on a hot day... not much else to it, but there is apparent craftsmanship here. The subconscious kind where all the details become seamless and the end product simply performs effortlessly. Simplicity continues to be underrated these days.
Obrigado Paulo e Duda!
682 characters
2.76
/5
rDev
-0.4%
look: 3 | smell: 2 | taste: 3 | feel: 3 | overall: 3
Antartica Original is like any other big macro beer/american adjuct lager. Pours golden clear with good carbontaion that provides an intial froathy white head that dissapates quickly. The smell and taste are bolstered by grain with some hop in an effort to balance the beer. This is a standard no-frills beer. Drink it cuz its beer.
332 characters

3.01
/5
rDev
+8.7%
look: 3.5 | smell: 2.5 | taste: 3 | feel: 3 | overall: 3.5
Straight pour from a pry-off 630ml bottle to Pilsner / Pokal glass
Appearance (3.5): Light golden in color, perfectly clear, but with a better than average than average head: starts from 2 ½ fingers of a bone-white iceberg, fading to just a thin cap with moderate lacing. Unexpected for the style, but enjoyable.
Smell (2.5): Light scent of pilsner malts with just a hint of something light and fruity.
Taste (3.0): Following the nose, but without the fruity character and more of a crisp, slightly bitter pilsner note. Malts are very light, but it does finish with a decently crisp bitterness. More or less average, but not unenjoyable.
Mouthfeel (3.0): Light and slightly creamy with a decent carbonation, but nothing special.
Overall (3.5): As with most Brazilian beers, this is a light lager that is best enjoyed "estupidamente gelada"—stupidly cold. Light, just barely crisp, good mouthfeel, it's the epitome of a refreshing, hot-weather beer. Original is different from the others, with its exceptional head and mouthfeel.
1,046 characters
2.64
/5
rDev
-4.7%
look: 4 | smell: 2.5 | taste: 2.5 | feel: 3 | overall: 2.5
Ah, the original formula of Antarctica Pilsen. 600 ml bottle consumed at the bar of my hostel, on to the beer:
Pale yellow, as expected. The head on top has a frothy texture to it and retains well on top while leaving some healthy lacing. The aroma is a touch sweet. A very light aroma overall. It tastes a lot like regular Antarctica, though I will say that this one is a wee bit smoother. Light cereals, light wood notes, a light lingering note of bitterness with cereals in the aftertaste. At least there is some flavor in here, and initially the off-flavors are kept at bay.
In short, it is a slightly smoother, slightly better version of regular Antarctica. As long as it is cold, it will go down, but afterwards, have a backup plan.
741 characters
3.17
/5
rDev
+14.4%
look: 2.5 | smell: 3 | taste: 3.5 | feel: 3 | overall: 3
22 oz brown bottle. Freshness date stamped on side of label. There's a blurb about this beer being brewed according to an "original" recipe. (what does this say about their newer recipes?)
It pours a straw golden color with a snow-white medium-sized head.
A smell of dry malt and a lightly grainy smell are upfront. A mild, but pleasant herbal quality is revealed upon warming.
While this is certainly a weak and wet Lager, it definitely has more body and flavor than most of the Brazilian Lagers we've become acquainted with in the past.
The hop flavor is a mild mix of lime bitterness and a faintly metallic tang at the back of the throat.
It finishes clean and dry.
Gotta love it when a dominant macro brewer recognizes competition from the growing micro-scene and responds by upping their quality, if ever so slightly.
828 characters
2.5
/5
rDev
-9.7%
look: 2.5 | smell: 2.5 | taste: 2.5 | feel: 2.5 | overall: 2.5
This is Antarctica's "premium" beer. Pours an extremely light straw color but sported a billowing white head which dissapated quicker than I would have liked. Aroma is basically non-existent. Taste is very crisp without much in terms of flavor (like most of the Brazilian pale lagers I have tried), but it does have a little more body then plain Antarctica. Nothing earth shattering, but i would have it over a Bud.
415 characters
Original from Antarctica (Companhia Brasileira De Bebidas)
2.77
out of
5
based on
37
ratings.